Procana CBG Capsules
Category: CBD Capsules
Subcategory: CBD SoftGels
Brand: Procana
CBG: 300 mg
THC: 0%
Flavour: Natural
Servings: 10 mg per serving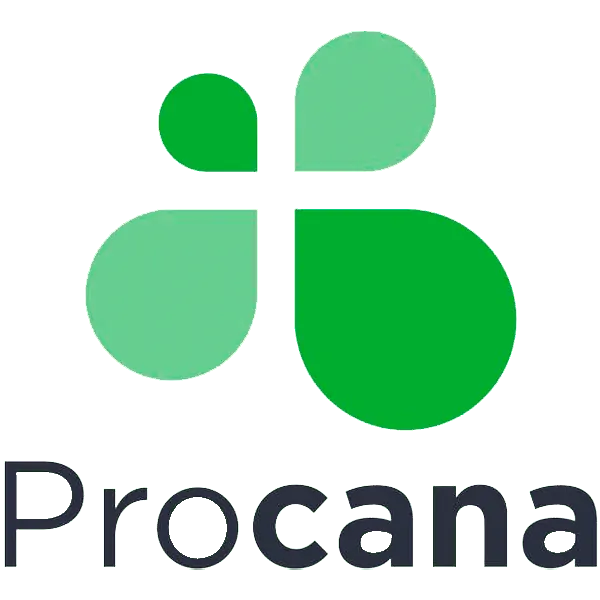 Procana
Official Brand Website
Secure shopping
Receive 15% Off Your Order
Copy and use this code on www.procana.com
Procana CBD CBG Softgels 300 mg Review
Individuals who want to incorporate CBG into their daily regimen and search for a more convenient intake format can opt for CBG softgels designed by Procana. These capsules come in a 30-piece bottle and have a regular strength of 10 mg CBG each. Aside from CBG, they contain grapeseed oil as an MCT carrier. Cannabigerol is less famous than CBD, but its popularity is skyrocketing. This rare compound is found in small amounts in hemp plants, and its health benefits are impressive. It helps regulate mood, diminish pain symptoms, increase appetite, improve sleep quality, and reduce stress. Its antibacterial and anti-inflammatory properties are also promising.
CBG doesn't make consumers high; besides, Procana capsules have several advantages over oil tinctures. Firstly, they hold a pre-measured dose of active ingredients encapsulated in a gelatin shell, making ingestion convenient. The capsule cover creates an air-tight environment with a lower oxidation level for the oil inside, so softgels have a longer shelf life. Also, they have a neutral taste and smell, which is a bonus for people who don't like a hemp flavor. Softgels may take longer to act as they take time to pass the entire digestive tract before they dissolve. They are portable, easy to swallow, and can be discretely taken on the go. This quality and safe product is manufactured in cGMP facilities and lab-tested. It offers an excellent way for beginners to test the waters with CBG.
About Procana
Procana ReviewProcana Laboratories was founded in 2013. Ever since, this brand has been at the forefront of the manufacturing and research of cannabinoids.. This one of the rare companies that deliver both cannabidiol and cannabigerol products, as well as full-spectrum hemp products.
CBD Capsules by Subcategories