Cheap Marijuana Seeds From The Best Seed Banks
Discover a collection of cheap weed seeds from verified seed banks, suiting the needs of all cannabis lovers on a budget. We believe that growing cannabis should be accessible to everyone. Every grower should have an opportunity to cultivate high-quality cannabis at home. So, we've come up with a list of budget-friendly seed options for sale for novice and experienced growers alike. From THC-rich, mind-blowing cannabis varieties to more newbie-friendly strains, we've got you covered. You can choose from a wide selection of excellent seeds that will allow you to harvest potent and rich buds. The list below contains the cheapest products you can purchase in 2023 from different seed banks in the USA.
Discover More Seed Products By Specific Category
What Growers Should Know About Cheap Cannabis Seeds
According to conventional wisdom, the more you pay for something, the better product you get. However, this principle does not always apply to weed seeds. The reasonably priced products in our collection are just as good as expensive seeds in terms of potency, quality, and yield. So, what's the catch?
Cheap weed seeds are regular cannabis seeds whose price is lower due to various market factors that have nothing to do with their quality. These may include popularity, strain novelty, growing difficulty, etc.
The most important thing you need to know about cheap seeds is that they can be as good as more expensive ones in terms of:
Organoleptic qualities;
Cannabinoid and terpenoid content;
Yield production;
Resistance to molds and diseases.
Another great thing about cheap seeds is that their selection is wide, so you get to choose products that fit your budget, cannabis preferences, and growing experience.
If you are looking for low-priced seeds to address your health needs, we have good news for you! Our seeds collection contains a wide range of strains recommended for alleviating chronic pain, anxiety, insomnia, and many other conditions.
This Is How the Weed Seed Price Is Formed
You're probably wondering why some cannabis seeds are more expensive than others. The thing is that weed seed price depends on numerous factors, such as:
Popularity;
Novelty;
Rarity;
Growing difficulty.
In addition, companies may provide discounts to draw new customers, so you can always get top-notch seeds for sale. The price can also depend on the taxation level in each state, so seeds grown in US states with the highest taxes may be more expensive.
You can also find excellent cannabis seeds at a discount if they belong to a widespread strain that has been on the market for many years. Most well-known strains have been cultivated so much that it is more affordable for seed banks to ensure a steady supply of their cheap seeds. In contrast, recently created cannabis varieties tend to be a bit pricier because they are hard to get, so you need to wait until the demand decreases. That said, don't be suspicious if you see cheap seeds online. Give these low-cost products a try, and you'll see they are worth your attention.
Price Doesn't Affect Seed Quality
Growing weed on a budget does not mean you have to put up with suboptimal quality. All cheap pot seeds presented in our collection have received positive reviews from cultivators. They have an impressive genetic background and can grow into strong plants with abundant yield. If you purchase these seeds, you get a chance to grow rich buds with optimal cannabinoid content to ensure therapeutic benefits and ultimate relaxation.
We highly recommend paying attention to the seed descriptions presented in our collection to learn more about each strain's properties and overall quality. Things to consider before clicking "buy" include:
Genetics;
Cannabinoid profile;
Therapeutic effects;
Growing requirements (climate, temperature, lighting);
Type of seeds (feminized, autoflower, regular).
So, when choosing seeds from our database, focus more on the seed description rather than the price. We've taken care of the latter by selecting the most budget-friendly options, so you don't have to worry about the money.
How Difficult Is It to Grow Cheap Seeds
Price does not play a significant role when it comes to growing difficulty. A more critical parameter you need to pay attention to is the type of seed.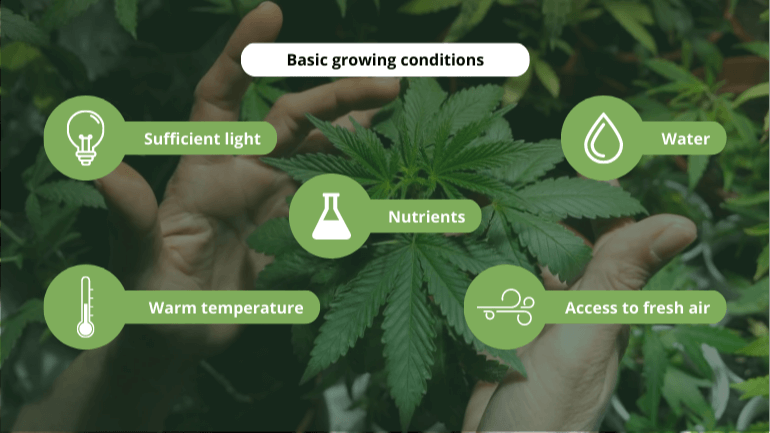 Regular cannabis seeds, which tend to be the cheapest on the market, are the most difficult to cultivate. The problem is that these weed seeds have a 50% chance of turning female. In practice, it means you will need to remove another half of the male plants from your garden once the gender distinction becomes obvious. It also means you will need to buy more seeds to make sure you end up with enough female plants in your garden. If you are not scared of putting some effort into growing regular seeds, you will be rewarded with a perfectly good yield to satisfy your cannabis cravings.
You can also check out cheap feminized seeds available in our collection, as these are a bit easier to cultivate because you don't have to worry about removing male plants. There are plenty of genetically modified feminized seeds with excellent properties and relatively low growing difficulty.
If you have no time or willingness to spend hours in your cannabis garden, choose cheap autoflower seeds because hey are less demanding in terms of lighting schedules, and flower faster than other types of seeds. Novice cannabis growers love this type of seed for its simplicity and superior quality.
Both cheap and more expensive seeds require some basic conditions:
Sufficient light;
Warm temperature;
Water;
Nutrients (nitrogen, phosphorus, and potassium);
Access to fresh air.
It means that no matter what seeds you purchase, you will need to find the best place for growing them (indoors or outdoors) and purchase some basic equipment (e.g., LED lights). Don't worry, though! There is plenty of budget-friendly equipment for growers and tons of useful tips online for growing different cannabis strains.
Risks of Purchasing Cheap Seeds Online
Not all cheap marijuana seeds for sale are made equal. If you order your seeds on the first random website you find online, you risk getting a low-quality product. There are lots of unreputable websites that sell old, leftover seeds that can be difficult to grow.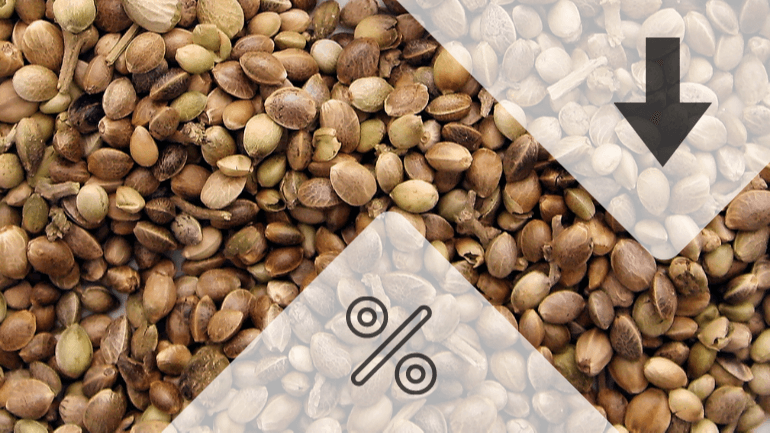 The cost of not being picky is high. You may experience challenges in terms of germination, vulnerability to diseases, and yield. Low-quality seeds can hardly grow into healthy plants that produce potent buds. What's more is that all your efforts at watering, feeding, and taking care of your plants will not bring the desired effects. You will spend your time and money in vain, which can discourage you from future growing experiments.
So, if you don't want to waste your time on bad seeds, use only credible seed banks with an excellent reputation. The seeds in our collection have been carefully selected from the top seed banks, guaranteeing quality and optimal results.
Offering Cheap Weed Seeds From the Most Reputable Seed Banks
The goal of our cheap seed collection is to minimize risks for you and ensure a fun and fuss-free growing experience. So, the AskGrowers team has analyzed the cheapest seed options from the most reputable seed banks, such as:
I Love Growing Marijuana;
Crop King Seeds;
Seedsman;
SunWestGenetics and others.
Each of these seed banks guarantees excellent quality. So it's always a good idea to purchase seeds from them rather than from unknown websites you find online.
What Is the Cheapest Strain and Why?
There are several cheapest weed strains that also happen to be the most well-known in the cannabis world. These include, but are not limited to, Bubba Kush, Northern Lights, Afghan Kush, Black Gorilla, Durban Poison Feminized and Black Lime Reserve seeds.
Our personal favorite is White Widow – a popular sativa-dominant hybrid with a moderate THC content reaching 20%. Its cannabinoid profile explains its therapeutic qualities, such as a positive effect on nausea, appetite loss, and pain.
White Widow gained smokers' attention in the 1990s when it became a hit in Amsterdam coffee shops. Its popularity has not waned since then, as it remains a top pick for people seeking a powerful euphoric effect. Boasting a classic earthy flavor, this strain appeals to people enjoying cannabis' natural aroma.
White Widow is the perfect choice if you don't want to splurge too much. It's delicious, potent, and available in different types (regular, feminized, autoflower). The price starts at $37.78 per 3 seeds, which is the best deal on the market. White Widow seeds are affordable because this strain is cultivated everywhere, so seed banks have access to a wide selection of high-quality seeds.