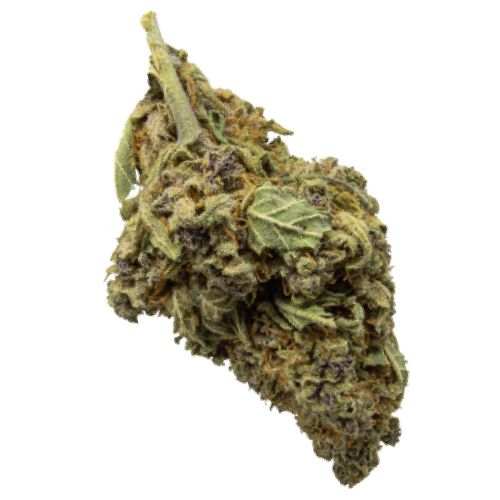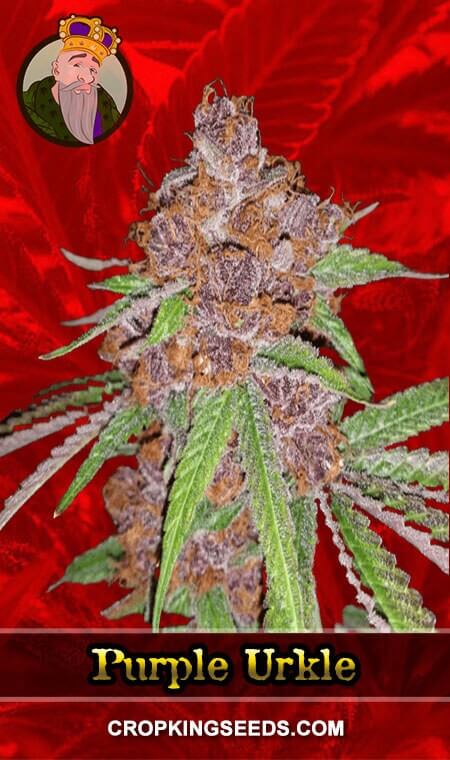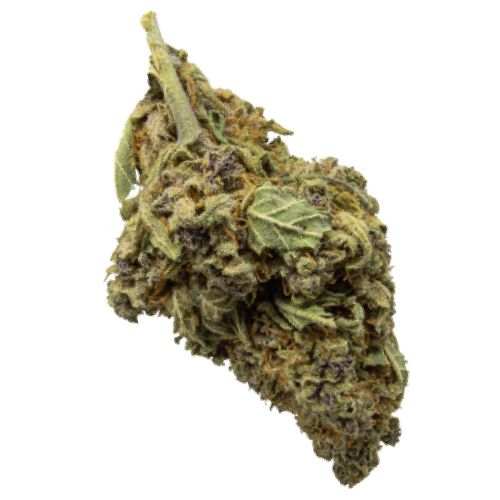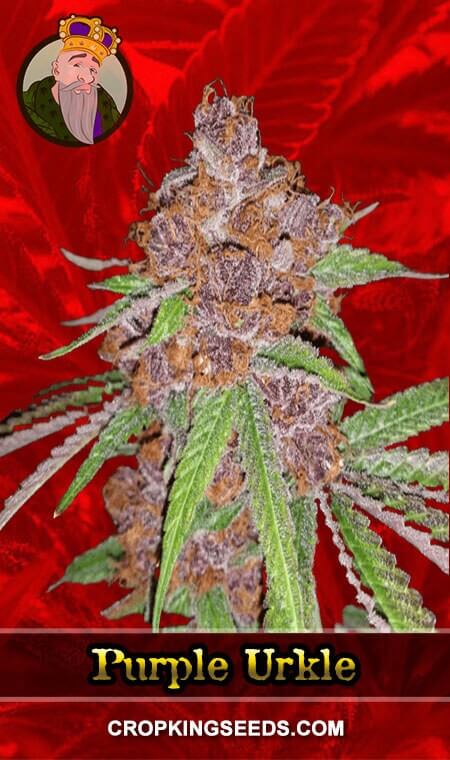 Purple Urkle Feminized Seeds
by Crop King Seeds
On Official Website
10% OFF ALL MARIJUANA SEEDS
KING10
Crop King Seeds Shipping Terms:
Free shipping for orders over $200 Shipped with complete privacy Express shipments take 2-5 days for delivery
CBD: 0.21 - 0.42%
THC: 20 - 23%
Seed Type: Feminized
Type: Indica-dominant hybrid
Yields: 13oz - 36oz (350g - 1000g)
Climate: Temperate, Sunny
Effects: Relax
Flavors: Fruity, Grape, Skunk, Sweet, Tropical
Genetics: Mendocino Purps
Environment: Indoors, Outdoors
Harvest period: September
Flowering period: 9 Weeks
Growing difficulty: Medium
Purple Urkle Seeds Characteristics and Tips for Growers
Purple Urkle is a hybrid cannabis strain. It has Mendocino Purps as one of its parent cultivars, which is known for winning the High Times Cannabis Cup. So, Purple Urkle turned out to be a one-of-a-kind strain loved by cultivators worldwide.
This weed has been refined for decades. The modern version is indica-dominant, with 80% Indica and 20% Sativa genetics. The plant boasts beautiful purple buds, containing high THC levels of 20-23% and insignificant CBD amounts. Consumers enjoy its authentic aroma, blending sweet fruit, tropical, and grape scents with skunk notes.
The high you get from Purple Urkle flowers starts with a cerebral buzz that makes people happy, euphoric, and uplifted. Then, it brings a sense of deep relaxation and calm and can result in a body stone if not consumed carefully. Due to its strong stress-relieving and sedating properties, this weed is best for evening hours. It helps with pain, insomnia, stress, and anxiety.
How to Grow Purple Urkle Feminized Seeds
Purple Urkle seeds have a moderate level of growth difficulty and require some attention and care. Below is your guide to getting on the right track and ensuring the best results.
Temperature and Humidity
This cannabis grows in various climates and prefers temperate ones with sunny and warm conditions. When cultivating indoors, set the temperature to 72-80°F. As the flowers mature, you don't need to shock them with cold temperatures at night to amplify their purple hue. Genetically, the strain has a high level of chemicals that give it this fantastic color.
During flowering, maintain low relative humidity to prevent mildew that can cause bud rot on dense nugs. Purple Urkle plant is resistant to most diseases and pests; however, pest management control is required.
Grow Techniques
Fully matured plants are medium-sized, growing no higher than 3-4 feet. Their branches are strong and don't need support for heavy colas during the flowering phase. The strain is ideal for indoor cultivation and doesn't require much vertical space. Still, experienced growers prefer controlling the plants' height. With topping, bending, and trellising, you can get a better crop. Some gardeners stick to the Screen of Green (SCROG) and Sea of Green (SOG) methods to widen the canopy and to ensure the best yield. Using hydroponics and Low-Stress Training (LST) techniques helps increase your yields as well.
Nutrients
Purple Urkle feminized is quite picky in terms of feeding. During the growth cycle, the plants need advanced nutrient mixes, such as pH Perfect Sensi Grow A & B, B-52, and Voodoo Juice. When they get into the flowering stage, experts recommend adding more supplements like Big Bud and Overdrive.
It's important to note that during the flowering stage, the plant gets even pickier, so it's recommended to amend soils or bump up the feeding to ensure the best results. Also, the plants grow well in a soilless medium, such as coco peat and rock wool.
Light
During the growth stage, Purple Urkle seeds thrive best at the 18/6 light cycle. However, during the flowering phase, growers need to switch to a 12/12 cycle to help it thrive. The recommended grow lights are LED and LEC, especially during the vegetative stage.
Purple Urkle Seeds Flowering and Yield
These seeds are feminized, which is your guarantee of a generous weed harvest. They thrive well indoors and outdoors, with slight differences in yield size and flowering time. During the flowering phase, don't allow any excess stress; otherwise, it may cause a delayed flowering cycle.
Indoor-grown plants have a fast flowering stage of 55-60 days. The crops can reach 12-14 oz. per 1 m2. Outdoor-grown plants are ready to harvest in September. They offer a more generous yield of 26-35 oz. per plant.
About Crop King Seeds
Crop King Seeds was established in 2005 in Canada and started as a small firm improvising with cannabis seeds. Soon, it turned into a full-fledged company with 300 outlets.. Then, there was a transition into an online store.