Grower Stories #143: Sarah Stenuf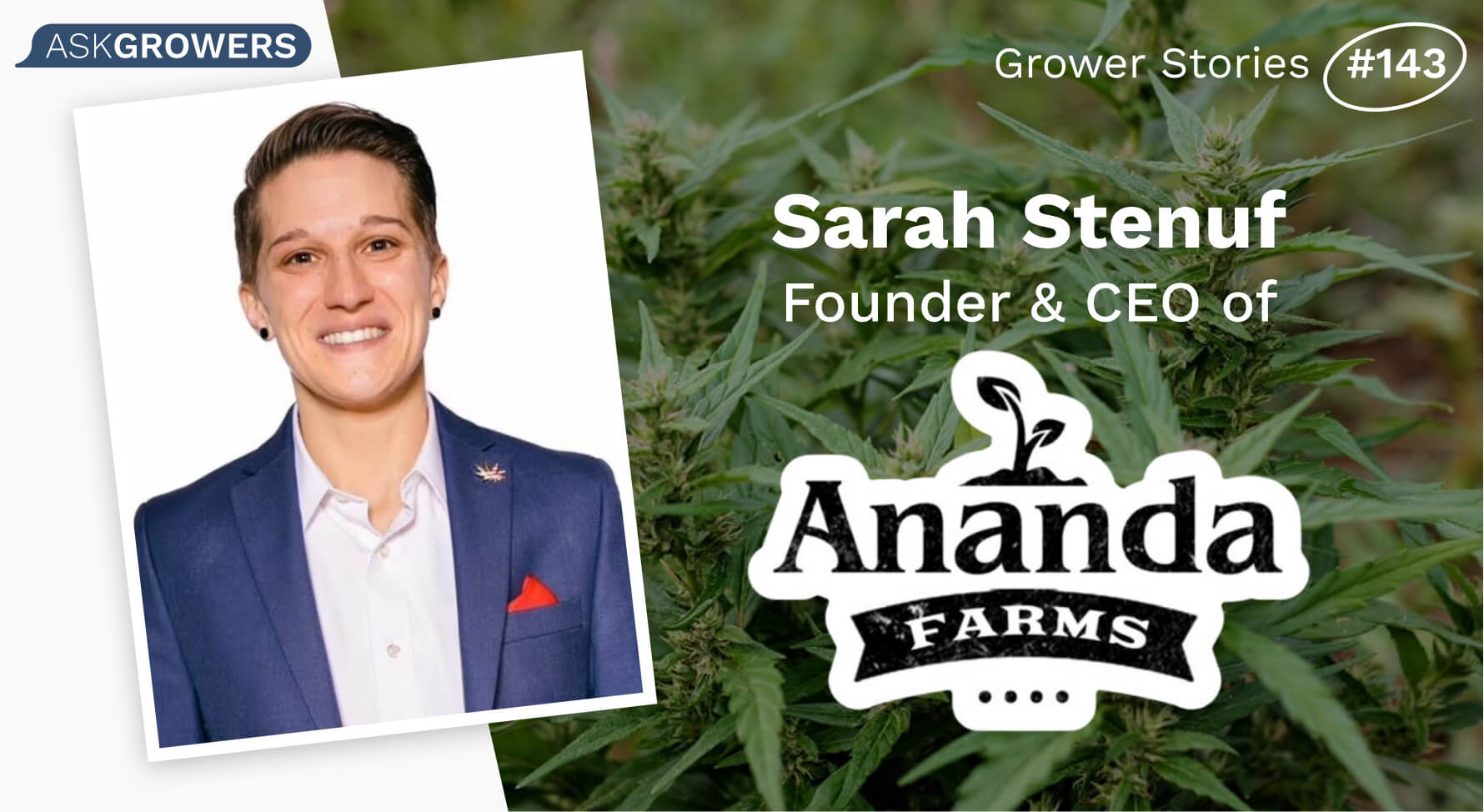 Ananda Farms Is a Leader in the Development of Hemp Products
The AskGrowers team sits down with Sarah Stenuf who created Ananda Farms after experiencing the benefits of cannabis herself after getting discharged from the military due to a TBI. She talks about how Ananda Farms is connecting with and supporting veterans, how it is funding the non-profit Veteran's Ananda, and how it brings knowledge of the plant to the masses. She also talks about the future of the cannabis industry and sheds light on how to remove the stigma that surrounds cannabis. #growerstories
---
Speaking with Sarah Stenuf
I started off as an Apache crew chief for the Army. I got a TBI - traumatic brain injury - that caused epilepsy and post-traumatic stress disorder - PTSD. I got discharged back in 2013, medically retired for it and upon being retired I was on a slew of medications that still weren't making my social, psychological, or mental issues any better, If anything, they were making it worse.
So, after two failed suicide attempts and being in and out of dual diagnosis programs, I just kinda gave up. I felt very hopeless, very worthless. I didn't really have a place to go that would either provide me the guidance or support I needed, when I got out - I felt very lost. And I had a buddy of mine introduce me to cannabis. He was like, "Hey try it, what do you have to lose?" And I'll admit at first I thought I was just filling in another void taking another drug to substitute another pill or another drug that I was using and at first, I got kind of worried but then I'm like you know what? Harm reduction. I'd rather smoke pot than sniff coke, you know.
---
Tia (AskGrowers) :
Tell us how you started Ananda Farms?
Sarah Stenuf : I was drinking alcohol and doing heavy amounts of cocaine while taking 16 pills a day for epilepsy, seizures, insomnia, and pain. I was on a rollercoaster ride and just trying to stay on, living in constant survival mode. And again, just not sure where to go or who to turn to. I felt like everywhere I went was just one-size-fits-all, go and do a checkbox and point out a smiley face and get out the door. And finally, I tried cannabis and it worked! For me, it worked. I felt like a lot of my PRNs, my take-as-needed medications, I didn't need to take. I felt my headaches, like almost within a few weeks. I felt a lot of my headaches go instantly, my mood started balancing and I got down to only about 3 or 4 pills per day out of like the 16+ a day that I was taking. And that really sparked me to study the plant. So, I went in and studied the endogenous cannabinoids in the plant and learned how they work together. I did a ton of research and found what worked for me and was like, "Holy crap! The plant works." And that's when I created Happy Healing 420 and it was just a social media alias, just to get online.
This is before medical, before we could go to the VA and talk to doctors. I was just gonna go online and connect with people. See what other crazy people were using plants to get better, see what other people were using for epilepsy, meet other growers. And then to be more cost-effective and, you know, treated with respect and know my own, I didn't want to go on the streets anymore or have to travel all the way to Massachusetts or Maine hours away to get my product. So, I started growing at home and that's when through Happy Healing 420, my social media alias, we started teaching people how to grow at home and started connecting with people.
Then I started traveling and started speaking at panels and it wasn't long into doing that, I would say after my first panel, that I went home to my wife and said that there's something bigger here. We've got to do something more than just being a social media alias and connecting with people. Like, there's a ton of people here saying that they want to do what we're doing or dreamt of doing this or want to do it and they don't have any place to go. And I remember what that feels like, to feel so hopeless and so worthless, so disconnected, like nobody's listening to you and that you just want to scream. And Happy Healing 420, not long after that, became an LLC which is now today DBA - doing business as - Ananda Farms.
---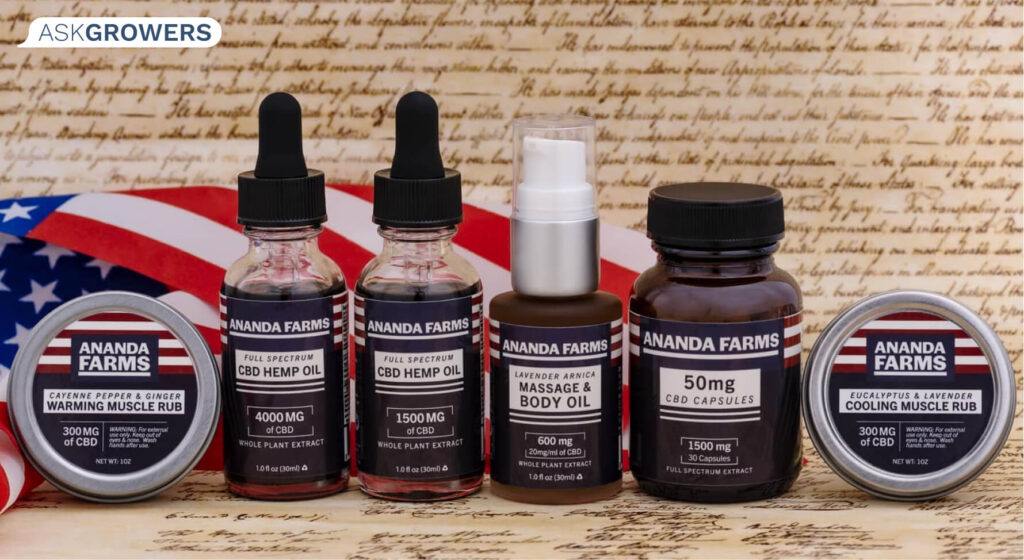 ---
Tia :
How do you think you differ from other farms? Do you have a specific approach to growing weed?
Sarah : What I know is that a brand isn't a business. And as I travel and do a lot of my work, I realize that people are utilizing this crop as a cash crop. Heavily commercialized, heavily commoditized brands are businesses, and that's not us. We know a brand's not a business. We have a CSR - a corporate social responsibility - and it's not just talk or something that's on a piece of paper but that's something that's truly embedded into our company's DNA. And what we have is a beautiful narrative around our company and our brand, and we have strong brand loyalty and trust that we've built.
If you look at a lot of farms, they're worried about initial capital. We have veterans and community members that come in as volunteers, as staff. So for us, we don't have a lot of the struggles that a lot of other farms do because we've connected with the community and got really into making this more like dirt therapy. So people won't come here just to work and volunteer, they use it as therapy too.
---
Tia :
What's the easiest strain to grow?
Sarah : It depends on the genetics.
---
Tia :
Do you plan to cultivate new strains?
Sarah : Yeah, absolutely! I definitely plan on growing new strains. Especially as technology, research, and science develop and adapt. We're always eager to practice and try out new strains.
---
Tia :
What do you think defines the success of the strain?
Sarah : If the geneticist gave you a strain, the success of that strain once the seed is in the grower's hand is up to the grower. So, the success of the strain is dependent on you, the grower. So, I'm not gonna sit there and grow a seed from Oregon in a climate that's 15-degrees less, with less humidity, with high-impact heat, if I know it's been stabilized in a different environment. So, the success of a strain, I guess, would be constant research, constant science, and people paying attention.
---
Tia :
What is your personal cannabis consumption routine?
Sarah : With me, Sativa has been that thing that really stops me from going from 0 to 100 really quick. It slows me down and it helps me feel grounded. I've tried it with hemp. I tried it with a lot of hemp products and I use hemp products for topicals, for rubs, for lotions, for sleep. But my PTSD and I feel like my body's coming on. It's weird because I haven't had a seizure in years, thanks to cannabis, but I could still feel the symptoms of a seizure coming on. And when I feel that, I still feel like my body is trying to have a seizure. But I just smoke and smoke and smoke and intake, and it takes it right down for me. And hemp hasn't been able to hit like that for me as cannabis has.
---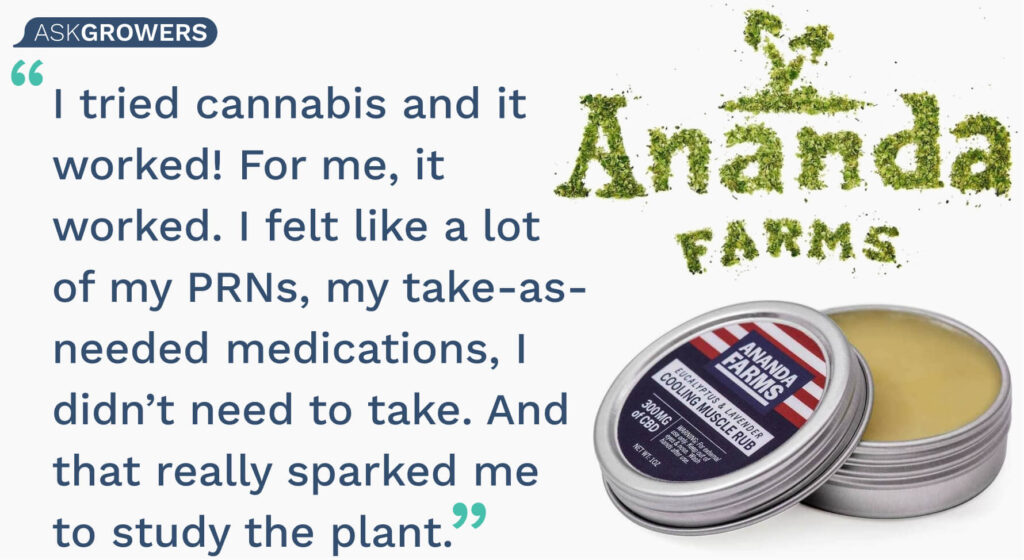 ---
Tia :
Your top strains to smoke? Why?
Sarah : I would have to say, the Gorilla Glue #4. Only because, the #4 came to me right away and it hit that spot. I know that it's considered a hybrid "Sativa-dominant" plant but for me, the Indica properties that stand out of it really balance for me and they help me get from that 0 to 100 so it's a great overall strain for me. So, GG#4, I would say is my favorite.
---
Tia :
If you could have a chance to smoke with anyone on this planet, who would that be with and why?
Sarah : I already mentioned his name. My pioneer, the scientist, the lawyer, the healthcare worker, the guy who stood up for us in the early 1900s. [tooltip title="William Creighton Woodward M.D." content="US physician and lawyer served as the general counsel to the American Medical Association."]Dr. William Creighton Woodward[/tooltip]. I would love to smoke a fat one with that man!
The most modern person to smoke with, I would say [tooltip title="William Hugh Nelson" content="American composer, country singer and cannabis activist."]Willie Nelson[/tooltip] and I know that's a popular one. But I would love to do it with Willie because of Willie Reserves. What he does for farmers and small-scale businesses is truly inspiring, and his give-back is really unique and really awesome. So, I would love to sit down and smoke with him, and talk business and farming and just pick his brain as well.
---
Tia :
Do you advertise your products? If yes, where do you post them, what channels do you use for that?
Sarah : Yes, we do. Currently, we are in several little shops around New York and a couple of other states. We also sell our products online at anandafarmsny.com. We're waiting on the laws and regulations to come out and unfold. Right now, our products have gone with what the original policies were. So we won't expand our product line until those are done. And in regards to advertising and marketing, we use every platform, every channel possible. Social media, cross-branding, cross-promoting on other websites. Wherever we can, we advertise.
---
Tia :
What are the things you're proud of when it comes to your brand story/products?
Sarah : I'm proud of us for a lot of stuff. Especially when I first came up with this, whether it be the 501(c)(3), the non-profit Veteran's Ananda, or the for-profit Ananda Farms hemp farm. When I came up with these two ideas for the for-profit and the non-profit, I was told from the beginning that it was a pipe dream and that it wasn't gonna happen. And I'm really proud of us and proud of myself for sticking through it, for utilizing the haters and the naysayers as motivation to push forward and push through that. I'm proud of the sweat equity, and the love, and the commitment, and the dedication that came behind creating our products and creating our brand.
---
Tia :
Have you personally encountered negative attitudes towards you because of the use of cannabis or because of your choice of work related to cannabis?
Sarah : Oh god, yeah. I mean when I was a kid, of course, I would get the original yelling from the parents for smelling like smoke. Or one of the teachers saying, "I saw your daughter come out of the woods again." Back then, I didn't use it a lot. It was just on occasion, maybe once a week or once every other week with my friends before school, in the forest outside the school and, of course, the teachers would always get mad at us. Fellow students would even be like it's a problem but they didn't know. I mean, I was facing a lot of shit like a lot of other kids are.
Back then, I didn't know why I was doing it. All I knew was that to society, I was a tyrant. And then going into the military where they absolutely didn't accept it. I mean, you were able to get away more with putting coke up your nose in the military because it was out of your system in 3 days than smoking a joint that stayed in your system for 30. So, I was there, from being a kid, from the military, and now at the VA, all across the board, never facing acceptance into the society.
---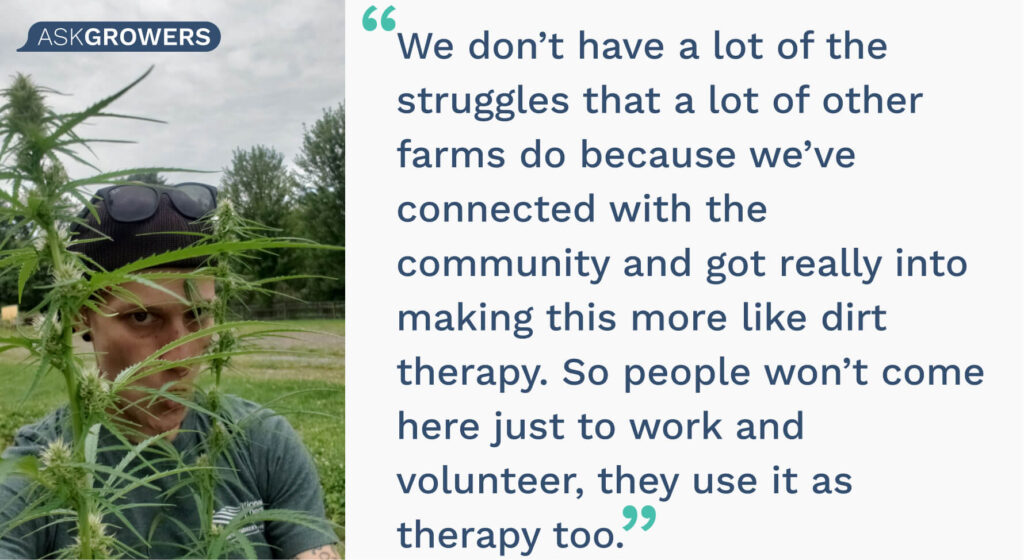 ---
Tia :
What do you think we should do to help reduce the stigmatization of cannabis?
Sarah : Honestly, constant education, constant awareness. I think what we need to do is just spark the conversations. Dr. Woodward is a great example of this. Back then, between 1910 and 1920, as they were starting to talk about making cannabis illegal, Dr. Woodward is the one who stood up for cannabis. He stood up for science back in the early 1900s when not many people would, let alone an Anglo-Saxon male. He had so much ridicule and rejection for being courageous, for his efforts, and for making sure that cannabis was regulated and not prohibited.
Even though they went against him and still prohibited it, made it illegal, and scheduled it, he was the pioneer in science, in law, in healthcare, and education because he wasn't scared to start up the conversation. And I think, to this day, in order to make a change, we need more Dr. Woodwards. We need more people to stand up and face the ridicule, face the scrutiny, face the judgments, and spark the conversations.
---
Tia :
What are your social initiatives? Do you work with charity organizations, or do social work, etc.?
Sarah : When the DA license opened up here in the state of New York, I jumped on it and grabbed a license for Ananda Farms here and that's the for-profit organization that donates money to the non-profit Veteran's Ananda where we build tiny homes from local high schools and put them into our veteran village. And we utilize short-duration, high-impact retreats and long-term post-traumatic growth programs, pilot programs, to provide veterans with a unique non-one-size-fits-all approach to care. We provide free support, care, and rehabilitation, using non-traditional and traditional approaches for veterans. And the way we stay funded with that is through community support donations as well as proceeds from Ananda Farms.
---
Tia :
Are there any brands in your state you appreciate and follow? And in the USA in general?
Sarah : Oh god, yes! I think I mentioned Willie Reserves helping small farms, you know, and especially veteran farmers. They help small farms, artisan farms, craft farms. Another branded company is, Former Veteran Coalition - FVC - homegrown by heroes. The amount of veterans and the amount of veteran farms that they've helped, it's motivating, it's inspiring. They've donated to us, they've given back to us. They were the ones who gave us over a $5000 grant last year to get our bucker so we didn't have to hand-buck our plants here. I mean these guys have just been really supportive of veterans and veteran farmers and I love FVC. Their give-back, their CSR, really motivates me to go, yeah you can help people without going broke.
---
You can follow Ananda Farms at:
Thank you so much, Ananda Farms team, for taking the time to do the interview. To learn more about them, head on over to their website.