Managing Anxiety with CBD Vape Pens: Benefits and Considerations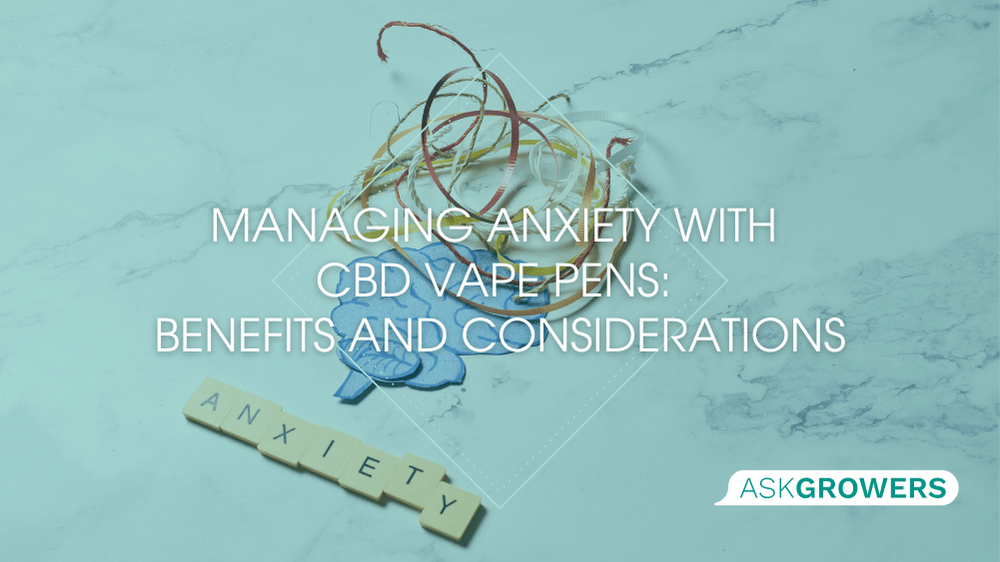 The modern world hides many stresses. Today, the global average number of stressed people is a whopping 35%. Dealing with it might be tough. When things get really pressing, stress can become a powerful trigger for more severe conditions, such as anxiety.
Anxiety[1] is a mental condition characterized by feelings of fear, tension, intrusive worried thoughts, and physical reactions like increased blood pressure. Unlike stress, which causes momentary episodes of mental and physical symptoms, anxiety is characterized by persistent, excessive worries even when the stressor is absent.
In the US alone, 31.1% of adults experience anxiety. Needless to say, this condition greatly affects quality of life, impacting both physical and mental health. But fortunately, there is a solution.
The endocannabinoid system is the brain's primary mechanism responsible for guarding you from anxiety, stress, and fear[2]. When it stops releasing certain receptors, it becomes incapable of balancing different processes in your body, such as stress responses. Luckily, cannabidiol (CBD) found in the hemp plant can affect the system's receptors and, thus, provide a variety of health benefits, including anxiety relief.
Read on and we will tell you how using CBD oil vape pens for anxiety can benefit you and how to use it to the maximum!
Cannabidiol for Anxiety Relief: The Mechanism of Work and Benefits
Before you can get started with CBD vaping, it's crucial to understand what exactly it can do for you.
So what is cannabidiol in the first place? Cannabidiol is a phytocannabinoid and one of 113 cannabinoids found in cannabis plants. It's an active hemp element that makes up about 40% of the plant's extract. It's not psychoactive, meaning it can't get you high or cause addiction. Yet, it can provide you with a number of scientifically-backed benefits:
When entering your endocannabinoid system, cannabidiol stimulates the release of CB1 and CB2 receptors, thus, providing relaxation, improving sleep[7], and, respectively, reducing stress and anxiety levels.
Due to all these perks, doctors more and more often recommend using cannabidiol for relief. A CBD vape pen for anxiety could be a great solution, as long as you pick high-quality CBD vape pens.
What Makes a CBD Oil Vape Pen for Anxiety an Effective Cannabidiol Delivery Method?
Now that you know more about your endocannabinoid system and the benefits of cannabidiol for it, you must be wondering what is the best way to consume this compound for anxiety relief.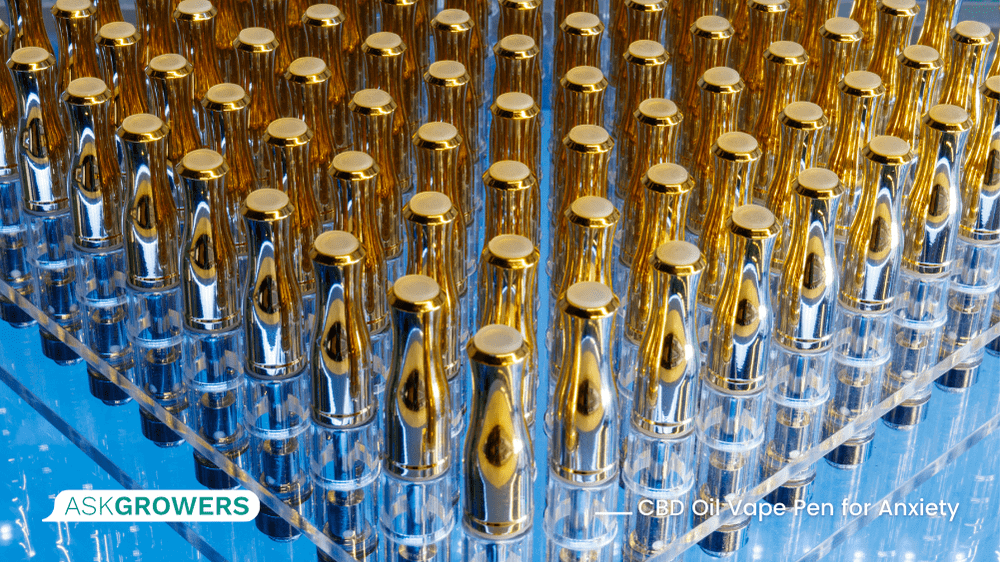 Today, there are many different ways to consume cannabidiol. However, in recent years, using a CBD vape oil pen for anxiety has become one of the most trending methods. First of all, this is ensured by the simplicity and convenience of this delivery method. A vape pen is compact, which allows you to take it with you literally anywhere. Also, it doesn't require any special preparation before consumption. For example, it doesn't need to be pre-rolled like cannabidiol rolls. And it can be used in a wider range of spaces because it lacks the typical hemp smoke and smell.
Another big benefit of a CBD oil anxiety vape pen over other methods of consumption is its high bioavailability. Compared to other consumption methods, smoking or vaporization[7] is proven to overcome many of the problems of cannabidiol delivery. These methods show the quickest delivery of the compound and, respectively, the fastest relief. When inhaled, cannabidiol enters your bloodstream almost immediately. The time it takes to kick in depends on your body weight, metabolism, and cannabidiol tolerance. However, in general, it's possible to feel the effects after only 10-15 minutes.
As you can see, vaping is a convenient and efficient way to get your benefits from cannabidiol. Now, what types of vape pens are there? Generally, there are two options:
CBD disposable vape pens are the ones that come fully charged and filled with e-liquid. You don't need to charge or fill them yourself, which allows you to start vaping right after the purchase. However, once they run out of liquid, they can't be used anymore.

Refillable vape pens are slightly different. They come empty and require you to purchase the e-liquid, fill it, and charge it manually. Although you can't start using them instantly, they will serve you longer and offer an opportunity to try different liquids based on your preference.
The choice between these two types comes down solely to your preferences and needs. However, in both cases, it's pivotal to choose a high-quality product.
Benefits and Potential Risks of Using CBD Vape Pens for Anxiety
CBD vape pens for anxiety can be a good option for your well-being. This method of cannabidiol consumption is proven to hold a variety of benefits, including the following:
High bioavailability gives cannabidiol vape pens a fast-acting nature, which means almost instant relief even for the most acute anxiety episodes.

Vapes are very easy and convenient to use. And if you opt for a disposable type, you can start enjoying the effects right when you get it out of the pack.

Vaporization allows you to customize the dosage of cannabidiol and make your consumption more controlled.
Although the benefits are tangible, there are some minimal but possible risks. Namely, the potential side effects can include dizziness, dry mouth, and fatigue. Also, there might be certain health risks associated with vaping, such as coughing, headaches, throat and mouth irritation, and nausea. And we have to admit that there is a certain stigma attached to vaping.
Lastly, it's important to note that this method of consumption can also mean some additional risks. Some poor-quality e-liquids can contain synthetic cannabinoids and other additives that might be worse tolerated by your body and cause additional side effects. Due to this reason, it's crucial to pick only high-quality CBD vape juice or pens.
When shopping for the right product, pay attention to the manufacturer's reputation, customer reviews, third-party testing results, and quality of ingredients. Also, after starting your consumption, be sure to keep good track of any adverse effects or allergic reactions that might appear. And don't hesitate to consult with a healthcare professional if necessary.
Best CBD Vape Pen for Anxiety: AskGrower's Recommendations
You already know about the benefits of cannabidiol for anxiety and your health in general. Also, you know about the perks of vaporization over other methods of consumption and the difference between a refillable and disposable CBD vape pen for anxiety. Now, you must be looking forward to experiencing the positive effects of cannabidiol yourself. But how do you pick the best product?
There are plenty of options available on the market today. Also, there are plenty of things to consider when choosing the perfect product for you, such as whether to opt for a cannabidiol-only pen or to choose a vape pen with CBD and THC for anxiety. Making a wise choice based on all crucial factors can be rather overwhelming. But we have you covered!
AskGrowers is a team of cannabidiol enthusiasts who possess years of experience in this field. Our experts carefully analyzed the market to offer you their top picks for a vape CBD oil pen for anxiety and to make your choice simpler:
Top Lifestyle Tips for Enhanced Anxiety Management
As you now know, CBD vape oils indeed can promote relaxation and provide a wealth of other health benefits. However, if you want to get the most out of them, it's crucial to integrate cannabidiol consumption into a holistic anxiety management approach.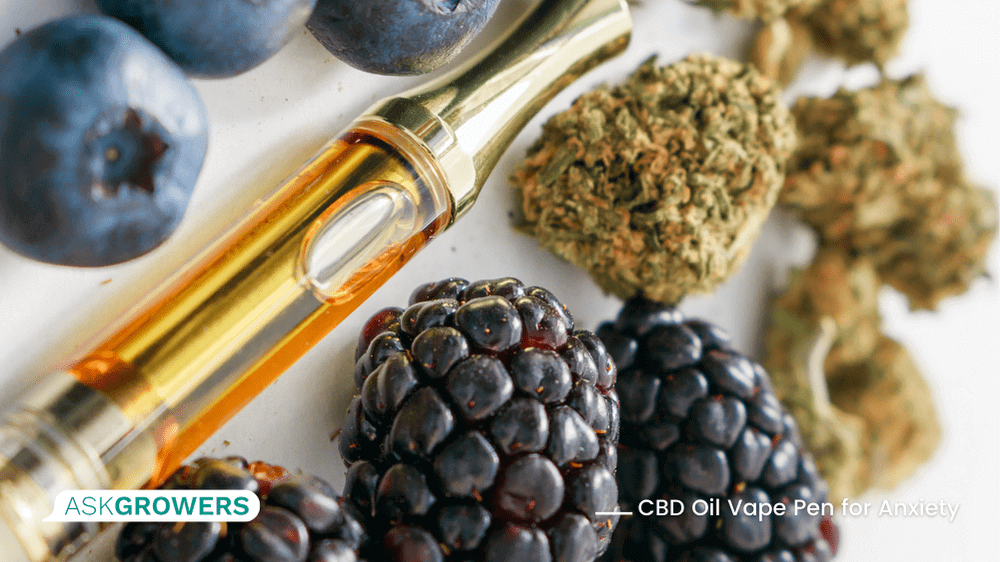 Here are a few lifestyle practices that can help you achieve the best relief:
Include regular exercises into your daily routine to reduce stress levels

Stick to a healthy diet

Ensure proper sleep patterns to reduce stress factors

Integrate various stress and anxiety management practices, such as breathing exercises, mindfulness, meditation, etc.
Together with vaping CBD for anxiety, these practices should help you improve your overall well-being and treat anxiety in a more holistic way.
Finally, we have to emphasize the importance of professional support. When anxiety episodes become too overwhelming, it's necessary to consult with a healthcare professional and to seek treatment because only an expert can suggest the fastest and most efficient way to improve your condition.
The Bottom Line
The use of a CBD vape pen for anxiety is trending for a reason. This type of cannabidiol product can offer you the following:
Fast stress and anxiety relief

Convenience of use

Customizable dosage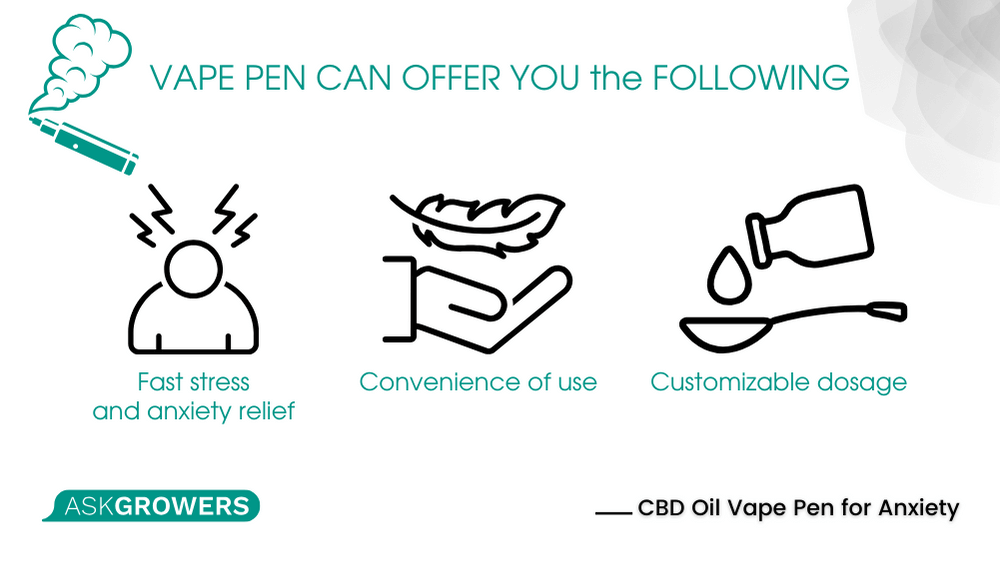 Still, to get these benefits, it's crucial to pick high-quality products that have undergone third-party testing, to consult with a healthcare professional, and to consult on the correct maintenance of pens.
In the end, we want to emphasize the fact that stress and anxiety management can be very different for every person. Thus, in order to get the best outcomes, it's important to take a personalized approach to them.
Resources
Dean E, (2016) Anxiety, Nurs Stand. Available at: https://pubmed.ncbi.nlm.nih.gov/27406490/

Lutz B; Marsicano G; Maldonado R; Hillard CJ, (2015) The endocannabinoid system in guarding against fear, anxiety and stress, Nat Rev Neurosci. Available at: https://www.ncbi.nlm.nih.gov/pmc/articles/PMC5871913/

Spinella TC; Stewart SH; Naugler J; Yakovenko I; Barrett SP, (2021) Evaluating cannabidiol (CBD) expectancy effects on acute stress and anxiety in healthy adults: a randomized crossover study, Psychopharmacology (Berl). Available at: https://pubmed.ncbi.nlm.nih.gov/33813611/

Crippa JA; Derenusson GN; Ferrari TB; Wichert-Ana L; Duran FL; Martin-Santos R; Simões MV; Bhattacharyya S; Fusar-Poli P; Atakan Z; Santos Filho A; Freitas-Ferrari MC; McGuire PK; Zuardi AW; Busatto GF; Hallak JE, (2011) Neural basis of anxiolytic effects of cannabidiol (CBD) in generalized social anxiety disorder: a preliminary report, J Psychopharmacol. Available at: https://pubmed.ncbi.nlm.nih.gov/20829306/

de Almeida DL; Devi LA, (2020) Diversity of molecular targets and signaling pathways for CBD, Pharmacol Res Perspect. Available at: https://pubmed.ncbi.nlm.nih.gov/33169541/

García-Gutiérrez MS; Navarrete F; Gasparyan A; Austrich-Olivares A; Sala F; Manzanares J, (2020) Cannabidiol: A Potential New Alternative for the Treatment of Anxiety, Depression, and Psychotic Disorders, Biomolecules. Available at: https://pubmed.ncbi.nlm.nih.gov/33228239/

Shannon S; Lewis N; Lee H; Hughes S, (2019) Cannabidiol in Anxiety and Sleep: A Large Case Series, Perm J. Available at: https://pubmed.ncbi.nlm.nih.gov/30624194/

Millar SA; Maguire RF; Yates AS; O'Sullivan SE, (2020) Towards Better Delivery of Cannabidiol (CBD), Pharmaceuticals (Basel). Available at: https://www.ncbi.nlm.nih.gov/pmc/articles/PMC7558665/
FAQ
Yes! When engaging with your endocannabinoid system, the cannabidiol from the vape pen affects its receptors and encourages the system to start regulating different processes in your mind and body. As a result, it can provide anxiety and stress relief, and bring a number of other benefits, such as antioxidative effects, relaxation, sleep improvement, mood boost, etc. There also might be a few risks or potential side effects.
The time cannabidiol needs to engage with your endocannabinoid system and kick in is different. It depends on your individual tolerability of the compound, as well as your weight, metabolism, and the severity of your symptoms. However, vaporization is confirmed to have a high bioavailability. Through inhaling, cannabidiol enters the bloodstream almost instantly and the effects can be felt in only 10 or 15 minutes.
Yes! Studies show that cannabidiol promotes relaxation when it enters the endocannabinoid system. It provides storing anxiolytic and antioxidative effects and regulates serotonin levels in your brain. As a result, it can significantly improve your mood and provide instant relief from stress, anxiety, and even depression. Thus, cannabidiol can improve your overall well-being and improve your quality of life. Still, a consultation with a healthcare professional is very important.
Yes, cannabidiol is non-psychoactive. Thus, it's considered to be generally well tolerated and safe even for daily consumption. However, it's crucial to pick high-quality products and to choose the right dosage for you. For beginners, vaping 10mg of cannabidiol per day and gradually increasing the dosage should be just fine. Still, it's always a good idea to connect with a trusted healthcare professional before consumption in order to identify the perfect dosage.