CBD Vaping Made Easy: Best Starter Kits for a Seamless Experience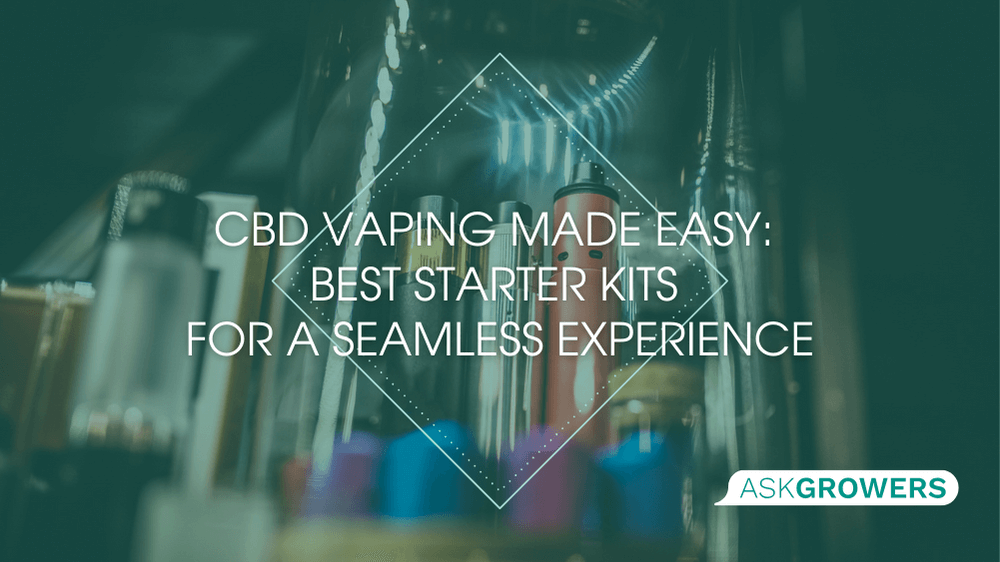 The surge in popularity of cannabidiol oil vape pen starter kits reflects the growing interest in CBD's therapeutic benefits. Vaping, in general, offers a convenient and efficient way to incorporate cannabis into your wellness routine[1].
Exploring the reasons behind the rising fascination with cannabidiol vape pens with CBD oil reveals a desire for hassle-free hemp consumption. These kits provide an accessible entry point for newcomers and a convenient option for experienced users.
Selecting the perfect starter kit is crucial for an optimal CBD vaping experience. With many options available, choosing one that suits your preferences and needs is crucial.
Your Roadmap to the Ideal CBD Oil Vape Pen Starter Kit
In the evolving hemp scene, choosing the ideal vape pen starter kit for CBD oil is crucial. Here are key factors to keep in mind for a satisfying and effective cannabis experience: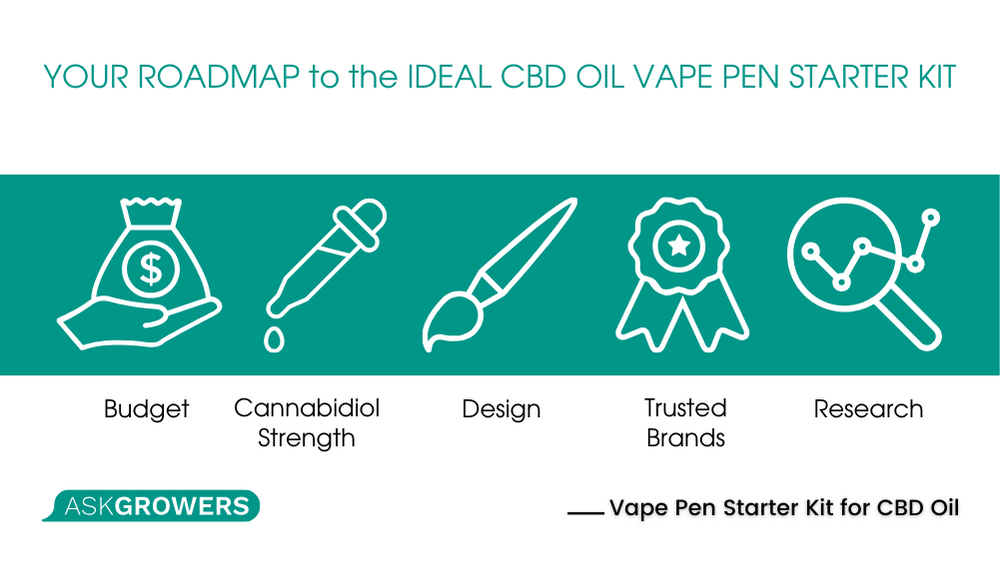 Budget: You can find quality CBD vape pens that suit your budget without sacrificing quality.

Cannabidiol Strength: Pick a kit with the right cannabidiol concentration for your desired outcomes, be it relaxation[2] or pain relief[3].

Design: Choose a design that not only looks good but also enhances functionality.

Trusted Brands: Go for established brands for safety and reliability.

Research: Invest time in researching reputable brands, exploring product range, customer service, and transparency. User reviews offer valuable insights, but be discerning as you read them.
In non-psychoactive marijuana, the СBD oil used with a CBD vape pen can offer numerous benefits[4]. With these considerations, you'll confidently embark on your cannabis journey, guided by knowledge to find the perfect kit tailored to your needs and preferences.
Best CBD Vape Pen Starter Kits: Expert Picks for Your Ultimate Experience
Today, we're thrilled to present a carefully curated selection of six exceptional hemp oil vaping starter packages, handpicked by AskGrower's experts.
Cloud - Restorative Rainbow Vape Pen 1:1 THC:CBD
Introducing the Cloud Restorative Rainbow Vape Pen 1:1 THC:CBD, a game-changer in the world of cannabis vaping. Crafted from a unique blend of Dancehall and Blueberry strains, this proprietary creation delivers a delightful sweet and spicy flavor profile. What sets it apart is the perfectly balanced 1:1 THC:CBD ratio, making it ideal for beginners seeking relaxation without overwhelming psychedelic consequences.
The Restorative Rainbow liquid, compatible with USB universal batteries, boasts 45% THC and 44% cannabidiol in a 1g cartridge. Users have reported feelings of serenity, happiness, emotional equilibrium, and pain relief.
Pros:
Balanced THC:CBD ratio for a mellow experience
Unique sweet and spicy components
Compatible with various vaporizers
Suitable for beginners
Cons:
Nuvata - Mind Balance Vape Pen 9:1 Tropical
Experience a harmonious blend of relaxation and euphoria with the Nuvata Mind Balance Vape Pen 9:1 Tropical. This THC-dominant vaping pen packs a punch with 365 mg of THC, delivering powerful relief for both body and mind. What sets it apart is the thoughtful addition of 40 mg of CBD, providing a perfect 9:1 ratio for balanced outcomes.
But it's not just about the cannabinoids; this pen boasts a diverse terpene profile[5] featuring myrcene, pinene, caryophyllene, and humulene, enhancing the aroma and flavor while synergizing with cannabidiol and THC to promote overall well-being. Inhale the tropical bliss and feel your muscles unwind with each exhale. It's a mood-enhancing journey that leaves you content.
Dosist - Calm Vape Pen 100 Doses
Discover tranquility with Dosist Calm Vape Pen 100 Doses. Crafted for hemp enthusiasts, Dosist is a portable vape pen CBD oil. It strikes a harmonious balance with a 1:6 THC to cannabidiol formula, providing relaxation and relief minus the THC intensity. Each Calm pen offers 160 mg of cannabidiol and 28 mg of THC, a serene combination that allows your worries to fade, ushering in sheer bliss.
Regardless of life's challenges, the Calm 100 Doses pen is your steadfast companion, boosting your spirits and fortifying emotional resilience. Its natural flavor delivers pure joy, complemented by the richness of cannabis aromas. Plus, it's a refillable vape CBD oil pen starter kit that is hassle-free with no need for batteries, making it perfect for on-the-go tranquility. Moreover, you can experiment with CBD vape juice to make your experience unique.
Kurvana - Mint Chip Vape Pen CBD:CBG:THC
Indulge in the delightful Kurvana Vape Pen Mint Chip, a Sativa masterpiece that tantalizes your senses with the fusion of chocolate cookies and refreshing mint. This all-in-one wonder boasts a 5:1:10 CBD:CBG:THC ratio, perfect for those seeking a balanced experience in CBD disposable vape pens.
What sets it apart is the ceramic heating element, optimized for terpene-rich CBD vape oils, ensuring swift and efficient vapor delivery through short-pass airflow. The uplifting Sativa effects leave you energized, euphoric, focused, and creatively inspired.
Crafted with style in mind, this Kurvana vape pen features a sleek design with a soft-touch coating, all neatly packaged in a compact box. Its long-lasting 380 mAh battery offers up to 100 draws, making it ideal for discreet, on-the-go use.
CBDfx - Delta 9 THC & CBD Vape Pen Wedding Cake Hybrid
The CBDfx THC and CBD Hybrid Wedding Cake Disposable Vape Pen is a hybrid vape lover's dream. This popular strain, Wedding Cake, is renowned for its delectable flavor and the perfect balance. It strikes between uplifting and calming outcomes.
Packed within its 2 ml cartridge is a carefully crafted vaping liquid containing 500 mg of full-spectrum hemp and just 5 mg of delta-9 THC. Full-spectrum CBD, extracted from the cannabis plant, boasts a symphony of beneficial compounds, including minor cannabinoids, flavonoids, terpenes, and more, creating the coveted entourage effect. This synergy enhances CBD's effectiveness, while delta-9 THC adds to the therapeutic potential, promoting relaxation and stress relief.
With THC concentrations below 0.3%, this vape pen won't induce a high. CBDfx's ceramic coil technology ensures durability, and the device is easily rechargeable via micro USB (not included), offering up to 800 puffs.
Nuvata - Flow 1:1 Apricot Vape Pen
Experience the perfect harmony of relaxation and elevation with Nuvata's Flow 1:1 THC:CBD Apricot Vaporizer. This meticulously crafted device offers a delicate balance of cannabinoids found in hemp hybrids, delivering a unique blend of mental calmness and heightened sensory perception.
With each draw, you'll embrace tranquility, mental clarity, and physical comfort. Featuring a well-balanced THC:CBD ratio (43%/41%), this vaporizer is enriched with plant-based terpenes like myrcene, terpinolene, pinene, caryophyllene, and linalool, enhancing the overall experience.
Whether you're unwinding at home, exploring the outdoors, or socializing with friends, this Nuvata vape pen is your versatile companion. Plus, the sweet and juicy apricot flavor will tantalize your taste buds.
Conclusion
The world of non-psychoactive cannabis, particularly CBD, holds significant promise for improving our well-being. As we've explored in this article, choosing high-quality CBD-infused vape pen sets is paramount. It ensures a safe and effective journey into the realm of hemp consumption.
When selecting a СBD THC oil vape pen starter kit, pay attention to factors like sourcing, extraction methods, and third-party testing to guarantee purity and cannabis potency. By prioritizing quality, you set the foundation for a positive experience.
However, one crucial aspect that can't be stressed enough is the importance of consulting a healthcare professional before embarking on your hemp journey. Each individual body responds uniquely to CBD, and a doctor's guidance will help you tailor your consumption to your specific needs and health conditions.
Sources
AskGrowers is steadfastly dedicated to maintaining rigorous research criteria and safeguarding the reliability of our content. Our fundamental values revolve around providing substantial, meticulously substantiated insights, all while abstaining from making unverified claims. Our foremost objective is to nurture a profound comprehension grounded in solid evidence, painstakingly cultivated through thorough scrutiny of peer-reviewed studies, esteemed research institutions, and credible industry associations.
Lucile Rapin, Rihab Gamaoun, Cynthia El Hage et al. "Cannabidiol use and effectiveness: real-world evidence from a Canadian medical cannabis clinic." Journal of Cannabis Research, 2021. Available at: https://www.ncbi.nlm.nih.gov/pmc/articles/PMC8223341/

Scott Shannon, Nicole Lewis, Heather Lee et al. "Cannabidiol in Anxiety and Sleep: A Large Case Series." The Permanente Journal, 2019. Available at: https://www.ncbi.nlm.nih.gov/pmc/articles/PMC6326553

Jan M Schilling, Chloe G Hughes, Mark S Wallace et al. "Cannabidiol as a Treatment for Chronic Pain: A Survey of Patients' Perspectives and Attitudes." Journal of Pain Research, 2021. Available at: https://www.ncbi.nlm.nih.gov/pmc/articles/PMC8107012/

Dennis J. Sholler, Lauren Schoene, and Tory R. Spindlea. "Therapeutic Efficacy of Cannabidiol (CBD): A Review of the Evidence from Clinical Trials and Human Laboratory Studies." Current Addiction Reports, 2020. Available at: https://www.ncbi.nlm.nih.gov/pmc/articles/PMC7880228/

Justin E. LaVigne, Ryan Hecksel, Attila Keresztes et al. "Cannabis sativa terpenes are cannabimimetic and selectively enhance cannabinoid activity." Scientific Reports, 2021. Available at: https://www.nature.com/articles/s41598-021-87740-8
FAQ
No, cannabis cartridges do not fit all vape pens. Compatibility depends on the specific vape pen model and the type of cartridge. It's crucial to check if the cartridge and vape pen are designed to work together. Using an incompatible cartridge can lead to leakage, malfunction, or wasted product. Always consult the manufacturer's guidelines to ensure a proper fit.
Yes, vaping hemp daily can be safe for many people when done responsibly and in moderation. However, it's crucial to use high-quality products, follow dosage recommendations, and monitor for any adverse consequences. Consult a healthcare professional for personalized guidance, especially if you have underlying health conditions or concerns.
Yes, hemp vaping can be beneficial for sleep. Cannabis has calming properties that may help improve sleep quality by reducing anxiety and promoting relaxation. However, individual responses vary, so it's crucial to start with a low dose. You should monitor its outcomes, and consult with a healthcare professional if sleep issues persist.
The number of puffs in a cannabis vape cartridge can vary widely depending on its size, cannabidiol concentration, and vaping habits. On average, a 1 ml cartridge may offer around 100-200 puffs. However, it's essential to check the product label or consult the manufacturer for specific information on the cartridge you're using. Factors like the wattage of your vape device and the length of your puffs also influence puff count.