Usage of CBD to Address Aggression in Cats: Finding the Right Balance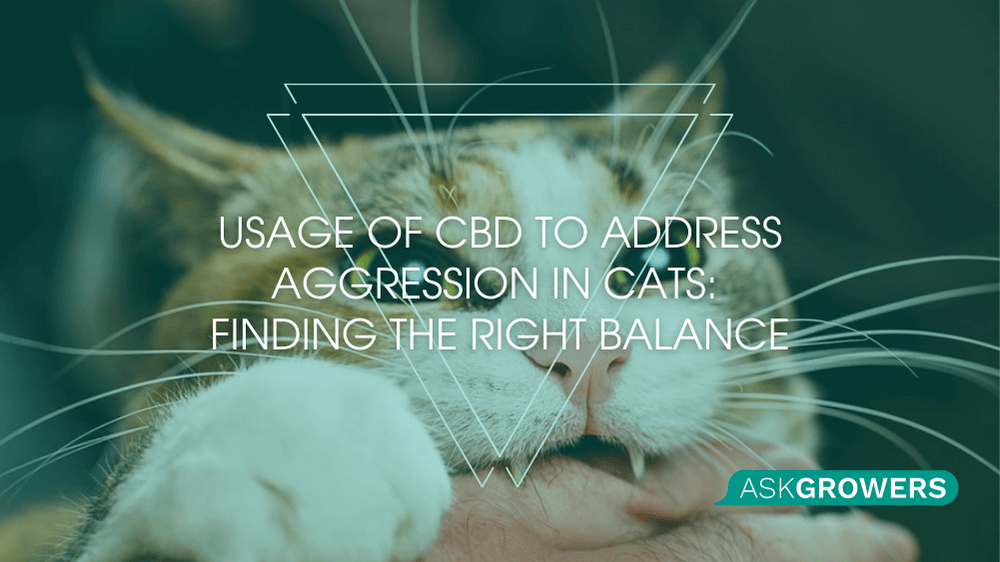 If your cat shows signs of aggression, it may be due to physical or behavioral issues. Consultation with a veterinarian will help identify the triggers and determine the right treatment plan. Health supplements with CBD for cats have demonstrated high efficacy and safety and can help your furry family member with their problem. Research shows that this hemp derivative works similarly in cats as it does in humans and can assist by doing the following:
Reducing pain

Stabilizing mood

Diminishing stress
More and more pet owners opt for products infused with CBD for cats' aggression. First-time users should start slowly to ensure that their felines don't experience any adverse effects.
Causes and Risks of Aggressive Behavior in Cats
Since cats are predators, their aggressive behavior may be natural, with the traces embedded in their play or social conflicts. However, excessive aggression can be caused by injury, anxiety, fear, or health problems, and it can become destructive to your pet. By reading your cat's body language, you can determine the cause and understand whether its aggression is offensive or defensive.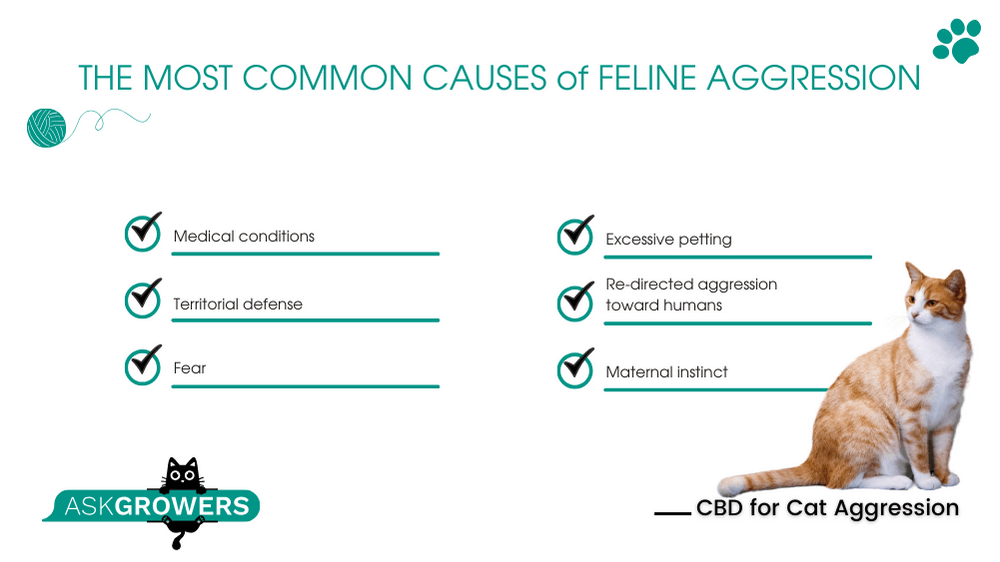 The most common causes of feline aggression are the following:
Medical conditions (joint pain, toothache, infection, or age-related cognitive dysfunction)

Territorial defense (when moving to a new home or introducing a new person/pet)

Fear (loud noises or new objects)

Excessive petting

Re-directed aggression toward humans

Maternal instinct (when a cat sees people or other animals approaching its offspring)
Living with an aggressive cat can be risky and detrimental to both the pet and its owner. A qualified professional will develop a customized treatment plan for calming aggressive cats and to help reduce your feline's susceptibility to aggression.
CBD's Working Mechanism and Its Potential in Managing Aggression in Cats
Treating your cat with certain pharmaceutical drugs and diets can increase the likelihood of aggressive behavior, which is why more veterinarians are discovering that CBD for cat aggression may be more helpful.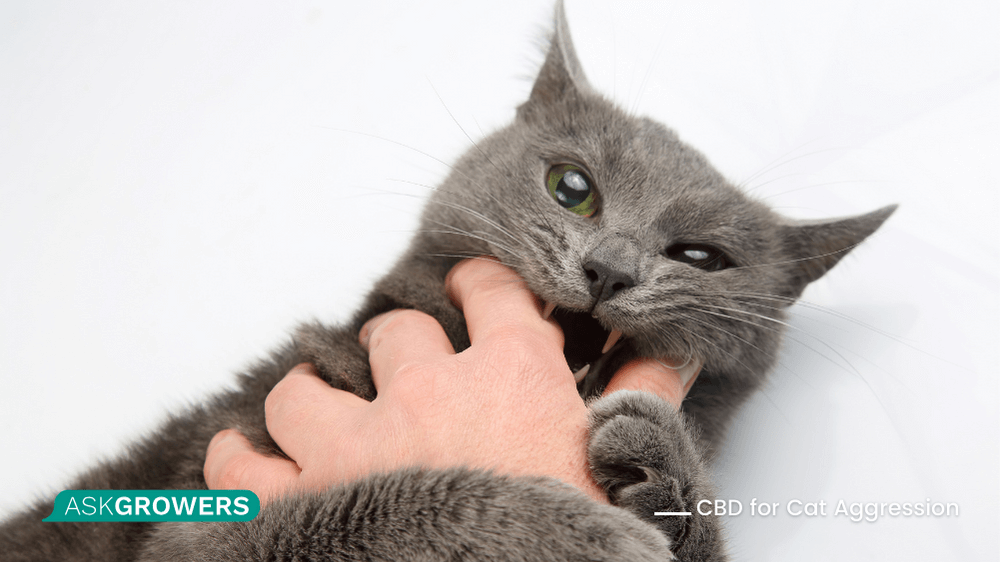 Like other mammals, cats have an endocannabinoid system[2] (ECS) that works in a similar way to humans. It means that felines can also benefit from the calming, anti-inflammatory, and analgesic properties of cannabidiol. The ECS promotes and maintains the balance between various organs and systems, ensuring the smooth and harmonious functioning of your cat's body. Hemp-derived cannabidiol has the potential to act on the receptors and affect the activity of the ECS by establishing proper communication between cells. This phytocompound is known to have the following characteristics:
Anti-inflammatory

Soothing

Relaxing

Pain-relieving

Stress-reducing

Mood-elevating

Health-promoting
Cannabidiol binds to cannabinoid receptors and acts as a regulator, putting your cat in a better state of mind, helping calm aggressive cat behavior, and preventing future outbursts.
In general, CBD oil for cats is safe[3]. However, more research is needed in this area, especially with its long-term use. Before buying this dietary supplement, obtain a veterinarian's approval and observe the proper dosage based on your pet's weight, underlying medical conditions, and the causes of intake. Since cats are notoriously difficult to medicate, start with CBD pet treats or mix hemp-infused oils into their meals instead of using sublingual oil. Look for high-quality THC-free goods. An enticing natural fish flavor will increase your feline's interest in the product.
Top 5 Products with the Best CBD for Aggressive Cats
With a wide variety of CBD products for pets, it can be hard to choose and find the right option. The experts at AskGrowers have reviewed dozens of brands, comparing hemp quality, lab test results, prices, consumer testimonials, and other factors. Check out this selection of the top 5 products for your feline.
GoGreen Hemp CBD Dog and Cat Oil Tincture Drops
GoGreen Hemp has created CBD Dog and Cat Oil Tincture Drops with a special formula that contains only two ingredients: broad-spectrum hemp, which is rich in terpenes and flavonoids, and MCT coconut oil. It helps reduce stress, improve overall well-being, reduce anxiety, elevate mood, and promote better sleep. It comes in two potencies to meet your pet's needs: 300 mg and 510 mg per 1 fl. oz. bottle. The product is third-party lab-tested for potency and quality, with results that can be viewed with a QR scan. It has zero THC levels. Pet owners can accurately dose the oil due to a built-in dropper; there is a dosage chart on the package.
Pros:
Veterinarian-formulated
Made from organic hemp grown in Colorado
Gluten-free, non-GMO
Economically priced
Cons:
Some pets may not like the hemp flavor
Extract Labs CBD Oil for Pets
CBD Oil for Pets created by Extract Labs is made with simple ingredients that include full-spectrum hemp and fractionated coconut oil. The hemp extract is enriched with terpenes, flavonoids, and minor cannabinoids, and it contains less than 0.3% THC. It is great for relieving tension and discomfort, reducing stress, decreasing irritability, soothing joint pain, and improving mood. This oil is produced in GMP-compliant facilities and tested in independent labs. It is available in 2 sizes: 500 mg per 1 fl. oz. and 1000 mg per 2 fl. oz. bottle. A convenient built-in dropper allows for accurate dosage measurement.
American Shaman CBD Cat Food Kitty Nugs
CBD Cat Food Kitty Nugs by American Shaman come in a 48 oz. (3 lbs.) bag and contain 60 mg of full-spectrum hemp extract, preserving the rich terpene profile and providing 2.5 mg per serving. They are formulated with natural ingredients, including chicken, flaxseed, oatmeal flour, fish oil, and vitamins. These mini nugget-shaped pieces have a delicious chicken flavor. They help support a balanced mood, reduce anxiety, aid digestion, improve cognitive function, and promote your feline's well-being at any stage of life.
CBD Dog Health Calm CBD Oil for Cats
CBD Dog Health offers a natural product to help your feline reduce stress, ease anxiety, and cope with situational fear - Calm CBD Oil for Cats. It is formulated with 550 mg of full-spectrum hemp extract that is rich in terpenes and phytocannabinoids, hemp seed oil, MCT oil, and lavender essential oil. This scientifically-backed botanical is known for its relaxing and calming effects. The oil can be applied to the gums, added to your cat's meals, and rubbed into the ears. It comes in a 2 fl. oz. bottle with a dropper for convenient dosage measurement.
HolistaPet CBD Oil for Cats
HolistaPet has formulated CBD Oil for Cats to support the health and wellness of your feline. Made with broad-spectrum hemp extract and hemp seed oil, it is rich in terpenes and secondary cannabinoids. Regular administration will help your pet with mobility issues, reduce anxiety, balance mood, support the immune system, improve appetite, and calm the nerves of an aggressive cat. The product contains 300 mg per 0.5 fl. oz. bottle. The amber glass prevents sensitive oil components from degrading in light, while a built-in dropper makes dosing a breeze. The oil is available in other sizes and potencies.
Conclusion
Cannabidiol is a relatively new approach to calm aggressive cat behavior and reduce anxiety[4]. However, this compound is becoming more popular in solving behavioral problems and other medical conditions in pets[5]. It may be one of the easiest solutions to make your feline calmer, healthier, happier, and friendlier.
The product selection is diverse, but not all CBD oils for cats' aggression are created equal. Opt for natural and high-quality CBD products from trusted brands. Consult your veterinarian to determine the proper dosage to help your furry family members enjoy a better quality of life, no matter their age.
Sources
Isabella Corsato Alvarenga, Kiran S. Panickar, Hannah Hess, and Stephanie McGrath (2023) Scientific validation of cannabidiol for management of dog and cat diseases. Annual Review of Animal Bioscience. Available at: https://www.annualreviews.org/doi/10.1146/annurev-animal-081122-070236.

Robert J. Silver (2019) The endocannabinoid system of animals. Multidisciplinary Digital Publishing Institute (MDPI). Available at: https://www.mdpi.com/2076-2615/9/9/686/.

Justyna E Kulpa, Lina J Paulionis, Graham Ml Eglit, Dana M Vaughn (2021) Safety and tolerability of escalating cannabinoid doses in healthy cats. U.S. National Library of Medicine. Available at: https://pubmed.ncbi.nlm.nih.gov/33769105/.

Cindy H J Yu, H P Vasantha Rupasinghe (2021) Cannabidiol-based natural health products for companion animals: Recent advances in the management of anxiety, pain, and inflammation. U.S. National Library of Medicine. Available at: https://pubmed.ncbi.nlm.nih.gov/34391060/.

Giorgia della Rocca, Alessandra Di Salvo (2020) Hemp in veterinary medicine: From feed to drug. Frontiers in Veterinary Science. Available at: https://www.frontiersin.org/articles/10.3389/fvets.2020.00387/full.
FAQ
Yes, you can. Similar to humans, cats have an endocannabinoid system that regulates their sleep, mood, comfort, and recovery. This system positively responds to cannabinoids, including cannabidiol. Recent studies show that this phytocompound has potent anxiolytic, anti-inflammatory, and analgesic properties. Pet owners can use cannabidiol to help their cats reduce anxiety symptoms and ease discomfort caused by underlying medical conditions that trigger aggressive behavior.
Cannabidiol doesn't work right away and takes time to take effect. Your cat will feel the effects in 30-60 minutes, which generally last for 4-6 hours. Bioavailability depends on the method of cannabidiol administration. Sublingual administration gives faster effects because the substance is quickly absorbed through the mucosal lining of the mouth and goes directly into the bloodstream. CBD oil treats for cats' aggression should be digested first before the active ingredient starts to work.
Cannabidiol, which is known to relieve anxiety symptoms, can also cause anxiety in your feline at the wrong dosage. It interferes with the production of certain hormones that can trigger panic attacks. Therefore, follow the manufacturer's instructions and calculate the dosage based on your pet's weight and the severity of the condition. Start with low doses to minimize the risk of getting potential side effects.
Giving your feline friend too much cannabidiol may cause temporary side effects, such as nausea, drowsiness, diarrhea, upset stomach, changes in appetite, or fatigue. These effects usually disappear within a few hours. This phytocompound is considered safe for cats, so a fatal overdose is not possible. Monitor your pet's condition and contact your veterinarian if symptoms don't subside.