Safety First: How to Choose the Right Cannabidiol Vape Pen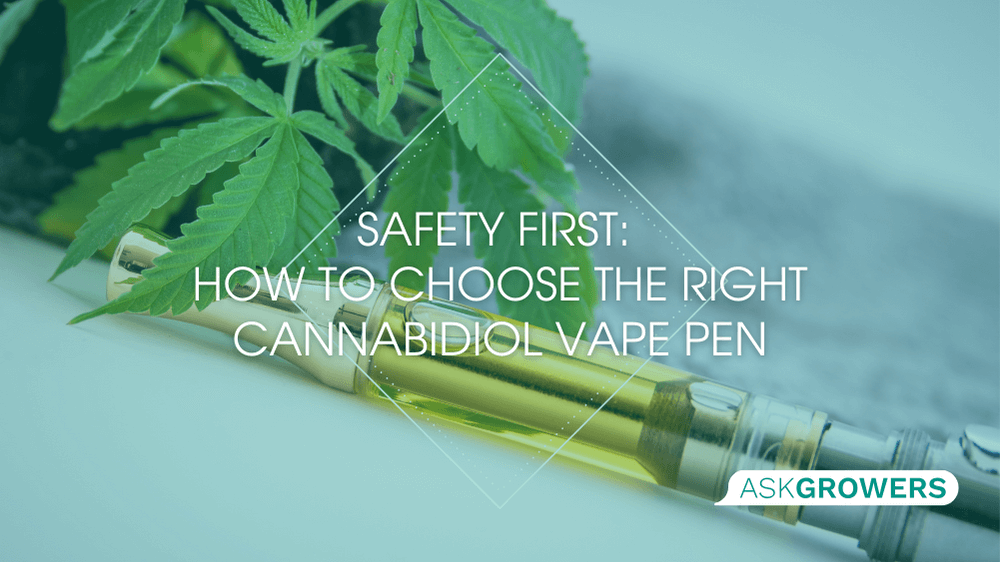 In our journey through the world of non-psychoactive marijuana, one topic stands out: the surging popularity of cannabidiol vape pens. These pocket-sized devices have captured the attention of many, and several factors have contributed to their widespread appeal. Here, we'll introduce a safe vape pens CBD comprehensive review, highlight the utmost significance of safety when choosing one, and provide a glimpse into the primary criteria for evaluating their safety.
Why are CBD vape pens becoming so popular[1]? Almost all reasons point to the convenience and usability of these vape devices:
Portability: Cannabidiol vape pens are incredibly convenient to carry, making them an ideal choice for those on the go.

Rapid Absorption: Vaping allows cannabidiol to enter the bloodstream quickly, offering fast relief for various conditions.

Customized Dosage: These pens provide flexibility in adjusting cannabidiol dosage, ensuring a personalized experience.
While their popularity soars, CBD vape pens safety remains paramount. A subpar vaping device can result in safety hazards, inconsistent dosage, potential contaminants, and adverse health effects. Choosing a reputable, well-designed device is crucial to avoid these risks and to ensure a safe vaping experience.
Safety of CBD Vape Pens: A Comprehensive Guide
Cannabidiol vape pen manufacturers prioritize safety with features like automatic shutoff mechanisms, which prevent overheating and enhance user safety. Robust short-circuit protection is also crucial to guard against electrical issues and to ensure device safety. Reputable and safe CBD vape pens are equipped with high-quality lithium-ion batteries, ensuring reliability during use.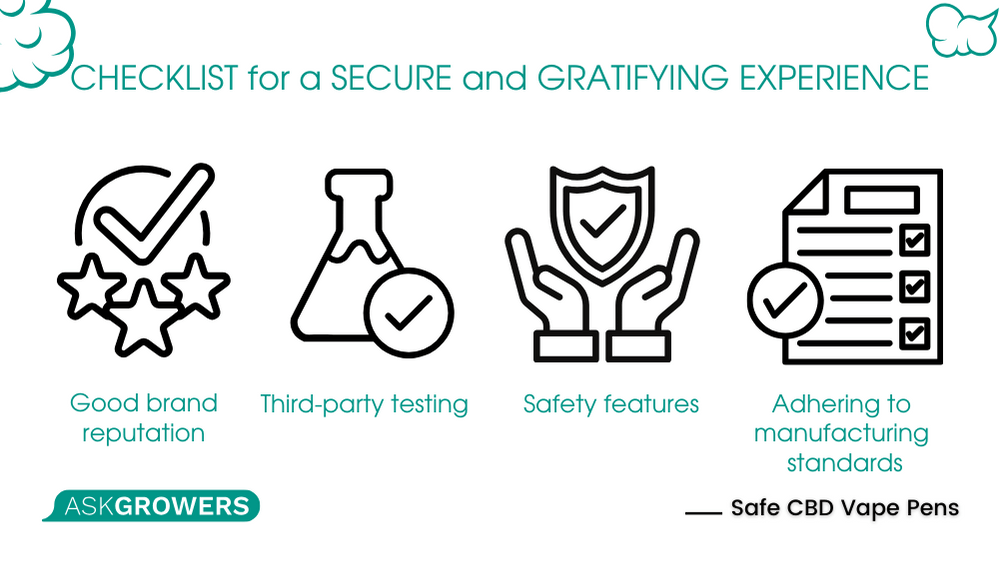 Adherence to manufacturing standards is also pivotal in ensuring product safety. Look for manufacturers with certifications such as ISO 9001 or ISO 22000, reflecting their commitment to quality and consumer well-being.
A cornerstone of safety factors in the cannabidiol vape pen industry is third-party lab testing. Trustworthy manufacturers submit their products for rigorous analysis, serving two critical purposes:
Cannabidiol Content Verification[2]: Lab tests confirm the accuracy of the cannabidiol content listed on product labels, guaranteeing consumers receive what they expect.

Contaminant Screening[3]: Thorough lab testing screens for contaminants like pesticides, heavy metals, and solvents, safeguarding users from potential harm.
Before making your vape pens for CBD oil selection, consider this simple checklist for a secure and gratifying experience:
Good brand reputation

Third-party testing

Safety features

Adhering to manufacturing standards
Safety should be your guiding principle when selecting a cannabidiol vape pen. Armed with our checklist and professional advice, you can confidently choose a safe cannabidiol vape pen, setting the stage for a rewarding and secure cannabidiol experience.
About Excellence: The Best Cannabidiol Vape Pens
Prepare to embark on a journey into CBD vaping excellence as AskGrower's experts present a meticulously curated selection of the finest vape pens for СBD. Each product has been carefully chosen to cater to the unique needs and preferences of the user, offering an array of tempting options.
Cloud - Restorative Rainbow Vape Pen 1:1 THC:CBD
Cloud's Restorative Rainbow Vape Pen offers an intriguing blend of relaxation and balance. This unique 1:1 THC:CBD ratio strain, born from a genetic fusion of Dancehall and Blueberry varieties, boasts sweet and spicy flavors. What sets it apart is its ability to provide a gentle body high without overwhelming psychedelic effects.
Designed for ease, the universal vape pens for CBD carts work with USB universal batteries. It packs a punch with 45% THC and 44% cannabidiol in a 1g CBD vape juice. According to the user reviews of Restorative Rainbow, they often report feeling relaxed, happy, and emotionally balanced, along with welcome relief from pain[4].
Pros:
Balanced THC:CBD ratio
Unique sweet and spicy flavor
Gentle body high
Suitable for beginners
Compatible with USB universal batteries
Cons:
CBDfx - Tropic Breeze CBD Vape Pen
For cannabidiol enthusiasts seeking convenience, the Tropic Breeze Cannabidiol Vape Pen 500mg from cannabidiolfx is a top choice. These rechargeable and CBD disposable vape pens are compact, making them the perfect companion for on-the-go relaxation. With 500mg of cannabidiol per pen, you can enjoy up to 800 puffs, each delivering a wholesome dose of cannabinoids like cannabidiol, THC (non-detectable traces), CBN, CBC, and CBG.
The juicy, natural tropical flavor elevates your vaping experience while enhancing the mood-boosting effects of cannabinoids. CBDfx's commitment to quality shines through in this product, promoting overall wellness with every puff.
Dosist - Calm Vape Pen 100 Doses
For cannabidiol enthusiasts[5] seeking relaxation and relief without the intense THC experience, Dosist's Calm Vape Pen offers an ideal solution. With a soothing 1:6 THC to cannabidiol formula, this vape pen is designed to promote tranquility and happiness. Each Calm 100 Doses pen contains 160 mg of cannabidiol and 28 mg of THC, providing a perfect balance to help you unwind and boost emotional resilience.
The natural flavor enhances your vaping experience, offering pure joy and the rich aroma of cannabis. The best part? No battery is required, making it a convenient on-the-go option for those seeking calm and balance.
The Kind Pen - Jiggy CBD Wax Vape Pen
The Kind Pen's Jiggy Cannabidiol Wax Vape Pen is a versatile and stylish choice for vape enthusiasts. This multi-use device is compatible with CBD vape oils, concentrates, and e-liquids, providing a wide range of vaping options. With a quartz atomizer featuring quartz coils, it ensures flavorful hits that elevate your vaping experience.
Durability is a crucial feature, as the Jiggy Cannabidiol Wax Vape Pen comes with a robust metal casing designed to withstand accidental drops. You'll also love the variety of color options, including eye-catching choices like Teal and Rose Gold.
Dreamt - Sleep Vape Pen
The Dreamt Sleep Vape Pen 0.5g is your ticket to heavenly slumber. With a thoughtful blend of 250 mg THC and 100 mg cannabidiol, this THC-rich pen offers a balanced and restful experience. Crafted with a natural flavor, it's your perfect bedtime companion, helping you shed anxieties and worries that may hinder deep, quality sleep.
This hybrid cannabis strain vape pen is supercharged with melatonin, valerian root, and terpenes, all working in harmony to calm your mind and body, restoring your natural sleep cycle. Just a few puffs before bedtime can make a world of difference, transforming your bed into a cocoon of tranquility.
Hempzilla CBD - Juul Compatible Pods Strawberry Creme Gelato
Indulge in an effortless vaping experience with Hempzilla's Juul Compatible Pods in Strawberry Creme Gelato. These 2-pack pods offer a burst of natural sweetness from ripe strawberries, making your taste buds dance with delight. Each pod boasts 300 mg of non-GMO full-spectrum cannabidiol oil, ensuring a potent and long-lasting vaping experience.
The dessert-like flavor is both delicious and satisfying, and the absence of THC and nicotine means no psychoactive effects. Hempzilla cannabidiol pods are a convenient and flavorful way to promote overall wellness. Plus, they come in a variety of bold flavors for you to explore.
Explore these top-notch cannabidiol vape pens, each with its unique features and potential benefits. As you delve into each product, consider the pros and cons to make an informed choice for your cannabidiol vaping journey.
Conclusion
In our journey through the realm of non-psychoactive marijuana and the pivotal role of CBD oil vape pens, we've uncovered the critical importance of making well-informed choices. As we conclude this enlightening exploration, let's recap the essential takeaways, reaffirm the paramount importance of safety, and inspire you to embark on your cannabidiol vaping journey with knowledge and confidence.
*Above all else, prioritize safety when choosing a cannabidiol vape pen. Manufacturers incorporate various precautions, but it's your responsibility to ensure the product aligns with your health. Opt for brands that subject their products to rigorous third-party lab testing, ensuring cannabidiol content accuracy and contaminant absence.
Trustworthy manufacturers adhere to stringent standards, often with certifications like ISO 9001 or ISO 22000, reflecting their commitment to quality and safety. It is paramount, whether you're a seasoned cannabidiol enthusiast or just starting. Always consult a healthcare provider before introducing cannabidiol vaping. Their tailored guidance helps determine the ideal dosage for your needs.
Sources
AskGrowers is firmly committed to upholding stringent research standards and ensuring the trustworthiness of our materials. Our core principles are centered on delivering substantial, well-supported information while refraining from unsubstantiated assertions. Our primary focus lies in fostering a deep understanding rooted in concrete evidence, meticulously cultivated through exhaustive examinations of peer-reviewed research, esteemed institutions of inquiry, and reputable industry associations.
Dustin C Lee, Benjamin S Crosier, Jacob T Borodovsky et al. "Online survey characterizing vaporizer use among cannabis users." Drug Alcohol Depend, 2016. Available at: https://pubmed.ncbi.nlm.nih.gov/26774946/

Elizabeth R. Aston, Samantha G. Farris, Jane Metrik, and Rochelle K. Rosen. "Vaporization of Marijuana Among Recreational Users: A Qualitative Study." J Stud Alcohol Drugs, 2019. Available at: https://www.ncbi.nlm.nih.gov/pmc/articles/PMC6396515/

Igor Burstyn. "Peering through the mist: systematic review of what the chemistry of contaminants in electronic cigarettes tells us about health risks." BMC Public Health, 2014. Available at: https://bmcpublichealth.biomedcentral.com/articles/10.1186/1471-2458-14-18

Carlo Mazzetti, Emanuele Ferri, Monica Pozzi, and Massimo Labra. "Quantification of the content of cannabidiol in commercially available e-liquids and studies on their thermal and photo-stability." Scientific Reports, 2020. Available at: https://www.nature.com/articles/s41598-020-60477-6

Elizabeth R. Aston, Brie Scott, and Samantha G. Farris. "A Qualitative Analysis of Cannabis Vaporization among Medical Users." Exp Clin Psychopharmacol, 2019. Available at: https://www.ncbi.nlm.nih.gov/pmc/articles/PMC6737940
FAQ
Cannabidiol vape pens can be safer than traditional smoking methods because they don't produce harmful tar or combustion byproducts. However, safety depends on various factors, including the quality of the product, additives, and user knowledge. Always choose high-quality, tested vape pens, and consult a healthcare provider for personalized advice to ensure a safe vaping experience.
While cannabidiol is non-psychoactive and doesn't affect you as THC does, it's still essential to exercise caution. Individual reactions vary, and cannabidiol products may contain trace amounts of THC. Always ensure you're not high before driving after using a cannabidiol pen. Be mindful of local laws and regulations, as they can differ regarding cannabidiol and driving. Safety should be the top priority.
The duration of cannabidiol's effects varies among individuals and depends on factors like dosage and method of consumption. Typically, the effects of cannabidiol can last anywhere from 2 to 6 hours. Inhaled methods like vaping offer quicker onset but shorter duration, while edibles may take longer to kick in but last longer. It's essential to start with a low dose and adjust as needed to find the right duration for your needs.
The onset time for cannabidiol pen effects varies based on factors like dosage and individual metabolism. Typically, vaping cannabidiol provides quicker effects, often within minutes, making it one of the fastest delivery methods. However, the intensity and duration of effects can vary. It's recommended to start with a low dose, wait for 15-30 minutes, and assess how you feel before taking more.