Grower Stories #141: Steven Menken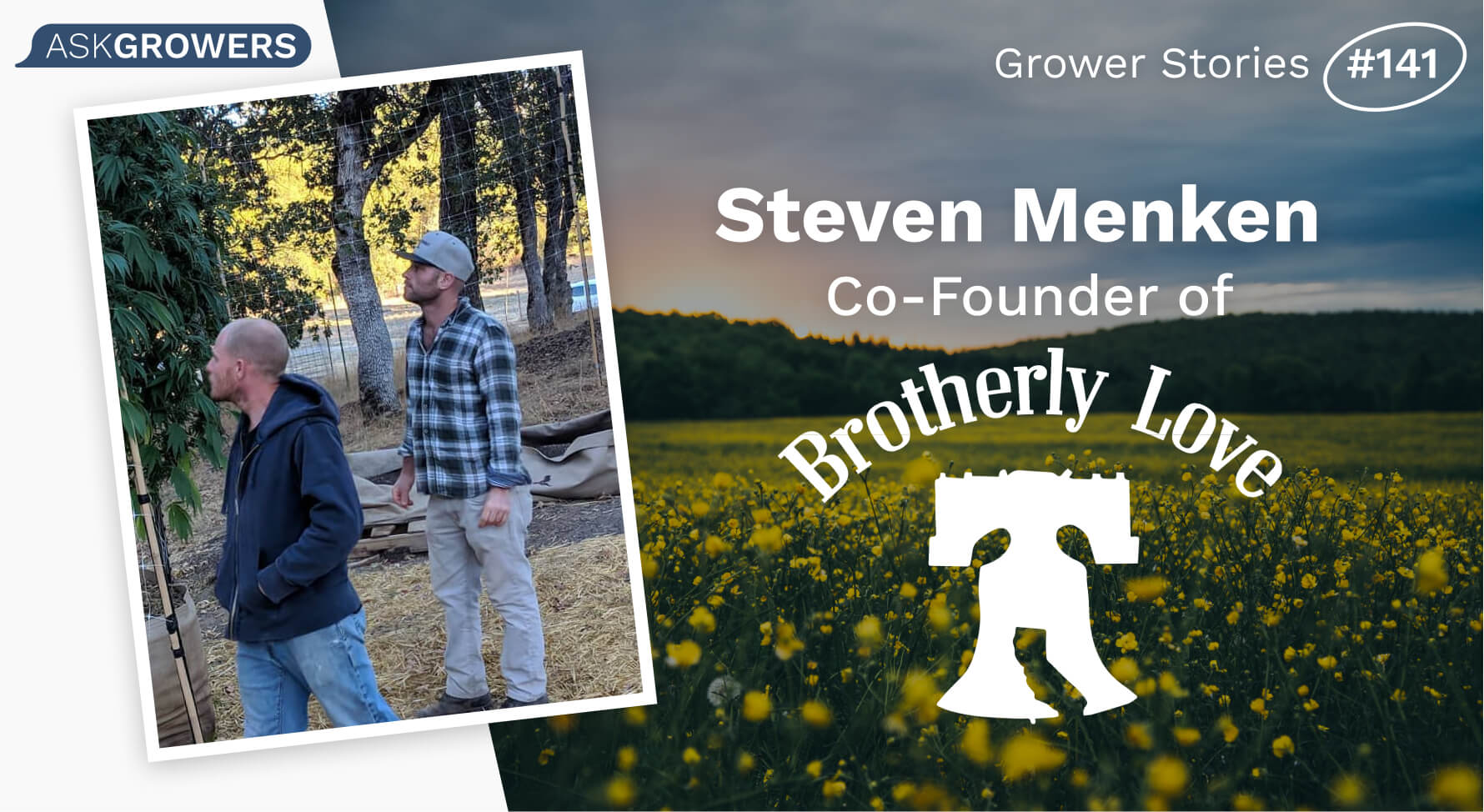 Brotherly Love Focuses on Clean and Great-Tasting Cannabis Products
Steven Menken chats with the AskGrowers team to talk about Brotherly Love, a cannabis brand created by him and his brother. He sheds light on the brand's history and how it focuses on bringing the best-tasting cannabis to people at affordable prices. He also talks about the trends that the cannabis industry will see in the upcoming years, his favorite strains to smoke, and also why he would love to smoke a joint with his mom. #growerstories
---
I am engaged to the most wonderful woman in the world. I love my family, cannabis, and motorcycles. I am originally from Philly and moved to California during my medical days, chasing the cannabis dream.
---
Tia (AskGrowers) :
How did you start Brotherly Love?
Steven Menken : My brother and I started the brand in 2017 in response to the state passing Proposition 64. We had been cultivating for years prior to this. We understood that the state was going to make it extremely difficult for small cultivators to survive and we felt a brand was a good way to reach customers directly.
---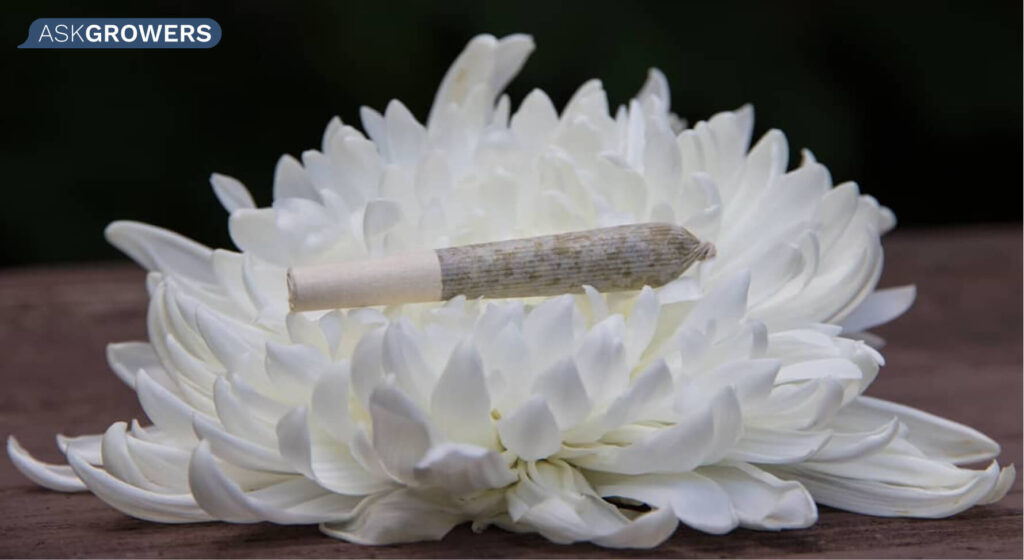 ---
Tia :
What's your brand focus?
Steven : We focus on cultivating the cleanest and best-tasting cannabis possible and bringing it to customers at an affordable price. We strive to create an ecosystem that fosters an environment where our plants thrive. Additionally, we give back to the community through our non-profit partnerships.
---
Tia :
What was your initial capital for opening up the farm?
Steven : Prefer not to disclose.
---
Tia :
What's the size of your farm and how many people help you maintain the processes in-house?
Steven : The farm is an 87-acre ranch that has only 20,000 sqft of cultivation due to our local ordinance being extremely restrictive at the moment.
---
Tia :
Does the location of the farm help with growing cannabis?
Steven : The town, Hayfork, has a very special climate that is seemingly perfect for cannabis. It is a mountain desert with pristine water. Humidity rarely rises above 30% and the temperatures usually stay below 100 during the day and they fall into the 50s at night. There is a joke that Hayfork's outdoors are sold as deps and Hayfork's deps are sold as Ins.
---
Tia :
What's the easiest strain to grow?
Steven : Our OG cut that we call Brotherly Love OG.
---
Tia :
Do you plan to cultivate new strains?
Steven : We tend to pheno hunt seeds each year to see if we can find a cut that has a little magic to it.
---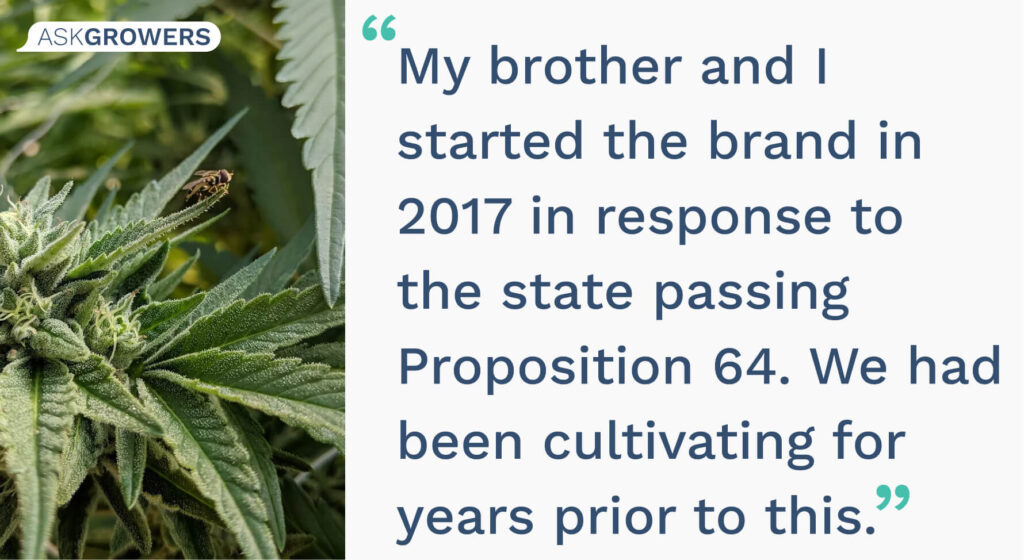 ---
Tia :
What do you think defines the success of the strain?
Steven : Flavor, bag appeal, yield, and resistance to stressors.
---
Tia :
Your top strains to smoke? Why?
Steven : Bob Saget and our Brotherly Love OG. I love the gassy flavor profile.
---
Tia :
If you could have a chance to smoke with anyone on this planet, who'd that be and why?
Steven : My mom. Because I have been trying to get her to smoke with me since I was a teenager.
---
Tia :
Do you think people should invest in the cannabis stock market at all? Why?
Steven : No. Many of the companies' business models are complex and difficult to follow even for industry insiders. It is too early to see which IPOs will survive and which will crash.
---
Tia :
What brands would you invest money in on the cannabis stock market?
Steven : None at this point. I tend to only focus inwards rather than looking at other brands.
---
Tia :
Do you personally want to get into the cannabis stock market?
Steven : No.
---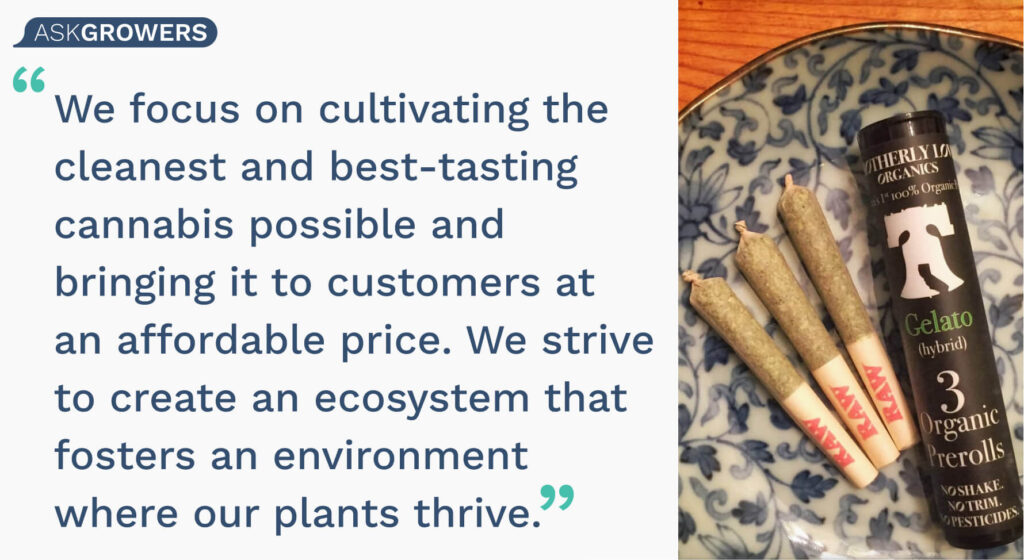 ---
Tia :
What are your predictions on the cannabis industry for the next 5 years?
Steven : The federal government will pass legislation to legalize it for the rich. California will continue to say it wants to help small cultivators while creating policies that put most of them out of business and ensure the success of the rich investors who have backed the largest grows in the state.
The state promised to protect legacy cultivators in Prop 64 when everything it has done since has worked in the opposition direction. This trend will continue. A few smaller family operations will survive through operational excellence. Hopefully, I am wrong and the soul and culture of cannabis is continuously sterilized by corporate America.
---
You can follow Brotherly Love at:
Thank you so much, Brotherly Love Organics team, for taking the time to do the interview. To learn more about them, head on over to their website.