Cannabis-Infused Wine? Understand It First!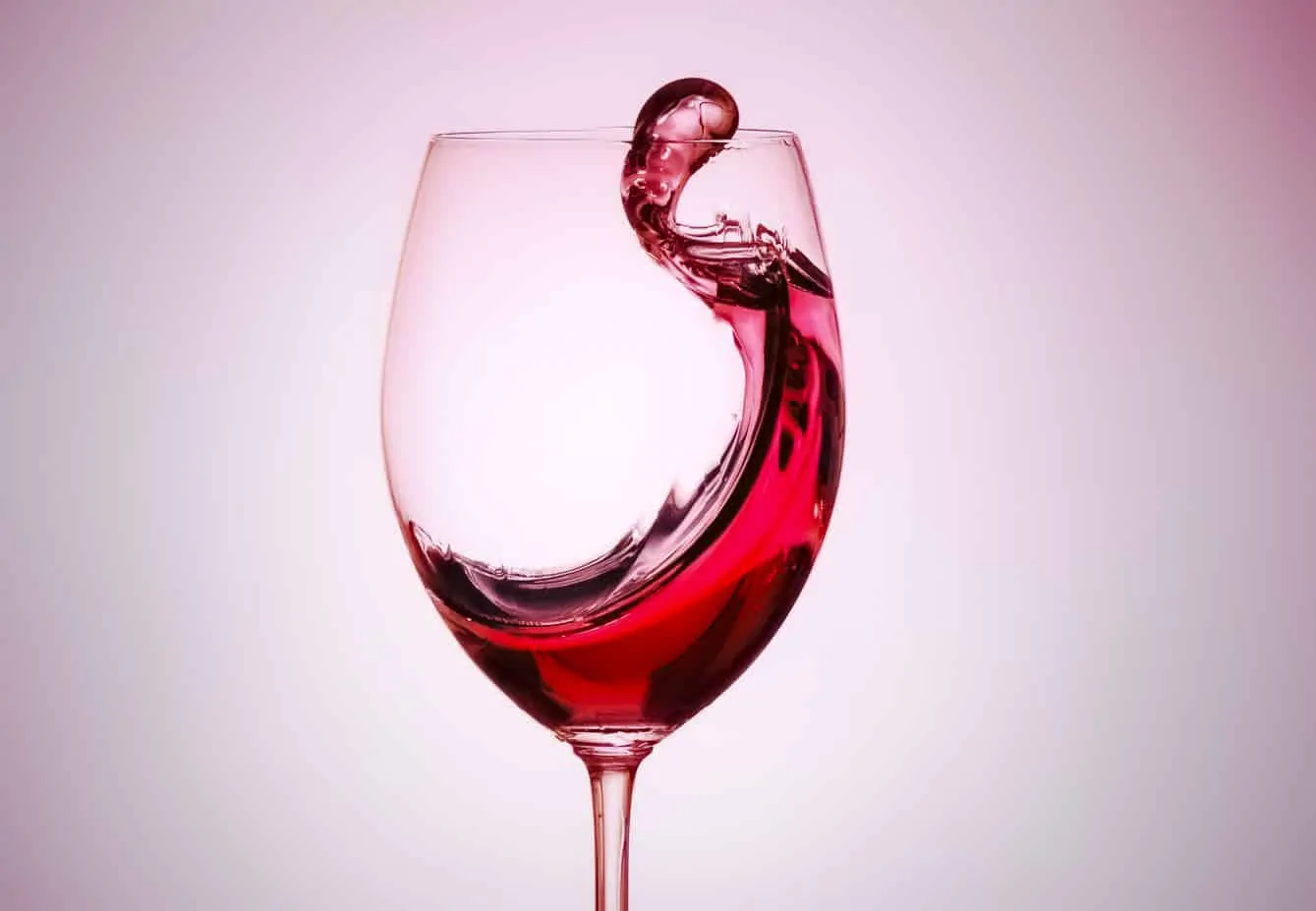 On the shelves, in a limited number of countries, cannabis-infused Wines offers a new experience of the recreational and therapeutic use of cannabinoids. In this article, you are going to understand what is cannabis-infused wine, small bits of its history and know some of the options the market offers for connoisseurs that want to give it a try.
The discoveries regarding the medical benefits of the use of cannabidiol, or CBD, and other cannabinoids, like THC, raised a generalized interest in cannabis-based products in the past few years and a wide variety of products that incorporate CBD is available now.
We must understand the phenomenon as cannabis-infused wine for our store shelves is a new thing for a while. Producers are just beginning to explore ways of producing and distributing such wine. Unfortunately, federal and state governments and their regulations so far only slow down the speed of development of such a product but do not help in any way. Despite this, we already see many strong companies that produce cannabis-infused wines. We are confident that in the future the number of such companies and the quality of their products will only grow.
Cannabis is the medicine which humanity has the most experience dealing with. Records of marijuana being utilized for therapeutic reasons date back to over four millenniums ago, in China, and other locations of archeological value. Archeologists also reveal the use of wine fortified with cannabis resin to reduce pain during surgery in Ancient China.
Cannabis infusions also enhance the experience of recreational consumers too. Just like the different types of grapes influence the wine's taste and suitability, the different kinds of strains, essential oils, and tinctures will have an influence on your pleasure while drinking, adding new possibilities and horizons for both wine and cannabis lovers.
Types Of Cannabis-Infused Wine
First, we need to understand the types of cannabis-infused wine.
The main two types are alcoholic and non-alcoholic wines.
In alcoholic wines filled with cannabis, alcohol is indeed present. It gives the double effect of alcohol + cannabis on a person. Most often, these wines do not contain a high dose of THC and are prohibited in the United States under current laws.
Non-alcoholic cannabis-infused wine first goes through a dealcoholization stage and only then is mixed with CBD and/or THC. We would like to point out that it was often believed that the process of dealcoholization takes away all aromas and flavors from the wine. Now manufacturers claim that with the help of new technologies it is possible to avoid the loss of the real taste and all the notes of the smell of wine.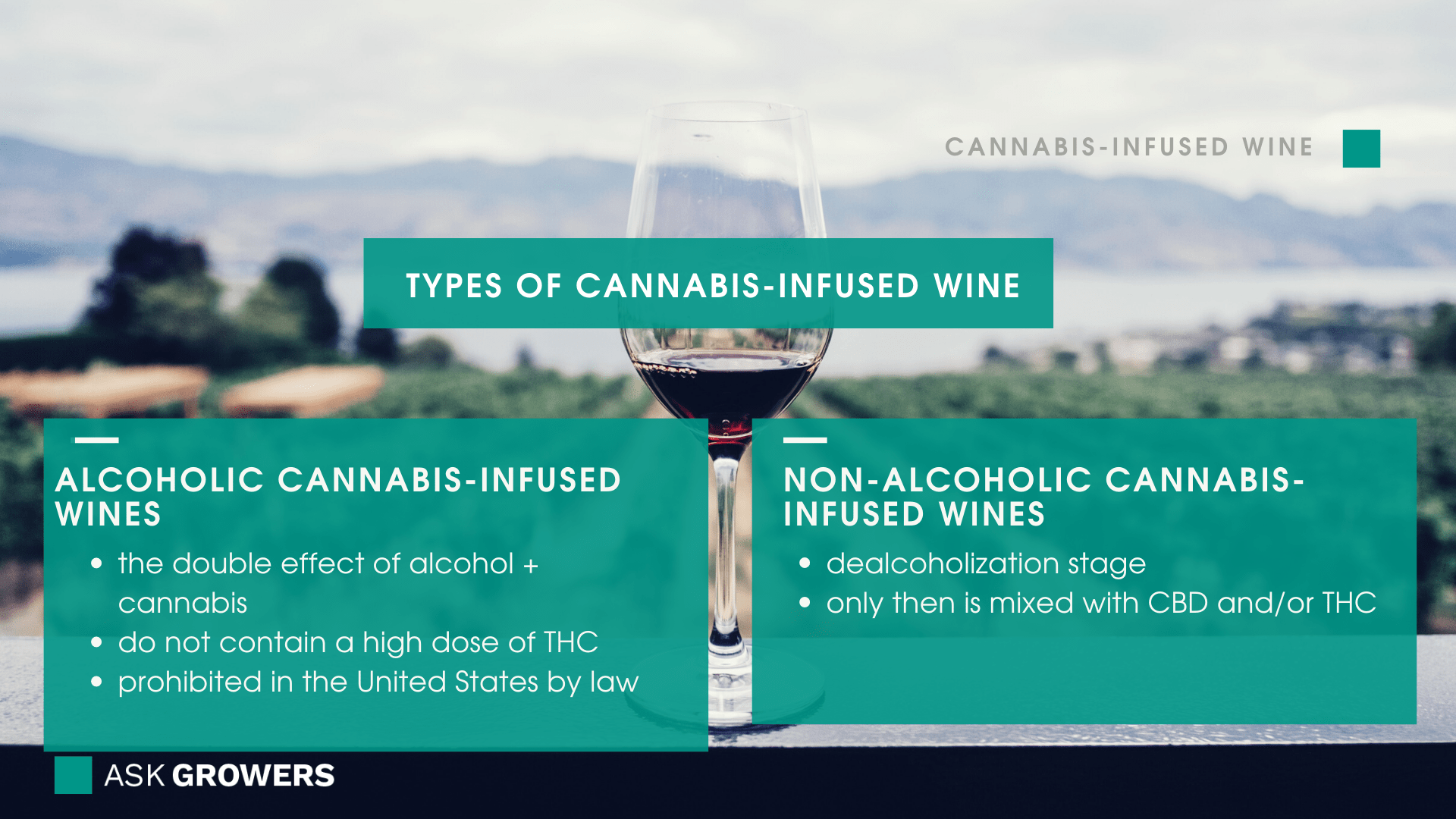 Also, the wine can differ in the type of filling with CBD and/or THC - tinctures or mixed emulsions.
They differ in that the preparation of the infusion requires that the cannabis plants be dipped directly into the wine - for example, as for making tea.
Emulsions are oil-based water-soluble solutions that are more smoothly incorporated into other liquids, in our case into wine. Cannabis wines made from emulsion blends are more efficiently absorbed and processed by the body than edible cannabis forms.
We will tell you about different brands of wines, both alcoholic and non-alcoholic, which have their own unique stories and production methods.
Remember to always drink and smoke responsibly, now check our top selections of cannabis-infused wine for you to try.
CannaWine Red
To spearhead the top five cannabis wine options, we have to list CannaWine Red. It is made essentially from Garnacha and cariñana, original from Costa Brava, and intense red color. The is wine aromatized with hemp enriched with cannabinoids, ecologically grown in the Ebro delta, free of pesticides and chemicals. It is below the U.S. federal legal limit of 0.2% THC rates. This rate guarantee minimal to no psychoactive effects. It is an alcoholic, with a 14.5% alcohol rate.
CannaWine Red provides a sweet and sugary flavor, with a slight touch of red and black fruits, with a subtle final scent of cannabis Sativa. It's easy to drink, but difficult to forget. It's at its best when served cold, paired with dessert, so you can enjoy all the taste of this fine wine with a healthy cannabidiol dose.
CannaWine White
Another spectacular release by CannaWine is the CannaWine White. Made from half Garnacha and half Macabeo grapes, they are also original from Costa Brava with refreshing exotic tones and a sweet taste. CannaWine White is aromatized with the same 50 mg CBD rich hemp extract, below the federal legal limit of 0.2 THC%, and 14.5% alcohol rate, as its red sister.
CannaWine White has a cloudy lemonade haziness that will blow you away! In this label, you will feel like sipping fleshy grapefruit with a floral touch, and low acidity. Best served cold, this wine matches well with appetizers and together with your meal, like tapas, rice, and seafood.
House of Saka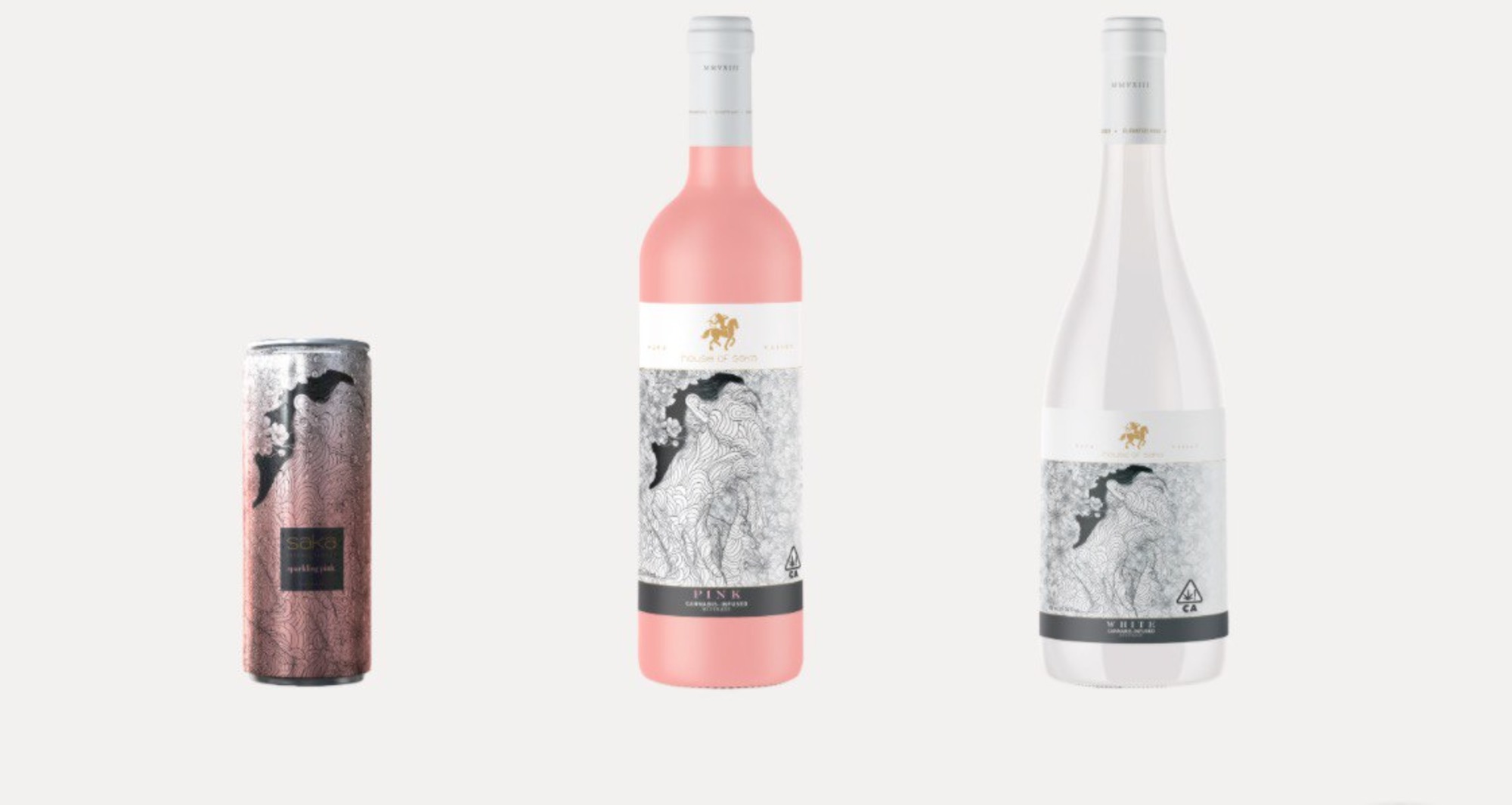 Another outstanding brand of cannabis-infused wine is House of Saka. Their catalog is represented by three types of wine: Saka Pink, Saka WHITE and Sparkling Pink. The wines are created from several grape varieties grown in the famous Californian vineyards in the Napa Valley. They are then added with sustainably cultivated craft cannabis, which includes a proprietary THC/CBD ratio. Saka Pink is based on a red Pinot Noir. Saka WHITE is based on the white variety Chardonnay. Sparkling Pink is based on Pinot Meunier, Pinot Noir, and Chardonnay.
Mary Jane's Magical Hemp Wine
The great news from Canada is the label of Mary Jane's Magical Hemp Wine. With multiple tastes like Magic White, BC Buddy White, BC Buddy Red, and BP Hemp Ice Wine, you'll have a label that not only provides amazing titles, but also a wide variety of tastes that will satisfy the enthusiasts of recreational use. Mary Jane's Magical Hemp has a line of Chardonnay, Merlot and other grapes to offer a variety of flavors to someone who likes exciting new experiences.
Mary Jane's Magical Hemp offers alcoholic strains infused with CBD, so it can also provide help to people with cannabidiol prescriptions and might offer a medical effect to some healthy recreational experience. Be aware that if you need a variety of tastes, along with positive health benefits, and a funny feeling about it, Mary Jane's Magical Hemp might provide just what you're looking for.
Greenway "Known Label" Wine Tinctures
This is a selected one. It is only available in California, and you must add your name to a waiting list before you can get one of those. The happy hopefuls will taste an incredible CBD oil-infused wine, and in each bottle, you will have precise information on the type of wine, strain, and year. This is a very distinct experience.
The unique handmade experience is set to make you feel really special, just like suiting for a very special occasion. Exclusivity sets the tone with Greenway "Known Label" Wine Tinctures.
---
Read Also: The Culture Of Cannabis-Infused Wine: New Trend
---
The Round-Up On Cannabis-Infused Wine
Humanity has over 4,000 years of experience with mixing the pleasures and medical uses of both cannabis and wine. We went through dark times of repression and discrimination, but finally, humanity is connecting to ourselves regarding cannabis consumption. Western Europe and North American are leading a global movement of reconciling the millenary tradition for both wines and cannabis for good.
We believe that soon the manufacturing companies will successfully overcome all legislative and tax difficulties, and we will be able to see the development of an absolutely new type of product for a wide buyer.
Whether you are a recreational THC user from the Golden State or someone who desires the replenishing effects of CBD dominant hemp oils in Europe, there are options so you can add a new layer of cannabis use in your daily life. Remember to always drink responsibly, and inform yourself of healthier use of cannabinoids. Enjoy.