Grower Stories #9: Olivia Alexander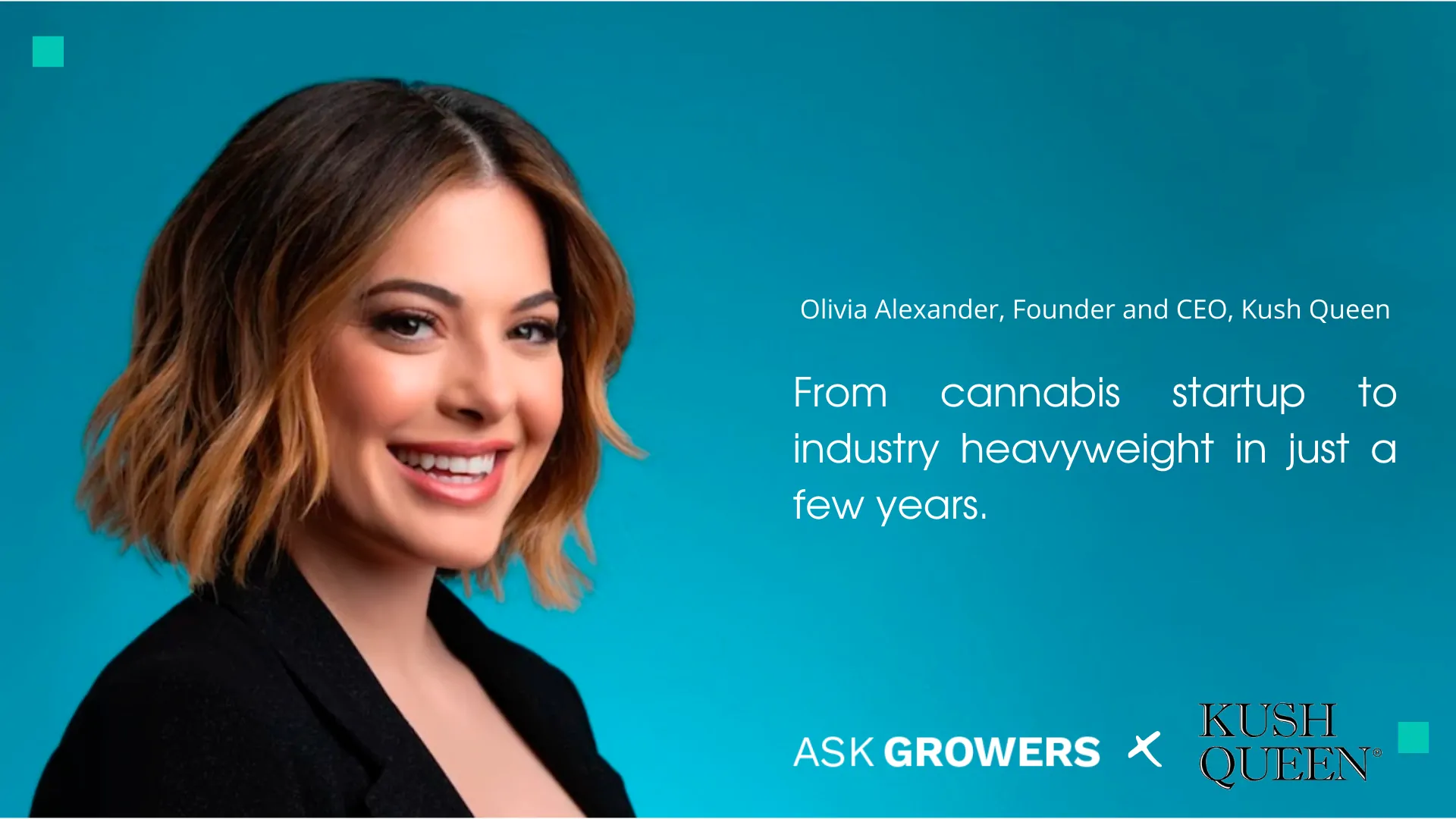 Kush Queen - From Cannabis Startup to Industry Heavyweight
From cannabis startup to industry heavyweight in just a few years: Our interview with Olivia Alexander, Founder and CEO, Kush Queen.
Kush Queen, one of the biggest CBD and THC brands in the US, has grown extensively since it began in 2015. In a wonderfully knowledgeable chat, Kush Queen Founder and CEO Olivia Alexander fills us in on how she got started in cannabis, and how her company achieved such amazing heights so quickly.
---
Tia (AskGrowers)
: Olivia, appreciate you taking time out of your day for this. The story of Kush Queen seems so fast and expansive, it's probably easiest to start at the beginning: How did Kush Queen come to be? What inspired you to jump into the cannabis industry?
Olivia Alexander (Kush Queen) : It may seem fast, but its actually been a long journey. I started working in cannabis when I was 18. I was a budtender at a dispensary called The Green Easy. Then years later I started a company called The Crystal Cult, which made Swarovski crystal vapes and it birthed Kush Queen. I was selling Kush Queen vapes and attempted to sell CBD bath bombs, salves, and scrubs. Ultimately, it wasn't even legal to sell CBD then and I had to stop. Sometimes during those years, I also started Instagram pages about cannabis. It led me to own a creative agency where I did social media, marketing, and digital strategy for tons of cannabis companies. Somewhere between 2015 & 2016 I started picking up steam selling the Kush Queen bath bombs in dispensaries. Then in 2017 everything really exploded for me when we did the Bellacures Canna-cure collaboration. Since then, we've made products with Alice+Olivia, gone to Beautycon, and also somehow survived the transition to the compliant market with our friends at SOL Distro. Now we're making cannabis cosmetics, so it's pretty wild!
---
Tia
: What are some notable moments from your time running Kush Queen? Any keyhole memories that have defined this journey so far?
Olivia : I would say that my best and fondest memories were in the medical days when we did the cannabis cups and sesh's. There's really nothing like those days when you could sell your product out with people and connect with them. The other big one would be New York Fashion Week with Alice+Olivia and that entire world wind which culminated in a piece by the LA Times. It was super surreal to be seen in that way because I have really come from cannabis and it was a full circle moment.
---
Tia
: Do you remember the moment when your business reached a new level? You've got some pretty famous clientele, including Miley Cyrus and Sophia Ritchie. How did they come to find out about Kush Queen?
Olivia : Instagram and really cool supportive friends. We are lucky to have people who have just believed in us from the beginning. People have constantly been supporting me like Harvey Guillen, a long time friend and actor from FX What We Do In The Shadows used to basically drive around with a Crystal Cult/Kush Queen pop up shop in his car. So many people have just been down for us. People like Chloe Grace Moretz were an early supporter of the brand, just out of love for the product. I am surrounded by people who have not just said ' oh I believe in you' ,but put action behind that. I have never paid a celebrity, so I pride myself on that. There's also still really good celebrities & influencers out there who just support like Lady Gaga, Olivia Wilde, and Chloe Morello who are all famous ,but just shopped the products themselves. It's really been incredible to receive so much love.
---
Tia
: What are your top 5 best selling products currently? Any big up-and-comers?
Olivia : Our Relax bath bomb, Relieve bath bomb, Sleep bath bomb, Water Based Lubricant, and Melt would be our top5. The big up and comers would be our KINGDM Cosmetics by Kush Queen. Our first product, Foto Blur primer is doing incredibly well and its follow up is just about ready for release!
---
Tia
: What is your personal your favourite Kush Queen product right now? What about it makes it your #1?
Olivia : I will always live and die for our bath bombs. Especially right now with the state of the world and being unable to get a massage.
The bath is my sacred space and ritual I cannot live without. I am currently using the 1:1 Sleep bath bomb and the 1000mg full spectrum Relieve CBD bath bomb.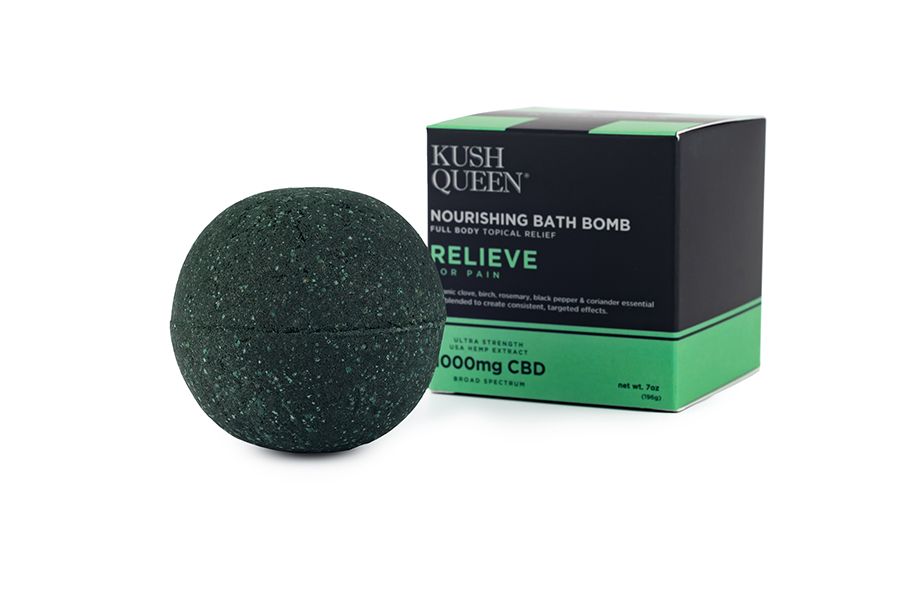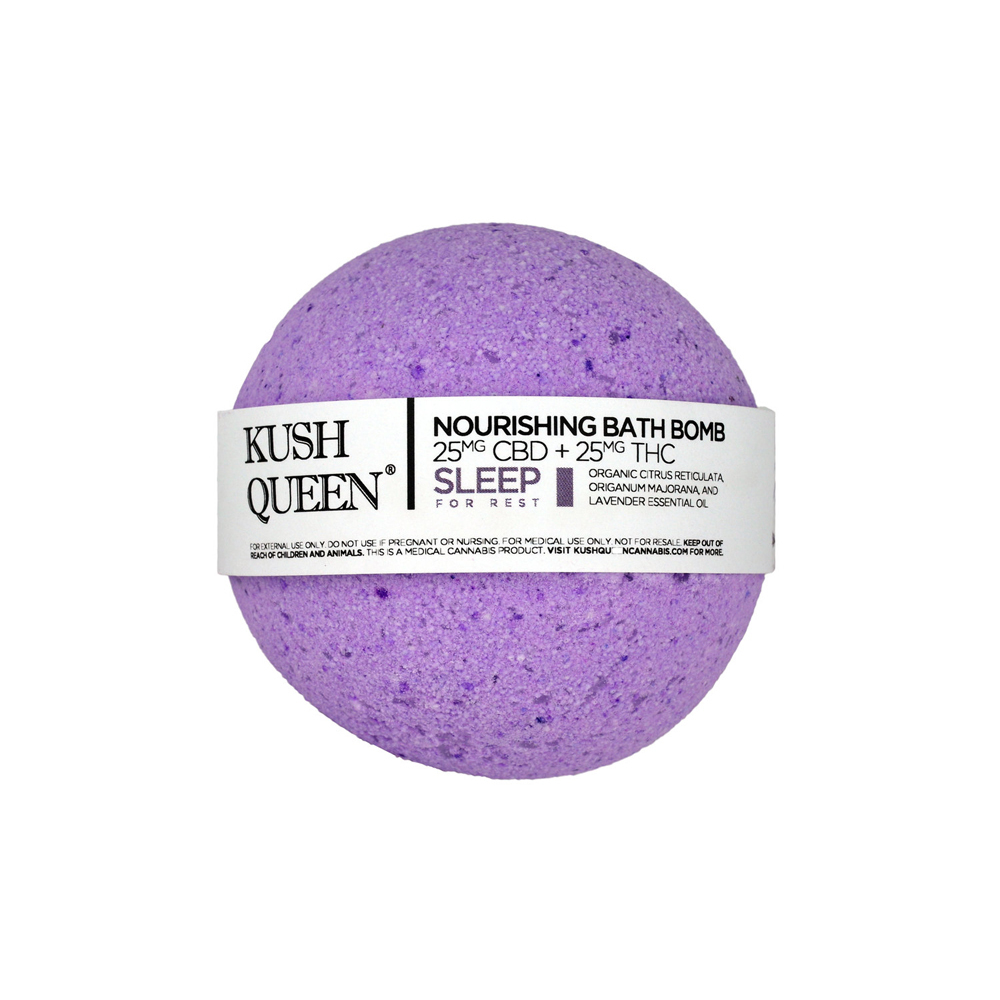 ---
Tia
: How has COVID-19 impacted Kush Queen? How have you overcome these hurdles?
Olivia : Ultimately we have been on a rollercoaster, like everyone else. Somehow at the start we saw substantial growth with our e-commerce side of our business, but so many of our nail salons, spa's, and hair salons have been deeply affected by covid. Internally, we offered anyone on our team full PTO if they contracted covid as well. Overall, we have been incredibly lucky and grateful that cannabis was deemed essential in California. Despite the times we feel the future is bright at Kush Queen.
---
Tia
: Tell us more about your new products. I saw some on your FB brand page, so curious who came up with such an idea to bring them to the market :)
Olivia : KINGDM Cosmetics by Kush Queen is the first cannabis cosmetics line to hit the compliant California market. Our hemp version is real CBD beauty. The first product is FOTO BLUR and the follow up FOTO SET is launching this month! Ultimately the greenwashing that took place in the beauty industry with hemp seed oil and cannabis leaves infuriated me. I do believe in cannabis cosmetics, I also believe that it is wrong to call hemp seed oil CBD. Which is what a number of beauty companies did the last few years. Kush Queen birthed the cannabis beauty category with High Gorgeous and Lord Jones, so I really believe it makes sense for us to carry on the legacy we're building in the space with cosmetics.
---
Tia
: What do you think is the biggest issue in the cannabis industry right now?
Olivia : I would say the biggest issue and threat to the cannabis industry is monopolization. Literally as we speak there is something like 20 white men vying for like 80 licenses and about $2B in projected revenue in Illinois alone. It is the same story state after state. If consumers and average people do not wake up and get involved in the bureaucracy and politics of the industry it soon could be too late for a fair and equitable industry. This is all a continuation of the same bad capitalism and racism poisoning our entire culture. It's the continuation of jim crow because the war on drugs has disproportionately affected people of color- and they are writing it into the laws you cannot be in legal cannabis with a criminal record. Then, it's the continuation of the billionaires owning everything. How? Well, the average license costs a few million dollars. The social equity attempts have mainly failed in most places and it's really just becoming the same as everything else. Cannabis was the chance for a new industry, it could have been and should be as diverse as the people who use cannabis. But it is not. It is old, white, male, billionaires mainly at the top of the industry in the US and Canada.
---
Tia
: Do you have any advice for beginners in the cannabis industry?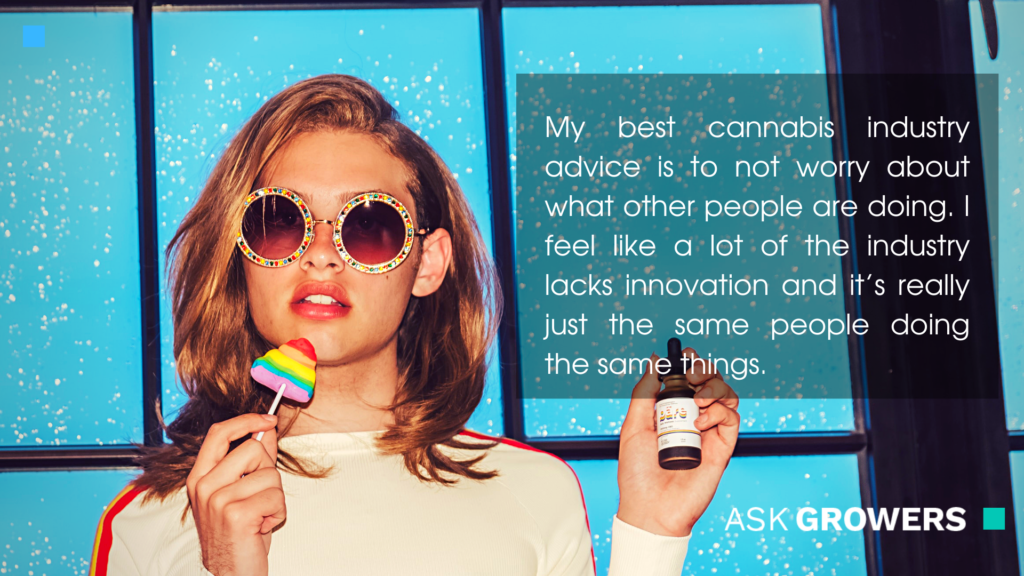 Olivia : My best cannabis industry advice is to not worry about what other people are doing. I feel like a lot of the industry lacks innovation, and it's really just the same people doing the same things. I would love to see new delivery systems, technology, and applications not another luxury vape or pre-roll. The future of the industry and its development will require people to think out of the box and take risks.
---
Tia
: If you had a chance to smoke with anyone in the world, past or present, who would that be? :)
Olivia : I would love to roll one up with AOC. I don't know if she partakes, but I feel like it would be super cool to smoke with her.
---
You can follow the brand at :