Cannabis in Maryland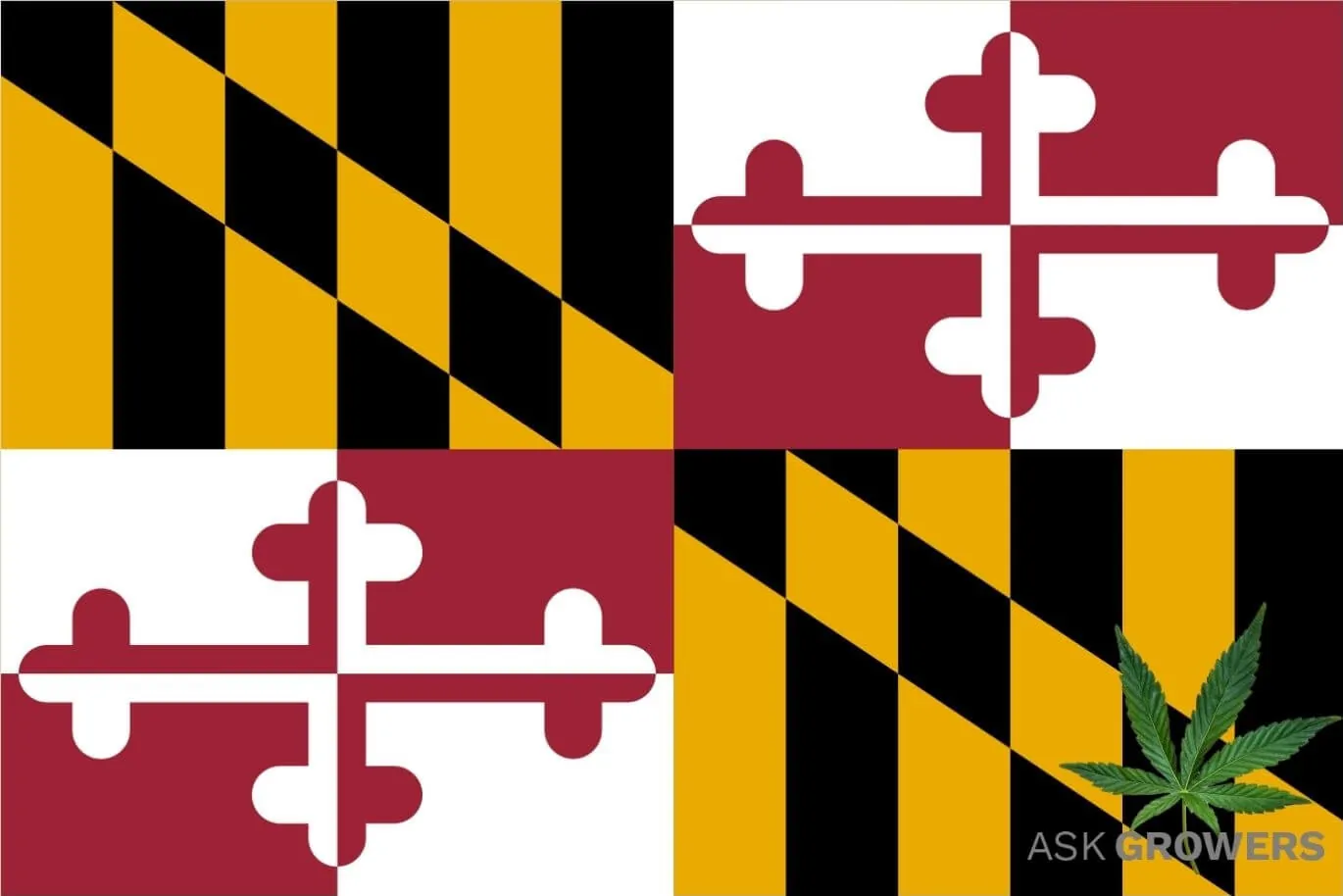 Recently, Maryland has made historic steps and lessened the illegality of marijuana. Ten years ago, marijuana arrests made up 50% of all state drug possession arrests. Thanks to an increasing number of Marylanders showing support for cannabis legalization, the state improved its hash regulations: medical pot was legalized, and the medicinal marijuana program was enabled. The adult-use sales are anticipated to be soon approved. Read about the state marijuana laws in 2020.
Is Weed Legal in Maryland?
Medical cannabis was legalized in the state in 2014, but the Maryland Medical Cannabis Commission (MMCC) program became completely operational only in 2017 when the first commercial sales started.
Recreational cannabis is still outlawed. Since the state citizens demanded its legalization, the small possession of the substance was decriminalized in 2014. If you carry less than 10 grams (0.35 oz.) of marijuana with no intention to distribute, it is viewed as a civil violation (as getting a traffic ticket) and subject to a $100 fine. The violators have to pay the penalty and attend drug education courses.
The possession of larger hash quantities is a criminal offense. In 2016, the Maryland General Assembly passed the bill that decriminalized smoking of pot in public and possession of marijuana paraphernalia. Both actions are now treated as civil offenses and punished by a $500 fine.
Buying Marijuana in Maryland?
Legal adults are not allowed to buy cannabis. At a time, qualified patients can possess 120 grams of cannabis (4.2 oz.) or products that contain 36 grams of THC (1.7 oz.) for medical use. This amount makes their 30-day supply. If patients receive a determination from a physician that this amount is inadequate for the treatment process, they can be recommended a larger amount.
There is no cannabis purchase cap because it depends on the medical needs of each particular patient. The doctor can recommend a certain amount of hash for a rolling 30-day cycle, which is not based on the calendar month.
There are dozens of marijuana shops near you in the state that provide eligible patients with marijuana products. Most of them operate 7 days a week. They can also deliver cannabis goods to your home free of charge.
The operation hours vary, so check this information before heading for a store. The dispensaries in Baltimore usually close at 9 p.m.
Talking about the variety of THC-infused products in the state, medical marijuana is available here in various forms – tinctures, lotions, extracts, ointments, vaping products, patches, flowers, etc. Edibles are not added to the regulations.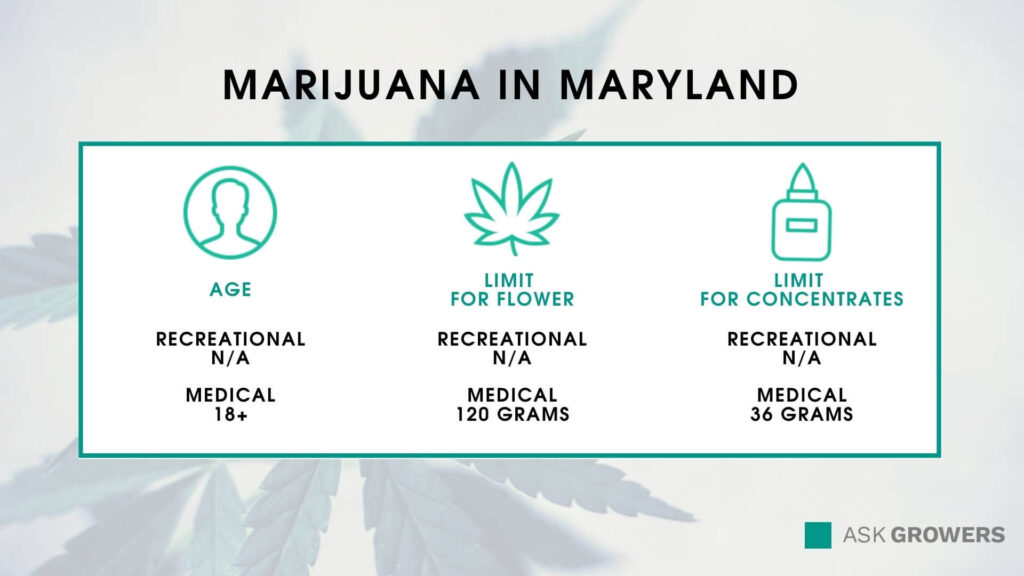 ---
Read Also: Cannabis Dispensaries: All Your Questions Answered
---
Cannabis Consumption in Maryland
Patients can use cannabis only within a private residence or in the backyard away from the public eye. If you rent a house or apartment, check if your lease agreement allows cannabis consumption.
Here are the off-limit areas where marijuana use is prohibited:
in a park;
on the school campus;
in a motor vehicle;
on the beach;
in any public place;
in places subject to a policy that bans tobacco smoking;
on federal lands and federal property.
Since recreational marijuana is forbidden, the infrastructure of cannabis consumption is not developed in Maryland.
Taxes on Marijuana in Maryland
The success of marijuana legalization in most U.S. states shows that the cannabis trade is a profitable business which attracts huge money to the local budget. In Maryland, marijuana is taxed by a 9% sales tax. In addition, customers are charged with an excise tax of 30% per ounce of products.
Maryland Medical Marijuana Card
You cannot buy marijuana in the state without a medical card. Only individuals with qualifying conditions can get an MMCC card after registration with the Maryland Medical Cannabis Commission.
Until recently, non-residents could also register in the program and get MMCC cards, but the state placed a hold on applications from out-of-state patients until further notification.
How to Get a Medical Marijuana Card in Maryland
To become an MMCC patient, individuals should acquire a certification form from a licensed health care professional. Minors can also participate in the program if they meet all criteria for marijuana treatment. The sections below describe the registration process and patients' qualifications in detail.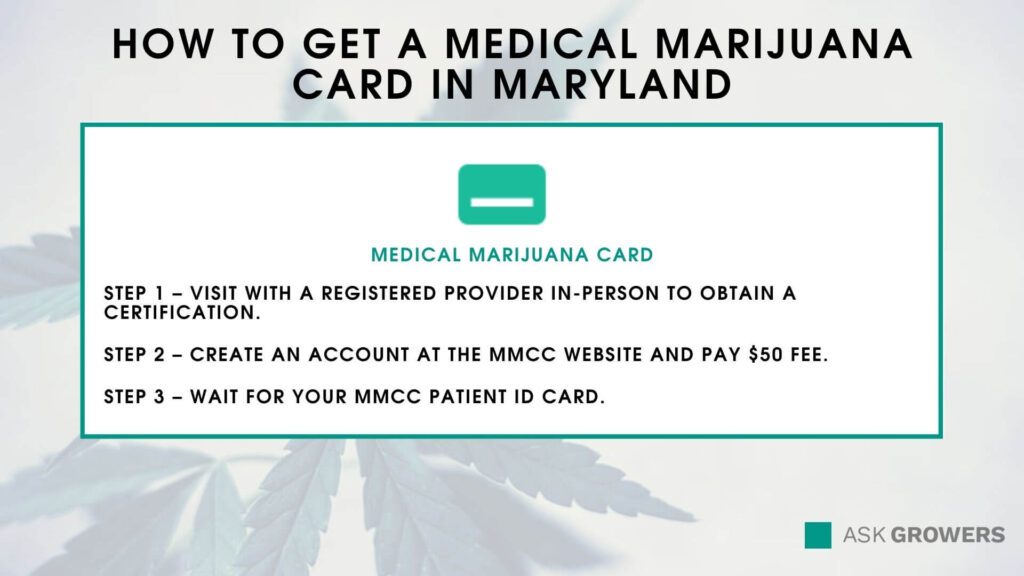 Diseases
Maryland lists the following medical conditions as qualifying:
anorexia;
glaucoma;
muscle spasms;
seizures;
cachexia;
chronic pain;
post-traumatic stress disorder;
severe nausea;
any severe condition for which another medical treatment has been ineffective.
There are a number of other diseases approved by the state law. Doctors have the right to consider them as qualifying and recommend cannabis therapy.
Patient qualifications
All Maryland residents are eligible for medical marijuana. To become accepted into the MMCC program, individuals should be 18 years old. Patients under 18 are required to have at least 1 caregiver appointed to their accounts. These individuals can register as qualified patients if they are diagnosed as having one of the debilitating conditions from the above-mentioned list or as determined by a physician.
Patient registry process
To become accepted into the MMCC program, follow these steps:
get a written certification from a therapist/nurse practitioner licensed in the state if he/she deems that your disease can be qualified as severe;
submit legitimate medical records of your condition which is determined as qualifying;
register with the state MMCC program. Note that the online application process should be completed in one session. Get all papers in an electronic format ready in advance for the upload;
submit all requested documents (a copy of your ID/driver's license/military ID/U.S. passport, a recent photo, proof of address or proof of treatment performed by a Maryland medical center, etc.);
for applicants under 18, their legal guardian/parent should also register in the program as a caregiver. When parents register a child, they will be required to fill out additional forms with some of them being notarized;
you should use an MMCC card within 120 days of the issue date or it becomes void.
There is also a $50 fee for a newly submitted application. The medical cards that were issued after January 2019 expire 3 years from the issue date.
When you visit a dispensary, dispensary agents will require your MMCC card and ID proof to verify the documents in the Commission's database before they conduct any transaction.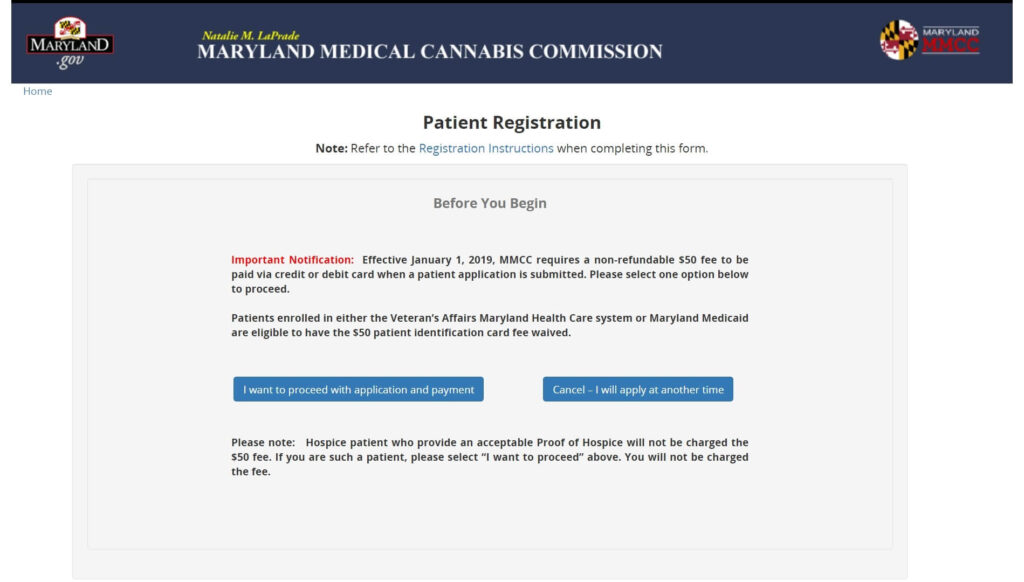 Caregiver qualifications
Medical patients can designate a maximum of 2 individuals 21 and older to act as legal caregivers. Caregivers must also register with the MMCC program, submit the required documents, get approval from the Commission, and get an MMCC card. They are required to pay a $50 fee for the card. Caregivers are authorized to purchase and transport medical cannabis on behalf of their patients.
Before parents register their minors in the program, they should register with the Commission first.
Transporting Marijuana in Maryland
Only MMCC patients and their caregivers can transport cannabis. The substance should be kept in a locked container provided by a dispensary. The best place to store it is in the trunk of the vehicle. If you are stopped by police officers, show your MMCC card so they can verify it in the MMCC online database.
Driving in Maryland while high is illegal. There is no legal THC limit determined by the state. Drivers will be punished with any detectable THC traces in the blood. Similar to alcohol DUI cases, drivers are not exempt from criminal, civil, and other penalties. If you have consumed pot, use public transportation options instead of getting behind the wheel.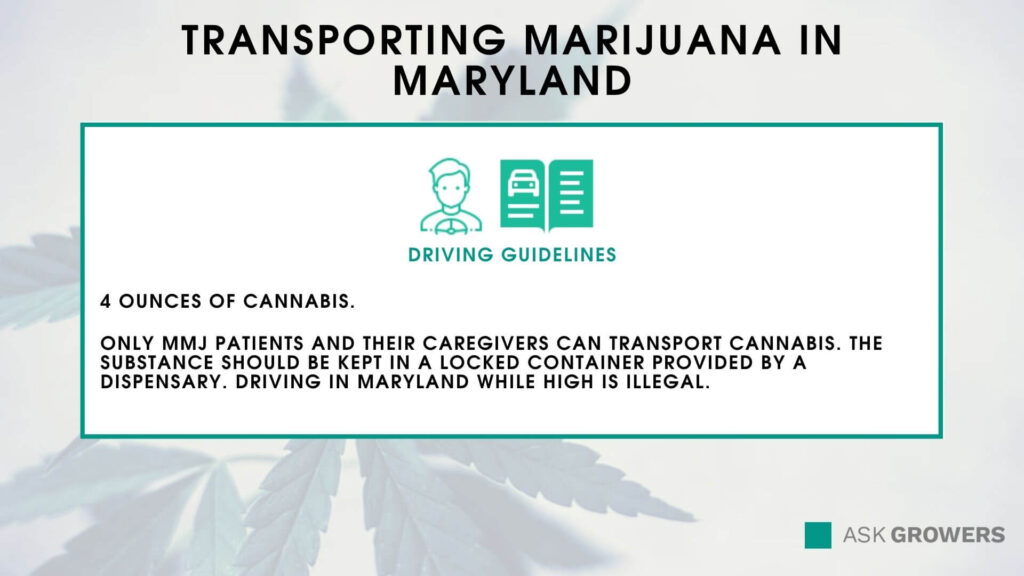 Exporting Marijuana
While crossing the state lines, all individuals are subject to federal jurisdiction. Since marijuana is outlawed under federal laws, transporting it from/to the state is illegal. Leave your medical cannabis in the state if you are planning to travel.
Growing Marijuana
Any form of pot cultivation in the state is prohibited. Neither legal adults nor registered patients are allowed growing plants at home.
Only state-licensed cultivators are allowed to grow Maryland marijuana. The Department of Agriculture has the right to authorize higher education institutions to cultivate cannabis for academic research. The Industrial Hemp Research Pilot Program became effective in 2018.
---
Read Also: Features Of Growing Marijuana From Seed: Secrets And Recommendations
---
Licensing for Growers, Manufacturers, Processors, Retailers, Etc.
Marijuana in Maryland can be grown only by licensed growers. All submitted applications from prospective licensees go through 2 stages of reviewing. Firstly, they are ranked in accordance with the criteria stated in the regulations. After the applications are pre-approved, the licensees should finalize a place for their facility, get local zoning, begin construction, and hire staff. During the second stage, the Commission inspects the facility to confirm that all requirements are met. If everything is in order, the Commission grants final licenses.
The procedure is similar to licensing dispensaries, processors, and independent testing laboratories. By September 2019, there were 82 licensed dispensaries and 18 licensed growers in the state.
Sources
https://mmcc.maryland.gov/Pages/home.aspx
https://norml.org/laws/maryland-penalties-2/
https://wikipedia.org/wiki/Cannabis-in-Maryland
https://www.law.umaryland.edu/media/SOL/pdfs/Programs/Public-Health-Law/Medical-Cannabis-Maryland-Fact-Sheet.pdf
https://www.safeaccessnow.org/maryland-medical-marijuana-cannabis-laws
FAQ
Medical cannabis has become legal in Maryland since 2014. Also, the state decriminalized cannabis possession of less than 10 grams of hash, which is only punishable as a civil offense.
Federal legislation bans marijuana transportation between the states. You will face strict penalties trying to transfer the drug across the boundary.
MMJ patients can legally possess cannabis in the state. The possession cap is similar to a purchase one – 120 grams. If adult individuals are caught with less than 10 grams of cannabis, they are subject to a fine similar to that for the civil (not criminal) offense.
Current cannabis laws prohibit public hash consumption. Also, you cannot use it on federal lands (national forests, parks) and federal property (monuments).
Since cannabis for recreational use is banned, patients can smoke medical cannabis only in their private houses and in the backyard away from children and the public.
Operating a motorized vehicle under the influence of cannabis is forbidden. Drivers will be charged with a huge fine. Smoking hash in a car is a crime.
Individuals 18 and older can get a medical marijuana card if they are approved as patients with qualifying conditions, or if a licensed physician deems their condition debilitating that requires cannabis therapy.
Until recently, residency didn't play a role if patients wanted to get an MMJ card. According to medical marijuana laws, out-of-state residents could provide proof that they received treatment in any Maryland medical establishment. Unfortunately, now only Maryland residents can get MMJ cards.
You need an MMJ card to buy legal marijuana in Maryland because this document proves that the customer is a medical patient.
Both medical and recreational marijuana cultivation is forbidden in the state. There are no laws that allow growers to cultivate plants at home.