Grower Stories #19: Paradise Seeds Team
A Decade in Paradise: Chatting With the Experts at Paradise Seeds
Paradise Seeds team on main tweaks in business strategy, their first strain in the international cannabis community and how they measure the success. So, let's dive into the story of the Paradise Seeds team to know more!
---
Tia (AskGrowers)
: Tell us how it all started. Why and when did you decide you want to jump into cannabis?
Paradise Seeds Team : Well as with most things in life there is an element of fate in the path you choose! As a teenager Luc Paradise (the company's founder) grew his first plant in his parents' garden (a seed from the Caribbean island of Aruba) and this ignited a lifetime love for cannabis. He moved to Amsterdam some years later and began exploring a passion to grow the best cannabis plants. There followed a few years of experimentation and gaining knowledge, earning respect from the Amsterdam cannabis scene and a reputation for the quality of his seeds and cannabis (which he supplied to the legendary Lucky Mother's coffee shop) before he decided to turn this passion into a business. Paradise Seeds was born in 1994, and one of the company's first strain releases – Sensi Star – attracted the attention of the international cannabis community.
---
Tia
: What were the main things that you had to tweak and learn more about to find that perfect product?
Paradise Seeds Team : Well you are asking a lot in this question! These are trade secrets and if we told you that we would have to....Haha! But seriously, any experienced grower will tell you that the perfect product takes a lot of time, patience and a fair share of failures along the way. There was no big 'Eureka' moment and one tweak that changed the game, just a long process of working with plants and identifying characteristics that complement and enhance different strains in the breeding process. So the whole process is more a case of lots of mini light bulb moments and minor tweaks that play their part in the bigger picture.
---
Tia
: What qualities separate your brand from the rest of the cannabis industry?
Paradise Seeds Team : We have always focused on the quality of our genetics which is achieved through a long process of development in our breeding program, which involves selecting the best plants from hundreds to carry through to the next stage. With that genetic quality comes stability that growers can rely on in a grow set up alongside quicker finish times and enhanced yields. The breeding process can take more than a year before we are satisfied that a strain is ready to bring to market – and we never rush this process. A strain is ready when it's ready!
---
Tia
: What would say is the single best strain Paradise Seeds has made to date? Which strain is your current favourite on your site?
Paradise Seeds Team : That's a tough question to ask a seed producer! Obviously there has been a lot written about an original strain like Sensi Star which was one of our first releases and won international acclaim as a super strong Indica with a unique taste. Wappa is also another of our strains which ticks so many boxes – high yield, great taste, uplifting effect – because it is such a great all rounder to have in a grow setup. Other favorite strains are Delahaze, Nebula (we also have a CBD rich version of this strain) and White Berry because they come with such unique characters. As for current favorites, Our Tommy Chong's collection stands out for the quality of the genetics (the latest edition, Auto Kong is a particular favourite) and we are really pleased with 'The Trichome Bomb', El Dorado OG which is one of our latest releases.
---
Tia
: How many strains do you have right now?
Paradise Seeds Team : We have close to 40 cannabis strains in the Paradise Seeds library. Apart from two IBL strains (White Widow and Original Cheese), all our varieties are unique products of the Paradise breeding program, or our own signature twist on popular strains (with certain qualities – such as potency, resin count and yield – enhanced).
---
Tia
: How has COVID-19 impacted your business? How have you overcome it so far?
Paradise Seeds Team : The cannabis business is unlike most industries out there in many ways, but in the case of Covid we got disrupted just the same as any business. A big part of Paradise is getting out there and meeting people at cannabis expos and events around the world and that's not the kind of thing you can easily replicate on Zoom! However, if you've been in the cannabis business for as long as we have you get used to adjusting very quickly as legal situations change. So we have been pretty resilient and very quickly adapted to the new situation. Inevitably we have seen a huge growth in online sales and we think one of the more positive effects of the covid lockdown is that growers have had so much more time to spend on their plants – we have seen some amazing specimens this year!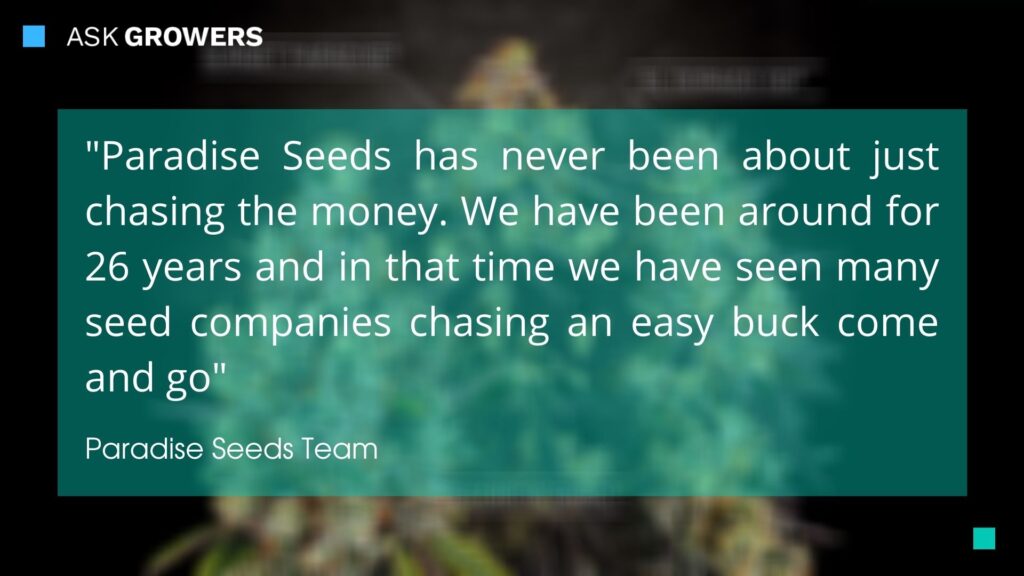 Tia : How do you measure success?
Paradise Seeds Team : Paradise Seeds has never been about just chasing the money. We have been around for 26 years and in that time we have seen many seed companies chasing an easy buck come and go. Our ethos is still the same as when our founder, Luc, started the business – we aim to produce the best cannabis plants that we can. We have almost 40 high performance strains, many of them with an international reputation, but all of them are respected based on the quality of the genetics, which is the picture of success for us. The fact that Paradise Seeds genetics are desired by medical cannabis producers and patients around the world is really satisfying too. Oh and let's not forget cups and awards... we have run out of space to display them all so that probably says something!
---
Tia
: Are there any plans for expansion or new product rollout in the near future?
Paradise Seeds Team : We've been working on a new range of CBD seeds which will come out very soon and we're very pleased with test results. The aim of our R+D program was to develop CBD strains with a focus on enhancing terpene profiles and the sensual experience in terms of smell and taste. We are also working on new strains with enriched alternative cannabinoid profiles.
---
Tia
: If you could smoke with anyone in this world, who would that be? :)
Paradise Seeds Team : In terms of cannabis legends, the answer would be Tommy Chong, but we've already done that thanks to our Tommy Chong's strain collection partnership! So let's say, in the interests of the next generation, that a session of the UN security council with Donald Trump, Vladimir Putin and Xi Jinping repeating that famous video of the grandmothers smoking pot for the first time would be a significant step towards world peace!
---
To learn more about Paradise Seeds head on over to their website - https://www.paradise-seeds.com/
You can follow Paradise Seeds at:
Facebook: https://www.facebook.com/paradiseseedsofficial/
Twitter: https://twitter.com/paradiseseeds
Instagram: https://www.instagram.com/paradiseseedsofficial/