Smoking Weed For The First Time

published on October 19, 2020
If you are searching for information related to this topic, you are already doing everything right. The thing is marijuana can be your best friend and your worst enemy, and the "first impression" is important, too. You may like each other or recognize that you are just incompatible. Okay, it's not a big tragedy for some people, but the fact is that the bad trip is no pleasant thing to experience even though it is not a heavy drug. Moreover, why deprive yourself of new feelings and emotions?
So, the best thing we can do to avoid problems and have a good time is to find the relevant info and useful tips, i.e. to do our own little research before you take your smoking utensil and the first puff.
How To Smoke Weed For The First Time?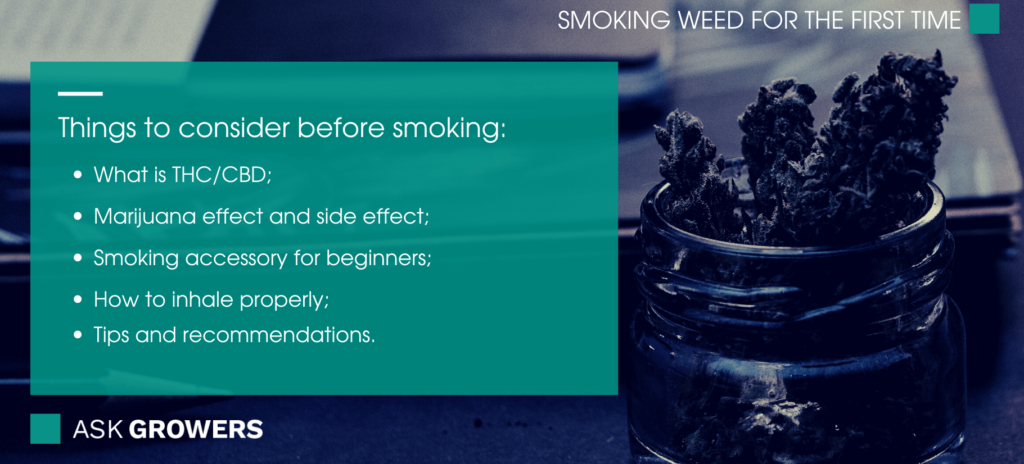 What are the legitimately important things to consider when consuming it for the first time? Here is the list of the most significant questions to ask:
What is THC, what is CBD, and what is the difference between them?
How does marijuana affect the body and brain? What should newbies expect from it?
What are the side effects? Can they be fatal?
What smoking accessory should a beginner choose? What is the difference between vaping, smoking and consuming edibles?
How to inhale it properly? What if you don't feel high?
What else should you consider when consuming weed? Are there any other tips and recommendations?
We believe that beginners need to know a lot about cannabis, but a lot is not everything. We do not want to provide you with tons of unsorted science data, countless figures, percentages and other difficult to understand information. We will give you clear answers to the questions above and explain the main aspects of using cannabis by omitting the scientific terms. Okay, we mentioned tetrahydrocannabinol and cannabidiol, but the rest is easy to pronounce, and more importantly, to understand.

What is THC, what is CBD, and why is this important?
If you are a beginner, you hardly know what these abbreviations mean, and that is normal. However, you need to learn a bit more about the effects of these two cannabinoids to know how to choose weed and what to expect from it. Treat this, as well as information about the side effects, as the theory you need to learn before you start to practice.
THC or tetrahydrocannabinol and CBD or cannabidiol are compounds of cannabis. They have the same molecular structure, but affect the body and brain in different ways – THC affects CNS (central nervous system) which, in turn, sends signals to the brain. CBD affects PNS (peripheral nervous system) and has no psychoactive and even intoxicating effects (if you choose good cannabis, of course).
Generally speaking, they both have mental effects, but pretty different ones. THC causes euphoria. CBD is known and loved for its effects for cognitive function, in particular, for improving memory, increasing the ability to work, and improving overall well-being. In other words, if you want to try cannabis for the first time and read a book, relax a bit, maybe do some equations or write an essay, whatever, CBD products might be a much better option.
If you want to get stoned and feel high, choose THC-dominant cannabis. But be careful if someone offers you 20-25% THC strain. Think twice – it is too much for the beginner. Below, we will focus more on THC-dominant cannabis as it is used more often and brings the desired euphoria.
How does weed affect the body and brain?
Of course, beginners who are going to use cannabis for the first time want to know what to expect from it. Yes, there is no secret that most of them expect that good old 'high', but if you have never tried weed, you do not know what exactly 'cannabis high' means. So, let us talk about this in more detail.
Officially, cannabis causes euphoria, make people feel more relaxed, and intensify all feelings and sensory experiences when eating, listening to music, watching films, and even having sex. If we consume when we are surrounded by other people, we become more talkative and laugh harder, often for no reason. (Reference #2, Hall, Solowij, 1998)
In fact, this is exactly how getting high for the first time (and for the second time, and for 101st time) feels like. So should we forget about everything, but something THC-dominated and enjoy the process and the result? Well, it is not this simple. There are many more important things to take into account, so let's move on.

What are the possible side effects?
Most people try to prepare themselves for their first time to avoid side effects or, more precisely, the bad trip. Well, this is the right decision. Although there are a lot of great things about cannabis, no one can deny that it can also affect the body and mind in a negative way. Some of such side effects are not a problem for most consumers, and some can make you really uncomfortable.
The more you know about side effects, the less chance that you have a bad trip. So, let us take a look at the common side effects of consuming cannabis.
Red eyes. This is the most possible side effect when it comes to consuming cannabis. But why does this happen? In fact, it is easy to explain – cannabis contains cannabinoids, in particular, THC, which lowers our blood pressure, and that, in turn, causes dilation of the blood vessels.
If our blood pressure is high, we will hardly notice a big difference after smoking weed, and if it is low, THC will make our eyes red.
Dry mouth. The thing is pot decreases saliva secretion by stimulating cannabinoid receptors in our glands. This effect is a temporary one, and there is nothing to worry about.
Memory losses. No, we will hardly forget the whole day or the whole evening, but we can forget some moments, for example, a part of a conversation we had with your friend, things that made us laugh, etc. Please note that this is how THC affects the brain – if we choose CBD, we are likely to keep all our memories.
Anxiety and panic attacks. That is what most newcomers fear most, and well, that is easy to understand. In fact, these effects often become a reason why people stop using it. They usually occur when a consumer mixes weed, medicine or alcohol, consumes more marijuana than they really need, focuses on something bad, etc.
These are the most commonly reported side effects, and we do not want you to underestimate them. Although it is the "safe" drug, it is still a drug. Yes, it can be a great medicine when it comes to some disorders, but it can harm you as well, especially if you do not know what you are doing. Keep in mind that this is a stimulant, sedative, tranquilizer, and hallucinogen, (which, however, can bring a lot of new feelings, great emotions and provide fantastic experiences) so never underestimate it (Reference #4, Marilyn Huestis, 2002.)
Can it be fatal?
In fact, cannabinoids have low-level acute toxicity, especially when compared to other drugs. More importantly, there are no confirmed cases of human deaths of a marijuana overdose. Even the large dose that causes side effects cannot lead (or at least has never led) to such fatal consequences. More precisely, the dose of this compound required to lead to 50 percent mortality in rodents is incredibly high compared to all other drugs (Reference #2, Hall, Solowij, 1998)
Choosing smoking accessories or how to consume cannabis?
Should a beginner smoke a good old joint or a spliff? Maybe a bong or a water pipe is a better option? Or maybe edibles are the perfect mixes of something tasty and something truly euphoric? If none of these options seem good, there is always an alternative called 'vaping'.
As you can see there are a few options to choose from. Which of them is the best for a newcomer? Let us take a look at all of them in more detail.

Edibles
Yes, we decided to start with edibles because a lot of people think that this is the safest way to start consuming cannabis for the first time. However, it is not this simple. Here are some crucially important things to consider:
There is a greater risk of overconsumption, especially for those who are going to try marijuana for the very first time.
Cannabis must be digested before being absorbed.
Consumers, especially beginners may think that they do not feel anything, therefore, they should eat a bit more, and then suffer from anxiety, high pressure, high heart rate, panic attacks and other adverse effects of THC.
So, the main concern here is that though such sweets as gummy bears look really cute, they may be even more dangerous than a joint or even water pipe. Note that edibles also contain THC. More importantly, they are usually THC-dominated, thus, the body and mind may suffer from various side effects. In other words, there is a chance that a beginner will find out that a bad trip is nothing about a journey.
Vaping pot – Better than smoking?
Vaping people are everywhere, and a lot of them claim that vaping is less harmful than smoking cigarettes, so maybe it works for cannabis, too? And again, there are a lot of significant things to consider.
Vaping will certainly make you feel high, but the effects will be much more powerful. Yes, we are talking about all the effects, including the side ones.
The results of the recent study have shown that a lot of people from the group of "vapers" vomited, felt anxious, paranoid, and some of them even had hallucinations. Of course, we could assume that these people consumed more than they really needed, but the thing is that the group of "smokers" used the same amount of cannabis.
The secret is simple – the concentration of THC is much higher when you use your vaping device. The interesting fact is also that the absence of combustion can be hardly considered a benefit of this way of using cannabis. The thing is when someone is smoking weed, the part of it is burning, and this does not happen when cannabis is vaporized.
Smoking – Is this the perfect option for beginners?
Yes, smoking can be considered the best option for beginners, just because the risk of overconsumption is much lower. It is better than eating edibles because you get high really soon, so there is no illusion that you need more to feel anything. It is better than vaping just because the concentration of THC will be much lower, thus, you will hardly vomit because of the overdose.
Moreover, smoking is also better than a bong or a water pipe for the same reason, actually. Yes, your feelings will be less powerful, but the risk that you will suffer from some of the really bad adverse effects is pretty low, too.
How to inhale it properly?
Here is the deal: you will feel nothing if you do not inhale it properly. Fortunately, you can do it right without much difficulty – just inhale the smoke to your lungs (not your mouth) and hold it for a moment before you finally exhale it.
Please note that the smoke may be really harsh and that it can tickle the throat. This is absolutely normal! Just hold it in your mouth (a second is enough) and then inhale it.
Yes, experienced consumers feel the effect immediately, but there are a few more important things to mention.
Firstly, coughing is absolutely normal for beginners. It is not Chanel no. 5 perfume, it has a strong flavor, more importantly, you need to get used to inhaling the harsh smoke.
Secondly, the fact that you did not get high does not mean that you did something wrong. In fact, this is also normal for beginners, and it is pretty easy to explain. There are the so-called cannabinoid receptors, and consumers who have fewer receptors should smoke weed a few times to feel anything. No, we do not mean that ALL people feel nothing when consuming Mary Jane for the first time. It is a pretty rare occurrence, but this may happen, so consider this when you decide to finally give it a try.
First time smoking weed tips – What else should you consider when consuming weed?

Tip 1 – Never mix weed and alcohol
Seriously, this is the worst idea ever, especially for a beginner. We know how it usually happens. You and your friends are having a really good time, drinking beer, eating pizza, talking and laughing, and then someone decides to make the evening even better. Well, no problem, this may be a good idea if you know what you are doing, i.e., if you are an experienced consumer who knows how much weed he needs to be okay after a join and a couple of beers. If you have never tried it before, do not risk it. Just wait a bit and try it tomorrow or at any other time when you are sober.
Tip 2 – It is all about right people
There is no denying that most people smoke weed "socially." We do not think this is wrong, not at all. We believe that this is a great way to have some fun and have a good laugh. However, if you are a newcomer, you need to feel absolutely comfortable with communicating with all the people in the room. We have already mentioned that it also has side effects, in particular, anxiety and panic attacks. Note that they can become even heavier if something goes wrong and there are no people who can really make you feel a bit better.
By the way, if you have a friend who consumes marijuana regularly, ask him to lead you. A pro can make the whole process mind-blowing, in the good sense, of course.
Tip 3- Buy snacks before you start
Yes, all people heard about this, but you cannot even imagine how many beginners decided to smoke their first joints and then realized that there is nothing in the fridge and on the kitchen shelves. Buy your favorite snacks, something sweet, and make some tea with lemon. Believe us, you will be grateful for this advice!
Tip 4 – Driving after consuming is a bad idea
As we have already mentioned, it affects the body and brain. Even if your friend who used to smoke weed pretty often says that he is even a better driver when he is high, listening to him in this situation is the wrong decision. According to the recent studies, though the connection between weed and road accidents is weaker than the connection between alcohol and road accidents and though marihuana is perceived as safe to use among consumers, there are harmful effects of weed on driving (Reference #1, Cohen, Weinstein, Weizman, 2019).
Tip 5 – Watch something funny
What about 'How I met your mother' or 'Friends' show? It is always a good idea to watch something great, known, and funny when smoking weed, and the best thing is this works for beginners, too.
Try 6 – Try to relax and enjoy the effects
Another important thing to consider is that the more you think about side effects or just anything bad the more likely you will actually feel bad after you inhale weed. Just think about something pleasant, try to focus on the good things that happen with your body, for example, on relaxation, sense of lightness, etc. Remember that cannabis influences your brain, and if it is prepared for this influence properly, you will definitely like this experience.
Conclusion
Yes, we understand that is a lot of information. Yes, we understand that a beginner needs to consider a lot of things. However, this is no rocket science! Mass media, TV shows, new cultural trends, Snoop Dogg, all this leads to the popularization of marijuana. This is not something that shocks us, this is not something truly unexpected. However, despite this, it still affects the body and mind, and that is why keeping in mind all the things that we mentioned and explained above is so important.
So, let us list the most useful first time smoking weed tips once again:
Use THC when you want to get high, use CBD when you want to improve cognitive function.
Remember that there are not only good effects (euphoria, relaxation, laugh, etc.) but also side effects.
Smoking is the best way to consume cannabis for newbies.
Inhale it properly.
Do not mix weed with alcohol, medicine or other drugs.
Buy snacks, do not drive, try it with your close friends.
As you can see, it is not complicated. By the way, 0.1-0.2 g is enough for the first time. Do not forget to make sure that the percentage of THC is not too high. Keep this in mind and consume responsibly.
Related Posts