Grower Stories #12: Mikah Bacon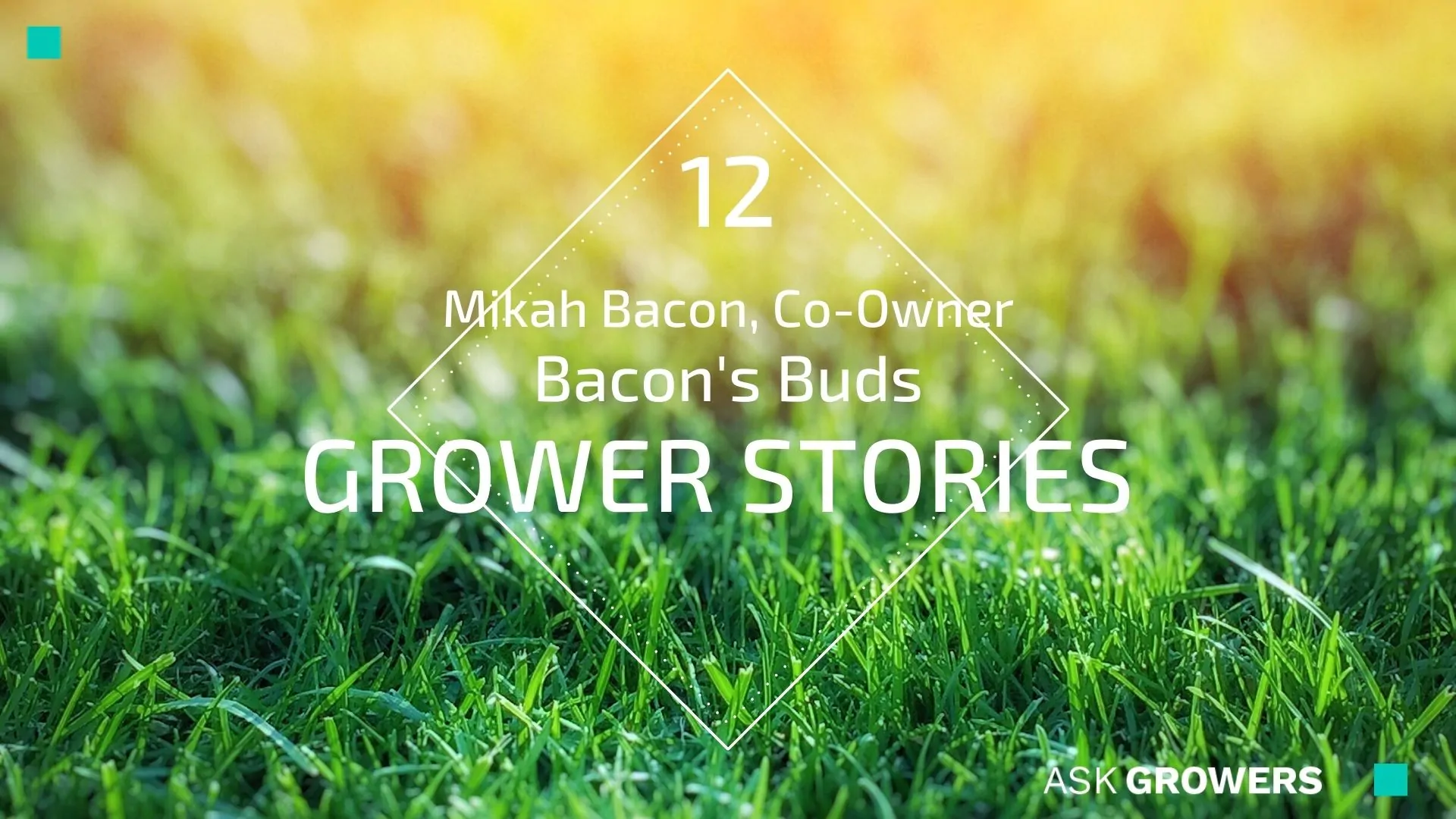 Good Cannabis Rosin, Bacon's Buds
Haven't tried rosin yet? In our interview with the Bacon's Buds, the family owned brand, they give us the lowdown on cannabis rosin, as well as understanding how to choose the best strain for your mood and how to get a good quality one. Check it out below!
---
Tia (AskGrowers)
: How did you start Bacons Bud's? What made you guys invest in cannabis rosin?
Mikah Bacon (Bacon's Buds) : Jarom, the owner, and myself (Mikah) were growing medically when the legislation for i502 came about. We liked what we were doing with cannabis, and we jumped on the opportunity to get a recreational license as soon as the window opened. I want to say we were one of the very first people that called the LCB the day after the initiative passed, and they laughed as it was still way too early to apply for a license.
Rosin just seemed like the best way to get into concentrates. We are all about doing things as naturally as possible, so the fact it is a mechanical process of production versus a chemical process (such as with BHO and CO2 oils) it made it our most appealing and obvious choice to go with in terms of concentrate production.
---
Tia
: It's impossible to talk about Bacon's Buds without mentioning the name. What's the story behind it?
Mikah : Well, it's pretty sweet and simple, Bacon is our last name. Hence the name. However, we did pick that name kind of off the cuff. We just needed a name for our business license so we quickly came up with that, with the intention to change it. However, after months of deliberation we realized that we'd already hit the mark. It was alliterative, unique, hard to forget, and the other name ideas were overly cliche names that just sounded too cheesy and like many other cannabis company names.
---
Tia
: How many strains do you have in your store right now? Which ones are your personal favourites?
Mikah : We currently have approximately 25-30 strains, about 10-15 of which that we grow very regularly.
I am maybe the worst person to ask for a favorite, as I like almost everything that we grow regularly. However, Falcon 9, Big Smooth, and Bonkers are probably my favorite tasting strains. I also just tried a brand new strain we popped called Donny Burger the other day, it will definitely be a new favorite as well. Make sure to give that one a try if you see it. It's fantastic.
---
Tia
: What's Bacon's Buds best selling product right now? What makes it your customer's go-to?
Mikah : That's kind of hard to say, however, our rosin products literally fly off the shelves when they are delivered. Mostly because they're in such high demand, and we can't produce enough of it. Additionally, most of our rosin comes from bubble hash made from our freshly harvested organic flower, so it is exceptionally clean and unbelievably flavorful.
---
Tia
: Tell us more about the rosin! How does it work? What's the proper way to consume it?
Mikah : Rosin is awesome. You can find a pretty detailed explanation on how it's made and what it is on our website. Though in a nutshell, you take a freshly harvested plant, freeze it, separate the trichomes and essential oils from it by washing it into hash, press the hash between some hot plates at a high pressure in a filter bag, then out comes the most unbelievably tasting and clean cannabis product you can imagine, Rosin.
The best way to consume it, hands down, is as a low temperature dab. If you're unfamiliar with how to take or serve yourself a low temp dab, look it up, because once you go low temp you will never want a hot dab again.
---
Tia
: What type of strain do you personally prefer: Indica, sativa, or hybrid? Is it dependent on mood or time of day for you?
Mikah : Hybrids mostly, but it definitely depends on the type of day and mood.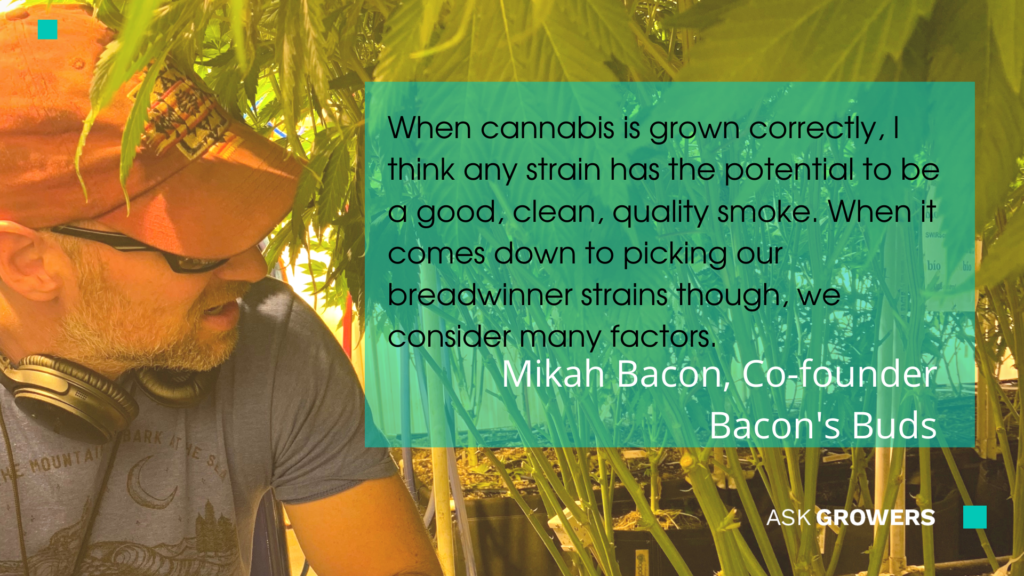 Tia : How does Bacon's Buds determine what qualifies as a clean and smokable strain? What qualities do you look for before you deem it quality?
Mikah : When cannabis is grown correctly, I think any strain has the potential to be a good, clean, quality smoke. When it comes down to picking our breadwinner strains though, we consider many factors. The biggest one is smell, as a loud smelling strain indicates high levels of terpenes, which usually correlate to great flavor. Which brings us to our second quality that we look for, which is how well that smell translates to flavor. The third quality is yield. While that doesn't really pertain to quality of smoke, If a strain doesn't yield very well, it's simply not a good decision for us to take up much of our growing canopy with it. If it has smell, taste, and yield, we will grow as much of it as we can.
---
Tia
: Who's the quality control specialist on your team? How many people are working at Bacon's Buds currently?
Mikah : I would say my brother, Jory, is the main quality control specialist. He sets the bar on where our quality standards lie. He's probably the biggest weed connoisseur and snob in our operation. When it comes to cannabis, he'll tell you exactly how it is.
We currently have 14 employees.
---
Tia
: How do you measure success at Bacon's Buds?
Mikah : I would say our biggest measure is the demand of our product. We usually get multiple requests from shops around the state to carry our product every week, but we simply cannot fulfil the demand. We currently have a list of over 200 shops that would like to carry our product, but we simply cannot provide for. Even though we are currently expanding to more than triple the size of our current operation, we still don't project that we will have enough growing capacity to provide for the demand.
---
Tia
: What do you think separates Bacon's Buds from other cannabis companies? What is it that makes your company unique?
Mikah : The quality of the product, due to the fact its organic, is what I believe sets us apart. Most cultivators simply don't put forth the extra effort and money to produce cannabis organically. I believe you can reach roughly 90% of the potential of organic cannabis, with non-organic growing methods, but that last 10% really makes a difference. It just smells and tastes that much more. Additionally, it makes it easier to cure and flush cleanly for a more consistently smooth smoke due to the lack of salt based chemicals. Further, every product we produce is or is made from that flavorful, clean, organic flower, and its desirable qualities carry through to everything we make, especially our rosin. Without exceptional quality starting material, the level of the quality of the rosin we make wouldn't be achievable. Lastly, we are also family oriented, and our base management consists of a past dog breeder, a mechanical engineer, a mechanic, and a salesman. It makes for somewhat of an unobvious dream team.
---
Tia
: If you could smoke with anyone in the world (past or present), who would that be? :)
Mikah : That is a hard question to answer, though I think I'd have to say Hunter S. Thompson, because where would the day go from there.
---
You can follow brand at :