Best Brands of CBD Tinctures: Reviews of Manufacturers and Purchase Guide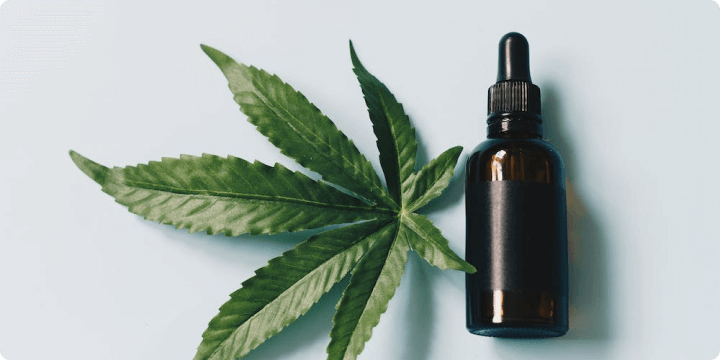 The CBD industry has been booming in recent years and has turned into an unregulated market to a large extent. The Food and Drug Administration (FDA) acknowledges only one CBD form and puts hemp-derived cannabidiol in one bucket with other health supplements. There are no official labeling standards for CBD tinctures. Many fly-by-night companies prey on uneducated clients by selling fake products or those that have incorrect labeling and can harm their health.
However, finding a reliable company that makes organic CBD oil tinctures, it's like finding pure bliss. The benefits of CBD tinctures and CBD with THC tinctures are well-known and can be life-changing for some people. Whether you need CBD for inflammation reduction, pain relief, memory improvement, relaxation, or sleep enhancement, you can find a solution in a handy pocket-sized bottle. This article will guide you through the best CBD brands that manufacture quality oil tinctures so that getting an efficient product won't be tricky anymore.
What is the Most Trusted Brand of CBD Tinctures?
The hemp oil market is highly competitive, and the best CBD products online are tough to spot. To new consumers with an untrained eye, all CBD brands and CBD tinctures may look the same. To most experts, CBD tinctures don't fall under "bad" or "good" but instead on broad- or full-spectrum of varying quality. The best CBD brands often depend on what works best for you. To understand it better, let's look at the most credible CBD brands in USA and their tinctures to buy in 2022.
CbdMD Review: Superior Broad-Spectrum CBD Tinctures in a Variety of Strengths
Visit Website
Founded in 2015, cbdMD is headquartered in Charlotte, North Carolina. The company is certified by the U.S. Hemp Authority. It is a proud member of the U.S. Hemp Roundtable, Natural Products Association, and Hemp Industries Association.
The vendor sources U.S.-grown hemp and produces GMP-compliant cannabidiol products. In all goods, it uses proprietary broad-spectrum CBD, which preserves beneficial cannabinoids and terpenes and has undetectable THC levels. It is a key difference in comparison cbdMD vs CBDistillery because the latter tends to use full-spectrum CBD extracts rather than broad-spectrum ones.
CbdMD products come with an extensive COA that confirms a lack of microbiological contaminants and other harmful ingredients. CbdMD CBD oil tinctures have a simple ingredient list and include 100% organic components.
Customers can participate in the Influencer and Rewards Programs to get bonuses and discounts on cbdMD CBD oils and cbdMD tinctures. Individuals seeking where to buy cbdMD goods are free to use the online manufacturer's store or purchase through members of its Affiliate Program. A convenient cbdMD products near me locator on its official website shows the nearest brick-and-mortar shops.
CbdMD Best Oil Tinctures
Buy Now
Price$89.99
Volume1 fl. oz./30 ml
CBD Potency1500 mg/bottle, 50 mg/serving
FlavorNatural
Lab Results
Features
Broad-spectrum, Vegan-friendly, Gluten-free, THC-free, Non-GMO
Broad-spectrum

Vegan-friendly

Gluten-free

THC-free

Non-GMO
Buy Now
Price$69.99
Volume2 fl. oz./60 ml
CBD Potency1000 mg/bottle, 16.5 mg/serving
FlavorMint
Lab Results
Features
Broad-spectrum, Vegan-friendly, Gluten-free, THC-free, Non-GMO
Broad-spectrum

Vegan-friendly

Gluten-free

THC-free

Non-GMO
Hempzilla CBD Review: The Purest CBD Tinctures for Health Benefits
CBDistillery Review: The Best Full-Spectrum CBD Tinctures for Diverse Purposes
Palm Organix CBD Review: Premium Broad-Spectrum Tinctures
Avid Hemp Review: The Best Organic Full-Spectrum Tinctures
How to Choose a CBD Tincture: Tips for Consumers
Detecting the best brand of CBD tincture can be challenging and involve a little trial and error. For writing this post, a lot of data has been analyzed to determine the most trustworthy companies that manufacture the best CBD tinctures. This selection of brands is based on several criteria, while the focus is on specific milestones that objectively point out the representatives. The companies have been ranked based on the below-mentioned factors.
Brand Reputation
The manufacturers making a list have official websites that provide transparent information about the brand and the people behind it. They source U.S.-grown hemp and adhere to organic farming practices. The FDA doesn't regulate CBD oil tinctures, but it does inspect cannabis plants grown in the country and requires that they should include less than 0.3% THC. So, buying products made of local hemp ensures that cannabidiol tinctures meet the legal requirements set out by the FDA.
The method of hemp oil extraction is also significant. The best one is considered a supercritical CO2 extraction method.
Honest lab results available online are also an indicator of the brand's reputation and are important for potential customers. The oil quality has been verified to meet the regulatory standards and good manufacturing practices (GMP). Some companies have become proud members of some national associations related to CBD production.
Customer Reviews
In less than a decade, there has been a gradual shift in the perception of the cannabis plant from a taboo topic to a common talking point. The public is skeptical about new cannabidiol brands and products popping up daily. Various CBD tincture reviews, especially from renowned people, help new clients to know about the products and discover if they suit them. Many manufacturers align with athletes and start partnerships focused on a different sense of wellness. Reviews from companies' ambassadors demonstrate if a company is reliable and its goods are beneficial.
Customer trust is vital for most products on sale and is built on word of mouth in the CBD industry. It is more natural to trust fellow consumers than to trust brands. Testimonials of influencers and enthusiasts add another layer of credibility to the chosen brand. All companies on the list have a generally positive reputation.
Quality and Lab Reports
One of the essential points to consider when choosing CBD tinctures is their quality. Third-party testing is crucial in the health and supplements industry when product safety cannot be compromised. This testing refers to a scenario where a manufacturer sends samples of its cannabidiol goods to independent and accredited laboratories operated by agents with no affiliation with the CBD industry. These labs go beyond analyzing the THC content and test products for:
Heavy metals;
Microbiological contaminants;
Pesticides;
Volatile organic compounds.
These tests are extremely rigorous and also provide potency and terpene level measurements.
Finally, the manufacturer gets a Certificate of Analysis (COA) that confirms that CBD products meet the specifications advertised on the label. All brands in this post transparently provide COAs for their products online. They acknowledge that all described CBD tinctures show no presence of ingredients harmful to human health and contain zero or less than 0.3% THC.
All their tinctures are GMO-free, gluten-free, and vegan-friendly.
Pricing
The pricing of oil tinctures is a complicated subject. Their cost depends on multiple factors, such as the source of hemp, its extraction method, lab testing, potency, the product formula, etc. The entire manufacturing process involves a lot of money and is quite expensive, from using high-grade equipment and technology to hiring knowledgeable staff. Quality CBD oil cannot be cheap. Although the brands discussed in this post have a well-established position on the market, they offer reasonable prices and various perks such as reward programs, subscription discounts, bulk pricing, and seasonal deals. The cost per CBD serving aligns with the industry average compared to similar products from other brands.
Lastly, some tinctures are infused with different cannabinoids, vitamins and natural components, except for cannabidiol in their content. Their formula is enriched by ingredients that make them more therapeutically beneficial.
These are the main markers determining that the chosen brands are trustworthy and their CBD tinctures are safe and efficient. Consider these aspects when heading for a store to buy CBD tinctures.
What else would you like to know about oil tinctures? Here are the most common questions asked about this product. So, get expert answers and specific information on how to dose and ingest a cannabidiol tincture, how it works and affects consumers and possible mistakes in its use.
Best CBD Tinctures: FAQ
What else would you like to know about oil tinctures? Here are the most common questions asked about this product. So, get expert answers and specific information on how to dose and ingest a cannabidiol tincture, how it works and affects consumers and possible mistakes in its use.
What is a CBD tincture, and how does it work?
CBD oil tincture is made using an alcohol-based extract and cannabidiol. Cannabidiol affects the human endocannabinoid system (ECS) and regulates various important body functions and activities. The ECS consists of cannabinoids naturally produced by the body and a network of receptors for their interaction. When you consume CBD, the body responds the same way it does to its natural cannabinoids. Cannabidiol can regulate how body cells communicate and help with various health conditions.
Do CBD tinctures work?
Various research proves cannabidiol oil tincture efficiency in mitigating the symptoms of many health issues, such as anxiety, stress, sleep disorders, and neurological conditions. Data also suggests its benefits as an immune system modulator. Individuals who consume cannabidiol products report relief for various ailments, from insomnia to cardiovascular diseases, chronic pain, and cancer. Broad-spectrum and full-spectrum CBD tinctures have diverse formulations and offer slightly different effects.
Do CBD tinctures expire?
Like most natural products, organic CBD tinctures degrade and expire over time. Typically, their shelf life ranges from 1 to 2 years, depending on many factors that include the product ingredients, type of cannabidiol, and the way you store them. Exposure to excess heat and direct sunlight can cause CBD oil to lose its potency before expiration. However, since they are not dangerous, consumers don't have to worry about getting sick from the occasional use of expired tinctures.
Can you smoke CBD tinctures?
CBD oil tinctures are intended for oral consumption but not inhalation. Sublingual and oral ingestion increases its bioavailability. Cannabidiol tincture often incorporates carrier oils that make raw CBD more palatable and allows for convenient dosage adjustment. Smoking these oils is dangerous and can lead to lung diseases. Also, putting tinctures in a vape device can ruin the unit. You can only vape cannabidiol products that are manufactured for vaping.
Is CBD tincture the same as CBD oil?
CBD tinctures utilize a solvent (alcohol) to extract cannabinoids and terpenes from cannabis plants. Alcohol is both an ingredient and solvent in the final product. CBD oils have an oil base and are made with cannabidiol mixed with carrier oil such as coconut oil or hemp seed oil.
Which is better: CBD oil or tincture?
Oils and tinctures are equally effective. They differ in suspension liquid – a medium used to dilute the cannabidiol extract. CBD oils may contain a higher cannabidiol potency and can be used orally and topically. CBD tinctures have a longer shelf life and are formulated for ingestion only.
Can you take CBD tincture daily?
For the best results, CBD tincture use is often recommended on a daily basis. It tends to compound in the body over time, adding to potential health benefits. The number of times people take the tincture daily and its dosage depends on many factors, including the reasons for taking cannabidiol.
CBD tinctures: how to use?
Dosing CBD is largely individual. Newcomers can start with a low dose of 10-25 mg daily. They can see how their bodies respond and gradually increase the dose until they achieve the desired effects. If possible, navigate this process under the guidance of a professional physician because reactions to cannabidiol can vary per person. Also, it may take some time before consumers notice any improvements.
What ways to take CBD tinctures?
Tinctures CBD are created to be taken sublingually for the fastest onset. Fill the dropper with the substance and squeeze it out under the tongue. Hold it for 30-60 seconds and then swallow. You can also swallow them directly. Adding tinctures to your foods and drinks is also possible, but it can make cannabidiol absorption slower as it has to go through the entire digestive system.
Can CBD tinctures be used topically?
CBD tinctures are created to provide full-body effects and are not advised to be used topically; this application is more popular with CBD oils. Consumers who need on-the-spot pain relief or other direct treatment can purchase a CBD product designed specifically for skin use.