Best CBD Pre Rolls 2023: Top Picks to Choose From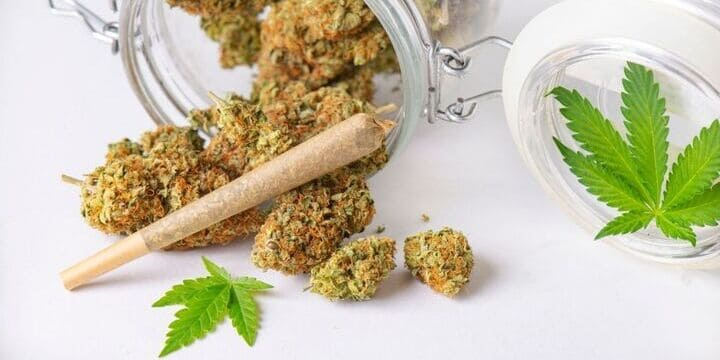 CBD pre-rolls are the best way to get your daily dose of CBD's health-beneficial properties. It's just that instead of getting high from smoking them, you'll get all those same effects without any psychoactive experience! There are many reasons why people use cannabis today, but one thing everyone can agree on is that it's one of the most versatile plants on earth. Not only does it have a wide range of effects, but CBD helps to treat various ailments and conditions. Some of these include:
In the following guide, you can get acquainted with the best options that are available at the market and start browsing for the one that suits you more in the "dispensary near me." This is a comprehensive list that includes some of the most popular and highest-rated CBD pre-rolls across multiple brands. Let's get started!
Top CBD Pre-Rolls: What Are the Options?
If you're new to the world of CBD products, how do you know which are worth your money? Well, we've got some advice for you!
First things first: if you're looking for THC-free pre-rolls (that contain no THC at all), look for those labeled as CBD flower or hemp flower. These products will be made from the buds and leaves of the hemp plant itself and can provide similar benefits as other forms of CBD without making users feel high (CBD pre-rolls for sleep, for instance). But if you're looking for a product infused with THC and CBD—an "entourage effect"—we recommend looking into products with a higher ratio of THC than CBD (for example, 2:1).
Best Sour Special Sauce Pre-Roll by Botany Farms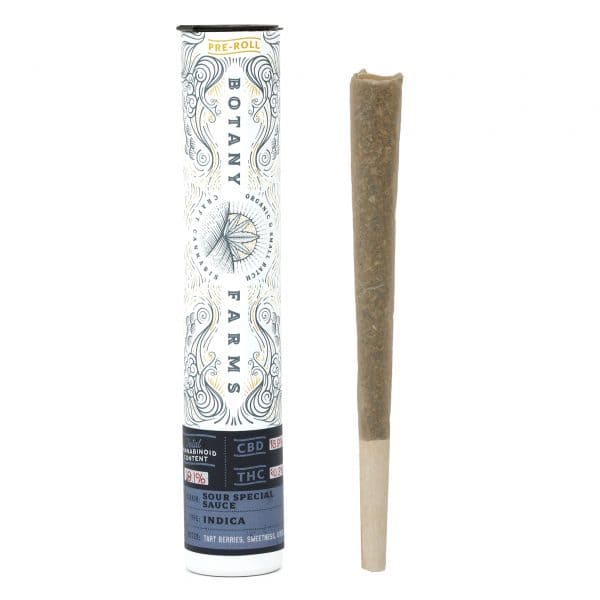 Sour Special Sauce Pre-Roll
$10.00
View on Official Website
Pros:
Certified to contain the stated amount of active ingredients
It has a distinct sour flavor that appeals to some
A gram of pre-rolled joints can easily be split between two people
Hemp is grown in the United States
Cons:
A little too tightly packed
The company doesn't offer larger sizes of its product, only single rolls
TypeIndica
THC<0.3%
CBD197 mg
Strain Type Sour Special Sauce
Weight1.2 g
One of the things that sets Botany Farms apart from other CBD pre-roll companies is their commitment to quality. Botany Farms' CBD pre-rolls are made from organic hemp grown in the United States. Each pre-roll gives you a hefty dose of Sour Special Sauce CBD. Sour Hawaiian Haze is a Indica-dominant hybrid, effective during the day and night. It combines the best qualities of its parent strains—the up-lifting effects of Sativa with the heavy resin production of indica—to create a sweet and sour flavor profile. Botany Farms pre-roll reviews say that it tastes great and provides a strong buzz that lasts for hours, but some reviewers complain about the tightness of the joint.
Best CBD Pre-Rolled Flower by Jolly Green Oil
All Jolly Green Oil CBD pre-rolled joints are packaged in glass tubes with cork tops to ensure freshness. A Jolly Green Oil CBD Pre-Rolled Flower contains the highest quality industrial hemp grown in Oregon. In addition to the quality of their product, the average Jolly Green Oil CBD review would praise the company for being one of the most transparent companies when it comes to lab results. By scanning the QR code on their label, you can access detailed information about precisely what's inside your joint before you smoke it—and that's something you don't get from most other companies!
Best Hawaiian Haze CBD Pre-Rolls by Hempzilla CBD
If you're in the market for a product that can help relax you and make you feel good, you'll want to get your hands on this one.
Hempzilla CBD products are available in various forms, including tinctures, topical lotions and creams, pre-rolls for smoking and vaping, kush (flower), gummies, vape pens, and pet products.
When smoked, Hawaiian Haze CBD pre-rolls taste like tropical flowers with hints of citrus and pine. The smoke is smooth and relaxing. Hawaiian Haze CBD flower is grown under the Colorado Department of Agriculture Program and is entirely organic. It's one of many strains grown by Hempzilla CBD in their state-of-the-art facility in Colorado Springs.
Best Sour Space Candy CBD Pre-Roll by Botany Farms
When you're looking for something to relax with during your lunch break or in the evening before bedtime, this CBD product is a solid option. Botany Farms reviews praise the company for its rotating selection of strains and the fact that it works with independent farmers. So you can be sure that your CBD joint will be made with the best quality ingredients.
​​
The small batch flower and the pre-roll joint deliver a tasty experience that's not only easy on the palate but quite enjoyable. A Sour Space Candy pre-roll helps you reduce stress[6], focus, and enjoy a break at work.
Best Pre-Roll CBG Flower by Hempzilla CBD
Hempzilla is a company that was founded on the idea that cannabis should be used to help people and the planet. That's why they use renewable resources and eco-friendly packaging and why they want you to be able to enjoy your experience every time.
Hempzilla CBG is the result of 25 years of combined experience in the business. On top of the eco-friendly recyclable packaging, each pre-roll CBG flower comes in a seamlessly sealed corked jar so you can enjoy a consistent session every time. Besides, this ensures that the CBG flower has maximum flavor and aroma.
Best Special Sauce CBD Pre-Rolls by Hempzilla CBD
If you're a first-time user of hemp, we want to get you started off on the right foot. Deciding to give Hempzilla CBD a try is the first step towards enjoying all the benefits of using hemp.
Special Sauce CBD pre-rolls ​aroma is a mix of wild berries, sweet vanilla, and musk. It's sweet, but not too sweet, with a soft berry taste that coats your mouth as you smoke it. Special Sauce CBD flower is a go-to stress reliever. Its potency will help you unwind and relax. It reduces anxiety and promotes sleep, which is why we think it's perfect for anyone looking for a good night's rest.
---
Read Also: Are CBD Cigarettes Safe? Potential Risks & Benefits Compared to Tobacco
---
How Do We Choose The Best CBD Pre-Rolls?
Quality and Lab Reports
We want customers to have a pleasant first-time experience with CBD. Hence, it's vital that you know exactly what you're putting in your body. A lab report is a type of certificate that tells you the exact quantities of cannabinoids (THC and CBD) in a product. It also tells you something about what terpenes are present in your pre-rolls if any. We've curated our list based on brands that provide detailed lab reports along with their products so customers can see exactly how much THC and CBD they're consuming at once—and whether there are any other active ingredients like terpenes present in their pre-rolls as well!
Brand Reputation
When it comes to buying CBD pre-rolls, you want to know you're getting a quality product that's safe and effective. And while there are plenty of new companies popping up every day, we've learned that it's essential to look at the reputation of the brand before making your decision. The ones with a good reputation and history of solid products tend to offer a better outcome than newer companies. In fact, most of our top picks are from long-standing brands that have been around for years. We ensure that we provide you with all the information necessary to make a decision on which product is right for your needs.
Customer Reviews
We're sure you'll agree that when it comes to buying CBD pre-rolls online, you want the best bang for your buck. Customer reviews from verified customers only (not employees or paid reviewers) can be very helpful for finding out which products are worth trying. Verified customers are more likely to be honest about their experience with a product because they've used them before—and they usually aren't swayed by any kind of financial incentive, either! We believe these are some crucial factors that separate the wheat from the chaff. We personally recommend reading through reviews before making an order so that you don't waste money.
Pricing
We take care of your health and look for options that would take care of your wallet as well. There is no need to compare prices—we've got you covered. We are only including CBD pre-rolls that are priced reasonably. The reason behind this is that there are many different types of products on the market, but not all of them deliver what they promise. We want to give you options at every price range, so no matter how much money you have available to spend on smoking cannabis flowers, we'll have something on our list that fits your needs and budget!
Resources
Banerjee S; McCormack S, (2019) Medical Cannabis for the Treatment of Chronic Pain: A Review of Clinical Effectiveness and Guidelines, Canadian Agency for Drugs and Technologies in Health. U.S. National Library of Medicine. Available at: https://pubmed.ncbi.nlm.nih.gov/31532599/

Sunda F; Arowolo A, (2020) A molecular basis for the anti-inflammatory and anti-fibrosis properties of cannabidiol, FASEB J. U.S. National Library of Medicine. Available at: https://pubmed.ncbi.nlm.nih.gov/32885502/

García-Gutiérrez MS; Navarrete F; Gasparyan A; Austrich-Olivares A; Sala F; Manzanares J, (2020) Cannabidiol: A Potential New Alternative for the Treatment of Anxiety, Depression, and Psychotic Disorders, Biomolecules. U.S. National Library of Medicine. Available at: https://pubmed.ncbi.nlm.nih.gov/33228239/

Rock EM; Limebeer CL; Pertwee RG; Mechoulam R; Parker LA, (2021) Therapeutic Potential of Cannabidiol, Cannabidiolic Acid, and Cannabidiolic Acid Methyl Ester as Treatments for Nausea and Vomiting, Cannabis Cannabinoid Res. U.S. National Library of Medicine. Available at: https://pubmed.ncbi.nlm.nih.gov/34115951/

Kesner AJ; Lovinger DM, (2020) Cannabinoids, Endocannabinoids and Sleep, Front Mol Neurosci. U.S. National Library of Medicine. Available at: https://pubmed.ncbi.nlm.nih.gov/32774241/

Lookfong NA; Raup-Konsavage WM; Silberman Y, (2022) Potential Utility of Cannabidiol in Stress-Related Disorders, Cannabis Cannabinoid Res. U.S. National Library of Medicine. Available at: https://pubmed.ncbi.nlm.nih.gov/36409719/
FAQ
First, check the source and quality of the CBD used in the pre-roll. Look for products that provide third-party lab test results to verify potency and purity. Second, consider the strain of hemp used, as it can impact the overall effects and flavor. Third, check for the presence of any additives or harmful chemicals. Choose pre-rolls that contain only natural hemp and don't include tobacco or nicotine. Finally, consider the CBD concentration to ensure it aligns with your desired dosage. Taking these factors into account will help ensure a safe and enjoyable CBD pre-roll experience.
First, choose products from reputable and well-known CBD brands that prioritize quality and transparency. Look for third-party lab testing results to verify the product's CBD content and check for the absence of harmful contaminants. Read customer reviews to gauge other users' experiences with the specific pre-rolls you're considering. Ensure the pre-rolls contain hemp-derived CBD with less than 0.3% THC, adhering to legal requirements. Lastly, verify that the packaging provides clear information about the product's CBD content, ingredients, and usage instructions.
Pre-rolls with lower CBD concentrations (around 10-15% CBD) are recommended for beginners to avoid overwhelming effects. Additionally, CBD-dominant strains with minimal THC content are ideal as they offer the potential therapeutic benefits of CBD without the psychoactive effects of THC. Look for pre-rolls that come from reputable brands with third-party lab testing to ensure quality and safety. Beginners should start with small puffs and gradually increase them as needed to gauge their tolerance and find the right dosage for their desired effects.
Keep them in an airtight container, such as a glass jar with a tight-fitting lid, to protect them from exposure to air and moisture. Store the container in a cool, dry place, away from direct sunlight and heat, as these elements can degrade the cannabinoids and terpenes in the pre-rolls. Avoid storing them in the refrigerator or freezer, as fluctuations in temperature and humidity can affect their quality.