Grower Stories #23: Dr. Norms Team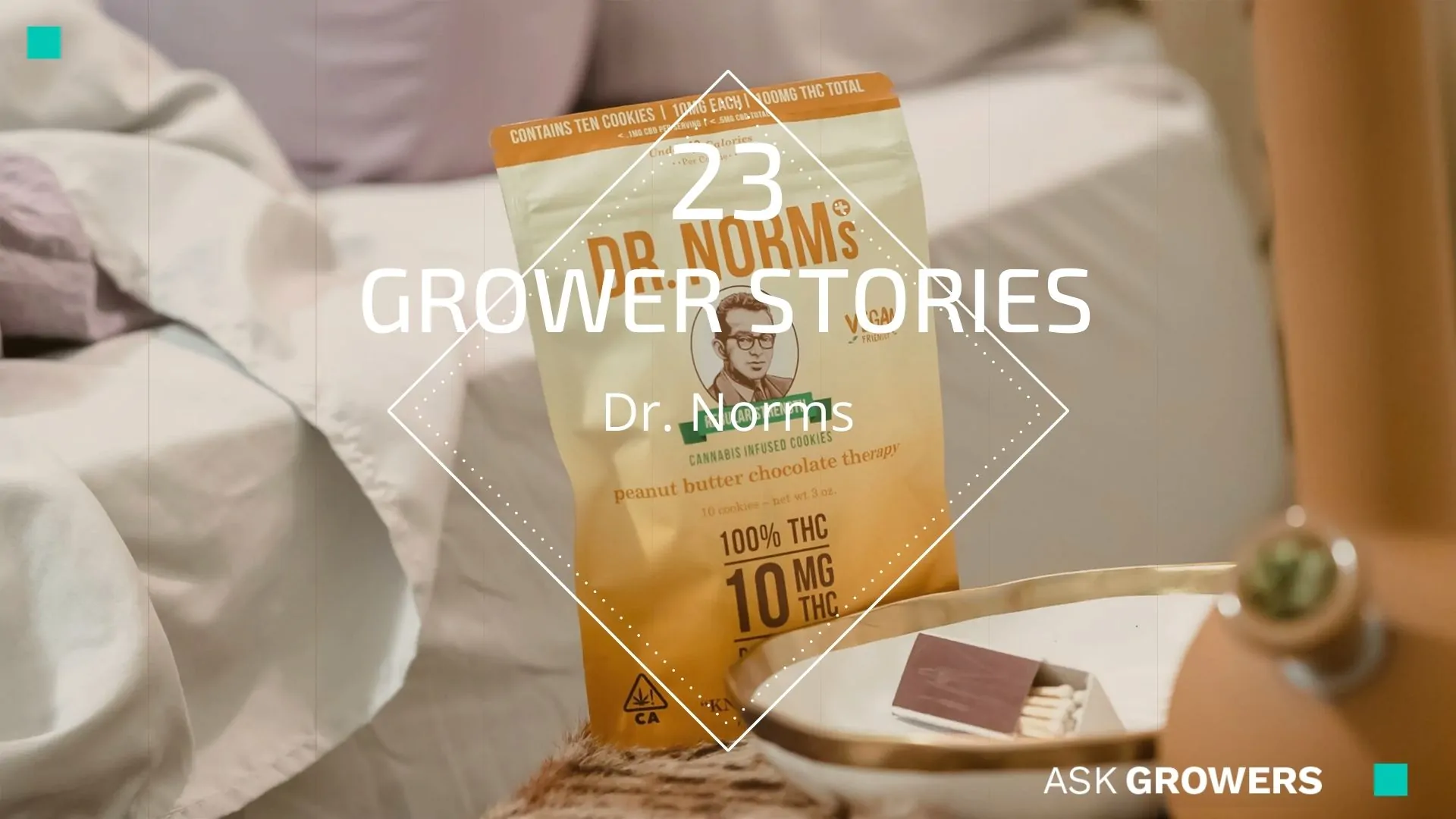 Dr. Norm's Brings Potency and Consistency to a Saturated Market
Dr. Norm's brings potency and consistency to a saturated market.
---
Tia (AskGrowers)
: So how did Dr. Norm's start? What made you say "let's make edibles"?
Dr. Norms Team : Founded by the brother sister team of Jeff Koz and Roberta Wilson - in honor of their dad, Dr. Norm Koz. He was a beloved M.D. who gave very personalized, old school care to his patients. The idea for Dr. Norm's came from our experience in the traditional cookie industry. We started a cookie company 7 years ago in honor of our mom, Audrey. A pharmacist by profession, but a baker by passion, she spread her love through her cookies and felt they were the best prescription for all that ails. In fact, our initial flavor, Chocolate Chip Therapy is based on her actual recipe. Audrey's Cookies were sold at Whole Foods, Sprouts, Costco, Stater Brothers and Albertsonsto name a few! We wanted to take the success we'd had with traditional cookies and bring it to the ediblesmarket — but do it in a way that offered a safe, delicious, and reliable experience every time.
---
Tia
: What's been your toughest challenge since you jumped into the cannabis industry? What came of it?
Dr. Norms Team : The toughest part has been adapting to the ever evolving rules and regulations of the industry. First, in 2018 having to change the product offerings so that they were compliant with the new laws. Then having to change our packaging with each new distinction of the law. We had to throw away tens of thousands of dollars in packaging. And the very narrow window for potency compliance in the edibles category. We have to be within a 10% window on what our package claim is which means you have to be very dialed in on accuracy when dosing all products. Failure is not an option as it is too costly. So running the business post recreational legalization in CA has been the toughest challenge.
---
Tia
: Who leads your graphic design team? What's the inspiration behind your logo/packaging?
Dr. Norms Team : We actually work with 3 graphic designers. The person who created our original logo/brand identity is a graphic genius - his name is Sophea Khem. Since our logo is a picture of our DAD it holds particular importance to us. In honoring him (and our mom as it's her recipe) we wanted our look to have a "safe, apothecary, trusted" look. Like it could be sold on the shelves at Whole Foods. Having come from the traditional cookie business, we knew the look we were going for - trying to have a mainstream looking product. We launched as a "Know Your Dose" platform and as such felt strongly that our brand reflects that mantra.
---
Tia
: If you had to pick a favorite product, what are you going with and why?
Dr. Norms Team : 100% have to pick our Chocolate Chip Cookie as that is our Mom's actual recipe and the one we started our company with! We have grown to have many other flavors but this one will always be our North Star, our flagship product!
---
Tia
: What's your top seller right now? Any insight as to why it's your #1 product at the moment?
Dr. Norms Team : Our top seller is our 10mg Chocolate Chip Cookie. I think Chocolate Chip is always a top seller in the cookie category. I believe it's because this is my mom's recipe and because it is baked with love and magic! And because it's crunchy on the outside and chewy on the inside and brimming with heath bars, pecans and lots and lots of chocolate!
---
Tia
: What's holding back the cannabis industry? How does it get fixed?
Dr. Norms Team : 2 things: 1) California Regulations are 100% squashing the cannabis industry from thriving. Taxes are way too high which only allows the illegal shops to flourish. The whole point of legalization in the state was to get rid of the black market but due to the excessive taxes imposed on legal shops, they have just further fueled it. In addition, there is NO massive undertaking to shut down the abundance of legal shops that still exist everywhere. And 2) Federal Legalization of cannabis would solve the larger issues of banking, stigmatization as it is still a schedule 1 narcotic, etc.
---
Tia
: How do you measure success at Dr. Norm's?
Dr. Norms Team : We measure success in a number of ways:
Hearing from customers that our product is working to help with their ailments. People, call, email and leave reviews on Weedmaps and this is the best thing about being in the cannabis business!
Increasing sales over time - Getting into new dispensaries is a big victory to us but even more exciting is when the shops RE-ORDER! That shows us that our product is selling well and that their customers are buying it!
Successful launch of new products - We recently launched several new flavors/sku's and it makes us super happy to see orders flowing in for them. Again, shows us that people are liking them!
We measure success by looking at analytics in the state for how our brand is selling versus our competitors. Success to us is being the #3 best selling cookie in CA after being #5 last year. We're almost at #2 and can't wait to get there!
---
Tia
: Are there any plans for expansion or new product rollout in the near future?
Dr. Norms Team : We are always looking to launch new products. In the next 2 months we will launch the following new sku's:
100mg chocolate fudge brownie - with a diagram for how to cut it into ten 10mg portions.
100mg mini cookie - in 3 flavors - chocolate chip, snickerdoodle and red velvet - with a diagram for how to cut into ten 10mg portions.
Salted Caramels - 10mg caramels in a 10 piece bag.
---
Tia
: How has COVID-19 impacted your business? How have you overcome it so far?
Dr. Norms Team : Thank goodness cannabis was deemed an essential business at the outset of Covid-19. We made the decision to have our crew work feverishly throughout the pandemic in order to keep up with increased demand for the product. We have employed safety precautions (social distancing, masks, etc.) and have seen sales rise during this time.
---
Tia
: What's your favourite story from your time running Dr. Norm's?
Dr. Norms Team : Too many to name - but I'd say ongoing it's walking into dispensaries and seeing our dad's picture prominently displayed on our cookies! That will never get old! Nor will hearing success stories of how our cookies have helped so many people with so many and varied illnesses. That has been our favorite part of being in the cannabis business - hearing directly from customers that our product HELPS THEM and makes their everyday lives better.
---
Tia
: If you could smoke with anyone in this world, who would it be? :)
Dr. Norms Team : Snoop Dogg
Thank you, that was a great pleasure to know more about your products and share your brand story with our readers!
---
For more info about Dr. Norm's you can follow their brand page at: