Grower Stories #14: Jennifer Chapin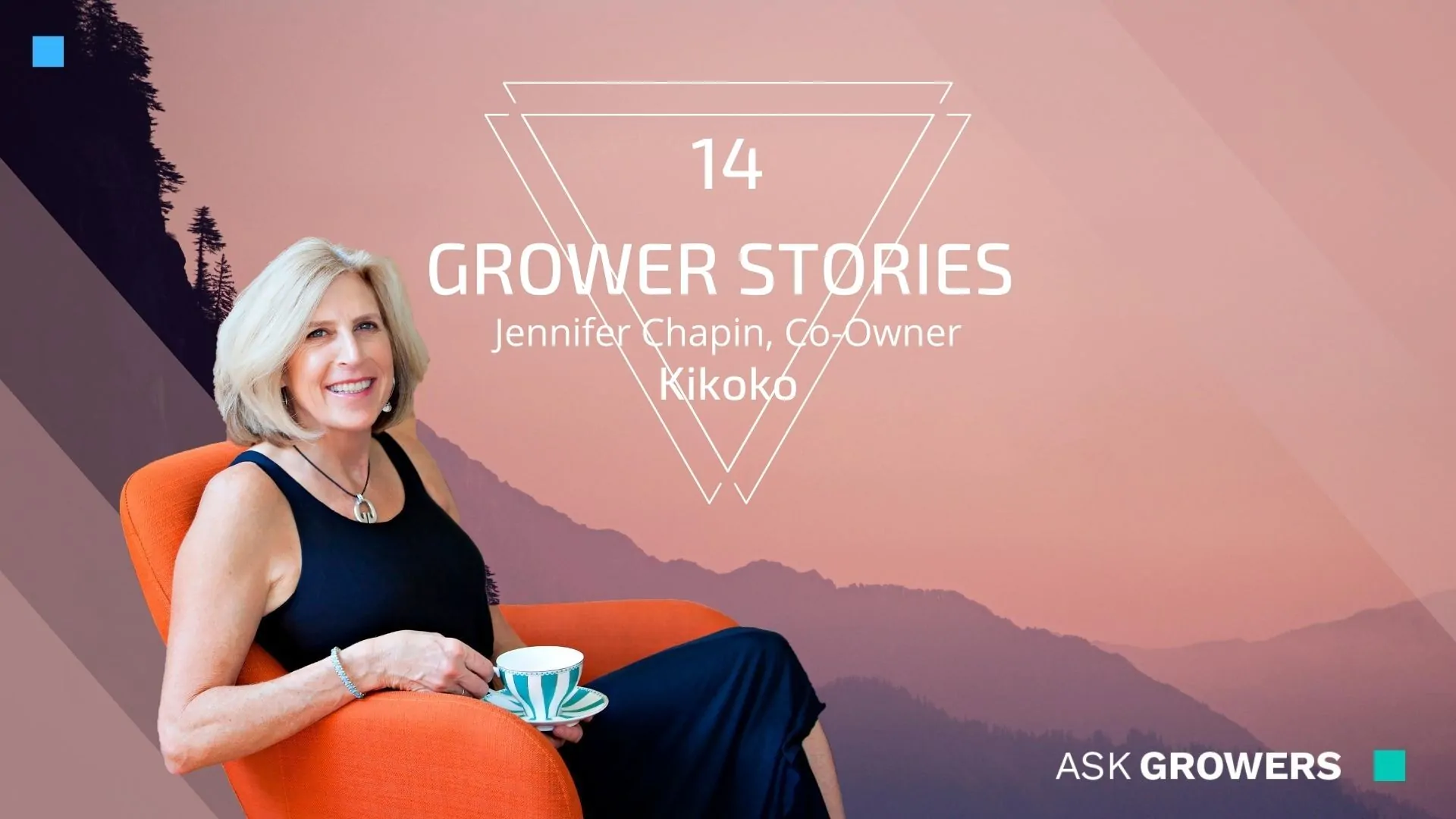 Jennifer Chapin, Kikoko Co-Founder, About Her Path to Success in the Cannabis Market
We got the amazing opportunity to chat with Jennifer Chapin, co-founder and co-CEO of Kikoko about the brand's 'mighty mojo', their top-quality organic cannabis products, and the effect COVID has had on the cannabis industry. Give it a read below!
---
Tia (AskGrowers)
: Starting off simple, where did the name Kikoko come from? What's the meaning or story behind it?
Jennifer Chapin : Kikoko was dreamed up when my business partner, co-founder and co-CEO, Amanda Jones and I were desperate for a trademark-able name. It comes from combining the name of a Samoan drink (koko) and a Hawaiian prefix (ki), favorite vacation destinations of the founders. It means nothing, so we decided it means mighty mojo.
---
Tia
: We've noticed that you offer a variety of
cannabis products
on your website. Why did you choose to go with organic herbal tea?
Jennifer: We chose to start with tea because it was a discreet delivery system. And because we found that many of our friends and family were reliant on or addicted to pharmaceuticals or alcohol to address sleep, pain, anxiety, libido and mood. So those were the formulations that we first focused on.
With all of Kikoko's products we have committed to using plants that are free from pesticides and chemical fertilizers. We use organic, non-GMO whole-plant herbs, cannabis products and flowers, artisanal New Zealand Manuka and Kanuka honey, and outdoor cannabis that is grown using organic or biodynamic farming methods. Also, nearly 100% of all of Kikoko products are packaged with recyclable, re-usable or compostable packaging. Our single tea pouches are our only remaining eco-shame. However, by the end of 2020, those will switch to compostable packaging.
---
Tia
: How did you choose which flavours to offer? Are there any plans for new ones in the near future?
Jennifer: Kikoko's promise is that all of our products are good for you, efficacious, and delicious with no cannabis aftertaste. We also don't add "flavorings" of any kind, as many of those are extracted using other nasty chemicals. Plus, we think if the herbs and other botanicals themselves don't taste good enough alone, then we're doing something wrong.
---
Tia
: Are the
cannabis products
made at Kikoko or do you get the ingredients/produce the
cannabis products
elsewhere?
Jennifer: Kikoko produces all of our products in-house. We use top-shelf, artisanal and whole leaves, herbs and flowers, making our cannabis products tastier and healthier than cut cannabis products . Our tea bags are nontoxic, made from 100% plant starch (cassava, potato and corn), fully compostable and biodegradable. We don't attach strings to our tea bags because we don't want bleach anywhere near our cannabis products. Our Manuka and Kanuka honey is grown on an organic farm in New Zealand, and the herbs and other ingredients in our mints and tincture are made with organic adaptogenic botanicals and beneficial vitamins.
---
Tia
: How does Kikoko differ from other companies who offer cannabis-infused products?
Jennifer: Kikoko is committed to never compromise on quality. We care about what goes into our bodies and we feel a responsibility to treat customers the same way. It is both challenging and expensive to take the high road in today's world but we're proud that we have. All production takes place in California. We use all-organic, top-shelf ingredients. The very best available. Our authentic and trustworthy voice, appealing directly to women of all ages. We are committed to education, education, education!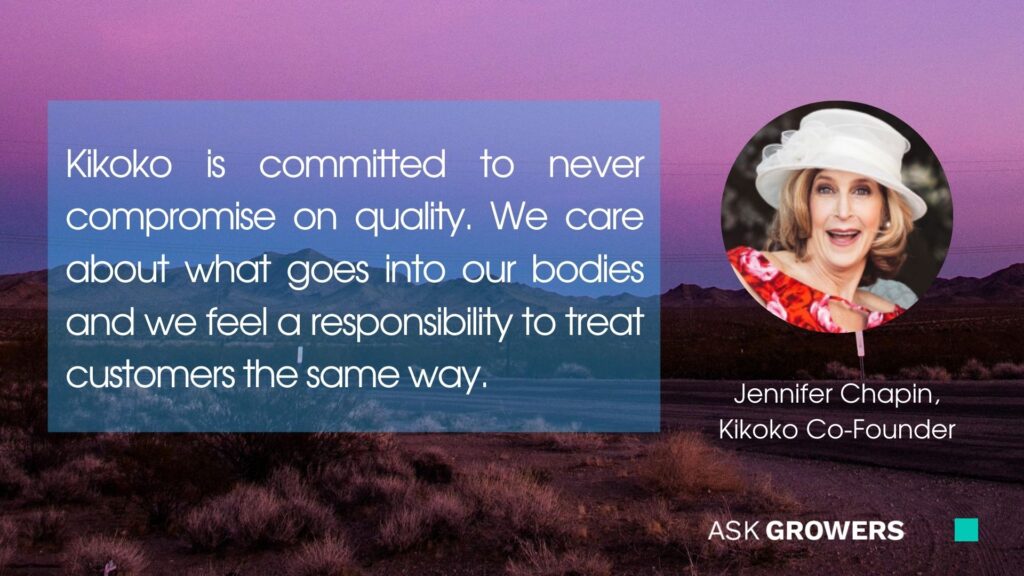 ---
Tia
: Does your tea have a secret ingredient?
Jennifer: Yes, we call it Kikoko-gold.
---
Tia
: What tea would you recommend to try for newbies?
Jennifer: We would strongly suggest that people go to our website and learn more about our products before they try, www.kikoko.com . We list all ingredients; the cannabinoid ratios, the adaptogenic herbs and flowers and our use of infused vitamins. We also have a helpful dosage guide that people can relate to. But we always tell people who are just trying THC, to start with 3mg or less. We would recommend Kikoko Sympa-Tea, Kikoko Focus and Calm HoneyShots, Kikoko Little Helper Calm and Focus Mints, and Kikoko Day Tincture. With 3mg or less of THC along with other helpful cannabinoids, these selections deliver a very mellow, non-anxious effect.
---
Tia
: What's your current bestseller? And what's Kikoko's target audience?
Jennifer: Tranquili-tea is our #1 seller, because sleep issues are so pervasive and so many people are ditching sleeping pills and looking for a healthier alternative to a good night sleep.
Kikoko appeals to women (and men) who desire to live a healthy, balanced and non-toxic life at any age (21–101). Our products are low-dose and formulated to address health issues, including insomnia, pain (from menstrual cramps to menopause), anxiety, libido and mood.
---
Tia
: How did COVID-19 affect Kikoko? Were you prepared for it?
Jennifer: I don't think any company was fully prepared to deal with the shock of COVID-19, including Kikoko. Kikoko has remained fully operational throughout this pandemic.
Fortunately, before COVID hit, Kikoko launched several new products that were already on the shelves at dispensaries around California: Little Helper Mints and Day and Night Tinctures. Also, in late February we implemented our direct to consumer (DTC) business with deliveries throughout California. Because Kikoko has been well stocked and easily accessible, this has helped our consumers tremendously.
---
Tia
: Are all of your canna-cocktails hypo-allergic?
Jennifer: If you have allergies, then avoid mixers that you're allergic to. There are many recipes to choose from on Kikoko's website, https://kikoko.com/kikoko-recipes/. Indulge yourself!
---
Tia
: Who usually tests your new products? Do you have a personal favourite?
Jennifer: We engage Beta Testers for all new products. My new favorite is Kikoko's Day Tincture, with high CBD and only 1 mg of THC -- it addresses my annoying and persistent back pain, and helps me remain calm and relaxed during stressful times.
---
Tia
: Are there any plans to roll out new
cannabis products
or other products? If so, what're you looking to add?
Jennifer: In early 2020, Kikoko added a new HoneyShot called Focus to the existing line of HoneyShots, and we launched Kikoko Little Helper Mints, for Calm, Focus and Sleep -- ideal for microdosing. We also launched Kikoko cannabis tinctures: Day for calm and relief, and Night for sleep.
We have several new products in development that will launch before the end of 2020 and into 2021.
---
Tia
: What other cannabis brands do you guys follow/appreciate?
Jennifer: We have tremendous respect for our fellow cannabis brands. There are way too many to list here, and we wouldn't want to leave anyone off the list.