Review of "Droppy CBD Calculator" on AskGrowers.com
Find more about Helga Green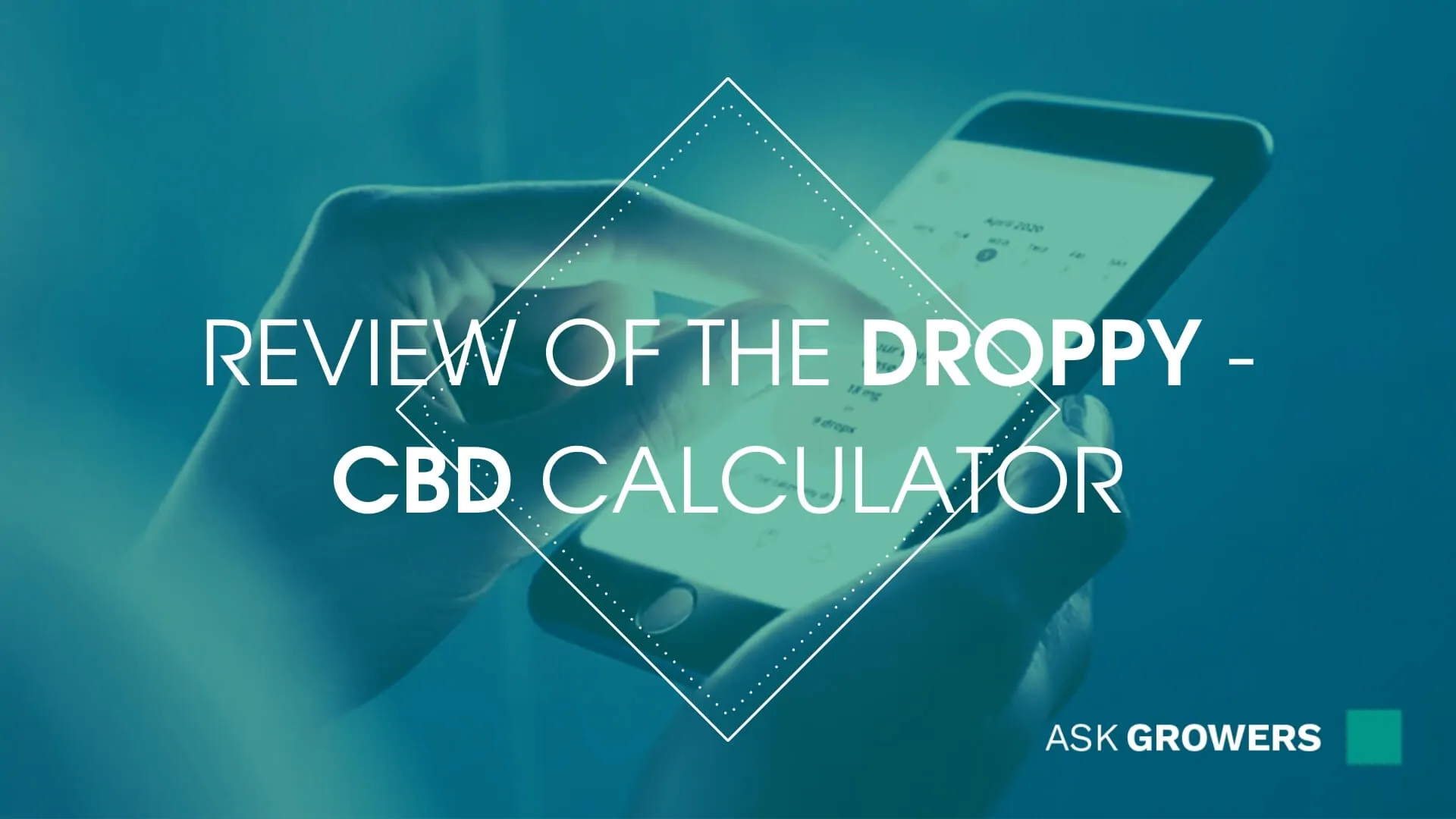 In the mammalian brain, endogenous (internal) cannabinoids are produced naturally: they suppress pain, "erase" bad memories, regulate sleep and appetite, affect the perception of taste and smell, and give a feeling of euphoria. But for medicinal purposes, it is important to correctly divide the dosage. The Droppy app was created specifically for calculating your CBD doses.
Main Tasks That Droppy App Can Perform
Droppy can make the right CBD dosage for you. Moreover, for your convenience, the application will calculate the number of drops that you need to take. To do this, Droppy offers you to enter your age, weight, your symptoms, information about the CBD product you are currently using in the special fields, and voila! You have your calculated norm.
In order not to forget to take your dose of CBD, you can set a reminder on Droppy in the morning and evening. In addition, it is convenient to count the days when you took the dose.
The application has a function for assessing well-being (if you click on the calendar icon). Here you are able to track the change in symptoms and whether the measuring you are taking now is right for you. In addition, this CBD dosage calculator will help you track your progress (in the same application tab), which is useful for determining your ideal dose.
What is very important in the app is that articles about CBD are published here. The topics related to the CBD are quite interesting and Droppy will provide you with information on innovations, new research, and statistics related to the CBD. In addition, in the Q & A section, you will find answers to the most common questions about the CBD.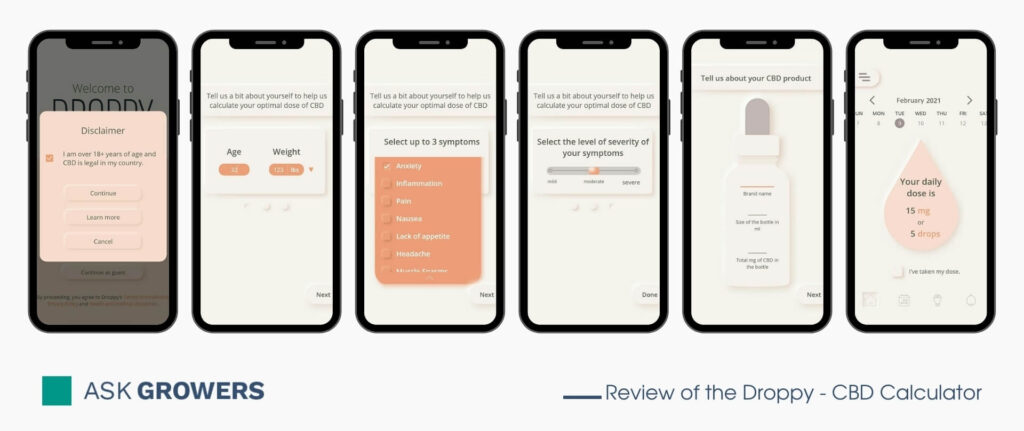 All functions in the application work flawlessly, but there are some "but's". For example, when you want to set a daily reminder of taking a dose of CBD, the application will prompt you to switch to a premium account. Some users may not like this, but in fact, it is a very important function that you should not refuse.
---
Read Also: How Does CBD Work
---
CBD Calculator Purpose
The main purpose of the app is to help people. CBD oil is used in medicine as a dietary supplement. Cannabis extract (CBD) treats many diseases. Droppy will be useful to those who use CBD oil to treat nausea, vomiting, autism, diabetes, multiple sclerosis, epilepsy, autoimmune diseases such as allergies and asthma, liver and brain damage, inflammation, Alzheimer's disease, schizophrenia, cancer. It's also suitable for the daily prevention of common diseases, lowering the pH of the body.
In the human body, nerve receptors such as CB1 and CB2 are present. They are located mainly in the central and peripheral nervous systems. CB1 receptors are present in the largest amount in the brain! These receptors respond to (activated or deactivated) cannabinoids - those that the body produces itself (endocannabinoids), as well as plant-based substances such as CBD, CBN, and THC. CBD primarily affects CB1 receptors (located in the brain), preventing dopamine activation and suppressing hyperactivity. Thus, CBD calms the nervous and immune systems and thereby helps with nervous and mental problems, as well as autoimmune diseases caused by an overreaction of the immune system.
If you want to download the app be aware that you need to have enough place on your phone. The required version of Android is 5.0 and higher. And the iOS version should be 11.2 or later. Compatible with iPhone, iPad, and iPod touch. The app weighs 24.4 MB.
The app is free, but it has in-app purchases.
In-App Purchases cost:
- Monthly subscription – $2.99
- 6-month subscription – $14.99
- 12-month subscription – $27.99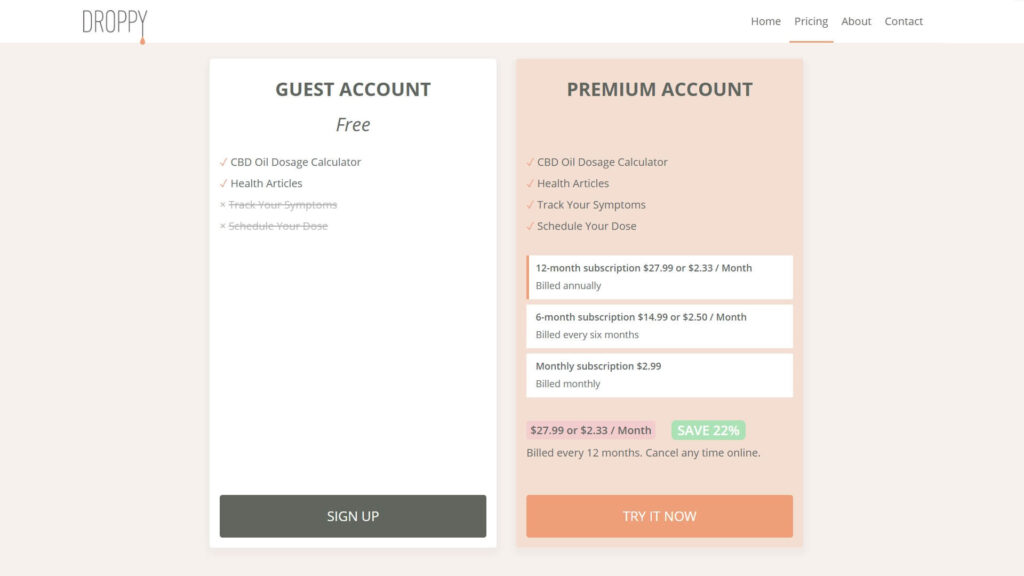 Bottom Line
If you dig into your app store or google market, you will see that there are many applications related to medicine and the use of certain drugs, but Droppy is the only application that is equal to the CBD calculator. And although the application is still very "young", more and more people are installing it. CBD is still something new, but necessary. Therefore, I believe that this application will soon receive its well-deserved high ratings.
Including the fact that a similar CBD oil calculator application like Droppy is something new, it is difficult to say if there is anything that needs to be summed in addition to the existing functions and capabilities of the application. But the developers report that they are working on additional features that will be available to users with the next application updates.
It's incorrect to say that everything is always perfect. Surely, prolonged use of some applications may make you think about its lack. But for now, I can confidently put this app in 9 out of 10 (just because additional features are just coming up).
I would like to emphasize that the design of the application is very convenient and understandable. There are no unnecessary functions, this CBD oil dosage calculator has calm, non-acid colors that are used for its design and Droppy is pleasant to use. Another important thing is that you have to be 16+ years old to download it (17+ years old for iOS users). The ability to set reminders for taking your own CBD dose, as well as the ability to calculate it in the first place, will be an excellent auxiliary thing for regular users. And let's not forget about the opportunity to learn more about CBD! This is very important for a better understanding of such a product. So my final verdict is that I can recommend this app.
FAQ
To calculate the amount of CBD per drop, you'll need to know the total CBD content in the product and the number of drops in the container. First, check the product label or lab test results to find the total CBD content (usually expressed in milligrams) in the entire container. Then, divide the total CBD content by the number of drops in the container. For example, if a 30ml CBD oil tincture contains 600mg of CBD and has approximately 600 drops in the bottle, each drop will contain approximately 1mg of CBD (600mg CBD ÷ 600 drops = 1mg CBD per drop).
For a CBD beginner, it is recommended to start with a low dosage, typically around 5-10 milligrams (mg) of CBD per day. This allows the individual to assess their body's response and tolerance to CBD. After starting with a low dose, they can gradually increase the dosage by 5-10 mg every few days until they achieve the desired effects. The goal is to find the minimum effective dose that provides the desired benefits without experiencing any adverse effects.
The number of CBD drops you should take daily depends on various factors, including the potency of the CBD oil, your individual needs, body weight, and the specific condition you are addressing. It is best to start with a low dosage, typically around 10-20mg of CBD, and gradually increase until you find the minimum effective dose for you.
The number of drops in 30 ml of CBD oil can vary depending on the dropper's size and the viscosity of the oil. Typically, a standard dropper holds about 20 drops of liquid per milliliter. Therefore, in a 30 ml (1 fluid ounce) bottle of CBD oil, there could be approximately 600 drops. However, it's essential to note that dropper sizes can differ, so it's always best to check the product's packaging or instructions to get an accurate measurement of the number of drops per milliliter.