Grower Stories #62: Lisa Tollner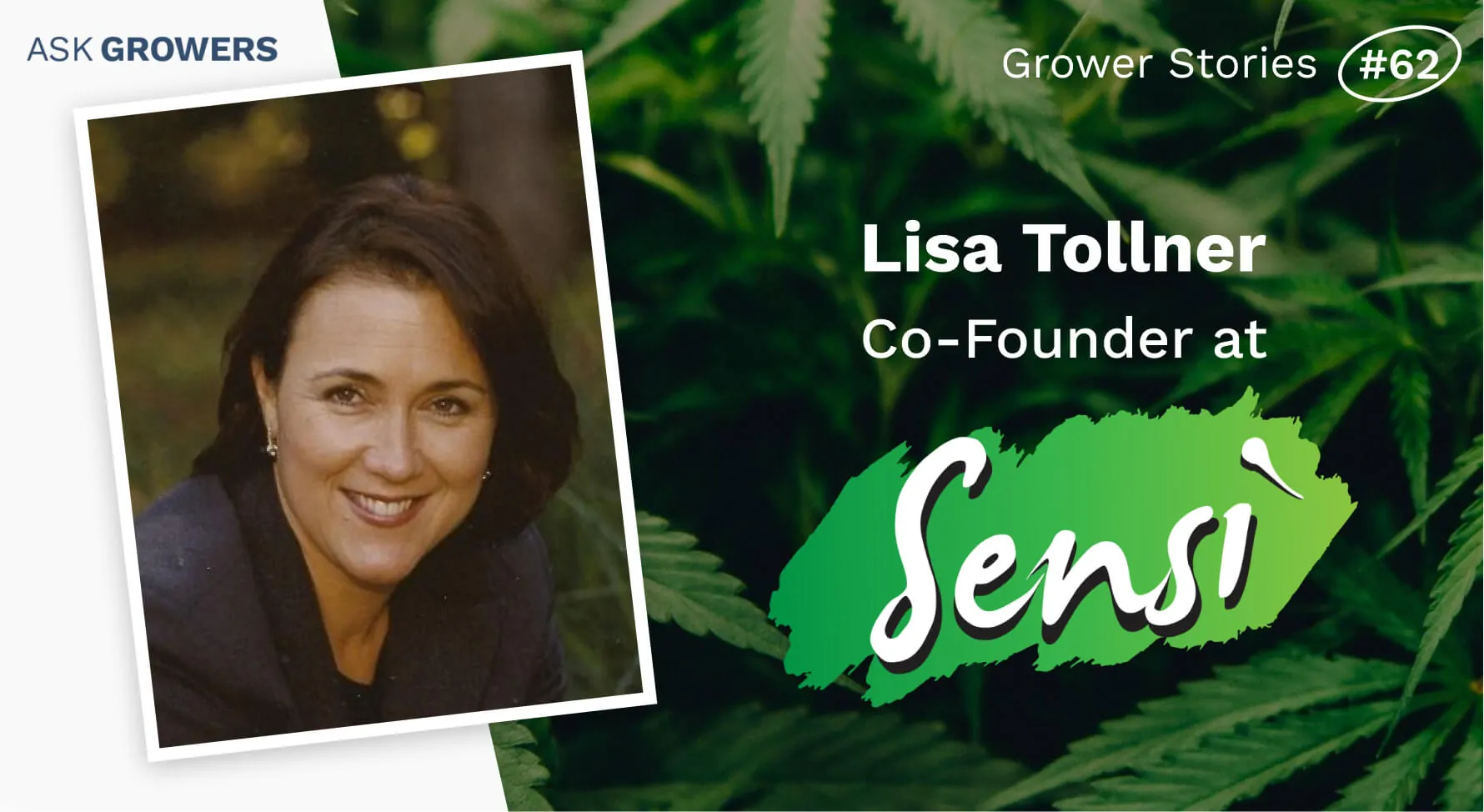 Premium Edibles With a Purpose: Our Interview With Lisa Tollner of Sensi Products
AskGrowers chat with Lisa Tollner of premium edibles brand Sensi Products about their top-notch edibles, pills, and THC/CBD infused products, their biggest challenges as a brand so far, and what sets their products apart from their competition. #growerstories
---
Tia (AskGrowers) :
How did you start the
Sensi Products
brand?
Lisa Tollner : We had family who were suffering from chronic pain and who could not take pharmaceutical pain meds. Back in the old days, there were a few web forums that gave basic instructions for making cannabis butter and extraction. We started to experiment with friends who are professional chefs. In 2013, we launched Sensi Chew in Norcal.
---
Tia :
What has been the biggest challenge your brand has faced so far?
Lisa : The challenges have changed over the years and since CA legalization has evolved even more. One primary challenge is competition for shelf space. More and more edible products are entering the market making it very noisy. Another challenge is educating the budtenders who are important because they're the ones who communicate with consumers at the point of sale.
---
Tia :
Do you grow everything on your own, or use the help of third-party vendors?
Lisa : We purchase cannabis extract and do not grow ourselves. In the beginning, we did some cultivation but as we grew it became easier to purchase what we needed from an expert extractor.
---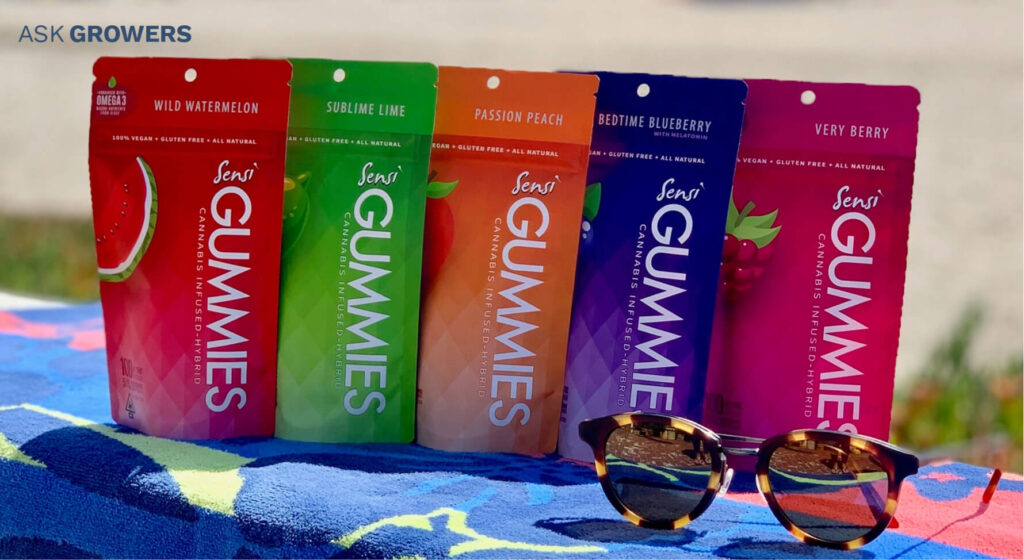 ---
Tia :
I've noticed you don't have prices on your website. Why is it so?
Lisa : Prices vary depending on the retailer. We sell our products to licensed shops at wholesale prices. Some dispensaries do a standard retail mark-up of 2x wholesale, while others do 2.5x or even 3x. This cost gets passed through to the consumer. More consumers are price shopping to find the best deal on our products.
---
Tia :
With so many products making false claims, how can a CBD consumer be more knowledgeable and make an educated decision when shopping?
Lisa : I recommend consumers do as much research and reading as they can. There's some really great information on the web. For example, we research and write case studies and CBD, THC, and specific health conditions, and we site respected medical sources for our information. They can visit our website for a library of case studies.
---
Tia :
Share with us your unique features. Why are you so special?
Lisa : We strive to make the healthiest formulas we can, and we strive to educate. For example, Sensi Gummies is the #1 healthy gummies on the market - 100 percent vegan, reduced sugar, and Omega 3 infused. Sensi Chews have a detailed instruction guide inside each pack so consumers can feel safe and have a good experience. We were the first edible company to voluntarily lag test our products for potency and purity, and we continue that quality commitment today.
---
Tia :
Edibles are a huge part of the rise in micro-dosing. What would it mean for the cannabis industry as it gets more mainstream?
Lisa : Microdosing just makes it a little easier for the consumer to avoid eating too much, and then having a bad experience. What we recommend is that anyone new to cannabis THC starts at low doses and adjusts from there. Finding the right dose for a specific issue is the key. Whether you're taking a small 2.5 mg or 5 mg dose, or cutting a 10 mg dose down to 5 mg, the point is to find the right amount that works. CBD is less of a challenge because it is non-psychoactive and if a larger dose is taken the result will be more subtle, perhaps making the user a little sleepy. Every person is unique and their tolerance and absorption of THC and CBD will vary. I suggest keeping notes through this experimental phase.
---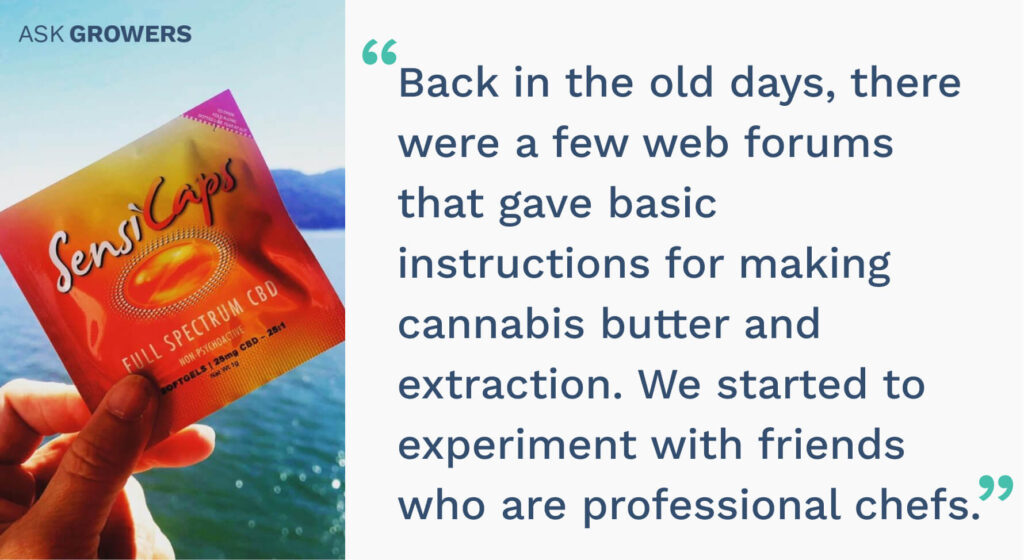 ---
Tia :
Tell us two things that show you differ from other similar brands to yours on the market?
Lisa : Sensi Gummies are the healthiest gummy being produced, and the combination of vegan, low-sugar, and Omega 3 are great differentiators. We gummies just won 1st Place for Best Edible. Sensi Chews are unique in the three specialty infusions, Sensi Chew Insomnia with Melatonin, Sensi Chew Energy with Ginseng, and Sensi Chew Amore with Tongkat Ali aphrodisiac. Other companies are now copying Sensi and add melatonin, but the other infusions are unique.
---
Tia :
What's your biggest achievement so far?
Lisa : There isn't one big achievement, but lots of little ones. Each time we hear from a consumer that says "I've tried every product there is, and your product helps me", this is what makes me proud. We've collected well over a thousand testimonials from happy users.
---
Tia :
What's your best-selling product? Why do you think it connects with your customers?
Lisa : Sensi's sleep products are top sellers because so many people suffer from sleep disorders. Over 40 million Americans struggle with sleep, which is even worse this year with Covid. Getting a good night's sleep is one of the most important things we can do for good health. We have several products to help with sleep: Sensi Chew Insomnia chocolate caramel with THC and Melatonin, Sensi Chew Insomnia Plus chocolate caramel with CBD and Melatonin, Sensi Gummies Bedtime Blueberry with THC and Melatonin and Omega 3, Sensi Caps Sleep CBD Softgels with Melatonin and Omega 3.
---
Tia :
Can you count Sensi Products as a sustainable company?
Lisa : We do everything possible to use sustainable practices in our operations by avoiding waste and keeping a low environmental footprint. The packaging is a challenge and we are working to find choices that are biodegradable and still cost-effective.
---
Tia :
Are there any brands you appreciate and follow?
Lisa : Brands that I respect in the THC space are Kiva, and the CBD space is Charlotte's Web CBD.
---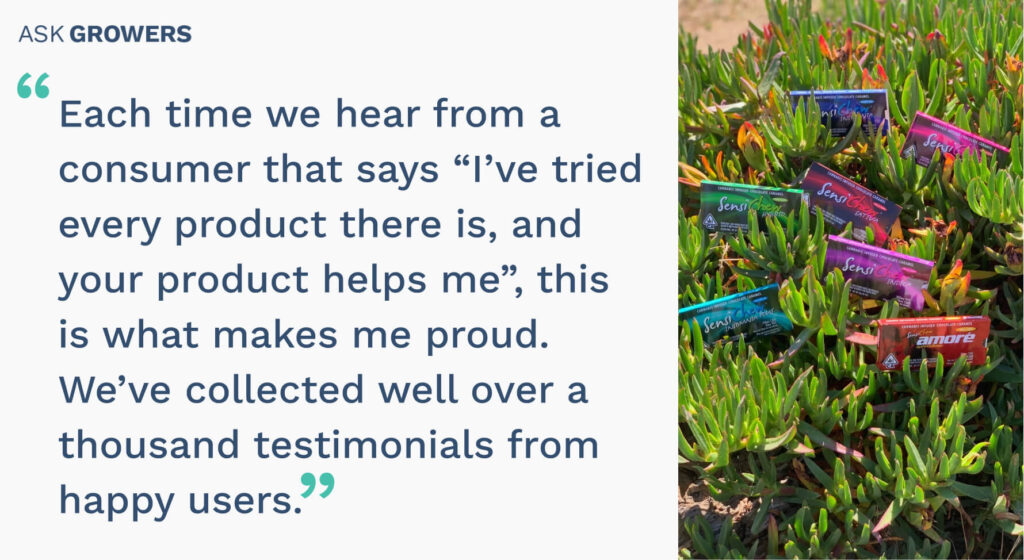 ---
Tia :
What do you think is the biggest challenge you've faced in the cannabis industry so far?
Lisa : Not having access to business banking is extremely difficult. The regulatory and excise tax scheme is overkill and the cost of compliance is expensive, which gets passed on to the consumer.
---
Tia :
What do you think the future of cannabis might look like ten years from now?
Lisa : It will likely follow what happened with alcohol after prohibition. Heavily regulated at first, then slowly over the years it will relax and become more reasonable. THC and CBD infused products will be easily available.
---
You can follow Sensi Products at:
Thank you so much, Sensi Products team, for taking the time to do the interview. To learn more about them, head on over to their website.