Zatural Full Spectrum CBD Softgels Less Than 0.3% THC
$44.99
On Official Website
Zatural Shipping Terms:
Free Shipping on all orders over $5 in the U.S.
Category: CBD Capsules
Subcategory: CBD SoftGel
Brand: Zatural
CBD: 750 mg
THC: <0.3%
Flavour: Natural
Quantity: 30 capsules
Servings: 25 mg per capsule
Zatural Full Spectrum CBD Softgels Less Than 0.3% THC Review
Nothing but hemp extract and MCT oil – such softgels are the dream of every health-conscious CBD user. Luckily, Zatural has a solution for you. The full-spectrum CBD softgels include just that – a top-quality full-spectrum CBD oil derived from US-grown hemp and a bit of MCT oil to achieve better solubility and bioavailability of CBD. You can buy 30, 60, or 90 capsules, each geared with 10mg, 20mg, or 25mg of CBD. The users can pick the right count and concentration for their medical conditions. Please keep in mind that the caps contain up to 0.3% THC (which is usual for full-spectrum hemp extracts). So, their intake is not recommended before or during driving and drug tests.
About Zatural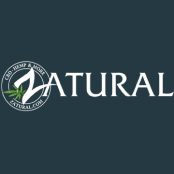 Zatural is a natural oils company founded in 2018 by Maryann Stranger, a naturopathic doctor and a certified digestive health specialist. The brand is based in Eden, Idaho.. The company boasts an excellent reputation in the industry, which is supported by numerous awards, including the 2013 Nutra Award, the 2014 Golden Apple Award, the 2018 Supply-Side Award, the 2021 Best Broad Spectrum CBD, and others.
Discover More CBD Products by Category