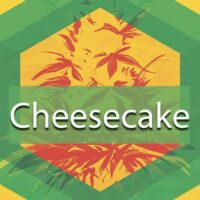 Side Effects
Paranoia, Thirst and dry mouth, Hunger, Drowsiness
Grow Info
Flowering time: 53-61 Days
Harvest time: 70-77 Days
Yield indoor: 1-2 oz/ft2
Yield outdoor: 2-4 oz/ft2
Height indoor: 60-80 Inches
Height outdoor: 90 > Inches
Grow difficulty: Easy
Flowering type: Photoperiod
All About Cheesecake Strain
Cheesecake strain is an Indica-dominant hybrid with a high THC content. It is a cross between Cheese and another undetermined parent. This gives it a cheesy flavor and a robust effect. In addition to this, smokers can also notice with ease a sweet hint.
A batch of Cheesecake will undoubtedly impress through its cheesy scent and mildly sweet taste. The high is strong and potent, leaving consumers in a couchlock and completely relaxed. Its mood effects help users stay happy, content, and calm, washing off in a satisfying sleep.
This cannabis strain is best consumed in the evening to alleviate stress, help with chronic or acute pain, and even with insomnia. Its side effects include dry mouth, so make sure you keep hydrated. When cultivating, Cheesecake can be quite pretentious, so it's recommended to have previous experience.