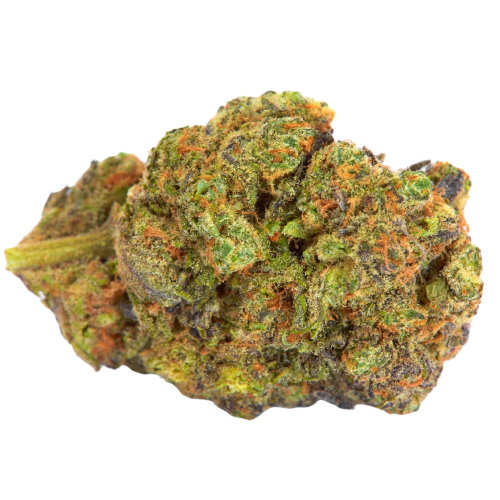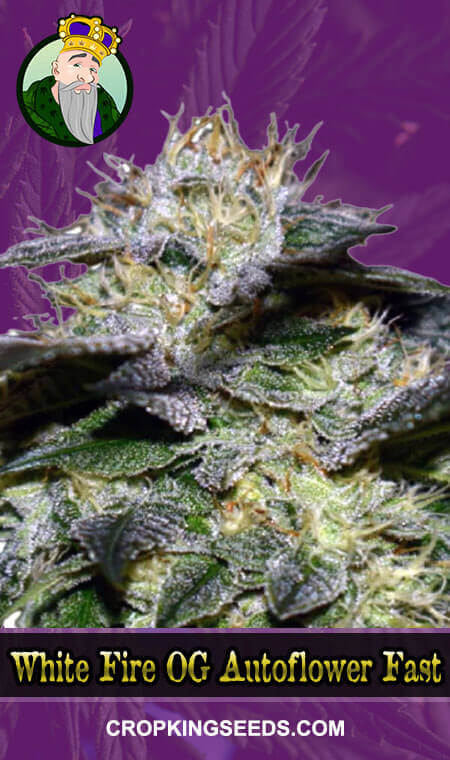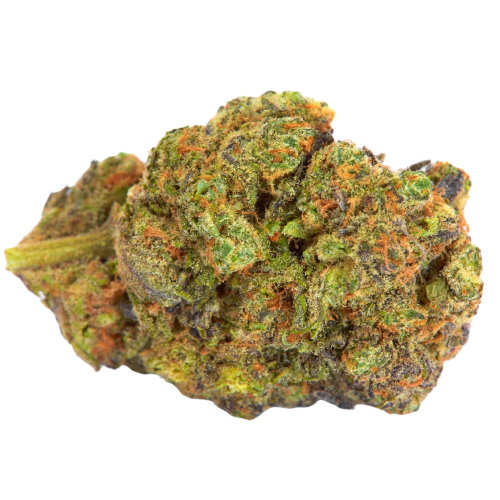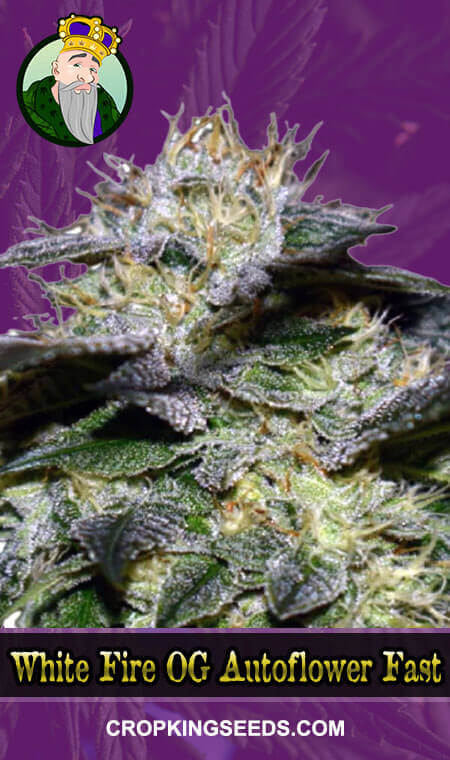 White Fire OG Autoflower Seeds
by Crop King Seeds
On Official Website
10% OFF ALL MARIJUANA SEEDS
KING10
Crop King Seeds Shipping Terms:
Free shipping for orders over $200 Shipped with complete privacy Express shipments take 2-5 days for delivery
CBD: 0.45 - 0.84%
THC: 28%
Seed Type: Autoflower
Type: Sativa-dominant hybrid
Yields: 18oz - 21oz (500g - 600g)
Climate: Humid, Warm, Dry
Effects: Activity, Upliftment
Flavors: Earthy, Sweet, Citrus, Diesel
Genetics: Fire OG x White
Environment: Indoors, Outdoors
Harvest period: September, October
Flowering period: 9 - 10 Weeks
Growing difficulty: Medium
Everything You Need to Know to Grow White Fire OG Seeds
White Fire OG (or Wi-Fi OG) autoflower is a sativa-dominant strain created by crossing the White and Fire OG cultivars. It has high THC levels that can peak at 28%, making it one of the strongest strains on the market. This potent cultivar is famous in the cannabis community due to its impressive appearance, specific flavor profile, and outstanding medical effects. It is an exclusive weed grown by the world's best cultivators, but it doesn't mean average gardeners can't manage it.
What Are the Aroma, Flavor, and Effects of White Fire OG?
The strain produces frosty buds that seem to be covered with snow and are coated with sugary resin. The buds are easily damaged, so be careful handling them. Growers highlight the diesel smell of this weed with an earthy-sweet flavor and notes of citrus. The effects of smoking this strain are uplifting, filling you with energy and positive vibes. It is great for daytime consumption and will not make you feel tired or sleepy.
The medical benefits include relief from stress, anxiety, and depression. These flowers have strong anti-inflammatory properties that help manage pain associated with some medical issues. Also, White Fire OG is used for improving appetite.
How Hard Is It to Cultivate White Fire OG Seeds?
The growing difficulty can vary from medium to high, depending on what kind of White Fire OG seeds for sale you find. The breeder has stabilized the strain genetics before releasing seeds, so beginners can find easy-to-grow planting material.
The plants stretch a fair bit, so count on medium and tall plants that benefit from Screen of Green (SCROG) and Sea of Green (SOG) canopy control methods. To get the best yield, you might need pruning management and frequent topping during the vegetative stage to double up on cola sites and reduce their height. However, the result is worth it – White Fire OG flowers in about 9-10 weeks and around October for outdoor growers. Double-check your climate zone so that the end of the flowering period is met with warm temperatures. This cannabis will reward your hard work with high yields – 14-21 ounces per square meter indoors and 17-21 ounces per plant outdoors.
Mold and pests won't be a big concern for White Fire OG seeds if you maintain proper airflow and humidity levels. Cultivating them in a greenhouse can let you get the best quality buds. Greenhouse cultivation will allow your plants to receive the maximum exposure to daylight. Besides, you can create a more controlled environment with optimal humidity, temperature, and other growing conditions.
What Is the Perfect Climate for Growing White Fire OG Autoflower Seeds?
This plant grows best in a warm, dry, and sunny climate. The perfect daytime temperature should be set between 70°F and 86°F, typical for a Mediterranean climate, with relative humidity under 65%. Therefore, if you live in such a climate, the best way is to grow the strain outdoors. The plants don't tolerate cold temperatures well, so consider your timing while growing them outside. White Fire OG autoflower can also be cultivated well indoors.
Indoor growers should keep an eye on the temperature and humidity levels because the ideal climate conditions for this plant are also dry. For best results, ensure proper ventilation and continuous airflow.
Feeding and Lighting Requirements
The plant is sensitive to acidic soil, which can reduce its nutrition and lead to unhealthy growth. If you pick organic soil for White Fire OG seeds, it will cover most of your crop nutrient needs. Still, this plant requires more nitrogen than other strains and is also hungry for calcium and magnesium.
Growing this cannabis indoors requires investing in good lighting and temperature control equipment. To promote healthy growth, use powerful LED or LEC lamps.
About Crop King Seeds
Crop King Seeds was established in 2005 in Canada and started as a small firm improvising with cannabis seeds. Soon, it turned into a full-fledged company with 300 outlets.. Then, there was a transition into an online store.