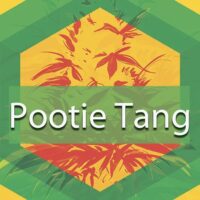 Side Effects
Thirst and dry mouth, Rapid heart beat, Drowsiness
Grow Info
Flowering time: 59-73 Days
Harvest time: 77-84 Days
Yield indoor: 2-4 oz/ft2
Yield outdoor: 4-6 oz/ft2
Height indoor: 60-80 Inches
Height outdoor: 60-80 Inches
Grow difficulty: Easy
Flowering type: Photoperiod
All About Pootie Tang Strain
Pootie Tang is a Sativa-dominant hybrid created by combining LA Kush and Tang Tang. It won the third place at the Denver Cannabis Cup for best Sativa flower in 2015.
Pootie Tang has a hashy, earthy smell, consistent with its parentage. Mild citrusy undertones can also be noticed, similar to fresh grapefruit. The taste is slightly refreshing, but also dry and musty.
Pootie Tang marijuana strain increases appetite and commences with a strong head high. This weed has somewhat delayed effects that tend to increase over time. It is uplifting, relaxing, and finishes off with sedative effects that eases the consumer into sleep. It is suitable for treating chronic pain, depression, anxiety, and more.