Hemp or CBD for Dogs: Choosing the Right Option for Canine Health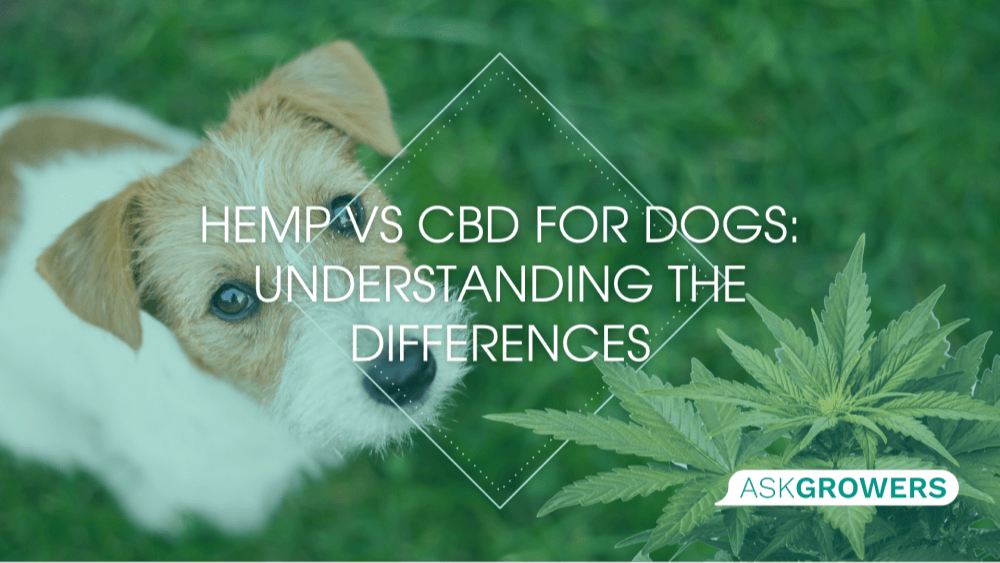 With the legalization of cannabidiol and medical marijuana, the market offers users a vast range of options. Whether it is an oil, capsule, or treat, it can be hard for consumers to know what to buy and how all these products differ. Considering the benefits of CBD or hemp for dog anxiety, pet parents are now looking for the best products to give their furry friends.
But before they can safely add these supplements to their dog's diet, it is crucial to know the difference between two distinct terms. Cannabidiol (CBD) is only one of over 100 chemical compounds known as phytocannabinoids present in hemp. It is a safe and non-intoxicating compound that may provide several benefits for health and wellness. Cannabidiol is made by extracting this compound from the flowers, stalks, and leaves of a hemp plant.
Hemp is the plant used to extract cannabidiol. Hemp as a plant contains all the chemicals, including the following:
Cannabidiol
THC (the psychoactive compound in safe amounts)
Terpenes
Flavonoids
Hemp for dogs is usually available in the form of hemp oil made by cold-pressing the hemp seeds into oil. Hemp oil has little to no cannabidiol or THC. It is rich in essential omegas that have lots of benefits for dogs' health.
Hemp for Dogs | Definition & Uses
When it comes to natural products for dog wellness, hemp is the leader. You can see two names on the labels when looking for such products: hemp seed and hemp oil. Hemp oil is essentially a different name for the cannabidiol oil that we will describe below.
Hemp seed oil is made from cold-pressed cannabis seeds, and it has a clear green oil that's used as a nutritional supplement for dogs. Calming hemp for dogs seed oil does contain cannabidiol, THC, or any other phytocannabinoid. It is mainly used for its high content of omegas 3 and 6, that present in the oil in the perfect ratio.
Hemp seed oil is also rich in the following:
Omega-6 acids (linoleic acid and gamma-linolenic acid)
Omega-3 acids (alpha-linolenic acid and stearidonic acid)
Vitamin C
Calcium
Iron
Arginine
Magnesium
B vitamins
Considering the amount of nutrients hemp seed oil has to offer, it is used as a natural supplement in a dog's diet. While more research is required to make any medical claims, adding hemp seed oil to a dog's diet is believed to support healthy skin and coat. It also helps in soothing stress in dogs with anxiety, promotes eye health, and improves overall wellness.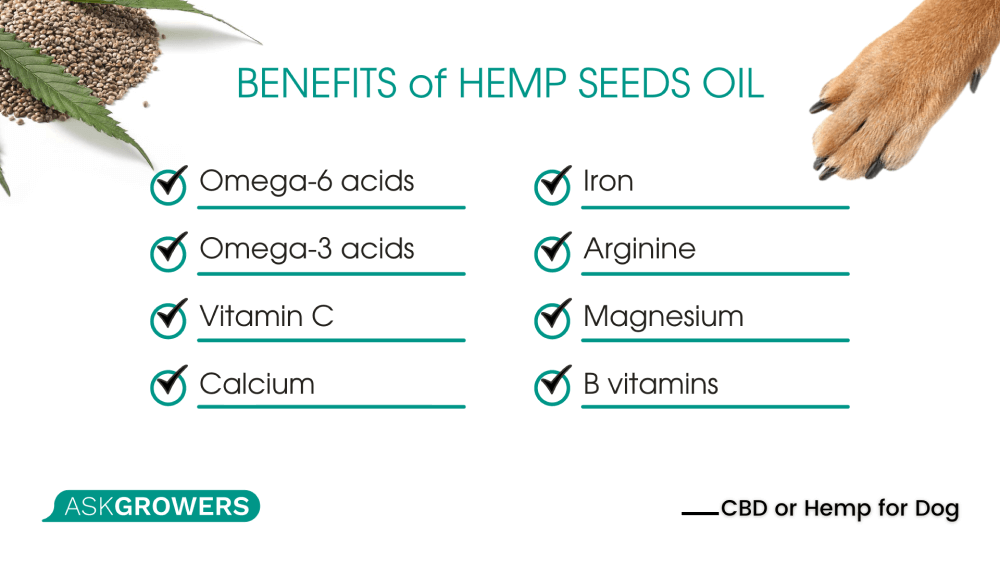 Pros & Cons of Hemp Oil for Dogs
Let's explore hemp for dogs benefits. Make sure you also consider hemp side effects for dogs before giving the product to your pets.
Pros

:

Cons

:

Promotes overall wellness

Helps reduce anxiety

Supports skin and coat

Supports joints health

Diarrhea if given too much

Personal intolerance

Allergies
Hemp oil is beneficial to dogs since it offers an ideal ratio of omega-6 to omega-3 fatty acids (3:1). These fatty acids can be taken only from a healthy diet, and hemp seed oil is considered to be one of the best natural sources for high bioavailability of active compounds.
In addition, hemp seed oil contains omega-6 fatty acid gamma-linolenic acid (GLA). GLA is vital for dogs. Dogs produce hormones in the body known as prostaglandins. These hormones circulate throughout the body in order to smooth muscle contractions, control inflammation levels, maintain proper temperature, and perform other vital functions.
Giving your dog hemp seed oil rich in GLA works as the foundation for prostaglandins. That is why it allows the body to produce hormones and maintain their proper hormone levels.
---
Read Also: Hemp or CBD for Dogs
---
CBD for Dogs | Definition & Uses
Cannabidiol is one of over 100 phytocannabinoids naturally found in hemp. It is a safe and non-addictive compound that is often confused with tetrahydrocannabinol (THC), which is the main intoxicating cannabinoid in cannabis. Cannabidiol offers a range of benefits for dogs' health and wellness. That is why it is now available in different forms, including oils, topicals, capsules, and treats.
Treats and oils are mostly used for pet owners. Treats can be infused with cannabidiol oil and other beneficial compounds like vitamins and minerals. Pet CBD oil is extracted from cannabis plants through multiple purification processes. Cannabidiol oil for dogs is available in three options:
Full-spectrum
Broad-spectrum
Isolate
Full and broad-spectrum cannabidiol oil contains all the cannabinoids from the plant and safe amounts of THC. Isolate is almost 99.9% pure cannabidiol, usually available in powder form mixed with MCT oil for higher bioavailability.
Cannabidiol is used for dogs to improve their overall wellness. It is consumed orally, ideally applied under the tongue or in the form of dog CBD treats. Active compounds in the oil help reduce stress in dogs, help prevent arthritis, promote their brain health, and improve sleep quality, which is essential for dogs.
Pros & Cons of CBD Oil for Dogs
Pros

:

Cons

:

Reduces stress and anxiety in dogs

Increases appetite

Reduces pain

Reduces inflammation

Supports joints health

Diarrhea if given too much

Lower blood pressure

Dry mouth
Although there is small research on cannabidiol for dogs, some studies and anecdotal evidence say that adding cannabidiol into the dog's diet helps reduce anxiety and pain and prevents arthritis. Pet owners prefer cannabidiol products as the natural way to improve the wellness of their dogs.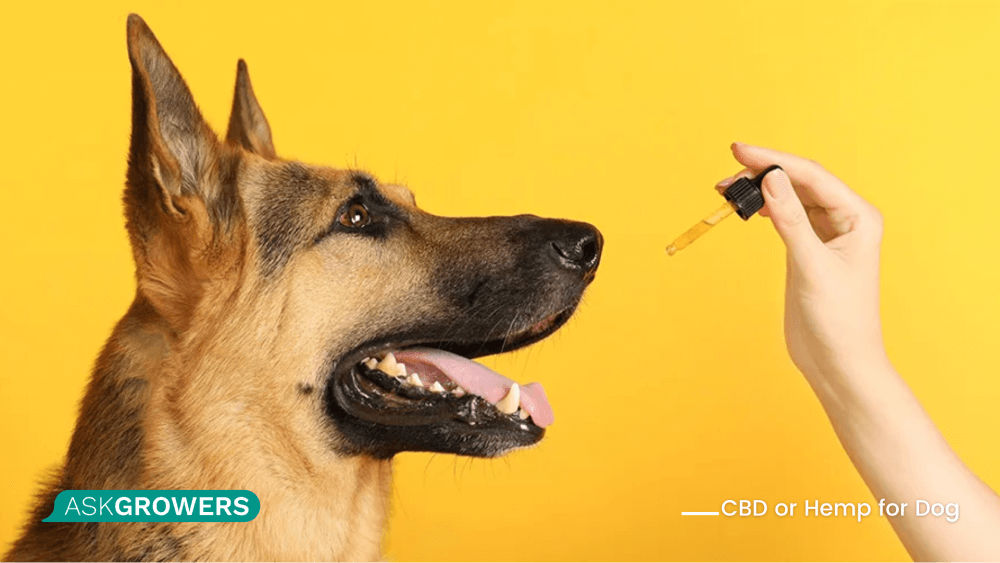 List of Best CBD Products for Dogs
Given the fact that cannabidiol is a safe, natural, and effective way to support a dog's health, many pet owners today look for various products to help relieve joint pain in their dogs or to keep their pup calm during stress.
Below we are going to share the best CBD for dogs divided into three groups:
Most popular ones
For joint support
For overall wellness
Most Popular CBD Products for Dogs
Below you will see the most popular products for dogs infused with cannabidiol. These supplements are specially designed for dogs of different sizes and lifestyles to support their overall wellness, help reduce stress, and promote skin and coat health.
These oils infused with cannabidiol are one of the fastest and most effective ways to promote the wellness of your dog. The drops should be applied in the mouth, where active compounds quickly absorb through tiny capillaries and offer CBD benefits for dogs. Drops have the highest absorption rates and work within 10 to 20 minutes.
You can also buy cannabidiol treats that are chewy and delicious, available in bacon and chicken flavor, making CBD dosage for dogs easy and consumption satisfying.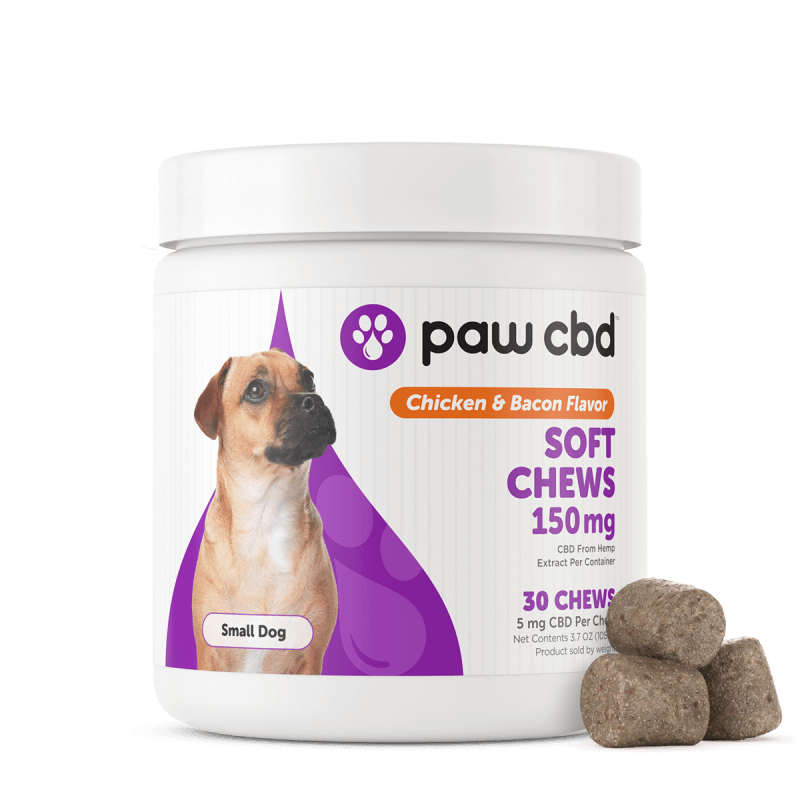 $24.99
CBD Products for Joint Support
These supplements are developed for dogs that require joint support. Each product is created with different beneficial ingredients, including cannabidiol that have been shown to help improve joint health in sport dogs and large breeds that tend to have pain and aches. Manufactured using only natural ingredients, pet owners can safely give these drops to their pets, knowing there are no artificial flavorings or preservatives. In contrast to products with full spectrum CBD for dogs, some of the products below contain broad-spectrum cannabidiol without THC.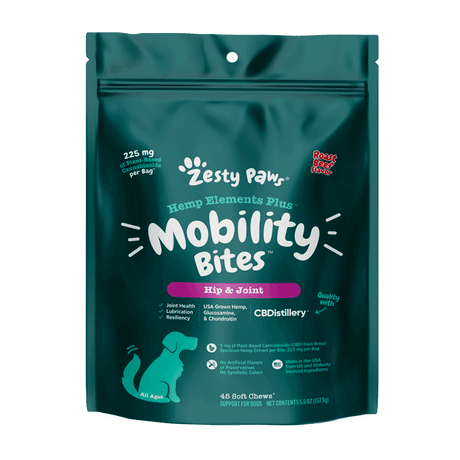 $27
CBD Products for a Dog's Overall Wellness
Supplements that we list below are developed with nutrients and cannabidiol that help fulfill the diet of your dog. With the amount of nutrients and benefits these products have to offer, these supplements allow pet owners to improve the quality of their dogs' life and support overall wellness.
These treats are available in different flavors and come in a convenient package suitable for traveling or training your dog. Each treat delivers an accurate dose of cannabidiol. Some of these products also contain a range of soothing, beneficial ingredients like herbs and amino acids that contribute to anxiety reduction.
The Difference Between Hemp and CBD for Dogs
| Features | Hemp | CBD |
| --- | --- | --- |
| Contains cannabidiol | Small to no amounts of cannabidiol | Yes |
| Contains THC | No | Some spectrums may contain safe amounts |
| Promotes overall wellness | Yes | Yes |
| Contains omega 3 and 6 | Yes, in a perfect ratio | No |
| Reduces stress in dogs | May help soothe stress | Yes, used directly for that |
| Promotes coat and skin health | Yes, used directly for that | Usually no |
| Supports joint health | Yes | Some products yes |
| Safe for dogs | In recommended dose yes | In recommended dose yes |
CBD vs hemp for dogs is a constant question among pet owners. Hemp oil is best for dogs struggling with skin disorders, dull coats, or requiring joint support.
Cannabidiol-infused products are best for dogs with stress, anxiety, poor sleep, lack of appetite, and those requiring joint support. Both hemp oil and cannabidiol oil are available in different forms, such as oils and treats with flavorings.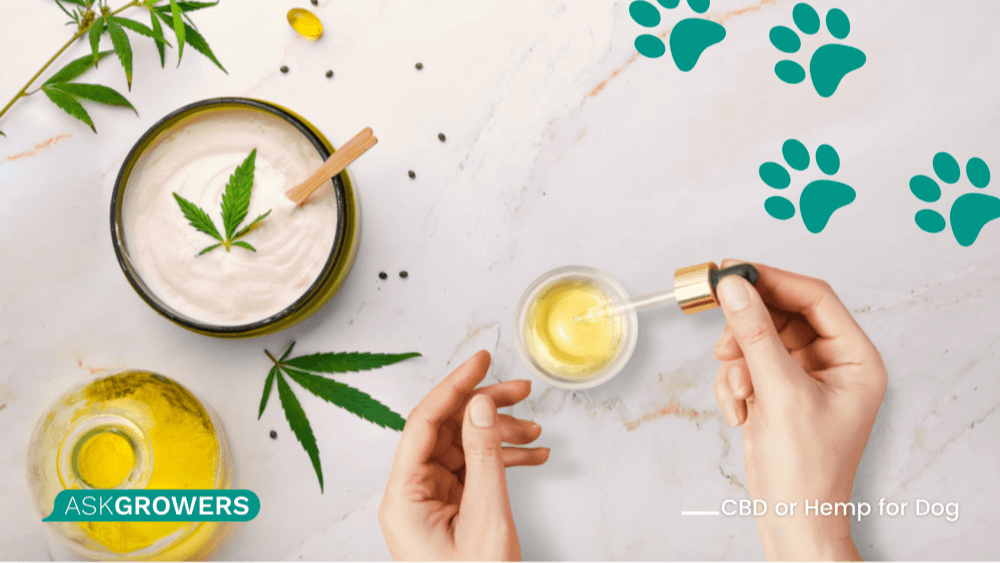 Conclusion
When trying to learn whether to choose CBD vs hemp for dogs, it is vital to know the difference.
Hemp is a plant. Hemp oil is made by cold-pressing hemp seeds. It is an omega-rich oil that is mainly used for the benefits of omegas in its composition, like healthier and brighter coats, improved eye vision, and support for the nervous systems in dogs.
Cannabidiol is a safe and beneficial compound extracted from industrial hemp. It is available in different spectrums and mixed with other ingredients to deliver oils, tinctures, topicals, and treats for dogs. CBD for pets is mainly used to reduce anxiety and stress in dogs, promote overall wellness, and offer joint support.
It is essential for pet owners to learn the risks of using these products before giving them to their dogs. Cannabidiol and hemp are new substances to a dog's body, so it is also highly recommended to consult a veterinarian, especially in dogs with severe health diseases.
References:
A study by Frontiers in Veterinary Science found that a single oral dose (4 mg per kg of body weight) of THC-free CBD helps significantly reduce multiple measures of dogs' stress associated with living alone or car traveling. Available at: https://www.frontiersin.org/articles/10.3389/fvets.2023.1112604;

Another study by Frontiers in Veterinary Science shows evidence supporting the safety of cannabidiol for long-term use in healthy dogs. Available at: https://www.frontiersin.org/articles/10.3389/fvets.2022.977457/full;

A Ex Vivo Study on LPS Stimulated Whole Blood by Veterinary Sciences proves the effect of cannabidiol on the canine inflammatory response. Available at: https://www.ncbi.nlm.nih.gov/pmc/articles/PMC8473042/;

A retrospective assessment of 8 cases on the effects of THC-free cannabidiol on canine atopic dermatitis. Available at: https://www.ncbi.nlm.nih.gov/pmc/articles/PMC8922375/;

Research on effects of GLA on dogs. Available at: https://pubmed.ncbi.nlm.nih.gov/2848946/;
FAQ
Hemp is generally safe for dogs. It is crucial to follow the instructions on the product label and consult a veterinarian before buying any hemp products for your dogs.
Hemp and cannabidiol can be available in different forms and mixed with other ingredients. Pet owners can buy oils, tinctures, treats, topicals, and even drinks.
There is no accurate amount of cannabidiol for each dog. Follow the manufacturer's guidelines or doctor's recommendations.
Hemp can help improve the skin and coat health, support the nervous system and joint health, and offers a perfect amount of omegas 3 and 6 essential for overall wellness.