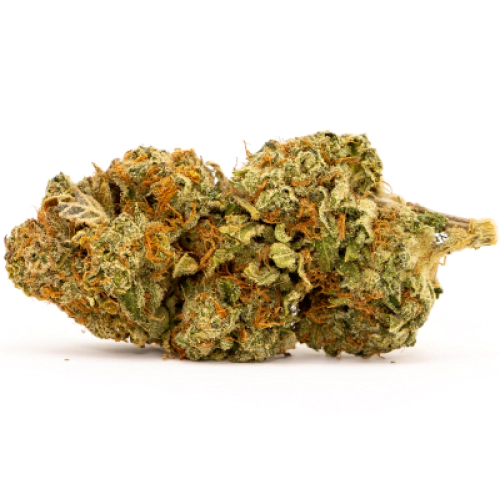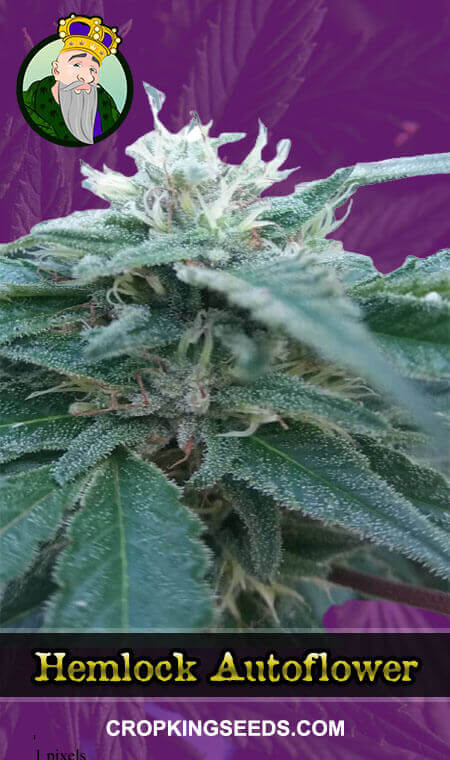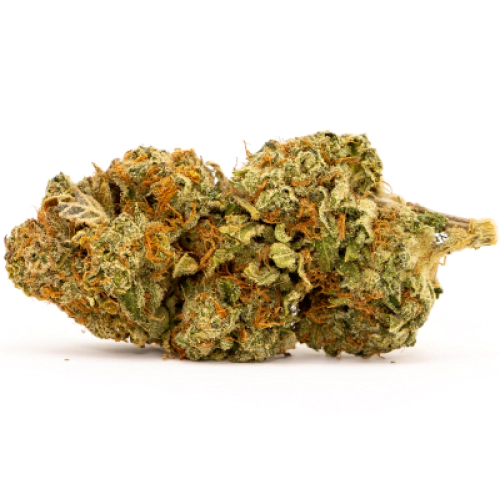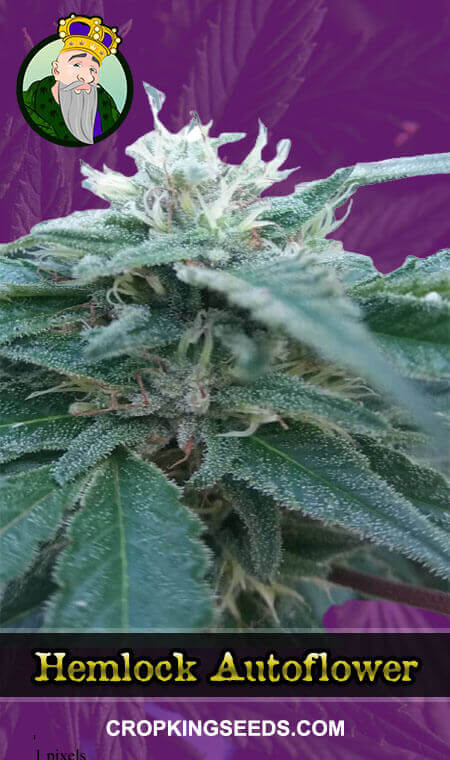 Hemlock Autoflower Seeds
by Crop King Seeds
On Official Website
10% OFF ALL MARIJUANA SEEDS
KING10
Crop King Seeds Shipping Terms:
Free shipping for orders over $200 Shipped with complete privacy Express shipments take 2-5 days for delivery
CBD: 0.10%
THC: 20%
Seed Type: Autoflower
Type: Sativa-dominant hybrid
Yields: 11oz - 16oz (300g - 450g)
Climate: Continental, Sunny, Mediterranean
Effects: Euphoria
Flavors: Earthy, Piney
Genetics: Gorilla Girl x Auto Jack
Plant size: 180 cm
Environment: Indoors, Outdoors
Harvest period: September
Flowering period: 9 - 10 Weeks
Growing difficulty: Easy
Growing Characteristics of Autoflowering Hemlock Seeds
Hemlock is a genetic crossbreed of Gorilla Girl and Auto Jack, which exhibits the unique traits of its ancestors. It is a rare sativa-dominant strain having 20% THC and 0.1% CBD. Cannabis connoisseurs who love the authentic weed-smoking experience will enjoy its earthy and piney flavors and citrus aftertaste. This weed has a fast onset. It ensures energetic, uplifted, and euphoric effects combined with full-body relaxation and mental peace. It is recommended for daytime use, mainly due to the intense cerebral stimulation it may cause. It assists people with stress, anxiety, and depression.
Preferred Growing Conditions
Hemlock autoflower seeds are easy to cultivate and are a favorite among growers because they require little time and care. Most growers gain from this planting material. It makes cultivating easier because this weed doesn't require a specific light schedule to enter the flowering period. These marijuana plants grow well in sunny continental and Mediterranean climates. Due to their Sativa lineage, they have a sturdy structure and can reach considerable heights of up to 6ft. They are suitable for indoor and outdoor cultivation; however, indoor cultivators should plan enough spare room for their plantations. This weed doesn't require much attention but will benefit from trimming. Also, it has natural immunity to mold and mildew. The plants can adapt to a cool climate and are suited for cultivation in the northern hemisphere. However, growers should protect the weed from harsh weather using a temporary closing.
Flowering and Harvest
With autoflower Hemlock seeds, you can enjoy a non-demanding growing experience and reap generous harvests. The flowering period comes 9-10 weeks after germination, and outdoor plants are ready for harvesting in September/October. Growers can expect 11 ounces per 1 m2 of indoor yields and 16 ounces per plant of outdoor yields. The buds are thick, dense, and flavor-rich. To boost crops, keep the weed in a dry, warm, well-ventilated, and well-illuminated environment. Adjust the proper level of humidity and temperature.
How to Germinate Autoflower Hemlock Seeds
The germination process of Hemlock auto seeds is similar to other autoflower weed seeds. So, the critical conditions are the temperature range from 70°F to 79°F and the humidity level of 90%. If the seeds have been stored for some time, it's better to soak them in supplemented water (water mixed with 30 ml of hydrogen peroxide) for at least 12 hours to ensure that water reaches the seed's embryo. Some growers use the paper towel germination method, which involves storing the seeds between two moistened towels in a plastic container until the sprouts emerge.
About Crop King Seeds
Crop King Seeds was established in 2005 in Canada and started as a small firm improvising with cannabis seeds. Soon, it turned into a full-fledged company with 300 outlets.. Then, there was a transition into an online store.