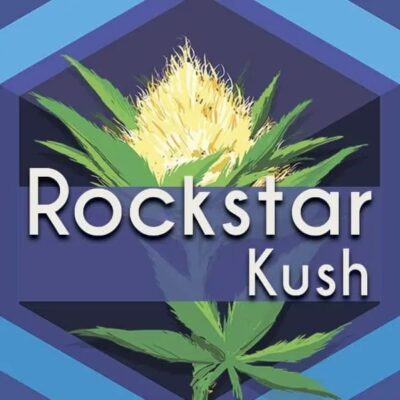 Rockstar Kush (BC Rockstar)
Effects
Euphoric, Sleepy, Hungry, Happy, Concentrated, Calm
Side Effects
Headache, Dry eyes, Dry mouth
Common Usage
Pain, Stress, Insomnia, Lack of appetite, Depression
Grow Info
Flowering time: 63-71 Days
Yield: 2.49 oz/ft2
Height: 67 Inches
Grow difficulty: Easy
What You Need To Know About Rockstar Kush Strain
BC Rockstar, better known as Rockstar Kush strain, is a weed that comes from British Columbia.
An Indica-dominant strain, BC Rockstar Kush, is a hybrid of Bubba Kush and Rockstar. Thanks to Indica's natural effects the Rockstar Kush relaxes the body and mind, stimulates hunger and helps people with the loss of appetite. Rockstar Kush also helps to deal with anxiety disorders and keeps your nerves at bay.
Purple Rockstar Kush has a heavy flavor of skunk and piney Kush, like an original weed.
The main effects of this weed are feelings of happiness, euphoria, relaxation, hunger, and sleepiness. It is very useful for people after some serious mood swings, deep depression, unexpected, hard, stressful situations, loss of appetite, and so on. In the case of inflammation, Rockstar Kush helps to forget about the pain and stay relaxed. If you can't sleep at night, feel symptoms of insomnia, this strain will induce sleepiness for you to handle insomnia.
However, you may experience several potential side effects if you consume this strain. Among them are dry mouth and eyes, headache, the feeling of anxiety and paranoid thoughts.
Rockstar Kush is a 75% Indica strain and its flavor can be described as skunky, earthy, and woody.
The Popularity of Rockstar Kush
A lot of people enjoy this strain and leave positive reviews.
"love it, would die for it, would even go out of my way to recreate the universe for a gram of this stuff. love it."
"Extremely smooth, recommend rolling. Felt very relaxed, made colors more vibrant"
 "Pretty great strain, again very smooth smoke"
 "I had a Rockstar OG and I find myself always coming back to this strain for my night time sessions. It packs a really strong punch like most favored Indica's."
 "A superb Indica for evening and night time use. This strain will have you feeling relaxed in no time, and provides a slight but noticeable euphoria."
In the review ratings from "would not recommend" to "exceptional"  the most frequent are exceptional and outstanding rates. So, consumers like the product.
How To Grow Rockstar Kush?
Rockstar Kush is neither very difficult nor easy to grow. Its height is more than 78 cm. The flowering period lasts from7-9 weeks and usually falls between September and October.
There are 9 main steps to grow Rockstar Kush:
Step 1 is a selection of a growing area.
Step 2 is choosing the light.
Step 3 will be a selection of medium conditions.
Step 4 is adding cannabis-friendly nutrients.
Step 5 germinate the seeds and start to grow.
Step 6 is the vegetative stage then the process of photosynthesis is going on.
Step 7 is the flowering stage when buds start their growth.
Step 8 is harvesting. And the concluding step is to dry buds.
Can we use Rockstar Kush to edibles-cooking? Yes, of course. There are a lot of great recipes made by daredevils. For example, there are weed brownie recipes, weed cookies, and weed candies where the main ingredient is dry rockstar strains. The effects of eating such meals are similar to that when cannabis is smoked: relaxation, sleepiness, appetite uplift, conquering of depression and paranoia.
To sum up, the Rockstar Kush cannabis strain is a specific weed with heavy aroma and great positive effects. It is also easy to grow and can be found all around the USA in many dispensaries.
Similar Strains