15 Marijuana Containers To Securely Hide Your Stash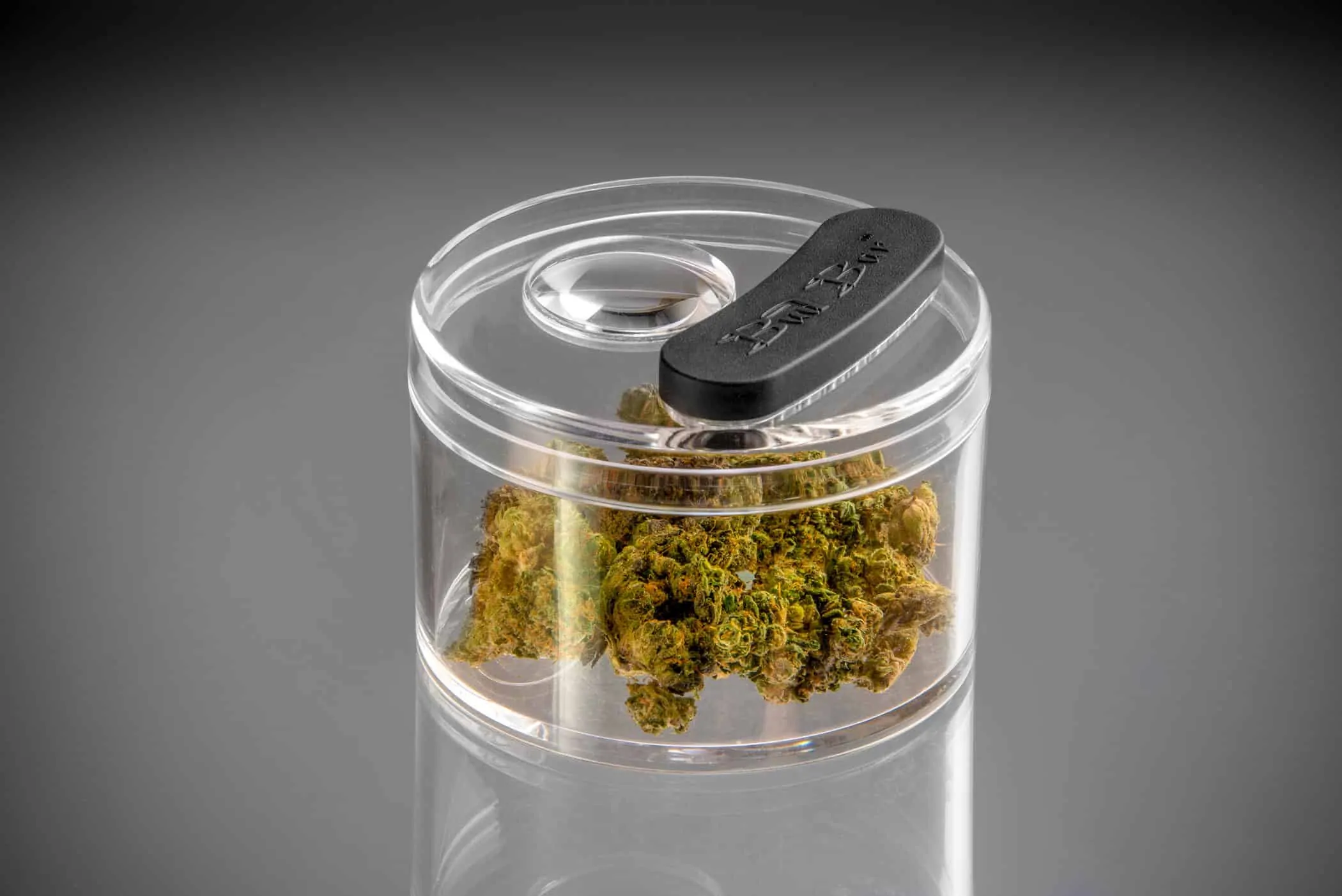 Ever since the governments of 33 states in the United States of America have legalized medicinal marijuana, a huge number of children are brought to the emergency room every day. The reason, you ask? Well, it is the carelessness of parents who leave their stash in the fridge or lying around, and children consume them.
Pets and children cannot differentiate between regular desserts like chocolates and brownies and cannabis edibles. Therefore, they end up eating them like everything else lying around the house. Since marijuana doesn't have the same effect on children as adults, it can turn out to be a serious health hazard for them.
Hence, all pet owners and parents are advised to own a cannabis container to store their stash, whether you use it for medicinal or recreational purposes. Here are the 15 options you can choose from.
The Black Storage Box By Hakuna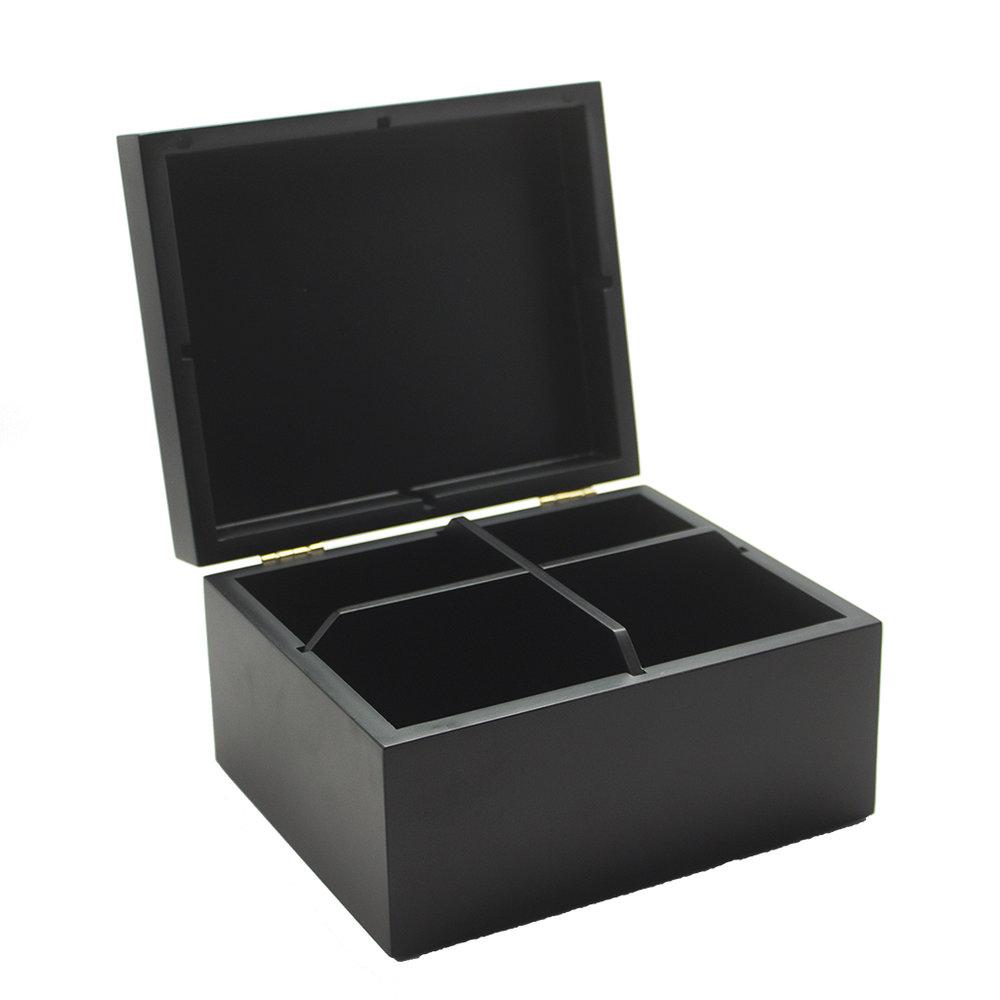 If you emphasize aesthetics even when it comes to storing your stash, then there is no better option than the containers offered by Hakuna Supplies. Not only do they sport an incredibly sleek appearance, but the functionality offered by these containers is also unmatchable. They come with a lock and key features, so even if you have your cannabis lying on the coffee table, your kids and pets will not be able to consume them accidentally.
Apart from serving as appealing accessories for your coffee table, these solid wooden cases come with adjustable compartment dividers, which you can install according to your requirements. And not to forget the accessories such as a jar with a rubber gasket seal, a shredder, a shovel, a pollen catcher, and more to help you prepare your flower for the joint.
Sidekick Smell-Proof Case By Skunk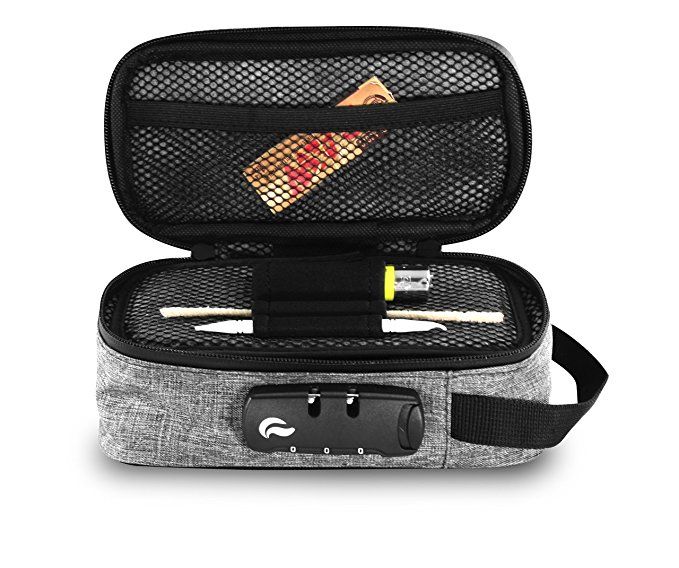 Another great way to disguise your marijuana is to store it in a kit that looks like you have got your medicines in it. Well, then the patented carbon-fiber technology by Skunk has brought perfect products for you. Their Sidekick Smell Proof Case comes with a Combo Lock that will allow only you to open the case. Moreover, the unmatched smell-proof feature will ensure that no one will know what you have stores in the case.
In addition to the amazing lock and looks, the case is built with carbon fiber with activated carbon, making it weatherproof so that nothing can spoil your stash. The mesh design of the case is not just for appearance but efficiently removes all foul odor from the case to make sure that you receive your weed fresh smelling every time you open it. The odor lock will ensure that even the finest noses are not able to detect what you are carrying with you even when you are traveling.
Astonishment will never leave you with this product because you can re-activate your case after every 6-9 months to retain its functionalities.
White Canvas Medication Bag By Cardinal Bag Supplies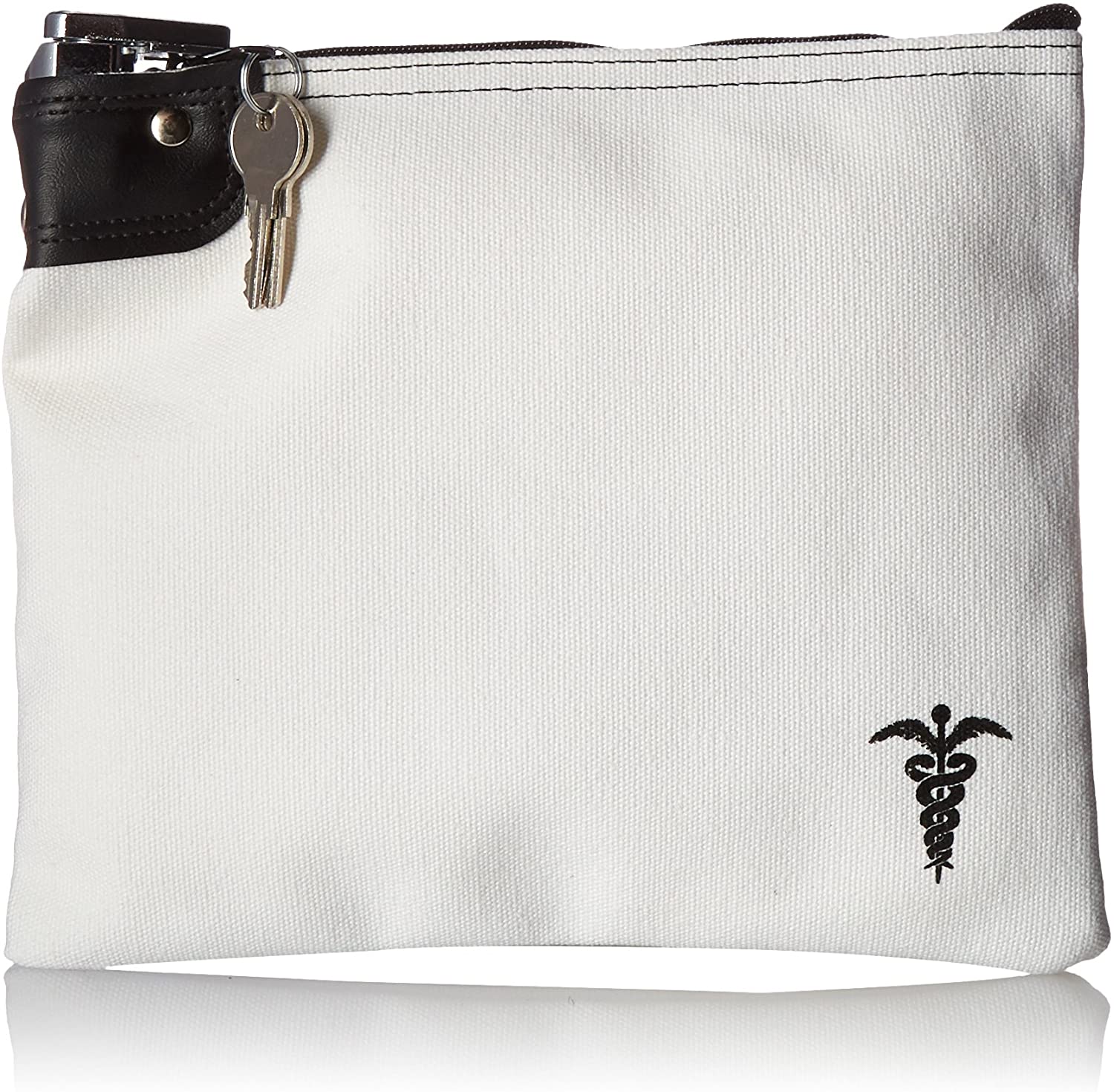 The canvas Medication Bag by Cardinal Bag Supplies is the perfect marijuana storing case for enthusiasts who spend a major part of their year on the road, traveling. This is because it is an elegant looking medicine purse in which you can store your weed stash securely with the lock provided on the zipper.
Your kids, whether teens or toddlers, will not be enticed to check out what is inside this bag; because it does not look like anything but medicines can be stored in it. Moreover, with the two keys to the lock, you can ensure that you have one safe even if you lose the other one. Even though the canvas built of the pouch is sturdy and safe, the seams may come off easily. Therefore, it is advised to turn the bag inside out and sew an additional layer just for safety.
As for the size of the bag, it is big enough to fit in your jars, shredders, shovels, pipe, and stash perfectly; and small enough to fit into your travel bags without causing any ado.
Other most popular containers:
Buy Now
Pulsar Silicone Containers - 100 Pack
Price$44.95
Buy Now
The LEMN Rosewood Stashbox with Two Containers
Price$369.95
Buy Now
Canniloq Transcend XD Reinforced Polymer Storage Container
Price$29.45
Steel Dictionary Book Case By Imountek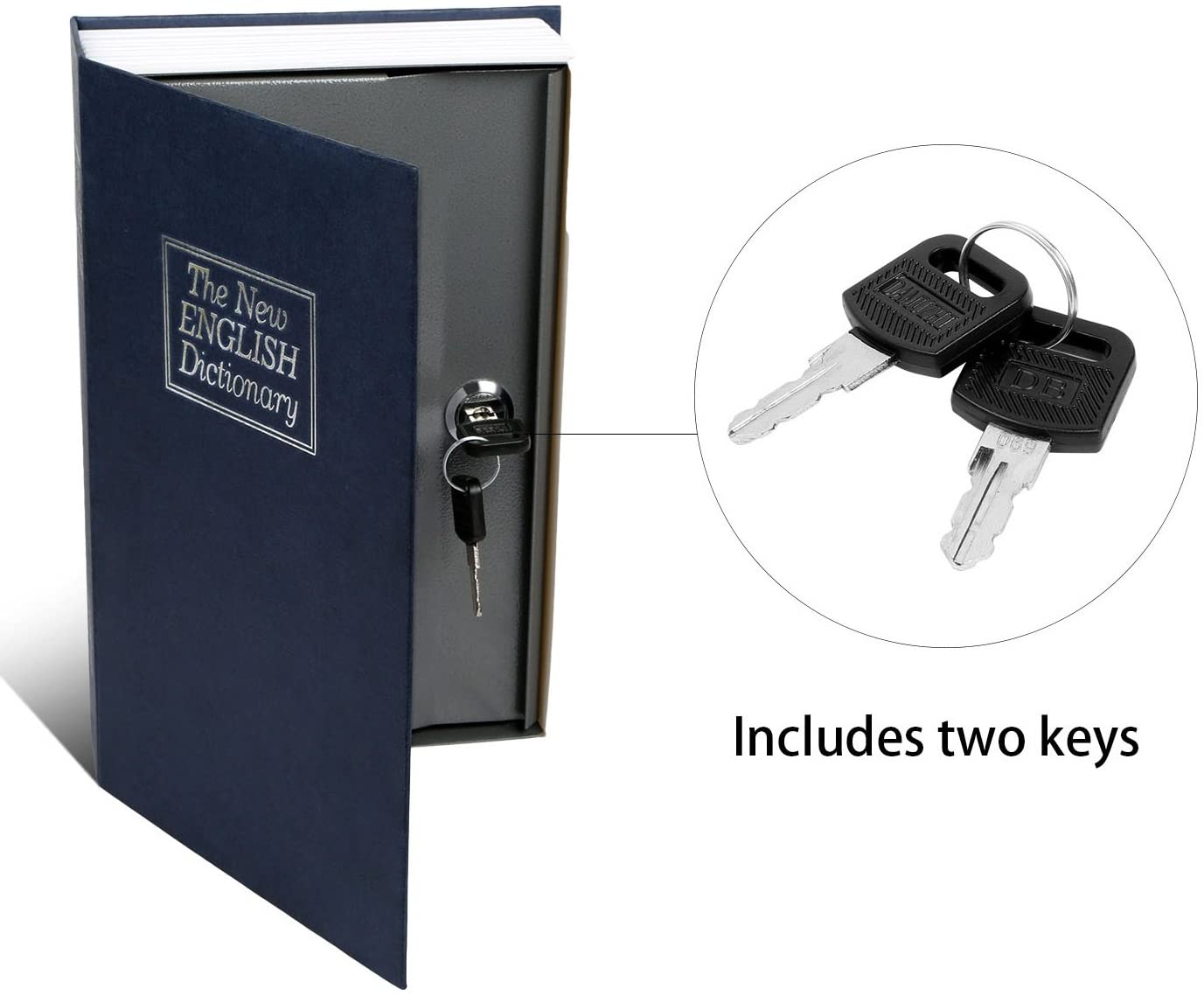 The Home Security Case by iMounTEK is an exclusive weed stash container for the weed enthusiasts because it comes with an elegant appearance like that of a dictionary. So, it is perfect for protecting it from children who seldom go near books like "The New English Dictionary." Moreover, the stainless steel built is perfect for storing your stash because it seals in the odor too.
One feature that you must look for in a weed container is that it should not have a self-locking mechanism. If it does have one, you might end up locking in the keys under the effect of marijuana. So, this steel case comes without a self-lock, but the lock provided is 100% secure and comes with two keys and a key ring. We would advise you to keep both the keys separately so that if you lose out on one of them, the other one is still with you.
Overall, the best perk of this bookcase is that you can store your weed or other valuables into the case and camouflage it into the bookshelf.
Odor Resistant Stash Box By CLOUD/TEN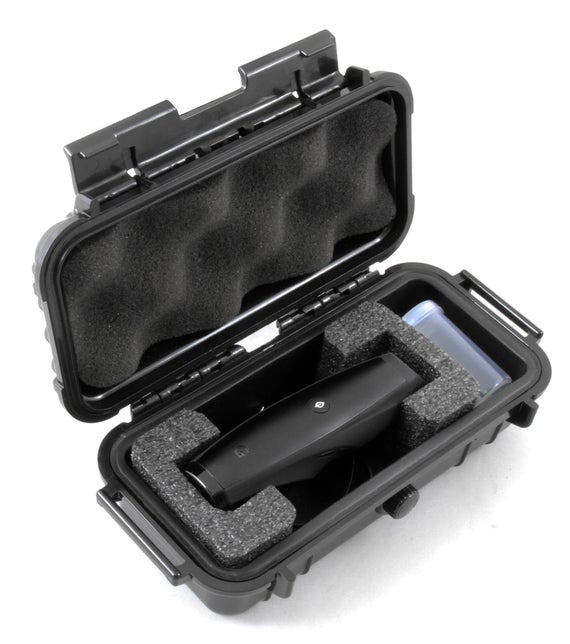 If you are serious about your stash of marijuana, then the odor-proof container by CLOUD/TEN is the right choice for you. It sports an incredibly sturdy and crush-proof outer shell that will ensure that no matter where you store your marijuana, it says intact. Moreover, the premium rubber used on the interior of the case acts as a vacuum and retains all the smells. In this way, you can store your cannabis anywhere in the house or the car and pass all inspections.
Another feature of this case that will make you fall for it is the customizable foam layers, which can be arranged according to your requirements. So, whether it is the cannabis edibles or glass jars with superior quality concentrates, you have a space for all of them in this compact case. The grooves in the foam layers will make organizing the stash even easier for you.
As a bonus, you will receive three airtight bags along with the case so that the freshness of the product you are using can be preserved for longer.
Wood And Leather Jewelry Box By Novica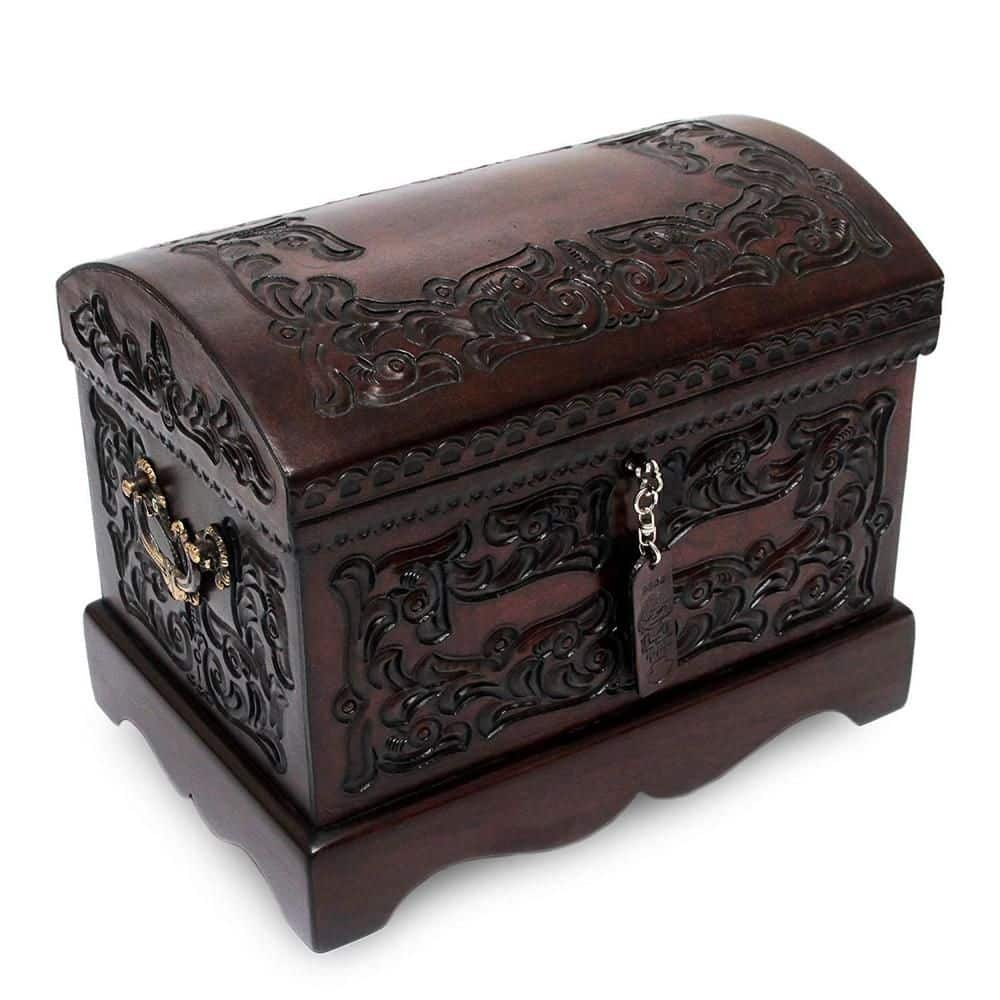 You don't have to have the eye of a connoisseur to know that there is no better piece to elevate the artistic appeal of your living room than the replica of a Colonial Treasure Chest. Therefore, NOVIC, in association with National Geographic, has launched the perfect box that you can use to store your valuables and even more valuable cannabis stash.
The chest comes with a lock and key mechanism, with which you can ensure that kids and teens are not able to invade into it. The leather used in the interiors of this chest is completely genuine, and Julio Sanchez himself handcrafts the visible exterior! Moreover, it is big enough to store most of your cannabis concentrates.
Magnet Book Stash Box By Hakuna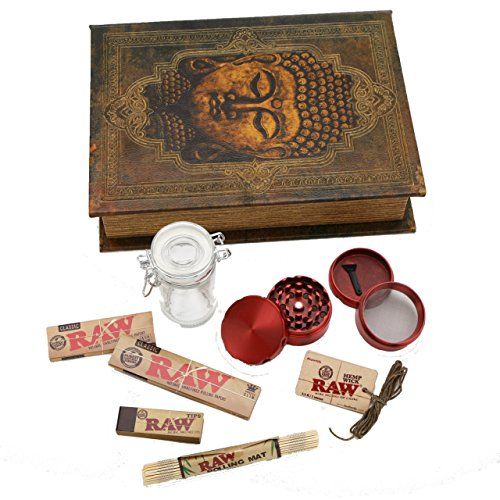 For those who are looking for the perfect gift for a cannabis enthusiast friend, the Wooden Book Stash Box by Hakuna is the perfect option. Well, it is not only its appealing appearance but also the ever-so functional accessories it comes with that makes it the star of every show.
The box looks like a book that can be easily placed amongst your favorites in the bookshelf or on your study desk, and no one will notice that it hides your stash within. Further, speaking of the accessories, you get 1/8th of an ounce glass jar, pollen catcher, shovel, and a shredder along with the box so that you have no trouble preparing the flower for joint. Another metal storage tin is a part of the set, which you can use as an ashtray when you do not have access to one.
For the environmentalists in you, the manufacturers have included a pine tree paper seed into the package so that you can plant it and give back to nature.
Diversion Safe Hair Brush By Stash-It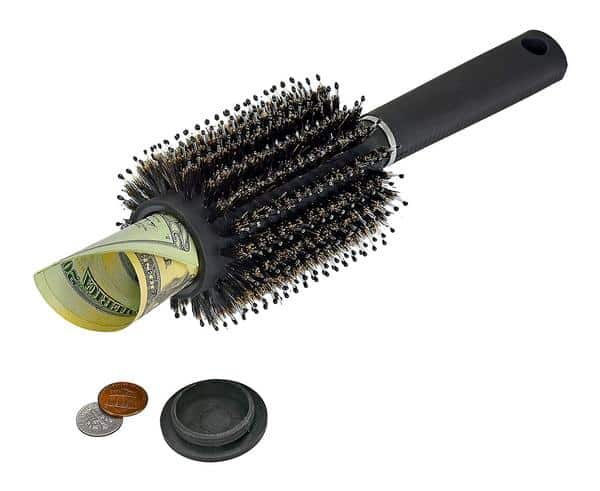 If you are planning to visit your family this weekend, you can certainly not carry your stash with you in a manner that your parents object to it. Therefore, the coolest way to store your marijuana stash into your luggage without having it get noticed is to carry it in a Hair Brush by Stash-It. If that is not innovation at its best, we don't know what is.
The Hair Brush follows a screw-bold mechanism where you can simply store your valuables into the upper half of the comb. The handle is screwed into the brush so that you can have your stash in plain sight of your parents, and they will never know. Moreover, at the end of the day, it is a quality hairbrush made up of boar hair, which will serve two purposes at a time.
Locking Stash Bag By Stashlogix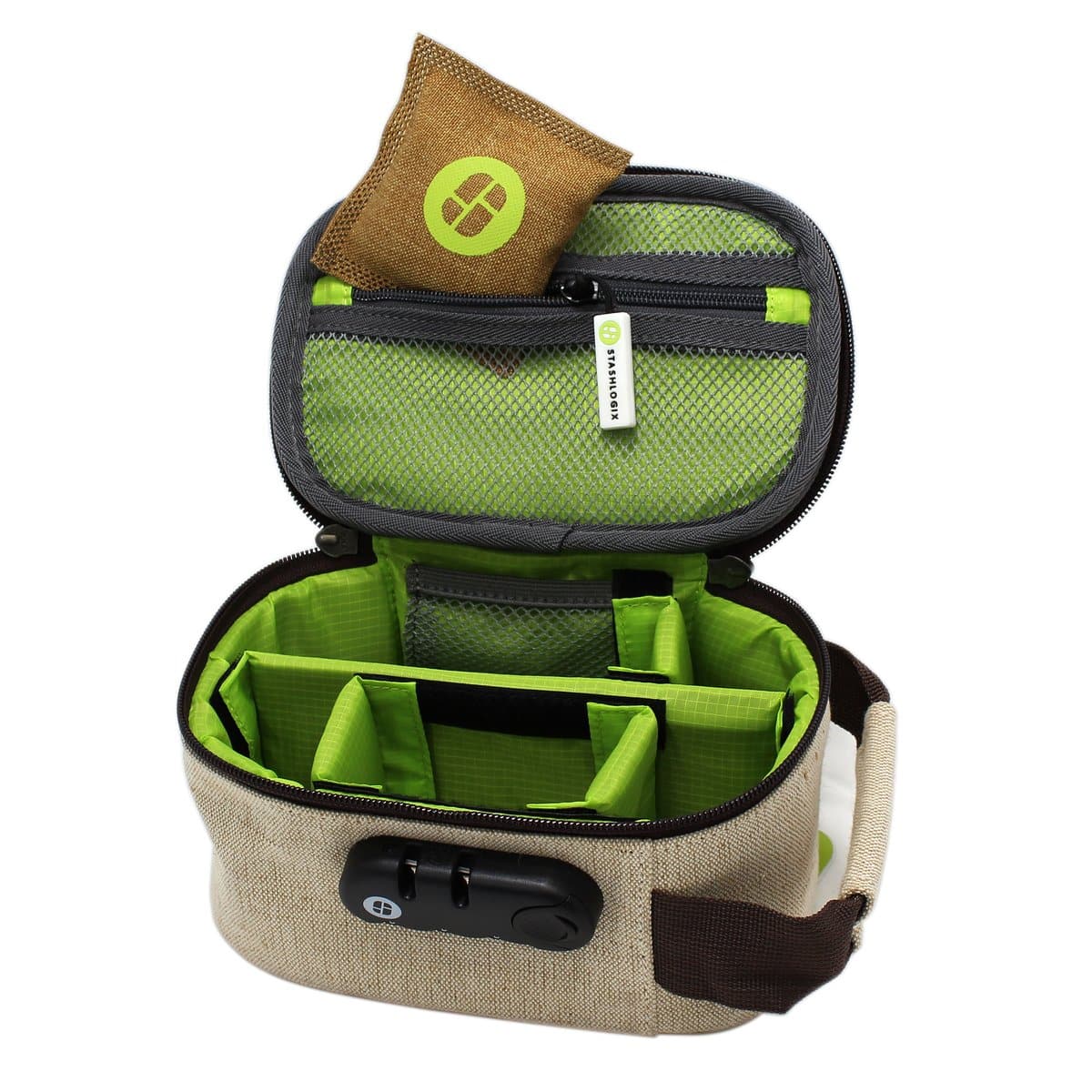 Another innovative product that you can use to store your cannabis-based medication is the Stash Bag by STASHLOGIX. Not only is the product crush-proof, but it also offers incredible flexibility and functionality.
To begin with, the outer shell of the case is built to last longer than its competitors and protects your belongings wherever you go, even if you simply throw the case into a storage unit. Apart from the strength of the outer shell, the interiors are designed with compartments and dividers, which can be moved around the box according to your convenience and even removed. Now, you can store whatever you feel like in the case without having to worry about space or lack of organizational capacity of the box.
In addition to the flexibility of storage, the case is entirely odorless, that is, no one will know if you have stored a fish in the box. Moreover, the protective shell doesn't allow your belongings to become stale with airtight technology.
So, everything you are required to do is, store your cannabis medication in the box and lock the combination lock. Now, you can place it in the refrigerator if you wish to because children can anyway not reach it.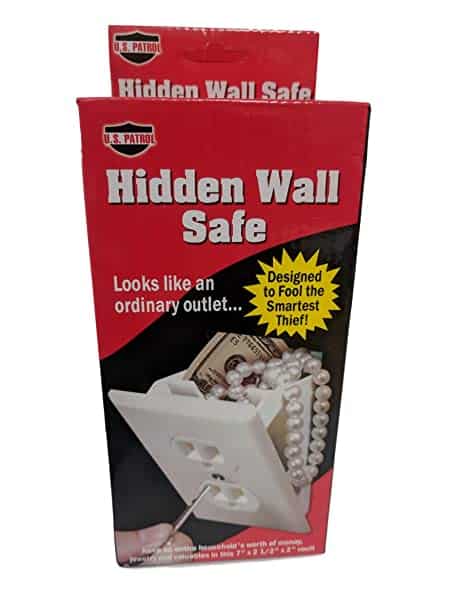 If you are one of those individuals who believe in simple and minimalistic living, having a fancy medication box for keeping your medicine might attract suspicious eyes. Therefore, we would recommend you the Hidden Wall Safe offered by Southwest Specialty that can blend into the décor of your home like a chameleon. All you have to do is, install the plug like a wall outlet in one of your walls, and you are good to go.
There is no better diversion product in the market that comes with all the hardware to mount it on the wall. So, the next time you are heading out for shopping, you can simply store your cannabis stash in the outlet safe, which is often the last place to be attacked by kids and children.
However, even though the idea is great, the manufacturers could work a little upon the quality of the product. Then again, you are not planning to hide something heavy-duty in it, are you? Also, you can simply pick up from the idea and create your own wall outlet safe with a better appearance.
Arizona Green Tea Diversion Cans By Arizona
For those living with parents, it can be a huge challenge to store the marijuana stash. Moreover, you might be looking for some cheaper options to do so because you might not be old enough to own a lavish medication box at this age. Therefore, the AriZona Green Tea Can by AriZona is the perfect solution for you.
The cans you get are recycled from the real AriZona Green Tea. Therefore, it is less likely that your parents will doubt you with it. Moreover, if you hold the can in your hands, it looks and feels like it is a real can. But that doesn't mean that your weed stash will get wet inside the can because it is entirely dry with a plastic coating to protect it. The top can be unscrewed without much ado whenever you want to get high.
Moreover, your weed remains safe and fresh in the can with no traces of mold growth, even if you store it for days in one go. Not to forget that it will help you store your stash in plain sight.
The Ultimate Herbal Storage Box By LITT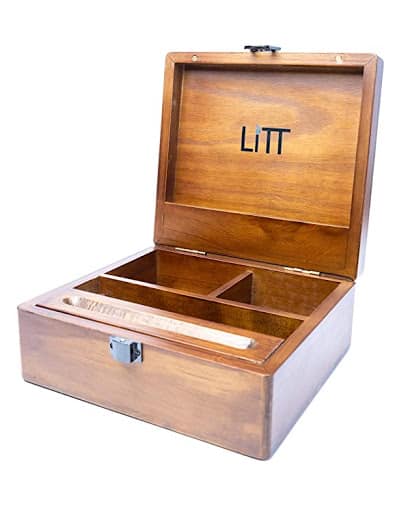 We understand that smoking weed is a very personal experience for you that you do not want to ruin by revealing your weed stash to anyone, especially your children. So, you should try out the Stash Box offered by LITT. It is specially created for smoking enthusiasts with a compartment for everything you might own for the purpose.
It is an attractive stash box made up of high-quality wood that has dividers to store the rolling paper, stuff, and other components in a neat manner. Not just that, the compartments are moveable according to your needs.
Not to forget, this wooden box looks absolutely stylish and is big enough to store everything you want to store and keep it protected from external damage. Moreover, you can buy one in black and brown color, whichever gets along with your décor better.
Only one ground where this box might lack is that it can arouse suspicion, and people might open and check what's lying inside. It snaps close but doesn't have a lock to it, which might invite sensitive invaders such as children.
Medicine Storage Lock And Key Box By Buyasafe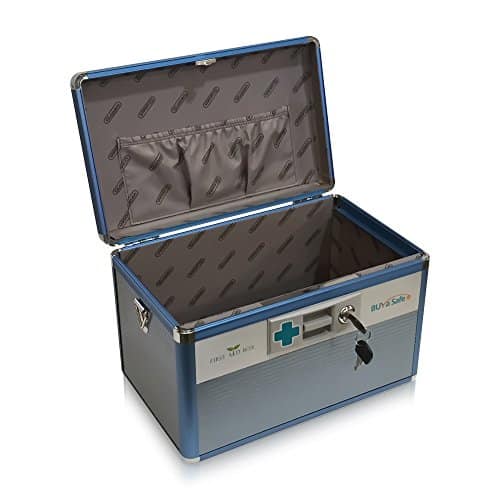 If you are supposed to take medicinal marijuana because you are going under chemo, have multiple scoliosis, acute arthritis, or any other medical condition which leaves you in chronic ache, then a medical box is an apt choice for you. Medicine Storage Lock And Key Box by BUYaSafe comes with an inbuilt lock that allows you to keep your stash away from the reach of your children.
Since most patients who are required to take medicinal marijuana prefer edibles because they might not have the appetite for smoking, the stash is supposed to be stored in refrigerators. Now, if you store a usual diversion case such as a hairbrush into the fridge, your children might become suspicious. However, with a medicine box, they will know better not to interfere because they know there is medicine in there, even if the box looks like a first-aid kit.
Most individuals who have been using these boxes have described their experience as exemplary because they never had to suffer the consequences of letting drugs lose in the house.
Helmet Head Stash Container With Combination Lock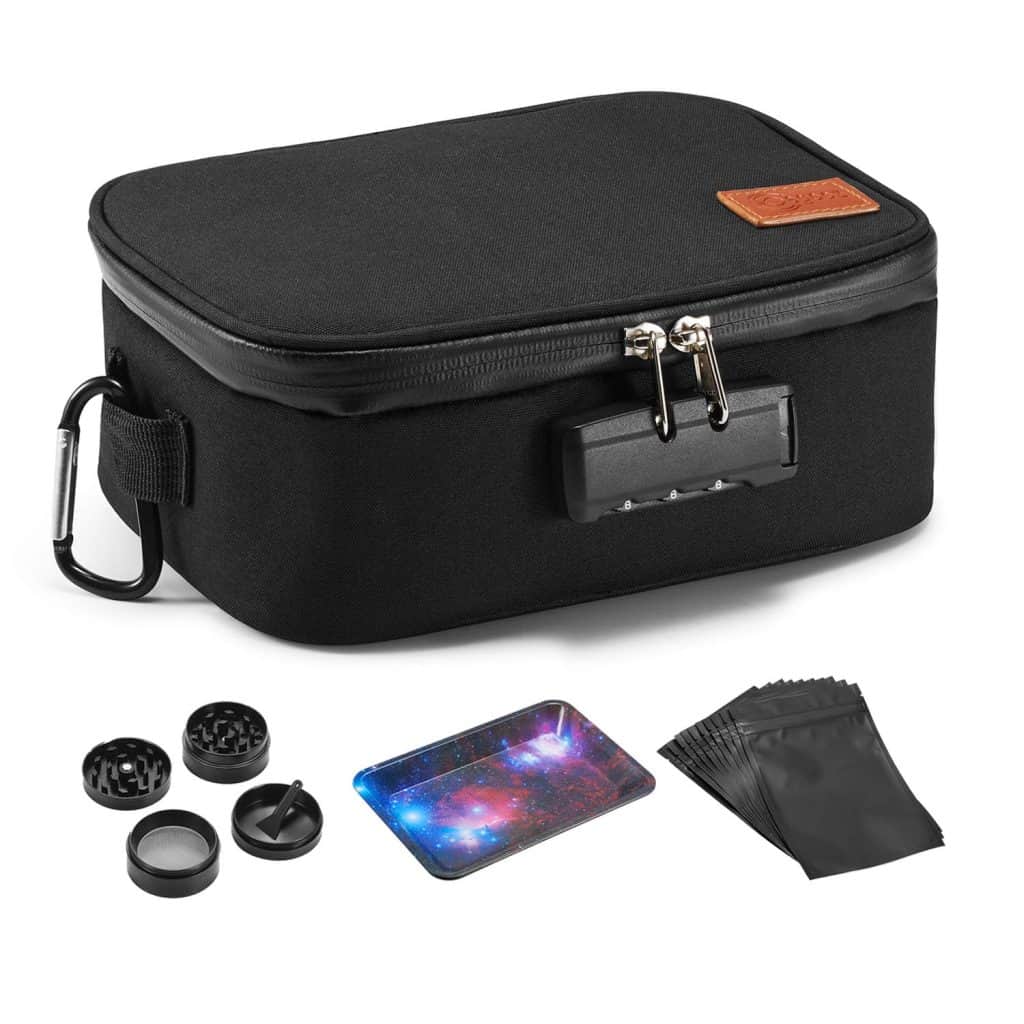 Like the name of the brand already suggests, the Helmet Head Stash Container is as tough as the helmet. The material it is built with is timeless; that is, it can stand the roughest of use and still remain intact. In addition to being tough, the container is weatherproof, allowing no amounts of bacteria or mold to build up in your stash even when you do not open it for months.
The modularity of the case reflects in the fact that you do not have to stick to the given pattern of organization in the container, you can always move and remove the pieces to make it apt for your stuff. So, you can store your grinding cards, rolling papers, baggies, lighters, and more into one place safely.
The lock and key mechanism will keep your stash out of reach from anyone but you. Plus, Helmet Head is a brand that has earned the trust of millions of cannabis enthusiasts over the years with their containers. Therefore, the material is trusted to last long and offer the perfect option for traveling with your weed.
9 Inch Treasure Chest By Sicohome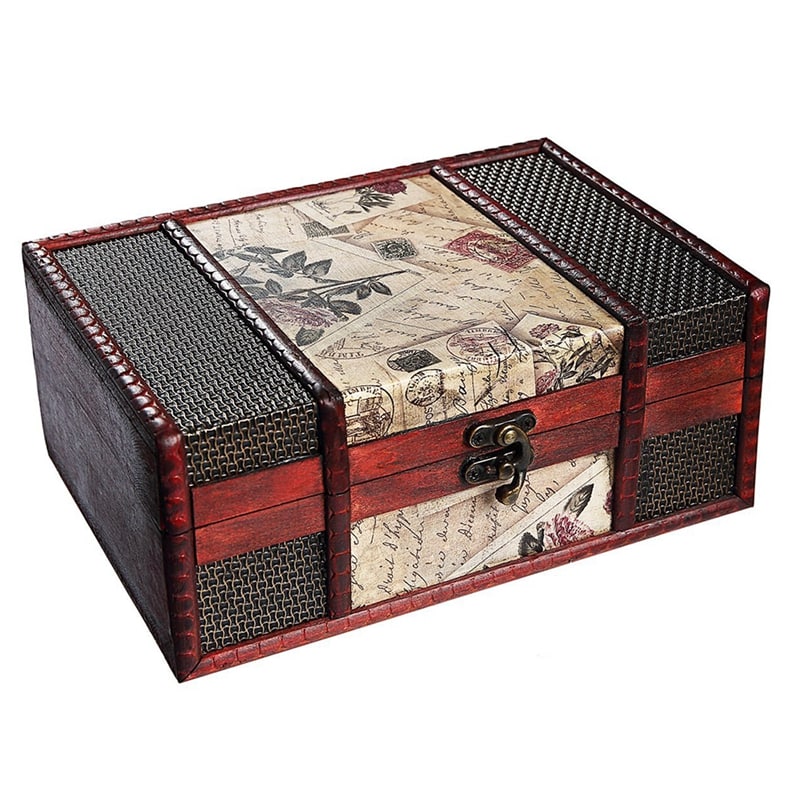 Of all the containers that can make a fantastic addition to your living room décor, this 9 inch Treasure Chest by SICOHOME is a tough competitor. Its measures are perfect for storing one person's stash of marijuana comfortably.
Wherever you keep the box, it will only add to the luster of the space. However, use it only if you do not have children because the box doesn't have a lock. Also, you are not required to look after the box every now and then, such as wiping it clean with a clean towel or keep under the cooling of the air conditioner at all times. All you have to do is, keep it around some indoor plants and fishbowl and clean it with some wax polish every once in a while. Make sure that the box is not exposed to direct sunlight, however.
A majority of users who have invested in this product are highly satisfied with the quality of wood that is used in manufacturing this wooden box. They suggest that even if you do not require one, do not shy away from selecting one for a friend who would love to have it.
Conclusion
Finally, there is no denying the fact that marijuana requires a safer place than the rest of your drugs would be unwise because, barring its medicinal benefits for adults, marijuana can have dire effects on the health of children and pets. Moreover, you cannot expose your stash to everyone who visits your home, so you need a space where you can keep it hidden yet in plain sight so that it doesn't become stale. Buy cannabis at medical marijuana shops near you.
Another important point to note here is that some medicines based on cannabis, concentrates, and edibles require a cold place for storage, such as refrigerator. Now that you know that there are boxes that can be locked and kept in the refrigerator, life would become easier for you and safer for your family.