Finding Relief: Top CBD Oil for Dogs with Arthritis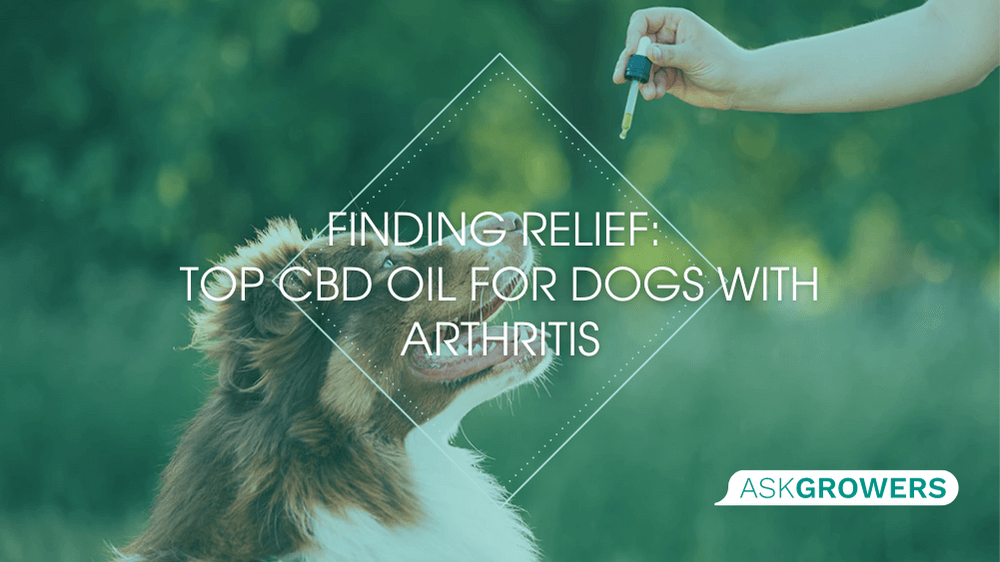 One in five dogs suffers from arthritis. This condition can develop in any dog and significantly decrease its quality of life in the following ways:
Restricting mobility

Slowing a dog down

Creating difficulties in performing basic daily things
If you notice the symptoms of this disease in your pup, the respective actions must be immediate. Luckily, pet owners have long discovered a natural remedy in the form of CBD products for pets.
CBD oil for dogs arthritis[1] boosts mobility, reduces inflammation, and enhances the overall wellness of your furry friend. However, it's crucial to pick the right cannabidiol product for this condition.
---
Read Also: Hemp Oil vs. CBD Oil for Dogs: Understanding the Differences
---
Understanding Arthritis in Dogs and the Role of CBD Oil
Canine arthritis, aka osteoarthritis (OA), is a progressive inflammatory disease that involves the degeneration of joints. The primary symptoms are inflammation and pain in the joints that cause discomfort and affect the pet's mobility.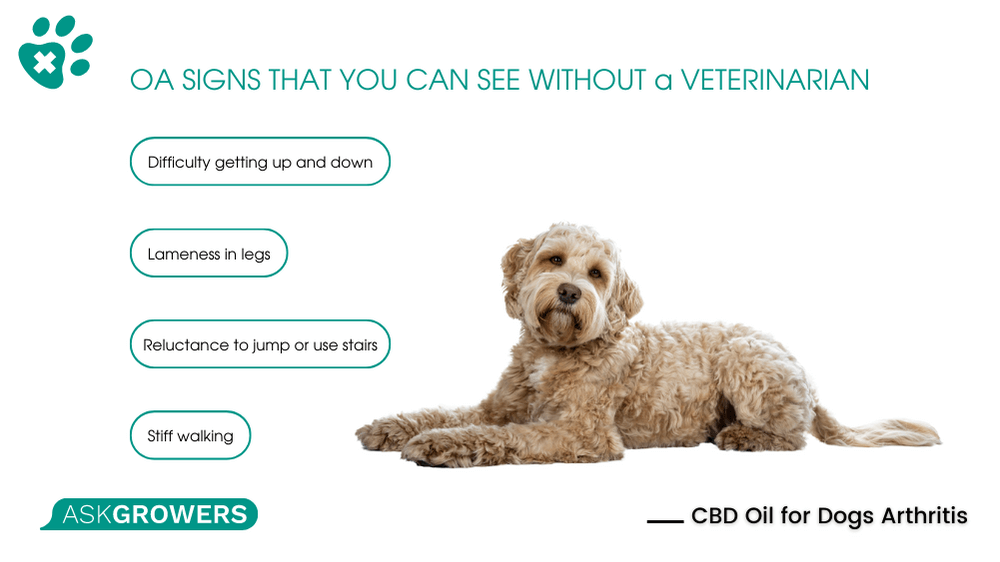 OA signs that you can see without a veterinarian include the following:
Difficulty getting up and down

Lameness in legs

Reluctance to jump or use stairs

Stiff walking, etc.
The causes include a natural tear of joints with age (there is CBD for senior dogs for this purpose), a specific dog's build, abnormal joint development, injuries, etc. Besides, some breeds like German Shepherds are naturally prone to arthritis.
Cannabidiol provides a natural relief to OA. This compound of the hemp plant affects the animal's endocannabinoid system, regulating a variety of functions and modulating the production of proinflammatory cytokines. As a result, CBD pet treats or pet CBD oil can provide a number of tangible benefits, such as the following:
To get these perks, you must choose a product that suits your pet's needs best. Pay attention to the brand reputation, quality and source of cannabidiol, customer reviews, etc. Also, pick products based on a specific condition, for example, there is CBD oil for dogs arthritis pain or joint mobility.
---
Read Also: CBD Oil for Dogs: Exploring the Benefits to Canine Wellness
---
Top CBD Oils for Dogs with Arthritis Pain
As you now know, cannabidiol-based products can be very beneficial for treating arthritis and its symptoms. However, the effects you will get depend a lot on the chosen product.
Today, there is a huge variety of CBD pet drops, treats, tinctures, and other products. Oil is the purest form of cannabidiol, which is why it's often recommended for chronic and severe conditions. However, the choice of oil can be a hard task for a pet parent.
To help you get on the right track, AskGrower's experts analyzed the available options and customer reviews about them and picked the best CBD oil for dogs joint pain and arthritis.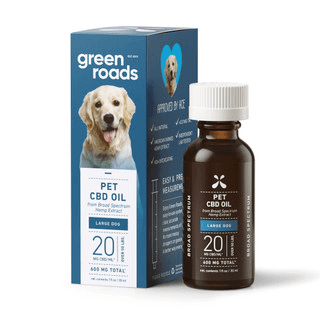 Visit official website
This product is developed by the top-rated manufacturer Green Roads. As you can easily guess from the name, it's meant specifically for large animals, weighing 50 lbs or more.
These drops are made using all-natural ingredients and organic cannabinoid extract, with coconut oil acting as a carrier. There are no preservatives or artificial flavorings.
Thanks to a unique formula, these drops can serve multiple purposes. First of all, they can provide relief to OA symptoms and protect your pup's joints as they age. On top of that, this product is meant for stress and anxiety management, as well as the overall well-being of your furry friend.
One more thing we particularly love about this product is a convenient measuring system. With these drops, you can easily define the perfect CBD dosing for dogs and administer it daily to your pup.
Conclusion
All in all, cannabidiol has long proven its therapeutic and health properties, not only in humans but also in animals. Due to this reason, CBD oil for arthritis in dogs has become a popular all-natural remedy that pet parents can choose to support their friend's health.
Now that you know more about the real benefits of cannabidiol for your dog's wellness and mobility, let us emphasize the importance of picking the right product once more. Before administering cannabidiol to your pet, you must consult with a veterinarian to be aware of the perfect dosage and any possible side effects, such as drowsiness or dry mouth. And you must pick the best-quality product based on the following factors:
Brand reputation

Potency

Ingredients

Source of cannabidiol

Customer reviews, and so on
Resources
Verrico CD; Wesson S; Konduri V; Hofferek CJ; Vazquez-Perez J; Blair E; Dunner K Jr; Salimpour P; Decker WK; Halpert MM, (2020) A Randomized, Double-Blind, Placebo-Controlled Study of Daily Cannabidiol for the Treatment of Canine Osteoarthritis Pain. Available at: https://pubmed.ncbi.nlm.nih.gov/32345916/

Mejia S; Duerr FM; Griffenhagen G; McGrath S, (2021) Evaluation of the Effect of Cannabidiol on Naturally Occurring Osteoarthritis-Associated Pain: A Pilot Study in Dogs, J Am Anim Hosp Assoc. Available at: https://pubmed.ncbi.nlm.nih.gov/33450016/

Yu CHJ; Rupasinghe HPV, (2021) Cannabidiol-Based Natural Health Products for Companion Animals: Recent Advances in the Management of Anxiety, Pain, and Inflammation, Res Vet Sci. Available at: https://pubmed.ncbi.nlm.nih.gov/34391060/

Gamble LJ; Boesch JM; Frye CW; Schwark WS; Mann S; Wolfe L; Brown H; Berthelsen ES; Wakshlag JJ, (2018) Pharmacokinetics, Safety, and Clinical Efficacy of Cannabidiol Treatment in Osteoarthritic Dogs, Front Vet Sci. Available at: https://pubmed.ncbi.nlm.nih.gov/30083539/

Brioschi FA; Di Cesare F; Gioeni D; Rabbogliatti V; Ferrari F; D'Urso ES; Amari M; Ravasio G, (2020) Oral Transmucosal Cannabidiol Oil Formulation as Part of a Multimodal Analgesic Regimen: Effects on Pain Relief and Quality of Life Improvement in Dogs Affected by Spontaneous Osteoarthritis, Animals (Basel). Available at: https://pubmed.ncbi.nlm.nih.gov/32858828/
FAQ
The effects of CBD joint supplements for dogs depend on the type of product and potency, as well as your pet's metabolism. Cannabidiol oil typically starts working in 30-60 minutes and provides initial alleviation of pain and inflammation. However, it may take 2-4 weeks to see real relief from its symptoms. Keep in mind that dosage also plays a crucial role. So don't hesitate to consult with a veterinarian.
Generally, cannabidiol is considered absolutely safe and well-tolerated in animals. Chronic conditions, such as OA, require a regular and holistic approach to get the best results. So yes, generally it's possible to administer CBD oil for treating arthritis in dogs on a daily basis. The only issue is that your pet can't communicate if something feels wrong. Therefore, a veterinarian consultation and close response monitoring are crucial.
Yes, cannabidiol can be used topically on specific areas that require treatment. This type of administration can aid in pain management and reduce inflammation. Nevertheless, it's generally believed that direct, oral administration is the most effective due to higher absorption rates. Consult with a reliable veterinarian to find the best administration method that suits your pet's unique needs and condition.
Yes. Cannabidiol is a non-psychoactive compound of the hemp plant that can be especially beneficial in animals with OA, mobility issues, chronic pain, and inflammation. However, it's important to understand that the quality of the product, brand, dosage, and your furry friend's individual tolerance to the product's ingredients all play an important role. That's why we always emphasize the importance of consulting with a veterinarian prior to administering cannabidiol.