Growing Autoflowering Seeds – Why Beginners Should Choose Autoflower Strains for Effortless Cultivation
Find more about Helga Green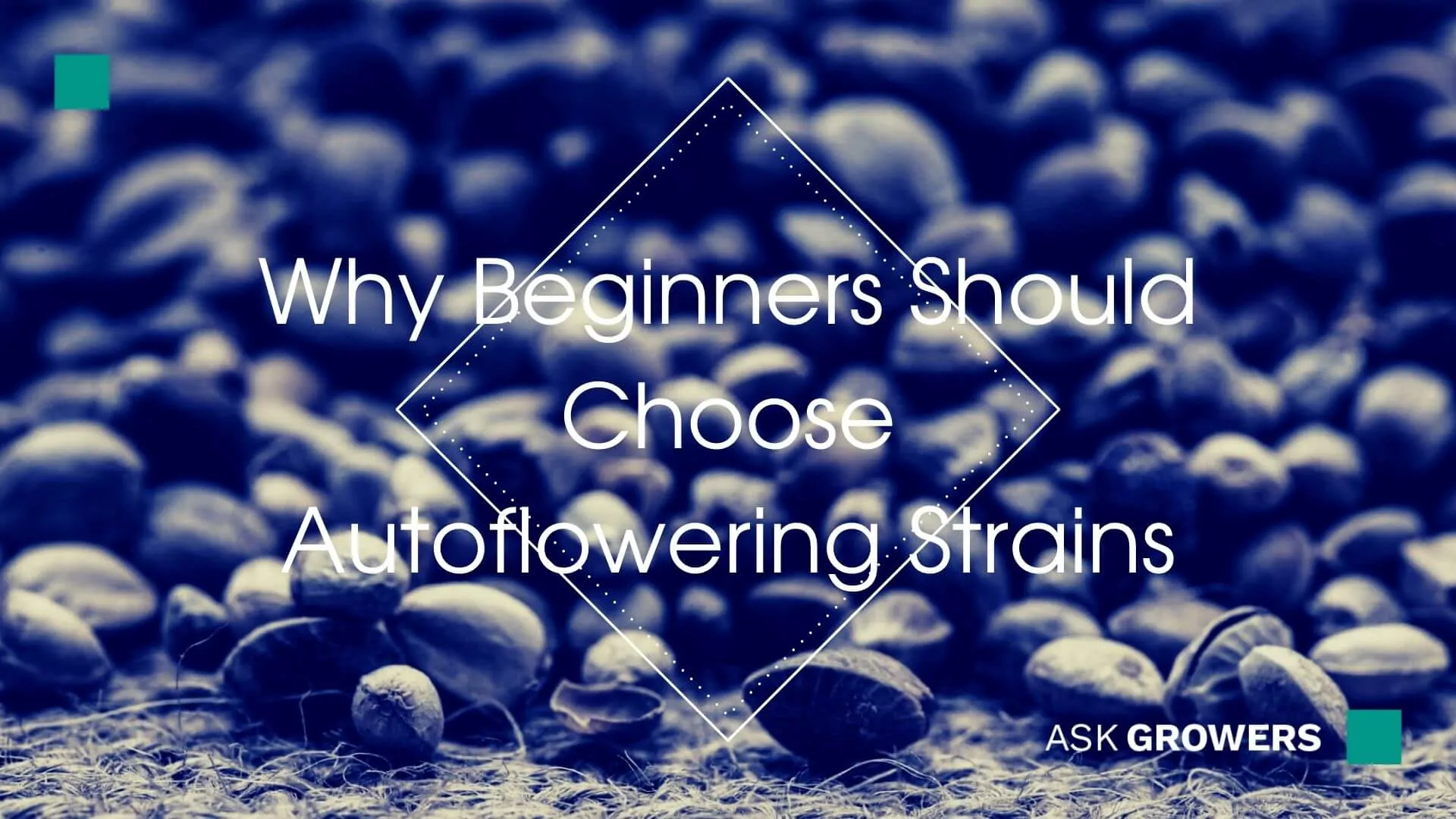 What kind of strain does a beginner need? Some may say that all the future growers face a difficult road ahead and that avoiding challenges in growing does not make much sense. Well, maybe such an approach really works for someone. However, most newbies should grow autoflowering cannabis plants. Why?
Generally speaking, easy-to-grow, fast flowering cannabis seeds allow beginners to:
Find out if growing can be their hobby;
Find out if it can become their job;
Grow their first crop without spending a fortune;
Understand how the system works;
Understand what challenges they can face in the future;
Avoid the most common mistakes when growing the first crop.
It is just normal to get started with something easier, right? However, even autoflower seeds are not something you can put in the soil and forget about it for long months. These unique strains also have their pros, cons, specific characteristics, and yes, a pretty interesting history.
---
Read Also: The Ultimate Guide to Growing Marijuana Indoors
---
Autoflowering Strains – What Are They?
Experienced growers know that growing regular high-quality strains requires a lot of care and dedication. Even 10 seconds of lighting in the grow space at the wrong time can spoil everything, no matter how hard you tried to do everything right before. This can be explained by the fact that light has a huge impact on all photoperiod plants.
If you grow your plants outdoors, they are not only super sensitive to the weather but also to any source of light. For example, even the light in your neighbor's window can destroy your crop. The biggest advantage of autoflowering strains is that they are unaffected by lightning, at least not as much as regular strains are. If you are a grower, you do not need to trigger flowering – it is automatic.

All autoflowers have one predecessor – the famous Cannabis ruderalis, which is the close relative of the "classic" cannabis plant that produces tetrahydrocannabinol. Ruderalis that gave birth to autoflowering strains have extremely small buds that have a very low concentration of THC, but they still have one yet significant advantage. They are flowering right after sprouting regardless of the length of the day.
Breeders, who understood that this plant has great potential, began work on creating new autoflowering strains that would contain good old tetrahydrocannabinol. No, we cannot say that a huge discovery has changed the world of cannabis immediately – frankly, the results first breeders got were frustrating. Still, this did not stop them from looking for new combinations and creating new strains. The first relatively successful experiments were made in the 90s.
The first autoflowering plant was called Lowryder, maybe because it still had the incredibly low concentration of good old tetrahydrocannabinol. The reason why autoflowering strains have finally become popular is that huge work has been done by growers. The first autoflowers had little potency, and growing them made much sense neither for consumers who grew cannabis for themselves nor for producers. Some modern autoflowering strains have a remarkably high level of THC, especially when compared to their predecessors. More and more seeds of various strains are sold and bought by people who want to get started with growing and/or try something really interesting and innovative.
---
Read Also: Growing Cannabis: The Beginner's Shopping List and Top 7 Beginner Tips
---
Advantages & Disadvantages Of Autoflowering Seeds
Yes, autoflowering seeds are probably the best option for the beginners who are not sure that they will be able to keep an eye on their plants during the long, really long period. Nevertheless, it does not mean it is absolutely perfect. So, let us take sum up everything we have said above and analyze some downsides of growing autoflowering seeds.
Benefits of choosing autoflowers

Why did autoflowering seeds become popular? Here are the most important reasons:
It can be grown outdoors, too. Moreover, it can be grown in most climates. Experienced growers know that the best time for planting cannabis is spring just because it takes about 5 months of great weather before fall comes. Great weather for cannabis is warm but not too wet weather, of course. Growers who choose autoflowering strains have more options to choose from. They can grow their plants during regular sunny summer or warm winter. This is especially good for those who want to produce as much weed during a short period as possible.
You do not have to reduce lighting to make your plant/plants "think" that this is the middle of September right now. Even when cultivated outdoors, such cannabis does not care much about the light, and that makes growing much easier and, therefore, better for beginners, especially for those who want to get a few harvests during one season.
If you are growing your first plants at home, you can achieve the results you expect much faster. When cultivated indoors, it takes only 3 months for it to complete maturation.
These plants are much smaller, and that is very important for newbies who just want to try to grow their first yield. Beginners do not rent large areas or have separate rooms for cannabis, which often grows huge. Moreover, even those who want to grow marijuana outside will appreciate this. Smaller plants are perfect for keeping privacy – at least you know that your neighbors will not discuss what you are doing in the backyard.
Such a cannabis plant can create bigger buds in shorter time periods compared to regular strains.
When you buy regular seeds, you inevitably grow a certain part of male plants. This is how nature works. However, if you buy autoflowering strains, you can be sure that you will get those buds just because they are feminized.
Downsides of autoflowering cannabis
Considering the advantages of such seeds, autoflowering strains seem just perfect. However, they are not as popular as regular plants. Why? The reason is as simple as important: they do not produce such large yields as good old Indica and Sativa do. By the way, professional growers also note that the one who chooses autoflowers pays more for electricity and cannot use certain training techniques. The conclusion is obvious – though it has some cons, autoflowering strains are better for beginners. Some dedicated amateurs, as well as most professionals, often choose regular strains just because they need larger yields and they can get them due to their experience in growing.
How To Grow Such Strains – Rules Of Cultivating Autoflowers
Though such seeds are often called autoflowers, it does not mean that they will grow by themselves – some preparation, skills, and equipment are required. Moreover, some beginners also forget that autoflowering begins regardless of your preparedness. A newbie who does not follow the rules can spoil everything even with such easy-to-grow strains. Still, if you follow the recommendations and sequence below, you will get your first crop pretty soon and without much difficulty.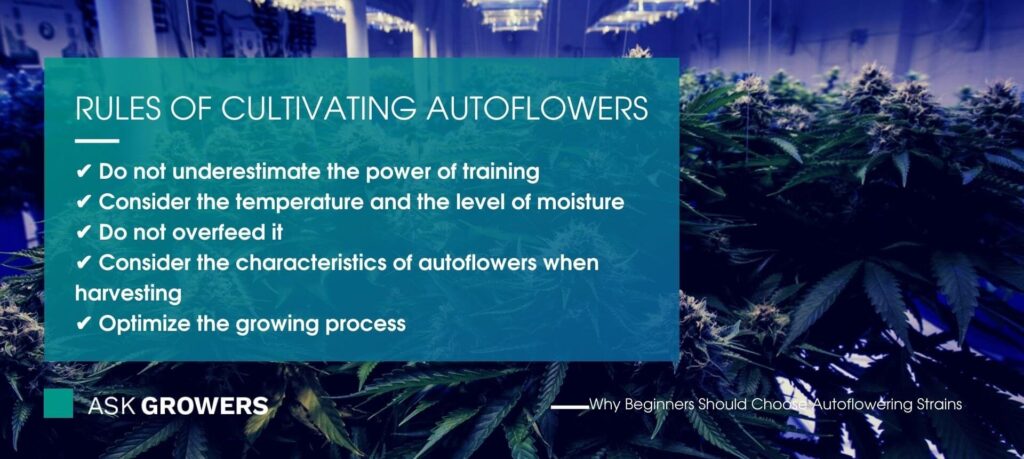 Tip #1. Do not underestimate the power of training
What is the plant training? Generally speaking, it is manipulating the cannabis plant physically to make it produce a larger yield. Simply put, this is the opposite of letting the plant grow naturally. There are two main categories of cannabis training techniques: high-stress and low-stress training. Beginners who are growing autoflowering strains should choose the low-stress technique. You can top the plant after you see 3 nodes to make a better canopy or pull the plant down sideways – this will stimulate upward growth. However, if you see that the plant began to flower, do not top it.
Tip #2. Consider the temperature and the level of moisture
As we have already noted, a lot of beginners choose autoflowering strains because it is much easier to grow them outdoors. A grower should not worry about all those light cycles and can afford to start your plant earlier, for example, in March or in September. Still, there is another aspect to consider – though the lighting is not so important, a grower needs to maintain the right temperature and keep an eye on moisture levels. The cold snap, as well as heavy rains, can spoil everything, and that is why a lot of growers use greenhouses.
Tip #3. Do not overfeed it
As we have already noted, these plants are much smaller than regular strains, and that is why they do not need to be fed as heavily. Moreover, they do not spend as much time in the vegetative cycle. Of course, it does not mean that a grower should not feed the plant or plants at all. It just means that the number of nutrients should be reduced significantly.
Tip #4. Consider the characteristics of autoflowers when harvesting
Autoflowers are different from regular strains in many things, including canopies. Autoflowering strains just do not have one – they do not have enough time to develop it. Consequently, you can harvest it gradually – colas first, lower buds next.
Tip #5. Optimize the growing process
People who grow autoflowering strains can optimize the growing process and get a larger yield in a shorter time. All they have to do is to do a few things simultaneously. Why not pop seeds before harvesting your autoflowers? This allows them to grow something non-stop, but such an approach, of course, works only for those who want to turn the growing into a hobby or maybe even into a job.
How And Where Can I Buy Autoflowering Seeds?
The most convenient and fastest way to purchase high-quality seeds is to find a good seed bank. Some of such banks also sell seeds online. In some cases, consumers and growers can buy them in the nearest dispensary, but this depends on where you are right now – there are not so many places in the country where this is possible.
---
Read Also: Features Of Growing Marijuana From Seed: Secrets And Recommendations
---
What Are The Best Autoflowering Seeds?
Which autoflowering seeds are the best for the beginners? Let us take a look at the top-5 options, which, however, are good not only for newbies but also for professionals. Some of these seeds are cup winning seeds.

Northern Lights Autoflowering
Basic characteristics of Northern Lights:
Indica (90%)
Parents: Northern Lights & Ruderalis
CBD: low
THC: about 14%
This is definitely one of the best low-maintenance, easy-to-grow hybrids, whose parents, Northern Lights and good old Ruderalis gave the best to their descendants. It produces quite strong yet not too heavy effects due to the 14% of THC it contains. Consumers note that the buds of this strain make them feel happy, euphoric, relaxed, calm, and uplifted.
Another great thing about it is that it is ready for harvest in 10 weeks after sprouting. The plant is 1 meter tall. In a warm climate, one plant can produce up to 200 grams. Northern Lights Autoflowering can be grown outdoors and indoors. As for smell and flavor, it is a bit earthy and sweet, fruity and pungent.
Gorilla Glue Autoflowering
Basic characteristics of Gorilla Glue:
Indica
Parents: Gorilla Glue & Ruderalis
CBD: low
THC: from 20 to 24%
As we have already noted, at the very beginning of autoflowers' history, a lot of people were skeptical about them just because they obviously lacked potency. Well, as you can see, Gorilla Glue contains an extremely high level of THC and produces the powerful effects that are typically described as "relaxed, uplifting, balanced, happy, and body-buzz.
The buds are very sticky, the concentration of tetrahydrocannabinol is super high, and it takes only 9 weeks or even less to get the crop. A plant is from 60 to 100 centimeters high, has amazing citrus and pine scents and lemon taste.
Royal Critical Autoflowering
Basic characteristics of Royal Critical:
Indica
Parents: Critical & Ruderalis
CBD: low
THC: about 14%
This is one of the most productive autoflowering strains ever, and yes, you get your crop pretty fast – usually, in about 9 weeks. This is a very relaxing, calming strain with pretty skunky buds. The plant grows up to 80 centimeters and produces up to 400 grams per square meter indoors. Outdoors, it grows up to 150 centimeters and can produce up to 160 grams per plant.
---
Read Also: Guide on Cannabis Growers: Who They Are and How to Become a Cultivator
---
Blueberry Autoflowering
Basic characteristics of Blueberry:
Indica (70%)
Parents: Blueberry & Ruderalis
CBD: medium
THC: about 14%
We bet you heard about this amazing fruity weed, and yes, now beginners, as well as professional growers, can purchase and grow autoflowering legendary Blueberry. It takes only about 10 weeks to harvest, and it is only 70+ centimeters tall. Besides, it is quite productive – autoflowering Blueberry produces up to 70 grams per one plant.
As for the effects, this legendary strain is very calming and relaxing.
Kalashnikova Autoflowering
Basic characteristics of Kalashnikova:
Indica
Parents: Green-O-Matic & Ruderalis
CBD: unknown
THC: medium
Yes, it is dangerous and pretty fast. It takes about 9 weeks to get a large crop and taste powerful weed that makes every consumer feel happy, euphoric and sometimes quite relaxed. It is more productive than the above-mentioned Blueberry. A grower who works indoors can expect a 1-meter tall plant to produce up to 800 grams per square meter. Plants outdoors, in turn, can produce up to 80 grams if they grow in a very sunny spot. Another great thing about Kalashnikova is that it makes you feel euphoric and pure happiness. It is also noteworthy that it has a pleasant citrus and a bit of spicy taste.
---
Read Also: How Long Does It Take to Grow Marijuana: Stages of Growth
---
Growing Autoflowering Strains – The Final Thoughts
So, why should beginners grow autoflowering strains and should they? Generally speaking, it is the best option for beginners. No, it is not the best option for professionals or even for some dedicated amateurs who want to get more sophisticated buds. Cannabis is naturally a complex plant. Only professional breeders and growers see this as an interesting challenge – newbies may think that this is too complicated and not what they were looking for.
A lot of people worked hard to get the autoflowers we have now. Today, the THC level in them is enough to get high and feel all those effects from euphoria to relaxation, and they are a lot easier to grow. Yes, these are not the seeds you can put into the soil and then water them from time to time. Temperature, humidity, and plenty of other things are still important, and yes, they will have a direct impact on the quality and amount of the final product you get, but the light is a lot less important.
This is what makes them so popular. 18 hours of light allows you to get a large yield, and you do not even have to trigger flowering. Yes, even in this case, plants require care and dedication, but not as much as regular plants do.
FAQ
Autoflowering cannabis plants generally stop growing in height around 3 to 4 weeks into the flowering stage. However, the exact timing can vary depending on the strain and individual plant genetics.
Autoflowering seeds generally take around 24 to 72 hours to germinate, similar to regular cannabis seeds. However, germination time can vary based on factors like seed quality, environmental conditions, and germination method. Providing adequate moisture, warmth, and darkness can help facilitate the germination process.
Autoflowering seeds typically take anywhere from 1 to 7 days to germinate when planted directly in soil. It's important to ensure that the soil remains consistently moist but not overly saturated during the germination process.