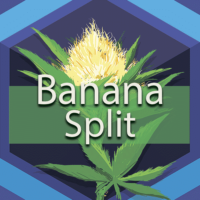 Indica
Breeder: Crockett Family Farms
THC Dominant
Side Effects
Thirst and dry mouth, Dry eyes, Hunger, Insomnia, Slurred speech
Grow Info
Flowering time: 56-70 Days
Harvest time: 76-83 Days
Yield indoor: 1-2 oz/ft2
Yield outdoor: 2-4 oz/ft2
Height indoor: 30-60 Inches
Height outdoor: 30-60 Inches
Grow difficulty: Difficult
Flowering type: Photoperiod
All About Banana Split Cannabis Strain
The Banana Split strain will give you a perfect treat with its unique flavor. Users should expect to get a racy body high followed by a powerful and relaxing couch-lock effect. It's an Indica-dominant hybrid that has an average THC level ranging between 20-23% and a CBD content of less than 1%. Created by Skord Marijuana and Crockett Family Genetics, Banana Split weed strain is a cross-breed between Tangie and Banana Sherbet.
Common Effects
The strain effects of the Banana Split include a relaxed and euphoric feeling to the user. It gives the user the energy to complete tasks and comes with a case of the munchies. Generally, the effects include:
This strain is popular medicinal marijuana because of its use in alleviating conditions such as:
Appetite loss
Chronic pain
Depression
Anxiety
Fatigue
Besides the usual effects that come with smoking weed, you can experience occasional coughs after smoking the Banana Split.
Banana Split Flavors
It has a combination of berry sherbet, grape juice, and lime candy aroma that you'll notice immediately you get to smell it. It also comes with a taste of banana, with hints of fresh earthiness, and undertones of grapes and lime. The strain tastes as good as it smells.
Grow Info
Growers that cultivate this strain should expect to get large-sized buds with very distinctive aromas and flavors. The Banana Split weed is an easy strain to grow both indoors and outdoors using seeds from the developer. It grows to a medium stretch once it starts flowering. The two different phenotypes have different flowering rates. However, the average flowering time is 8-10 weeks, when growers can expect to get yields of 450-500g/square meter.
FAQ
What is the genetics of Banana Split strain?
The Banana Split strain is made up of 60% Sativa and 40% Indica. The THC levels are between 18 to 24% and the CBD is about 1%.
What is the lineage of a Banana Split?
The Banana Split weed has a lineage of both the Tangie and Banana Sherbet.
Banana Split Photos