Grower Stories #4: Alex Pasternack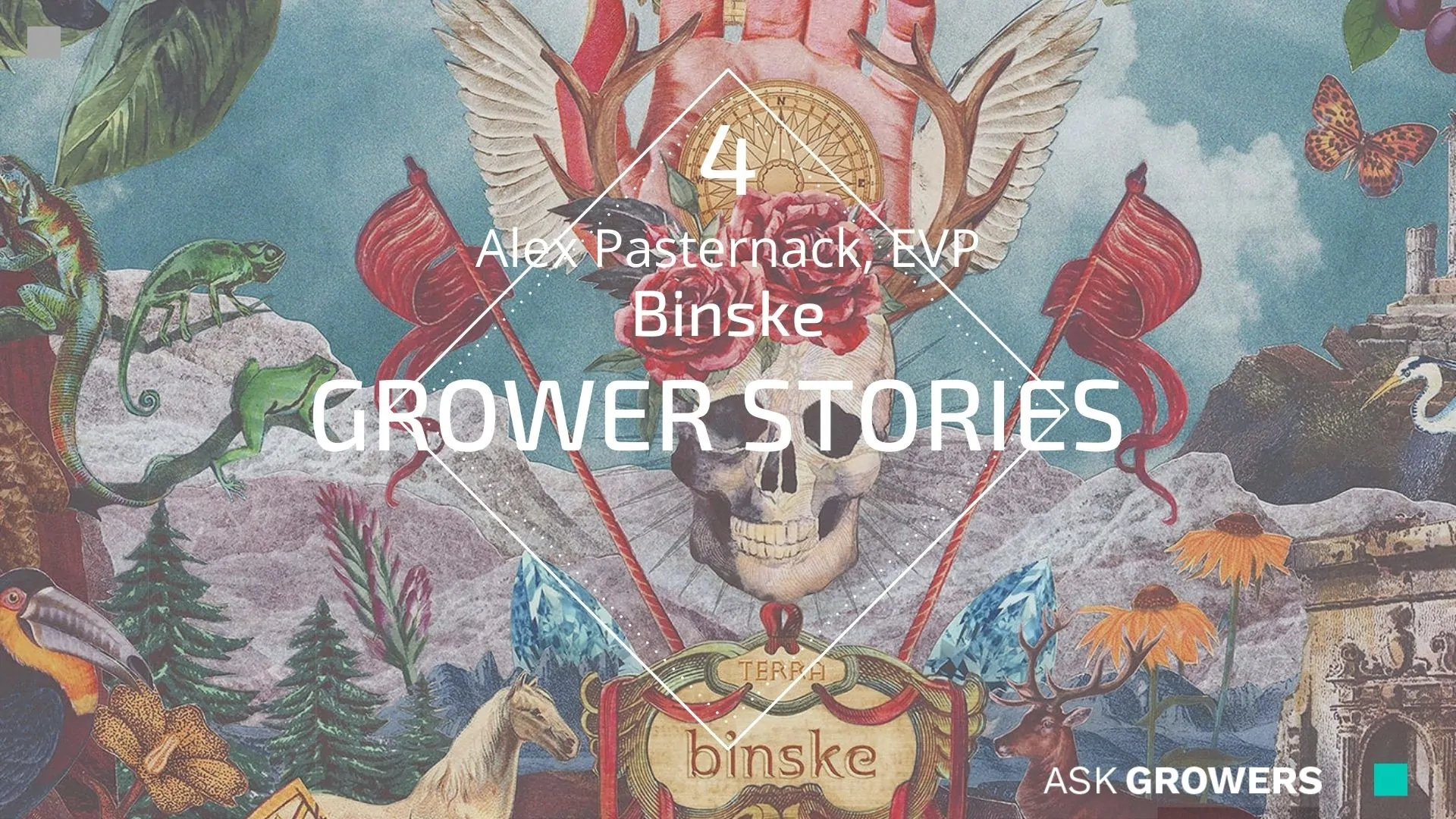 Alex Pasternack on How to Succeed in Cannabis Crossbreeding and His Company's Big Plans for Binske
We present you a new interview with a representative of the cannabis industry - Executive Vice President of Binske Alex Pasternack. A distinctive feature of the company is the variety of strains that are crossbreeding by the company's experts. Alex also told us that at the moment the company's product line is expanding rapidly. Below you can see all details.
---
Julia (AskGrowers) : You're one of the top companies in your industry, tell us how you guys achieved this level?
Alex Pasternack (Binske) : It really just comes down to hard work, and timing. We are lucky to have entered the cannabis space when we did, which it seems was a few years before the masses did. During this time we developed our proof of concept, and had to time to hit the ground running and get production up and running in multiple territories.
---
Julia : Tell us about your first steps in breeding strains.
Alex : We have been on a quest for finding the best genetics for as long as I can remember. We wanted a beautiful library of all types of strains, and that's exactly what we did. Our proprietary strains are the backbone to our brand, as all of our downstream products are produced from this input.
---
Julia : What's your favourite strain?
Alex : My favorite strain of ours is Fromage; a type of UK Cheese that hits me right every time.
---
Julia : What's your favourite strain for the day/night time?
Alex : At night, I prefer our OGs. Heavy Indica properties get me feeling nice in the evening. During the day, I've been known to enjoy more citrus strains like Mango and Guava.
---
Julia : What would you recommend to try for beginners?
Alex : I would tell beginners to try micro-dosing edibles, I really think it's the easiest to enjoy. Especially with the fact that most beginners may shy away from the act of smoking, this seems to be a good alternative to most.
---
Julia : What's the strongest strain in your list of goods?
Alex : We really don't focus on incredibly high testing flower, as there is so much more that goes into a good strain. All of our flower ranges from the mid 20s% to the low 30s%
---
Julia : What strains are the most popular in 2020?
Alex : Biscotti, MAC, Sherbet, and of course the OGs.
---
Julia : When it comes down to breeding strains, how hard is that to do it properly?
Alex : Breeding strains is truly an art. It takes time, and lots of experience. Everyone has their own spin on it, but currently that is not one of our primary focuses.
---
Julia : When have you decided to start producing edible stuff? Was it a consumer's needs or your idea?
Alex : We actually knew we wanted to have edible products upon inception of the brand. We came out of the gates with our full edible line; gummies, chocolates, honey, and extra virgin olive oil.
---
Julia : What are the specifics of breeding particularly cultivars versus something else?
Alex : Again, we don't focus on this currently.
---
Julia : What was the first strain you have bred and why specifically this one?
Alex : We have crossed and mixed strains, but have not bred our own.
---
Julia : Where did you study growing cannabis? Any conferences/master classes/YouTube?
Alex : Luckily for me, I was living in Colorado around the time of legalization. I have always had a nack for the cannabis industry regarding production and the downstream products as I have been using the plant for years. Additionally, I love the sales and marketing side of bringing a brand to life, and that's where my focus has been.
---
Julia : What was the reason you started growing ?
Alex : To be able to create a branded porftoliuo of products. We believe in a soil-to-oil approach, which means our soil grows the plants which can be extracted and result in an oil byproduct. This oil is then used for all of our downstream production.
---
Julia : What's your exclusive ingredient?
Alex : All of them! :)
---
Julia : What's your top 5 albums to listen when you're high?
Alex : Very good question. Leon Bridges, Post Malone, Jazz Funk, Meditational tunes (in the morning), and am currently loving the new album by Khruangbin called Mordechai.
---
Julia : Did you engage with any agronomists/genetics/farmers from other industries to help you achieve your goals?
Alex : No.
---
Julia : According to your statistics, how did COVID-19 impact your business?
Alex : We took a dip initially, but are now doing better than ever. We have hit new highs for the company's targets over the last 2 months.
---
Julia : What lies behind the new strain, from the idea to the joint? How do you pick flavours, effects etc?
Alex : Our flavors are based on the strains that my brother, Jake, who is the CEO of the company and myself decide on. We love flower, and love to source unique genetics from all over the world.
---
Julia : Tell us about the origins of your packages design. Why mexican style of Santa Muerte carnival?
Alex : We actually commissioned a famous artist from the UK to create for us these collages based on earth, wind, fire and water. They ended up taking over the brand and all of our packaging. A budtender even got one tattooed on to him!
---
Julia : According to your strain namings, we guess you like wine as well :) What lies behind those namings? Why specifically those names for particular strains?
Alex : Cannabis is very similar to wine. The soil, temperature, humidity, tannins, are some of the crucial factors to consider when growing. These categories are the same for wine. We love good quality, craft wine from artisanal groups, and that is similar to what we do at Binske.
---
Julia : What did you feel when weed was legalized and you bought it for the first time?
Alex : I felt a sense of freedom. Something that I have always perceived as illegal was no longer illegal. I realized at a younger age how alcohol is so much worse than cannabis, and was confused as to why cannabis was such a big deal, when other drugs like alcohol are so readily available.
---
Julia : Tell us about your other products. What are your plans for the nearest future?
Alex : We have a ton of products but we have products ranging from edibles, to concentrates, to flower products, to vape products and cosmetics. It's an ever-growing portfolio. The Gucci store doesn't just sell belts, right? They sell hats, jackets, shoes, socks, pants, etc. We have decided to embark on that journey, and to provide a portfolio of products that are always trustworthy and high-quality premium craft products.
---
You can follow brand at :