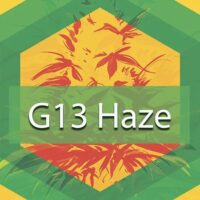 Side Effects
Dizzy, Thirst and dry mouth, Dry eyes, Hunger, Insomnia
Grow Info
Flowering time: 60-70 Days
Harvest time: 79-86 Days
Yield indoor: 2-4 oz/ft2
Yield outdoor: 4-6 oz/ft2
Height indoor: 30-60 Inches
Height outdoor: 30-60 Inches
Grow difficulty: Moderate
Flowering type: Autoflowering
All About G13 Haze (Government Indica Strain 1) Strain
G13 Haze Strain is a hybrid weed with a THC content of 23%, offering potent results, and no CBD content. Its story is based on an interesting legend in which the FBI, the CIA and another secret agency are involved. According to some sources, G13 haze was concocted by them in the 1960s; however, an unknown technician stole a sample of the plant which was grown at the University of Mississippi and started to sell it for the mass market.
Based on this legend, G13 Haze is also known as the Government Indica Strain 1, offering some more intrigue to the legend. Its buds are dense with a light green shade, and there are orange hairs that give it a furry look. The taste comes from the citrus family, leaning towards mandarins.
G13 Haze is a real cult favorite due to its potent effects and is used at any time of the day. It comes with a euphoric body tingle that lasts for a long time. Consumers get into a deep trance, ending in a heavy, restful sleep.
This strain has numerous medicinal properties. Due to its numbing effect, users can efficiently treat headaches, aches, pain, sore muscles, and more. Its euphoric results are ideal for anyone who struggles with depression, anxiety, and stress. G13 haze is easy to grow, but it requires a bit of experience to keep it thriving.
FAQ
How to grow G13 Haze strain?
One method of growing this bud is the Screen of Green (SOG) method. Firstly, germinate the seeds or use cuttings from a healthy plant. Make sure the plants benefit from approximately 18 hours of light per day until they reach about 12 inches in height. The plants need to be spaced so that there are no more than two of them per square foot. After this step, you can force them to flower by using 12 hours of light and 12 hours of darkness. Within a few weeks, the G13 Haze should be ready for harvest.
G13 Haze strain effects chart
G13 Haze Photos