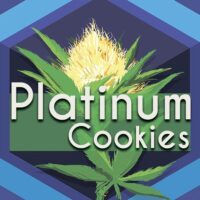 Platinum Cookies (Platinum Girl Scout Cookies, Bay Platinum Cookies)
Side Effects
Paranoia, Concern, Hunger
Grow Info
Flowering time: 56-63 Days
Harvest time: 67-74 Days
Yield indoor: 2-4 oz/ft2
Yield outdoor: 4-6 oz/ft2
Height indoor: 60-80 Inches
Height outdoor: 60-80 Inches
Grow difficulty: Easy
Flowering type: Photoperiod
All About Platinum Cookies Cannabis Strain
Platinum Cookies is a cross between Durban Poison Sativa and OG Kush. This hybrid has a perfectly balanced ratio of Indica to Sativa.
Main Flavors
This strain contains the terpenes myrcene, limonene, and caryophyllene. Smokers' first impressions of this strain were mixed as the mixture of aromas was harsh but pleasant. It has a fruity aftertaste, but in addition to this, the following smells are present in the strain:
Berry
Dank
Musky
Nutty
Spicy
Sweet
Platinum Cookies Strain Effects
The effects appeared almost immediately, and consumers felt their tension receding, giving way to happiness. It also helps you stay in good shape during exercising. Moreover, this kush increases creativity and cheers up. Medicine uses Platinum Cookies to help clients deal with:
Anxiety
Chronic pain
Migraines
Nausea
Stress
Many experienced users also recommend stocking up on water, sweets, and orange juice to avoid unpleasant effects.
Growing Methods
This plant requires some experience. Despite the high resistance inherited from genetics, Platinum Cookies do not react well to rain. It is best to use SOG methods. The flowering time is approximately 8-9 weeks and the strain produces a high yield.
Platinum Cookies strain lineage