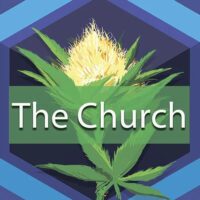 Side Effects
Concern, Dry eyes, Rapid heart beat, Panic attacks
Grow Info
Flowering time: 67-74 Days
Harvest time: 82-89 Days
Yield indoor: 4-6 oz/ft2
Yield outdoor: < 1 oz/ft2
Height indoor: 60-80 Inches
Height outdoor: 90 > Inches
Grow difficulty: Moderate
Flowering type: Photoperiod
All About The Church Marijuana Strain
The Church is an Indica-dominant strain with 18% THC and 0.4% CBD. The main parentage line includes Super Skunk and Swiss Sativa. This cerebral bud is a powerful weed that brings a head rush and strong body high.
The combination of pine and lavender aromas make it widely appealing, while the spicy, earthy taste builds on once the bud is burning. The high comes quickly and strong, building on as time passes. It starts with a euphoric rush, followed by complete relaxation and even arousal. The effects finish off leaving the consumer sleepy, rounding up the experience in a peaceful sleep.
Given the sedative effects of the Church strain, it is commonly used to treat pain, insomnia, headaches, and stress. Furthermore, it helps anyone who struggles with appetite loss and nausea.
Growers will find this bud moderately easy to cultivate and the yield is abundant. It can flower both indoors and outdoors, preferring temperate climates. Its strength brings about a word of caution for newbies.
FAQ
How to grow Church strain?
The Church strain is quite resistant and might be a suitable choice for first-timers. It is more resistant than other weed when it comes to the climate, especially because it can tolerate humidity and is naturally resistant to mold. The plant has a high yield and the flowering takes approximately 8 weeks. It can be easily grown in mountain regions.
What CBD ratio is in the Church strain?
The CBD ratio is Church strain is 0.4% CBD and 18% THC. This makes it potent marijuana, coming with a powerful cerebral high that has relaxing, sedative effects.
The Church Photos