Grower Stories #44: Henry Vincenty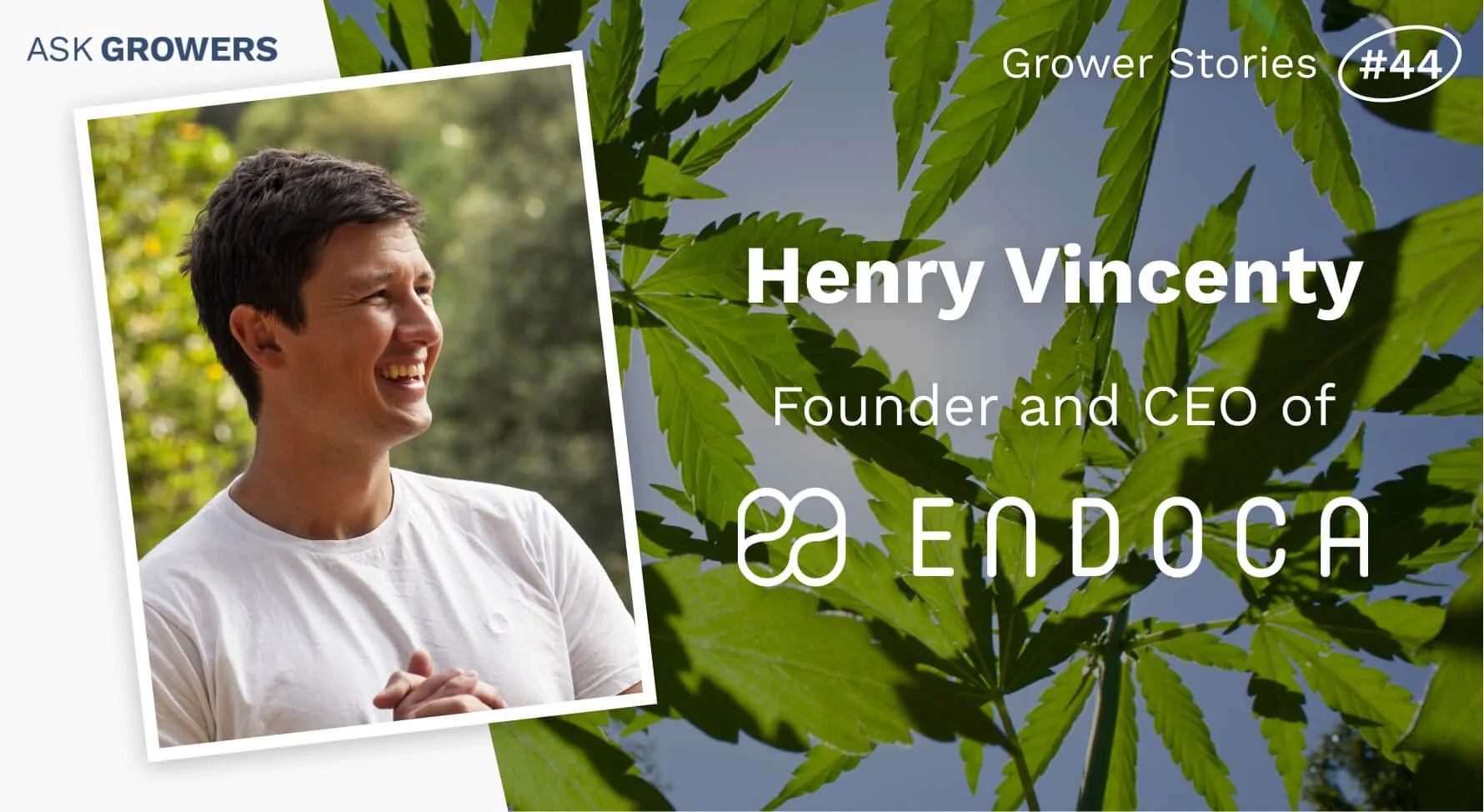 The OG's of CBD: An Interview With Endoca, One of the World's First Online CBD Companies
It all really began when I was still in Denmark and studying genetics, however, it wasn't until all the pro-cannabis medicine demonstrations in the U.S. did I really start to get into cannabis research. This really opened up a keyhole into my mind and the possibilities of this plant as a medicine.
---
Tia (AskGrowers) :
Tell us your brand story. How it all started?
Henry Vincenty : I'd started researching cannabis as a medicine, and found studies dating back to the '80s about specific cannabinoid therapies for epilepsy which really piqued my interest. After that, I began my own hands-on research; growing and breeding different cannabis - or what you'd call hemp strains with legal THC limits. This I refined and then gave out for free to those who wanted to try natural medicine. These people had a great range of different maladies and therapeutic needs, but it was with these hemp extracts that I was able to provide positive results across the board. After a time, I began charging for the extracts, at least to those who could afford to purchase it and from that, Endoca was created.
---
Tia :
What brought you into the CBD? When have you realized you want to work in this industry?
Henry : When I saw the damage that western medicine can do to people, I realized there was a need to change the way we treat our bodies, from the food that we eat to the environment that we're in. At the same time, I recognized that there needed to be an alternative to modern pharmaceutical medications, whose side effects are quite often even more severe than the illness it's supposed to aid. I decided to help change the world's perspective on cannabis by making non-psychoactive cannabinoids available online and disrupt the debate. In 2010 planted 2 hectares of hemp and built a small high tech lab, which would provide the highest quality product ensuring patient safety.
---
Tia :
What is the ultimate goal of the company?
Henry : We want everyone in the world to have easy access to cannabis based medicine. Our goal is to make CBD common-place in all homes in the world by 2030. We have much work to do, but we're confident that this plant speaks for itself. It has already shown time and time again its potential to not only disrupt the medical and pharmaceutical industries, but also agricultural, textile, fuel, and many others while showing great prospects as a viable resource for rebalancing our fragile ecology.
---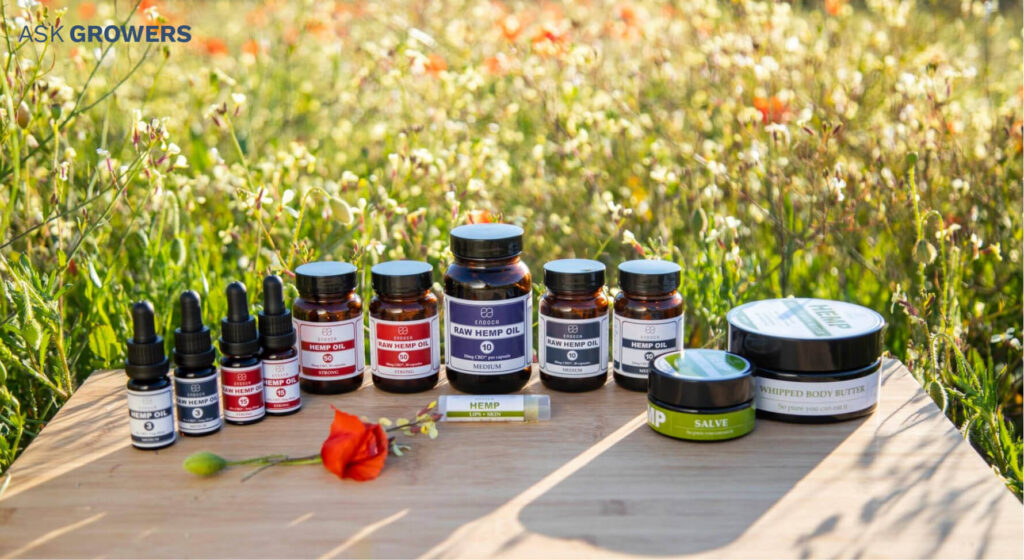 ---
Tia :
Do you produce everything from the seed to sale on your own or do you work with 3rd party vendors?
Henry : We feel it necessary to have complete control of the process in order to ensure that what our customers are receiving are the best extracts possible using current technologies. For that reason we breed, plant, grow, harvest, dry, extract, and bottle in our own laboratories, testing at every single step to ensure that the products we produce are the absolute epitome of the highest quality extracts possible.
---
Tia :
How do you think your products are different from similar cannabis extracts on the market?
Henry : We are one of the very few, if not only, companies that began their journey creating extracts for those who really needed it most. Business was certainly not our sole motivator. Rather the focus was on how we might obtain better health for our community, and do this with natural medicine, rather than pharmaceuticals.
This experience in our clinic gave us a far more first-hand understanding of just how our products interact with our bodies, and which of our extracts were received best by our clients. With that knowledge, we launched our full spectrum, supercritical CO2 extracts. Being quality focussed since our naissance, this placed us in the position of having years, if not decades, more experience refining our products and expertizing our processes.
---
Tia :
Share with us more details about your CBD Oil. What are the specifics of particularly your CBD Oil?
Henry : We focus on full-spectrum extracts, meaning our products contain a wide range of cannabinoids, terpenes, flavonoids, and other cannabis compounds found naturally in the cannabis plant. We believe that with cannabis, and most other plant medicines, your body needs the culmination of its components, rather than one specific compound or chemical. This is what is also known as the entourage effect, meaning that from our perspective whole-plant cannabis containing all of its components is greater than the sum of its parts. While we now produce high-quality isolate products, knowing some people need CBD only options, we have placed much of our focus on creating CBD oil that is made up of all the components of the hemp plant, as you would find it in its natural environment - even so far as to use hemp seed oil as our carrier oil. It's 100 percent hemp and nothing else!
---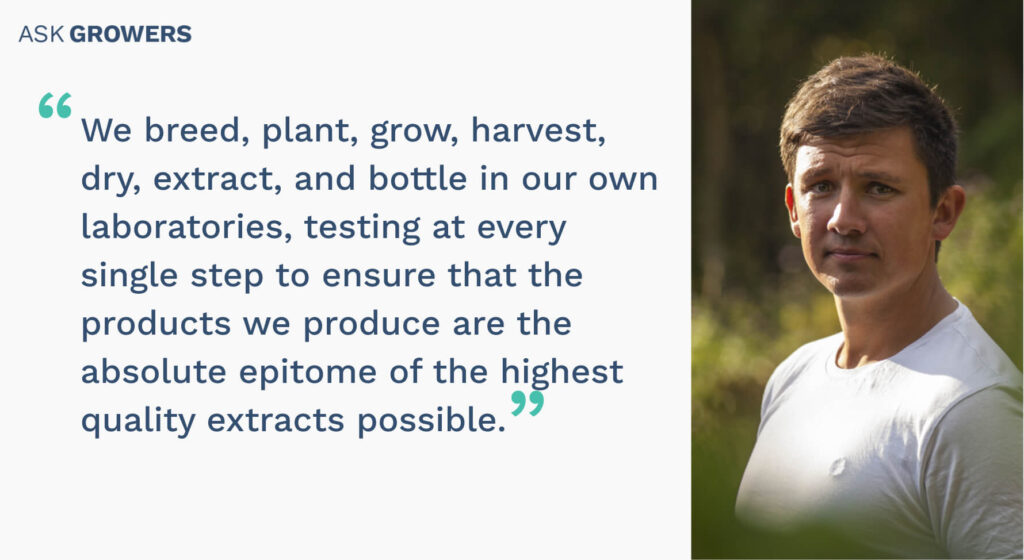 ---
Tia :
What is your view on nutrients/ chemicals used in growing and extraction? Do you believe there are the ones that should be avoided and which some cultivators are using in order to cut costs/ harvest time, but should be avoided in order to achieve a healthy and balanced product?
Henry : We strongly believe in nature knowing best, so we always go natural, always organic, and never introduce contaminants into the mix. When it comes to cutting costs or time, in the end, someone is always paying for it. Whether it's the quality of the products that are diminished and therefore the customers who pay the price with lower quality products, or the company itself when ensuring they're following organic and high-quality practices with their processes. In our case, we prefer to do the work and pay the price on our end, putting high quality above all else, rather than allowing the cannabis plant to be destroyed by placing profitability over quality and integrity.
---
Tia :
Has CBD been your primary focus since the beginning? If not, what prompted the move into the cannabis space?
Henry : CBD was a small part of it. Cannabis as a whole has always been the main focus. While CBD has been a key player, we've been researching different cannabinoids from the beginning, by experimenting with selective breeding for strains with higher instances of other cannabinoids. As I mentioned before, CBD isn't the sole player on the field, rather an important frontrunner within a team of other worthy players. Without the one, you can't have the others. We've stuck with CBD and CBDa (for the moment) as they are amongst the very few cannabinoids regulated and known of. In saying that, you'll notice many are starting to branch out with products containing higher degrees of other cannabinoids such as CGB, CBN, CBC, and 100 + more, which are well worth looking into.
---
Tia :
How has your brand's business model changed with time?
Henry : As we started on the right foot, we have generally followed the same model throughout, bringing the consumer to the front and ensuring that all of our creations are derived directly from their needs. That, and the expertise we could bring to the table was always at the center of our business model, and so we have adapted this as technologies have continued to improve, and as our customers have become more conscious of CBD and voicing their needs.
---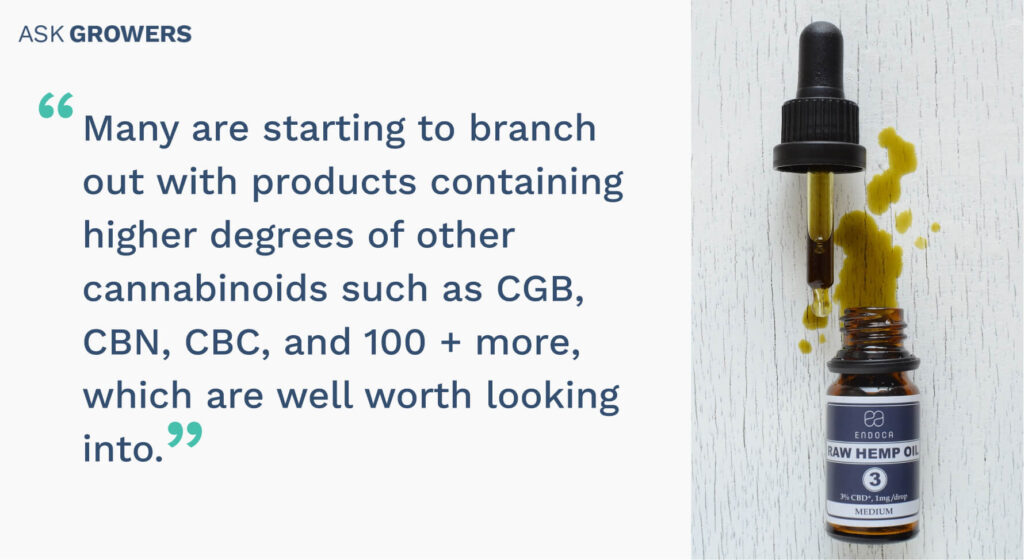 ---
Tia :
Do you plan to implement a new production line in the future?
Henry : Our product lines have stayed fairly close to how they were at the beginning. However, we have been developing new, more refined products which we've incrementally introduced into our line. We've also begun focusing on CB2 receptors (in the outer organs and specifically the skin), creating products for topical administration, and we're loving the result. Our new Face & Body oil has been a huge hit, containing 300mg of CBD. It's a perfect mix of hydrating oils, antioxidants and CBD which lock in moisture and help to keep your skin healthy for every season. We've also just recently created a completely natural, chemical-free CBD deodorant to care for the sensitive area of your underarms. We're hearing more and more positive feedback, which is a good sign we're on the right track.
---
Tia :
If you could change one thing in the cannabis industry what would that be and why?
Henry : The crippling regulations on hemp and cannabis-derived cannabinoids. While it's important to implement regulations in order to ensure a high level of quality, people continue to suffer because legislation lags, stunted by the stigma that was created 100 years ago to snuff out the cannabis industry, in order for the cotton industry to profit. It's beyond frustrating knowing that there are decades worth of research on cannabis and cannabinoids, and yet we're still fighting against a taboo that has had dire effects on the proliferation of, and further research into, cannabinoid medicine and therapies.
---
You can follow Endoca at:
Facebook: https://www.facebook.com/endoca
Twitter: @EndocaCBDoil
Instagram: @endoca
LinkedIn: https://www.linkedin.com/company/endoca/
---
Thank you so much, Endoca, for taking the time to do the interview. To learn more about them, head on over to their website.