Vaping CBD vs Nicotine: Understanding the Key Differences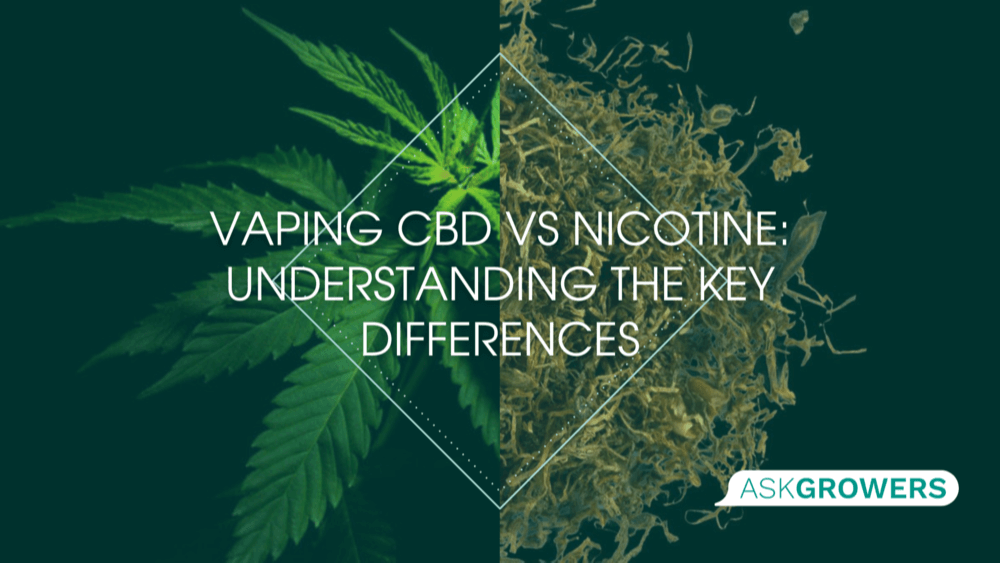 Vapes are one of the most popular ways to consume nicotine and cannabidiol (CBD). They have grown in popularity over the last few years thanks to their ease of use and fast absorption rate. In the case of cannabidiol, vapes are a perfect option for fast and delicious relief as they are usually available in different flavors and come in a portable travel-friendly size.
Vaping is also simple and tasty when it comes to nicotine products. With the growing popularity of this consumption method, the market offers a vast range of options for every taste. CBD vapes are considered to be beneficial for health and overall wellness, reducing stress, improving concentration, and promoting healthy sleep when combined with other natural ingredients.
While vaping cannabidiol has its risks and cautions, vaping nicotine doesn't actually have any reported benefits for health. Anecdotal evidence suggests that vaping nicotine can be more dangerous for health than regular smoking, yet there is no scientific evidence yet. Let's explore the key difference between vape CBD vs nicotine, their effects, and their uses.
CBD Vape | Definition, Composition & Uses
Before moving to the definition of cannabidiol vape, let's first explore how CBD works with the body when inhaled. Cannabidiol is a chemical extracted from the cannabis sativa plant. Hemp contains more than 80 chemicals called cannabinoids, and cannabidiol is one of the most popular ones. It is safe, non-additive, and beneficial to health and wellness, according to anecdotal evidence.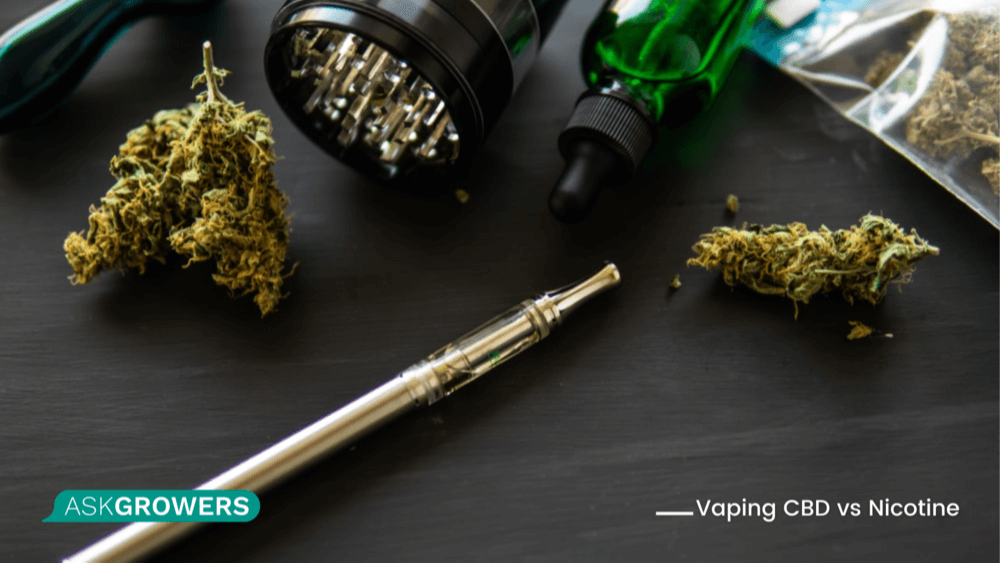 CBD vape oil is made using cannabidiol (full-spectrum, guard-spectrum, or cannabidiol isolate) and other compounds that differ from manufacturer to manufacturer. A vape CBD juice is often made using cannabidiol isolate, so it is completely free from psychoactive THC.
A CBD vape pen is a pen-shaped device filled with cannabidiol vape oil. It can come with a natural hemp flavor and with other flavors like fruits and berries. Users can choose from two types of cannabidiol vape pens: disposable and refillable. Disposable ones come pre-filled with vape juice. The cartridge is the key part of the vape pen since it contains the oil. The pen also has a mouthpiece that users use to inhale. The bottom part of a vape pen is the battery.
Effects & Cautions of CBD Vaping for Health
Cannabidiol[1], as a natural cannabinoid, works with our endocannabinoid system located throughout the body. Once inhaled, active compounds quickly enter the body via blood vessels in the lungs and bind to endocannabinoid receptors.
Researchers believe that CBD vape oil effects are soothing and stress-relieving. When combined with other ingredients, it can also help improve concentration or improve sleep quality, reducing tension in the body.
There is small medical research on using cannabidiol for health, but anecdotal evidence suggests that the benefits of cannabidiol vape pens include reduced stress, better sleep, and improved overall wellness. It is also essential to buy online premium quality vape pens and CBD vape oils since manufacturers may use harsh compounds that can damage health in the long term and even cause lung diseases. It is also best to consult a healthcare provider before consuming cannabidiol.
3 Best Cannabidiol Vape Pens in 2023
As it can be hard to choose a quality product without knowing the technical elements to watch for, below we've collected the best cannabidiol vapes from AskGrower's Experts. All these products contain only high-quality ingredients and are safe for consumption. They have also been tested by a third-party lab to ensure cannabidiol content.
Nicotine Vape | Definition & Composition
Nicotine vape pens, also known as e-cigarettes or JUULs, are the same pens as cannabidiol but filled with nicotine. They use a battery to heat up a nicotine liquid into an aerosol that smokers inhale. Nicotine oil is made from tobacco and is usually filled with a range of harsh compounds like propylene glycol, flavorings, and other artificial additives. When the oil heats up, users inhale both nicotine and toxic chemicals that are formed[2].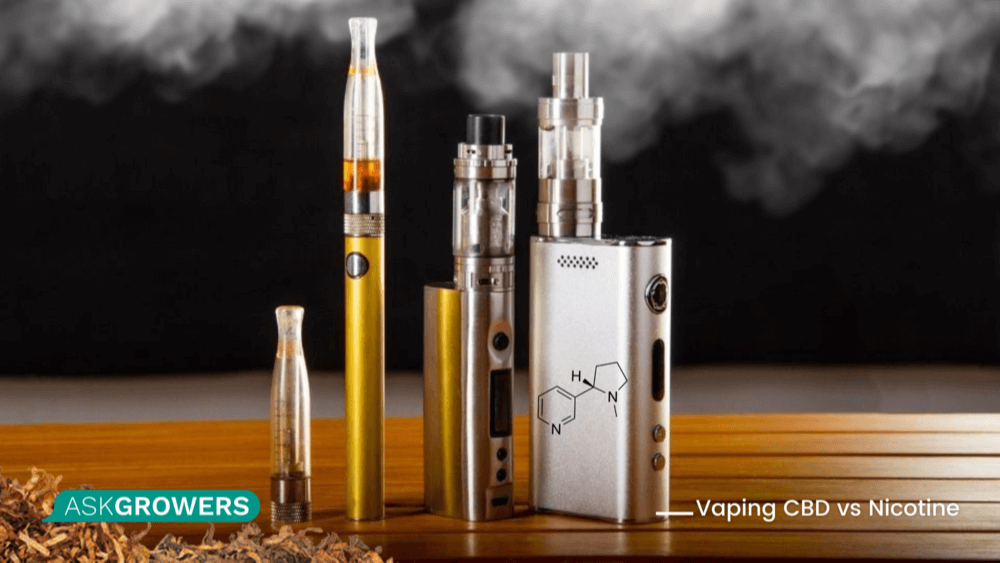 Since the Food and Drug Administration (FDA) has not started to explore the working mechanism and effects of vape pens with nicotine or its ingredients, and since there are no standards for manufacturing them in a safe way, the composition of the e-cigarette and the effect it has to offer vary.
Effects & Cautions of Nicotine Vaping for Health
Even though some people claim that a nicotine vape cartridge helps them relax and reduce stress, there are no documented health benefits of nicotine vaping (or smoking). In addition to damaging your lungs, nicotine and other substances often used in the e-liquid can hurt your heart and brain[3].
In addition, nicotine is highly addictive. It causes brain damage, so users want more and more to consume. Even e-liquids that claim to be free from nicotine usually have small amounts of this compound, causing addiction.
Key Differences Between Vaping CBD vs Nicotine
The main differences between vaping nicotine vs CBD are the way they work with the body, their purposes, their ingredients, and their effects. Nicotine vape oil is used in vaping devices and usually contains nicotine, propylene glycol, and vegetable glycerin. In contrast, cannabidiol vape oil is made from hemp extract with other natural ingredients, like MCT oil and fruit juices, for flavors. Vape oil is consumed to achieve effects from nicotine, while a cannabidiol vape pen is used for its potential health and wellness benefits[4].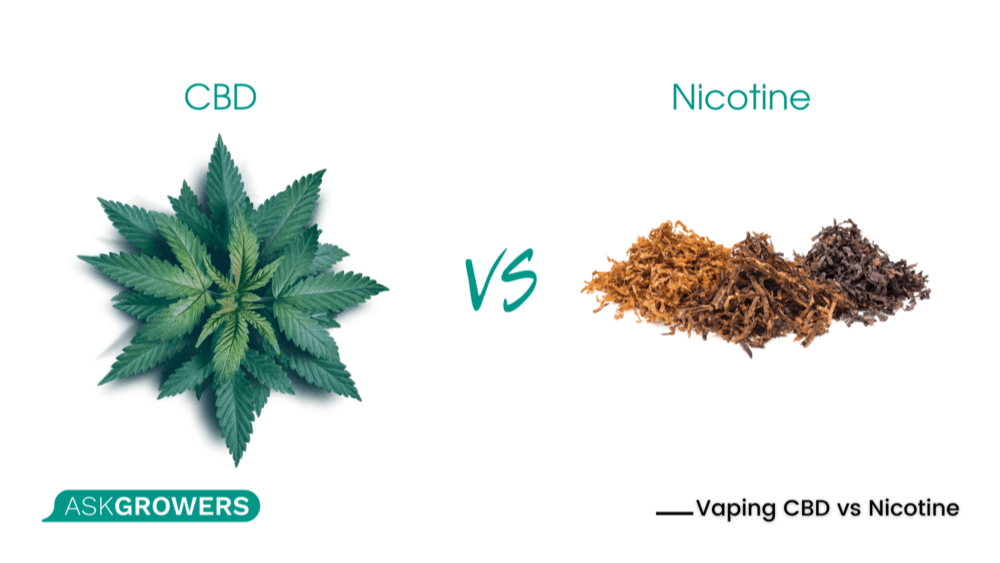 CBD vape oil doesn't contain nicotine (unless you look for this specific product). Nicotine vape oil has damaging effects on users' health and causes addiction[5]. Cannabidiol vape oil is made from natural ingredients, contains only safe cannabinoids (is usually free from THC), is manufactured according to strict health standards, and does not produce any kind of addictive effects.
| Feature | Nicotine vape oil | CBD vape oil |
| --- | --- | --- |
| Main purpose | Nicotine-like effect | Health and wellness benefits |
| Presence of nicotine | Yes | No |
| Ability to cause an addiction | Yes | No |
| Presence of harsh ingredients | Yes | No, if buying a high-quality vape juice |
| Available In different flavors | Yes | Yes |
| Ability to damage health | Many documented cases | No documented cases yet |
Conclusion
With the growing popularity of vaping, users can now find various products that differ in ingredients, health effects, and main uses. This causes confusion about the differing effects there are when vaping nicotine vs. CBD.
CBD vape oils are considered to help smokers relax and unwind without causing addiction or any psychoactive feelings. A nicotine vape pen is used for the nicotine-like effect and causes addiction with no reported health benefits. It is vital to choose only quality cannabidiol vape pens and to consult a healthcare provider before using, as the body needs time to adjust to the product.
Resources
Full guide on cannabidiol and hemp oil https://pubmed.ncbi.nlm.nih.gov/31447137/

Research on e-cigarette toxicology https://www.ncbi.nlm.nih.gov/pmc/articles/PMC9386787/

Nicotine effect on health (brain, lungs, and heart) https://pubmed.ncbi.nlm.nih.gov/32515030/

Research on CBD benefits for health (real-life cases) https://www.ncbi.nlm.nih.gov/pmc/articles/PMC8223341/

Research on nicotine addiction https://nida.nih.gov/publications/research-reports/tobacco-nicotine-e-cigarettes/nicotine-addictive
FAQ
It isn't a good idea to combine cannabidiol and nicotine vape since this has a detrimental effect both on the cannabidiol and nicotine while also potentially causing health issues.
Yes, cannabidiol is a safe, non-addictive, and potentially beneficial compound. Nicotine is addictive and damages health in the long term.
Yes, vape pen nicotine is legal almost everywhere. Cannabidiol is a compound from hemp that is not legalized everywhere yet. It is best to always explore the laws regarding cannabidiol in your country before buying it.
Thanks to cannabidiol's soothing effects, users can successfully use cannabidiol vape pods to quit smoking. It won't replace the effect of nicotine, but it will help to trick the brain and help reduce stress from quitting nicotine.