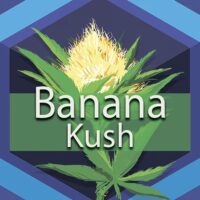 Indica
Breeder: Crockett Family Farms
THC Dominant
Side Effects
Paranoia, Thirst and dry mouth, Hunger, Drowsiness
Grow Info
Flowering time: 49-63 Days
Harvest time: 69-76 Days
Yield indoor: 1-2 oz/ft2
Yield outdoor: 2-4 oz/ft2
Height indoor: 30-60 Inches
Height outdoor: 30-60 Inches
Grow difficulty: Moderate
Flowering type: Photoperiod
All About Banana Kush Cannabis Strain
Banana Kush is a unique strain that offers you a rather peculiar combination of effects that are common for Indica. Banana Kush strain breeder history starts on the West Coast where the cultivars came up with an idea to combine two legendary Ghost OG hybrid and the Skunk Haze hybrid strains into one.
Banana Kush is a rather popular weed, especially on the West Coast. Smokers love it for its amazing flavors and a rich potency of 23-25%.
Tastes and Smells
Peculiar as it gets, this weed really smells of bananas and herbs, which is an unlikely combination that has given this weed its iconic name and popularity. You might also notice a bit of citrusy smell in there, but the herbal and banana note totally dominates here.
Banana Kush Common Effects
Those who have tried this strain report such a variety of effects:
Medical Applications
This weed is a great pain killer, a great remedy for such conditions as:
This marijuana calms you down, lifts you up just a bit, improves your mood, creates this sense of serenity, and even helps you sleep better.
The only downside of this weed, which is common for all strains of cannabis you'll come across is dryness in your mouth, which can be totally solved by just having something to drink by your side.
Grow Info
The difficulty of growing this strain is moderate, according to breeders. It harvests after around 70 days and brings the indoor yield of 1-2 oz/ft2 and yield outdoor of 2-4 oz/ft2.
FAQ
What are the benefits of banana kush?
Banana kush is known to be beneficial in inducing feelings of euphoria, happiness, and calmness. It can soothe your senses almost instantly, helping with sleep disorders. Banana kush also sharpens focus and concentration after a dose.
What is the lineage of banana kush strain?
The lineage of the banana kush strain is a combination of the Ghost OG hybrid and the Skunk haze hybrid. 
Banana Kush Photos