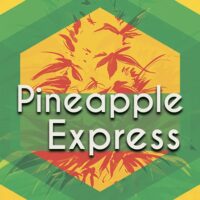 Hybrid (Indica: 20 / Sativa: 70 / Ruderalis: 10)
THC Dominant
Breeder: G13 Labs
Side Effects
Fatigue, Nausea, Dry eyes, Insomnia, Thirst and dry mouth
Taste
Pineapple, Tropical, Citrus, Earthy, Pine
Grow Info
Flowering time: 56-65 Days
Harvest time: 70-77 Days
Yield indoor: 2-4 oz/ft2
Yield outdoor: 4-6 oz/ft2
Height indoor: 60-80 Inches
Height outdoor: 60-80 Inches
Grow difficulty: Difficult
Flowering type: Photoperiod
Pineapple Express Strain – Effects, Aroma, and More
One of the most popular strains on the market today is the Pineapple Express. If you want to learn more about this strain you're in the right place. Here, we will give you a much better insight into the origins, development, effects, and benefits of Pineapple Express.
Pineapple Express Strain Origin
While the Pineapple Express became immensely popular after the release of the movie by the same name, it's been around for much longer than the movie. The exact origins are a bit hard to trace as there is no specific data on where it first appeared. Some say that it's been popular in the Netherlands long before the movie came out while some of the cast members of the movie claim that the strain was tailor-made for the movie. The exact age of the Pineapple Express strain is unclear but that's not a very relevant fact. Because there's a movie by this very same name where actors smoke it, a lot of people aren't asking "is Pineapple Express a real strain"? We're here to let you know that it really is and here are a few specifics:
How was the Pineapple Express strain developed?
The Pineapple Express strain parents are the Trainwreck and the Hawaiian weed and it was developed by crossing these two powerful hybrids.
The lineage of the Pineapple Express cannabis strain genetics:
Trainwreck x Hawaiian
Pineapple Express Strain Effects
Regardless of the events that happened in the movie and how crazy they made out this strain to be, the Pineapple Express effects aren't as strong as presented in the film. The Pineapple Express strain THC level is quite high at 25% and the CBD content is only 1%.
The effects are unlike in the movie – you will feel uplifted and happy, your creativity will increase, and you'll feel euphoric.
Medical Appointments Of The Pineapple Express
Most people that reported back about the medical benefits of the Pineapple Express appeared to have their issues with clinical depression that was reduced after they smoked Pineapple Express. The uplifting and energizing effects really helped them battle their condition. The strain is known by its ability to get people motivated to get up, get out and do things that they wouldn't otherwise do because of their depression.
It also elevates the spirit of the smoker that also calms the mind inducing a positive way of thinking. Aside from depression, individuals report that this weed helped them with other issues such as anxiety and PTSD which means it's also great for your mental health. However, before you decide to take a lot of this drug, keep in mind that it's THC content is quite high so make sure you're not consuming too much and find out the right quantity that your body can take.
While great for dealing with mental health issues, as we mentioned before, the Pineapple Express is also great when you're suffering from chronic pain or any sort of pain for that matter. If the reason for turning to this plant is pain relief, then you'll need a higher dose to feel the full effects of its pain-relieving properties.
Negatives Of The Pineapple Express Strain
Just like all other strains, this one also has a few negative effects that might bother some people, although because it's not too potent, the side effects are quite mild. Based on the reports of many consumers, the most common side effect is a dry mouth with 29% of consumers reporting having that feeling. The second is dry eyes at 15% of the consumers reporting that issue, while only 6% reported feeling dizzy and just 6% of users who reported back said they felt paranoid with the last being anxious at 4%. Dry mouth and dry eyes being the highest two occurring negative effects aren't too alarming especially because the negative effects were mild and that's nothing to be afraid of, so it's safe to say that the positive effects are far greater than the negatives in this case.
Reasons For Choosing The Pineapple Express Strain
If you're looking for a Sativa hybrid with high THC, then you're definitely in need of this plant right here. It will be especially tailor-made for you if you're looking to uplift your mood and increase your happiness while feeling euphoric and creative. This strain is great for those looking to battle their depression issues as well as those suffering from anxiety and other mental health problems.
The benefits of this plant are many but some other reasons that you can take into consideration about this plant are:
Pineapple Express strain appearances
When looking at some Pineapple Express strain pictures, you can notice that the plant is very pleasant to look at as it looks very fancy due to the orange and yellow strains of hair with a lot of trichomes. It's nugs are light green with a bit of orange mixed in them.
Smell and aroma
Smells a bit like sweet citrus mixed with some tropical fruit such as pineapple while the aroma it gives is earthy, piney, sweet and kind of like pineapple.
Flavor
It has a nice fruity cocktail flavor with kind of a pine aftertaste. It's basically tropical, sweet and sour at the same time tipping over to some mango-citrus like taste mixed with pineapple.
Qualities
Considering what people have reported, this plant was able to help them with conditions like chronic depression, anxiety, PTSD, chronic pain, and other mental health issues.
Who Should Choose The Pineapple Express Strain?
A lot of consumers said that this plant helped them battle chronic conditions so it would be of utmost benefit to those that are suffering from depression, PTSD, anxiety, conditions related to pain such as migraines and headaches.
Even if you're not suffering from anything, you might want to take it because of the amazing feelings of happiness and euphoria it provides mixed with a burst of creative thinking.
Growers Thoughts
Growers love this particular strain because of the great harvest it offers, although it's pretty easy to take care of because it's very tough against fluctuations in temperature and pests. Even as a beginner, it's not too challenging if you have the right equipment and a place to grow it outside as it will yield much more buds there. Pineapple Express strain seeds aren't too hard to find and it's best if you grow it in the fall. While the Pineapple Express strain flowering time isn't too fast, the yield almost always is great with very big buds that you can be extremely proud of. It's definitely one of the better and easier strains to take on especially if you're not an expert in the field.
How Popular Is It Among Growers?
The strain gained popularity among growers, mostly after the release of the film even though it was around before it as well. Since the movie was released, the demand for the strain became insanely high and to satisfy that demand, growers turned to grow the Pineapple Express.
How To Grow It Yourself?
Pineapple Express is considered to be of medium difficulty to grow, so it would be a challenge if you're just starting out but if you read up on some literature and get the right tools, you should get around. The climate this plant needs in order to thrive is a warm one with a lot of light and if you decide to grow it inside you'll need a good ventilation system.
Depending on the place you decide to grow this plant, the Pineapple Express strain yield will be between 18oz per 1 square meter when grown inside and as much as 19oz per one plant when grown outside.
The expected flowering time of this plant is between 7 and 9 weeks and the expected harvest for outside growing is somewhere in the middle of October.
Can It Be Used In Cooking?
Pineapple Express can be used to make all sorts of edibles while cooking such as candies, resins and shatters, which will provide a higher and more concentrated dose which isn't recommended if you're suffering from any mental health issues but it's great if you are looking for chronic pain relief.
If you decide to cook using this strain for cooking, make sure that you don't use too much, especially if you have mental health issues like PTSD because too much of it may worsen your problem.
Related And Alternative Strains
Pineapple Express weed strain is related to the strains it's created from, Trainwreck and Hawaiian and it has a few similar properties but its effects are definitely unique and the high it produces is also one of a kind, which is the reason it has its own name. Some alternative strains that offer a similar type of feeling and experience are: Sour Diesel, Lemon Skunk, Acapulco Gold, Candyland, Amnesia Haze Pineapple Trainwreck, Freedom Express, Midnight Express and so on.
Summary
The Pineapple Express skyrocketed in popularity when the movie by the same name hit the movie theaters and it's been widely available and demanded ever since. Even though it was popularized by the movie, the strain is believed to exist long before the movie was made and it's a strong strain with high levels of THC that can take beginners by surprise if they aren't careful with the dosage.
The Pineapple Express is known mostly for its ability to help people with clinical depression, anxiety and PTSD, although it's quite good for all mental health disorders as well. In higher doses, it also helps with chronic pain and relieves users from migraines, headaches and other types of pain.
The cost is relatively cheap at $10-$15 per 1 gram and it's easy to find due to the immense popularity in states where it's legal. It's moderately difficult to grow, especially inside, but it's worth the trouble because it yields a great harvest, especially if it's grown outside. It's very resistant to temperature changes and pests and with proper care, it flowers in about 8-10 weeks.
FAQ
How does Pineapple Express make you feel?
It gives out a nice buzz that is mild and numbs your body quite nicely with feelings of happiness and euphoria.
What kind of strain is Pineapple Express?
It's a hybrid strain that was developed by crossing the Trainwreck and the Hawaiian weed.
What is Pineapple Express good for?
Pineapple Express is good for chronic depression, anxiety, PTSD and other mental disorders and conditions.