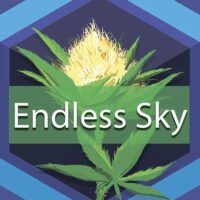 Side Effects
Insomnia, Drowsiness
Grow Info
Flowering time: 74-85 Days
Harvest time: 92-99 Days
Yield indoor: 2-4 oz/ft2
Yield outdoor: 2-4 oz/ft2
Height indoor: 60-80 Inches
Height outdoor: 60-80 Inches
Grow difficulty: Difficult
Flowering type: Photoperiod
All About Endless Sky Strain
This Indica Strain is a bred of Grenadine and an Iranian landrace. Endless Sky has a THC content average of 22%.
The strain has a pungent sweet smell, when broken has a strong fruity scent of blueberry. The terpene found in this strain is linalool.
Endless Sky marijuana leaves a spacey dreamy experience that's why it is recommended for nighttime use. This bud high gets in slowly leaving a euphoric feeling and igniting happiness. Extreme cases of insomnia, muscle spasms, chronic pain and cramping are some of the conditions the Endless Sky can help to relief. When taken in smaller doses it can treat stress and anxiety. The plant is suitable for both indoors and outdoors growing. The flowering time is between 42-50 days and does well in hydroponics.
Endless Sky Photos