Grower Stories #139: James Orpeza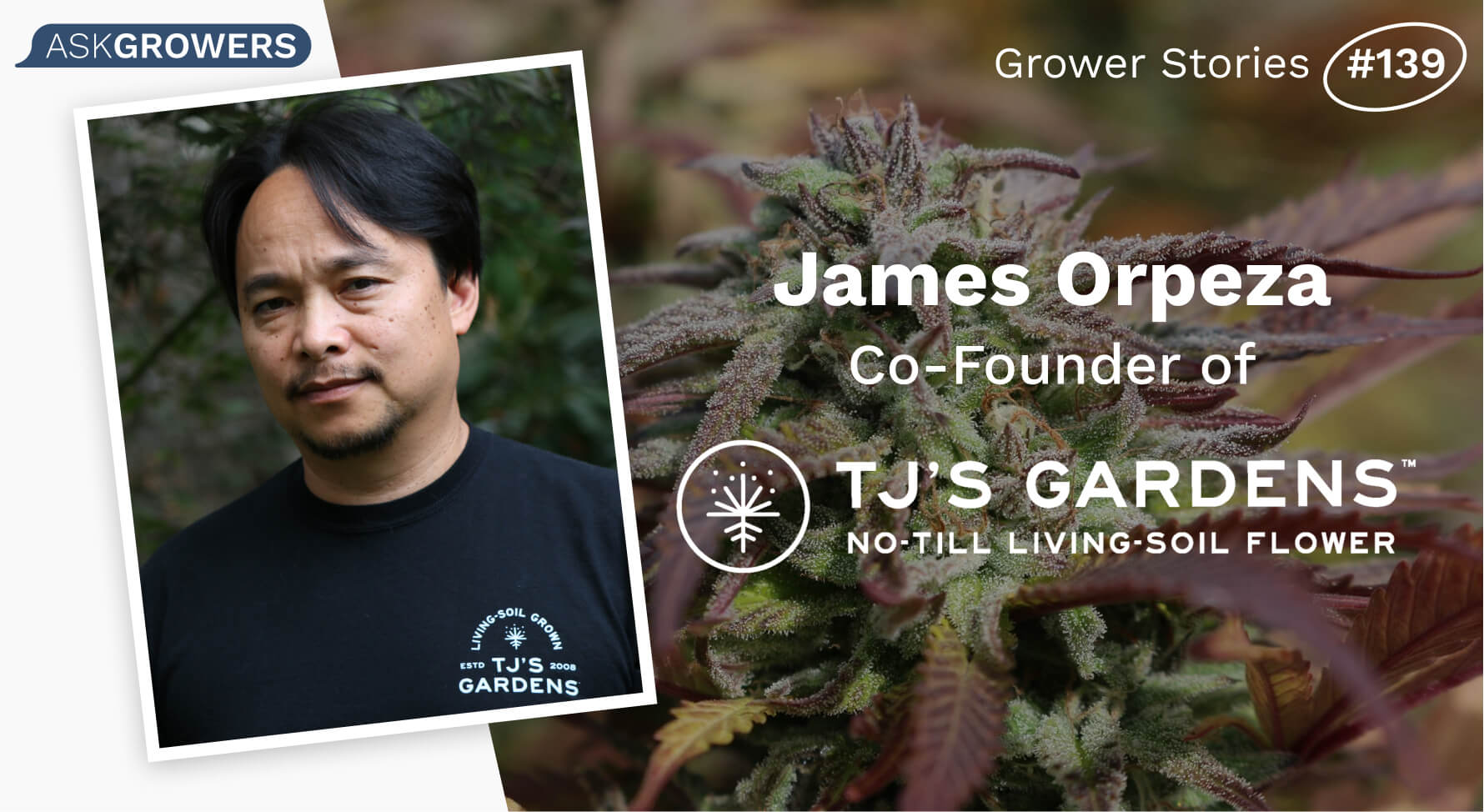 TJ's Gardens Is a Leader in Both Recreational and Medicinal Cannabis
The AskGrowers team had a chat with James from TJ's Gardens about the brand's history and a lot more. James talks about how the brand was born out of a need to utilize cannabis medically to help patients and how the company grew to become a part of the recreational industry as well. He also talks about how the company grows sustainably and also sheds light on the Forrest Initiative that helps patients suffering from epilepsy. He also mentions his favorite strains to smoke and a long list of people he'd love to smoke with at least once. #growerstories
---
I'm James, the "J" in TJ's! I oversee all grow operations that include 7 recreational and 2 hemp sites, and 4 brands. Father to one, only son to parents that immigrated from the Philippines. Dad got to the states by serving in the U.S. Navy during the Vietnam War, Mom came here on an accounting scholarship with intentions to make a better life for her and for the fam at home. Unknowingly learned to grow at an early age organically from pops. Started my first cannabis plants at 14 and have been growing ever since! Spending time with my family, my son, and close friends (and my animals) is the most important to me. Hobbies include music (especially live!), camping/hiking/backpacking, snowboarding, disc-golfing, jiu-jitsu.
---
Tia (AskGrowers) :
Tell us how you started TJ's Gardens?
James Orpeza : TBH, it was being involved in growing for medical patients as well as a certain time in the cannabis legalization movement.
Travis (The "T" in TJ's and the smarter one!) started growing cannabis in 2008 for medicine to help his wife, Cham. I had been growing for a few medical patients and had been offering design and consulting services with several other medical grows in the area. Through our experiences growing for other cannabis patients, we had the common realization that we were part of something special. We were growing real medicine for true medical patients. We also realized we were enjoying growing cannabis much more than our present jobs as the vibe was much more positive and healing, and a heck of a lot more exciting!
When we met, we had these things in common so forming a partnership became natural. We knew that recreational cannabis was around the corner and so we began to prepare for the day it became legal. I eventually moved to Washington as recreational laws were approved there before Oregon. From there, we made a name for ourselves in the medical and recreational realm and had amassed several growing awards along the way, including multiple High Times and several Dope Cup awards. Travis started preparing in Oregon and eventually the recreational market started, and we were in the position to be one of the first grow operations and dispensaries to come online. Travis (and his team) became the face of our retail operations in the early days, and really a major reason why it became successful fast. Fast forward to today and now we've grown to over 100 employees with multiple recreational and hemp grow sites across a few states. This also includes processing, extraction, commercial kitchens, wholesale distribution, and 3 retail stores in Oregon!
---
Tia :
How does your brand differ from others similar to yours?
James : That's a tough question as there are so many great companies and brands. But let's start with the employees; our employees are the heartbeat and strength of our company. They are a big part of our success and there would be no TJ's without them! We have so many talented individuals and we try to bring the best out of them and create a space for them to flourish; in turn, it makes us better as a whole! We were the first recreational company in the PNW to grow no-till/living soil at a commercial scale, starting in 2015. We have strived at being a sustainable company and aim to keep our negative impact on the environment to a minimum. The goal is to produce the highest quality organic flower available. We implement methods within the grow areas (and all other departments) to help offset our carbon footprint.
This starts with our Regenerative no-till/living soil. Over time, living soils become healthier with more usage and require fewer fertilizers, resulting in some of the highest organic quality cannabis. Because we reuse our soil, we do not produce any soil waste. We literally harvest the plants, refortify the soil, and plant again, sometimes on the same day! We have little to no water runoff to conserve precious resources. We also capture and reuse all our A/C and dehumidifier water to be reused in the gardens. We do not use any synthetics or salt-based bottle products which potentially could contribute to harmful run-off that ends up in our soils and waterways, ultimately harming the microbiology. All plant material that is not used for consumption is returned to the soils, resulting in little to no plant waste.
---
Tia :
Tell us how you make your products? Do you have any specific approaches? What's your best-selling product now?
James : With a whole lotta positive energy, love, and passion! Our products start by thinking from the consumers' standpoint, and we work backward from there. We want to ensure when we make a product, we put ourselves in the consumers' shoes and ask ourselves if this would be a product I would purchase? Why? Why would I want to purchase it again? It's important to us to try and make products that stand out from other offerings.
Our flower has always been our best-selling product. The second would be the variety of tincture offerings. Travis is the wizard/brainchild and the direction behind our extracts department. We produce multiple types of tinctures with several options of CBD/THC ratios. We also produce a great RSO product specifically aimed at medical patients.
---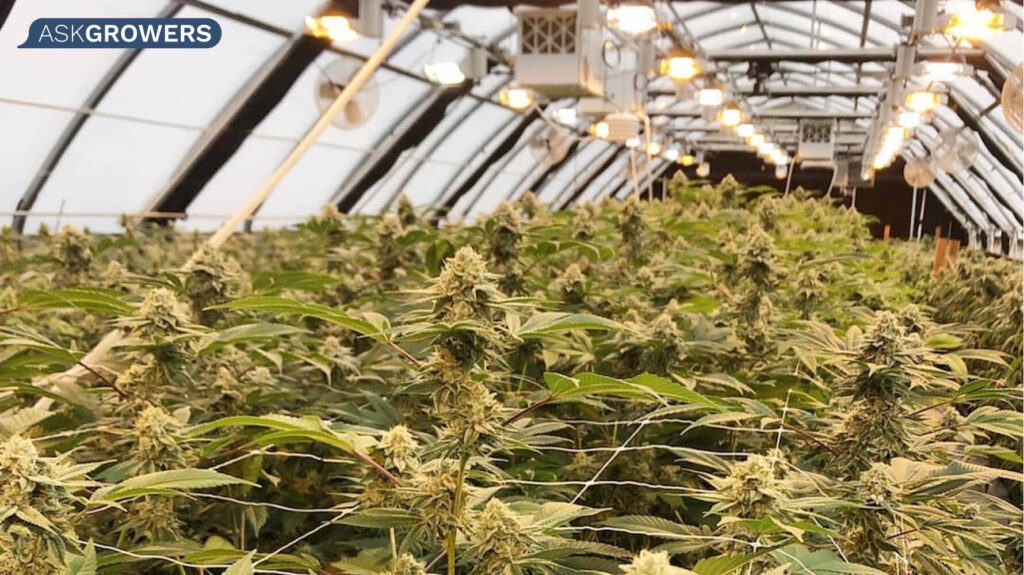 ---
Tia :
On your website, you mention that you provide cannabis to people who suffer from Epilepsy. Why have you decided to make such a move? In what other initiatives do you take part as well?
James : Yes, we started a Non-Profit called the Forrest Initiative. It was aimed at helping families with children who are severely affected by a variety of afflictions, seizures being the majority. Through our tinctures, we provided CBD free of charge to any family who needed the help and was looking for alternative ways than traditional pharmaceuticals which often carried harsh side effects. It started with our first patient "Forrest", and with the help of Tanesha, Forrest's mother, the program has grown to provide CBD to over 150 families. We made the move because it was the right thing to do, and we knew that it did not cost that much (per person) to make. Though the real heroes are the parents/guardians! We are just lucky to be one of the "cogs" in the machine! Again, Travis (and Cham) was a major part of working with and listening to the parents' individual needs.
We are very involved with our local communities and often participate in or organize events that sponsor local foundations, organizations, and businesses that "give back" and may need help at times.
---
Tia :
Where should the consumer keep your pre-rolls to keep them fresh and ready to use?
James : In a secure, cool cabinet away from direct sun and constant changing temps. Or better yet, a sealed jar in the fridge.
---
Tia :
Do you plan to cultivate new strains?
James : Yes, in addition to what we already have in-house in the short-term, we are constantly rotating new varieties in from clone farms like Kaprikorn Clones, as well as pheno-hunting through our genetics inventory.
---
Tia :
What do you think defines the success of the strain?
James : First, it depends on if the cultivar is used for medicinal or recreational benefits.
Recreational success depends on a few factors like a unique high and terpene profiles, and interesting aromas. It also depends on who grows the plants. Great growers can bring out the maximum potential of the given genetics, so users get the full experience. Hype and the breeder behind the genetics can also play a big role in the success of a particular cultivar.
If the plant is used for medicinal reasons, it just comes down to what works for an individual's ailment. And there are certain varieties that have made a name for themselves by offering life-changing results.
---
Tia :
What things should a person pay attention to, when choosing the brand/product?
James : Attention to detail and reputation in the industry. That includes the farm and grow methods, extractors (if applicable), consistency, quality, and strong consumer education.
---
Tia :
What's the highest THC % in your products? Do you think people should thrive for a particularly high THC % in cannabis products?
James : Regarding flowers, we have several varieties that test between 15-27% range on average, with some testing as high as 30+%. No, I don't believe you should look for the highest THC testing unless you are treating a specific medical ailment that requires high dosages of THC, but you could use other products to achieve that. Generally, the best flowers are across all ranges of THC percentages. We have varieties that are on the lower end of THC and stronger-feeling than many others that are higher in percentage. I believe that is because we still do not fully understand the combination of THC/CBD, terpenes, and flavonoids that make the distinguishing highs.
---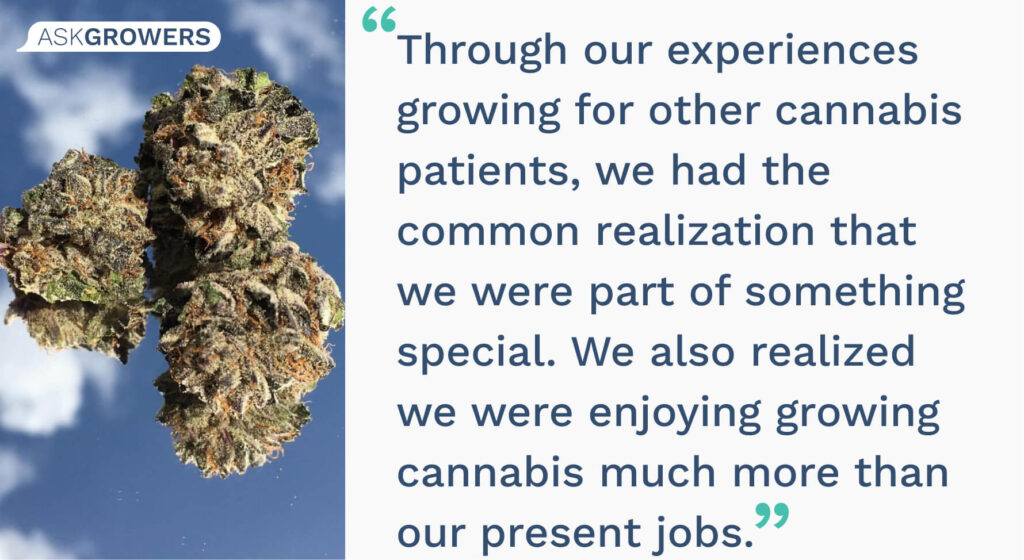 ---
Tia :
What's the easiest strain to grow?
James : I'm going to get a lot of flak for saying this but, Blue Dream. It produces well, is a great medicinal cultivar, and does better than most other plants in regard to handling plant stress and issues caused by human error or grower equipment malfunctions. A great beginner plant!
---
Tia :
How many strains do you grow?
James : We have over 30 cultivars in constant rotation and are constantly adding new types for even more variety.
---
Tia :
Are there any brands in your state you appreciate and follow? And in the USA in general?
James : Absolutely! Flowersmith, Evans Creek, Focus North, Deschutes Growery, Fox Hollow, 7 Points, Tao Gardens, Green Bodhi, and Eugreen.
Among extractors: Happy Cabbage, Echo Electuary, Willamette Valley Alchemy, Funk Extracts, Decibel, and White Label. But there are many more I am forgetting who also deserve a mention.
---
Tia :
What is your personal cannabis consumption routine? Does it affect your work/ life?
James : When I was younger, I would smoke throughout the day, every day. But now, it's all about the right time, the right place. If my day involves meeting with several people, working on important tasks - math of any kind - then no smoking for me.
---
Tia :
Your top strains to smoke? Why?
James : M.T.F. for the win!! It's Sativa and what I prefer about 75% of the time. For me, it's about the quality and uniqueness of the high. It's an upbeat high. Strong clarity, chatty type flower, and really compliments being creative. Take note musicians and artists! Lately, I've also been enjoying Strawberry Guava, Roasted Garlic Margy, Deadhead OG, and most GMO crosses.
---
Tia :
What are the 3 main trends in the cannabis industry in 2021 for you now?
James : Collaborations with other brands/companies play a big role in our product offerings. There are so many great growers and extractors and being able to work with companies that are crushing the game only benefits the consumer. It offers some of the best, often limited, top-notch quality products available on the market. Consolidation is also another trend with bigger and bigger players coming to the cannabis market. Unfortunately, such is the way of the corporate world. It makes it much tougher for smaller companies to survive and continue to compete. It's important to support your local brands!
---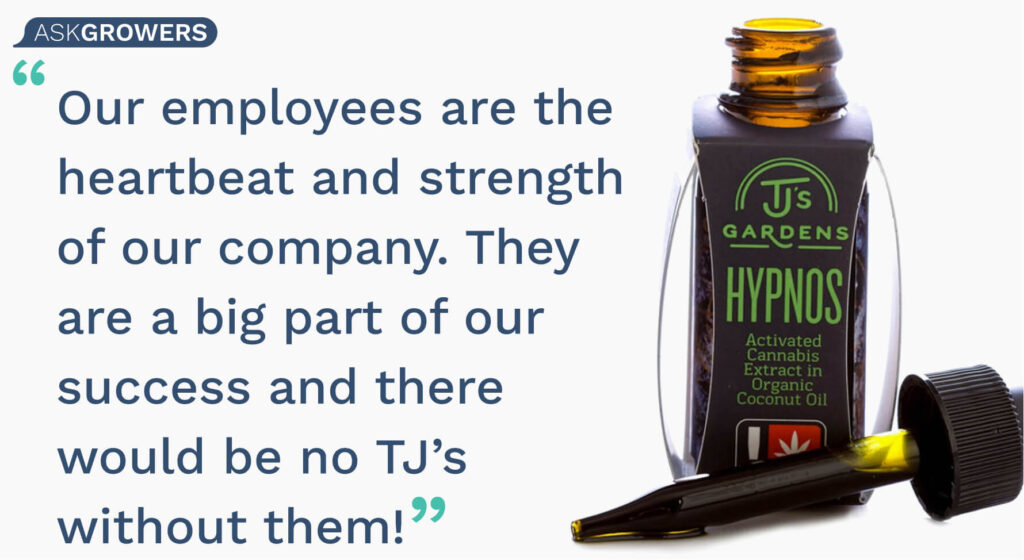 ---
Tia :
If you could have a chance to smoke with anyone on this planet, who'd that be and why?
James : Wow, a really tough question as there are so many brilliant and exciting minds! Cliche, but [tooltip title="Robert Nesta Marley" content="Singer, musician, songwriter and one of the pioneers of reggae."]Bob Marley[/tooltip]. The godfather of reggae and one of the biggest proponents for cannabis. Though I would just chill and let him talk my ear off! [tooltip title="Jerome John Garcia" content="Songwriter and lead guitarist and a vocalist of the rock band the Grateful Dead."]Jerry Garcia[/tooltip], [tooltip title="James Marshall 'Jimi' Hendrix" content="The US musician, singer, songwriter and one of the most influential electric guitarists."]Jimi Hendrix[/tooltip], [tooltip title="William Hugh Nelson" content="American composer, country singer and cannabis activist."]Willie Nelson[/tooltip], [tooltip title="14th Dalai Lama, known as Tenzin Gyatso" content="The spiritual leader of the Tibetan people."]The Dalai Lama (the 14th)[/tooltip], [tooltip title="Rosa Louise McCauley Parks" content="African-American civil rights activist known for her pivotal role in the Montgomery bus boycott."]Rosa Parks[/tooltip], [tooltip title="Susan B. Anthony" content="US social reformer and women's rights activist who was a pioneer crusader for the suffrage movement."]Susan B. Anthony[/tooltip], [tooltip title="Abraham Lincoln" content="Lawyer and statesman who served as the 16th president of the United States."]Abe Lincoln[/tooltip], [tooltip title="Lee Jun-fan" content="Hong Kong American actor, director, martial artist, founder of mixed martial arts - Jeet Kune Do."]Bruce Lee[/tooltip], [tooltip title="Cassius Marcellus Clay Jr." content="US professional boxer, activist, entertainer, poet and philanthropist."]Muhammad Ali[/tooltip], [tooltip title="Hélio Gracie" content="Martial artist and father of Brazilian Jiu Jitsu."]Helio Gracie[/tooltip], [tooltip title="Woodrow Tracy 'Woody' Harrelson" content="American actor, director, activitist and playwright."]Woody Harrelson[/tooltip], [tooltip title="Seth Aaron Rogen" content="Canadian and American actor, comedian, writer, producer, and director."]Seth Rogan[/tooltip], [tooltip title="Calvin Cordozar Broadus Jr." content="US rapper and media personality."]Snoop Dogg[/tooltip] - all come to mind. I know you only meant one but I went overboard as there are so many great choices!
---
Tia :
In your opinion, what's the current situation with cannabis stocks in the USA?
James : Volatile and unstable, currently.
---
Tia :
Do you think people should invest in the cannabis stock market at all? Why?
James : I generally don't like to recommend investing to others because if they lose money, your name is usually attached to it!
---
Tia :
What brands would you invest money in on the cannabis stock market?
James : I will likely wait to invest in cannabis companies, but I have been looking at real estate companies that specialize in cannabis properties.
---
Tia :
Do you personally want to get into the cannabis stock market?
James : When the time is right.
---
Tia :
What are your predictions on the cannabis industry for the next 5-10 years?
James : Eventually, federal legalization and in turn, open state commerce across the U.S. Also, more countries will consider adopting CBD legalization and in turn, a massive increase of product offerings.
---
One last thought: There has been this phase of trash-talking lately from one company to the next or about how this brand sucks, or this breeder is trash. From the beginning, we have adopted a policy about not saying anything about anyone else unless it's positive, and it's served us well through the years. If they are truly horrible or not good for the industry, then time will take its toll as more peeps become aware and realize for themselves. Remember, it was not so long ago that the cannabis community came together as one to form a movement against the powers, and got cannabis legalized! Those same powers want us to squabble and tear each other apart. We still have a lot of work to do, and still, a lot of people are incarcerated for cannabis use. We need everyone moving in the right direction, so keep it positive and pick each other up when we need help!
Peace & Love!!
~ James
---
You can follow TJ's Gardens at:
Thank you so much, TJ's Gardens team, for taking the time to do the interview. To learn more about them, head on over to their website.